As a budget filmmaking tool your Smartphone is a great device for making movies. Only a few years ago if you wanted to make professional looking videos you would have had to invest in a very expensive video camera to get a good result. Now your average Smartphone will produce incredible videos for a fraction of the cost.
But to get the best out of this compact moviemaking powerhouse you will need to add a few items. Microphones, tripods, tripod adaptors, lights and other filmmaking equipment can often be expensive. You can easily spend hundreds of dollars to get the best moviemaking gear for your Smartphone.
But if you are a bit cash-strapped there are some cheaper alternatives. There are some great budget items out there that are a fraction of the cost of their more expensive counterparts. Of course budget equipment is never going to be as good as the more expensive options that cost hundreds of dollars. But you may find it surprising at the quality of some of the equipment available that is a fraction of the cost. So here are some of my budget equipment choices for Smartphone filmmaking.
Takstar SGC-598 Condenser Microphone
The
Takstar SGC-598 is a low cost shotgun microphone with a shock resistant mount. It also comes with a windsock and a handy carrying pouch. Reviewers often compare this microphone next to more expensive microphones like the
Rode VideoMic Pro that can cost hundreds of dollars more. The Takstar is not as good as the Rode VideoMic Pro but in various tests it stands up well to this competition and is a fraction of the cost.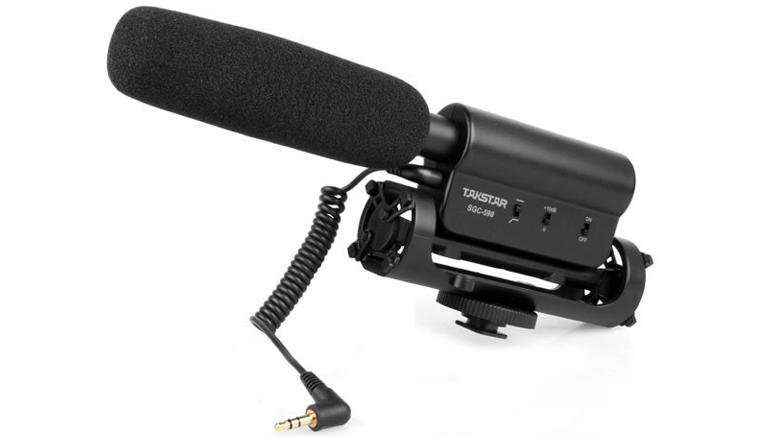 The build quality is decent and it also has +10db audio boost and a low-cut switch. The frequency of the
Takstar SGC-598 is 50kHz which is a pretty good for a budget microphone of this type. It does lack bass for low-end frequencies but you can solve this by adding the bass back into your sound when edit your video.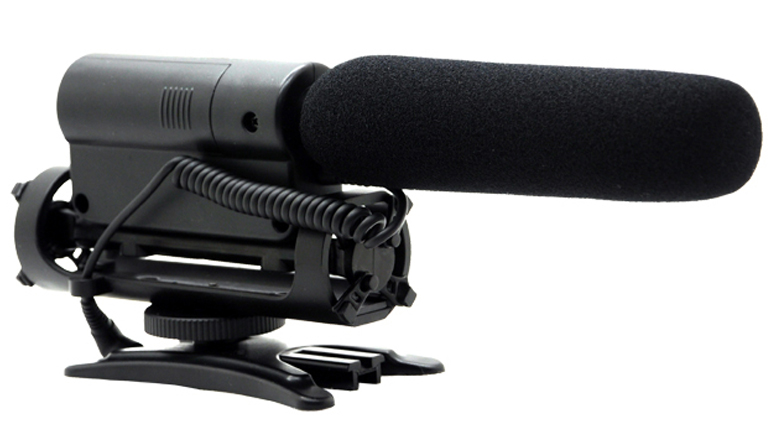 It also has a cardioid polar pick up pattern which is common for a shotgun microphone and it does a good job of only picking up sounds are that in front of it. Please note though to get it to work with your Smartphone you will need to add an adaptor like the
Rode SC4. As far as shotgun microphones go, it's excellent value for money.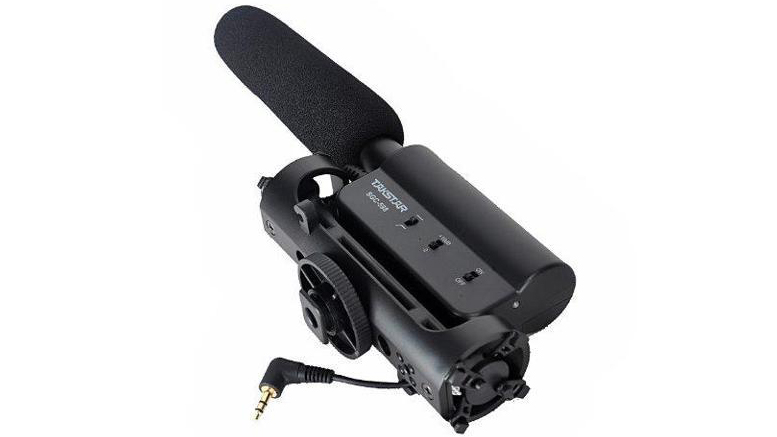 Boya BY-M1 3.5 mm Lavalier Microphone
A good lapel or clip microphone is essential for doing a sit down interview. The
Boya BY-M1 clip microphone is budget friendly with good quality audio for sound recordings and great for interview work. It comes with a six metre long cable that is great if you want to get your Smartphone further away from your subject.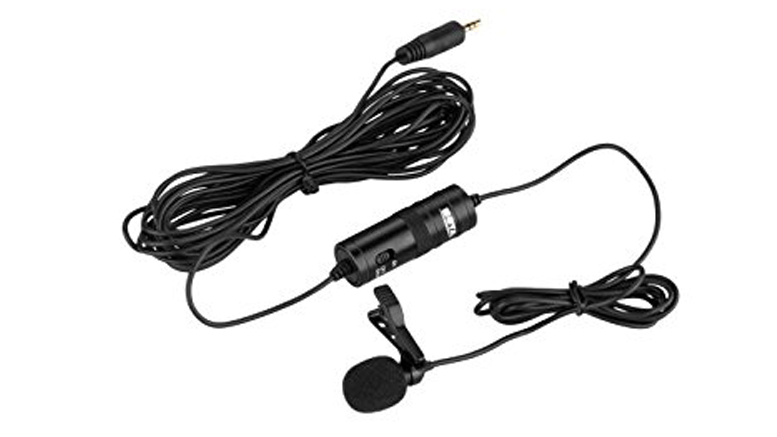 It is an omni-directional condenser microphone which means it will pick up sound equally well from all around the microphone. It comes with a standard 3.5mm jack that you can switch between Smartphone and DSRL. This means you can even plug it in to your DSLR camera as well as your Smartphone.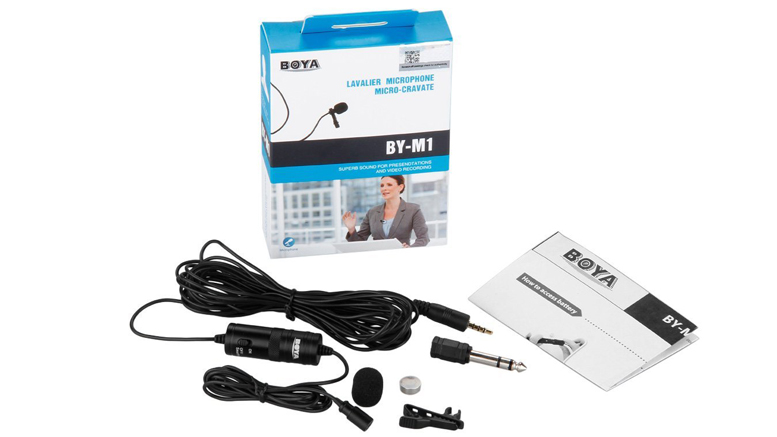 The 
Boya BY-M1 does need a small battery to give the microphone phantom power, which isn't much of a problem, but be aware that there is no battery light to tell you if it may be running out of power. So you will need to keep an eye on your audio levels in case the battery runs flat.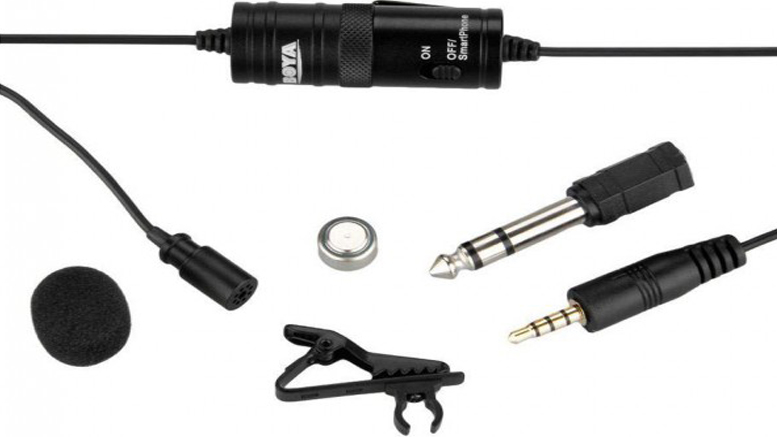 Samson Stage X1U
The 
Samson Stage X1U is a hand-held microphone that wirelessly connects to a USB receiver to give you true mobility with a hand-held microphone. Hand-held microphones have many uses in video production. You may have seen one in use by a location news presenter or one in use for street style interviews. They have a limited sensitivity compared with a shotgun microphone but are great if you are close to your subject. The reduced sensitivity is also helpful in bad weather and lessens wind sounds that can affect other microphones.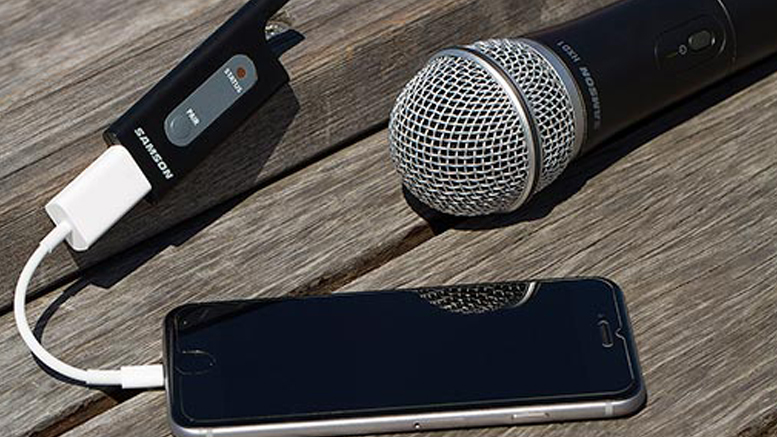 The
X1U has a range of about one hundred feet but this will reduce if you are transmitting though walls or other obstacles. So be aware of your surroundings when using it. The hand-held microphone gets its power from two AA batteries and this will give you about 8 hours of use. Also on the microphone you will find a mute button if you need to turn it off and a gain control to adjust audio levels.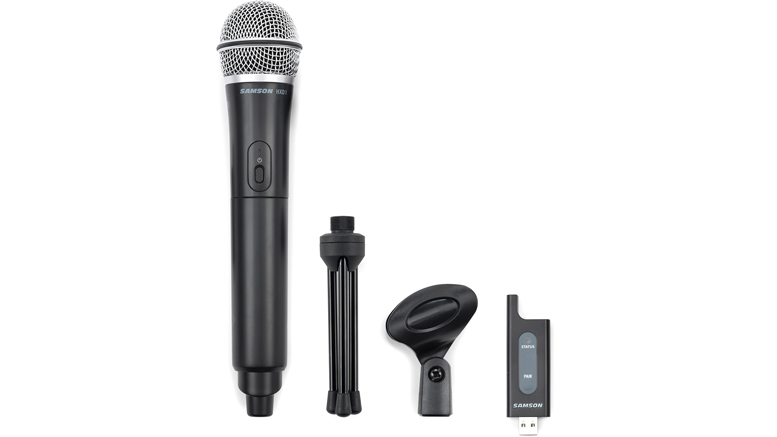 The
X1U also comes with a desk microphone stand if you wish to use it for voice over work. The build quality of the X1U is good but don't expect the steel construction of a
Shure SM58. However the microphone does have a solid construction and should put up with any bumps you may accidentally give it. To connect the X1U to the USB wireless receiver you press down the button on the USB receiver and when the light stops flashing it will connect with the microphone.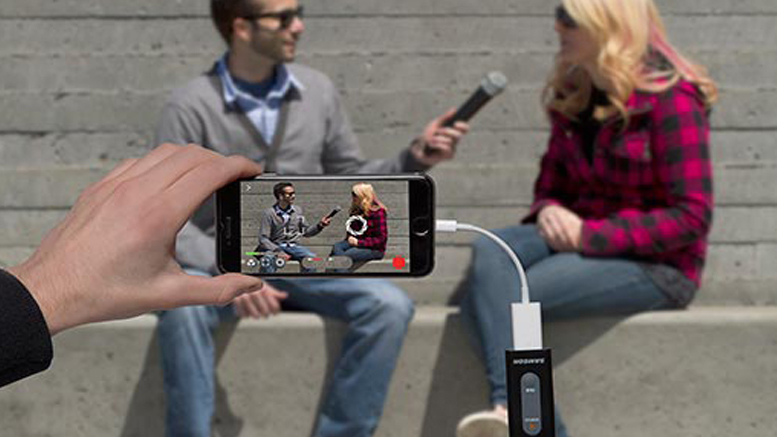 To connect the USB receiver to your Smartphone you will need a lightning to USB adaptor for an iPhone or a Type C to USB adaptor for newer
Android Smartphones. Please check the compatibility of your Smartphone before you buy though as not all models will work with it. Audio quality is good but don't expect it to compete with a Rode Reporter or Sennheiser MD 46 microphone. That said it will be fine for most audio jobs and will give you a good sound recording. It will also give you the advantage of being fully mobile with your Smartphone for sound recording. With a price of under a $100 you can't go far wrong with this microphone.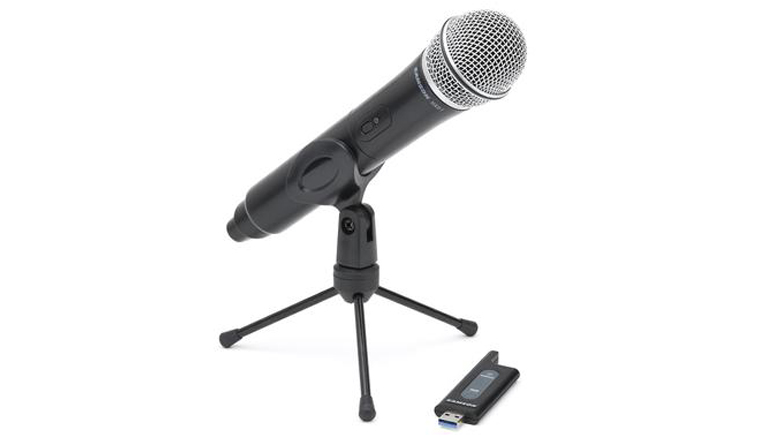 Ulanzi U Rig Pro
If you are looking for a low cost Smartphone stabiliser grip the
Ulanzi U Rig Pro is great budget answer. This is the newer version of the Ulanzi's Smartphone grip and it has many improvements over the older version. It has two cold shoe mounts for you to add a light or a microphone. So it's handy for adding equipment to your Smartphone.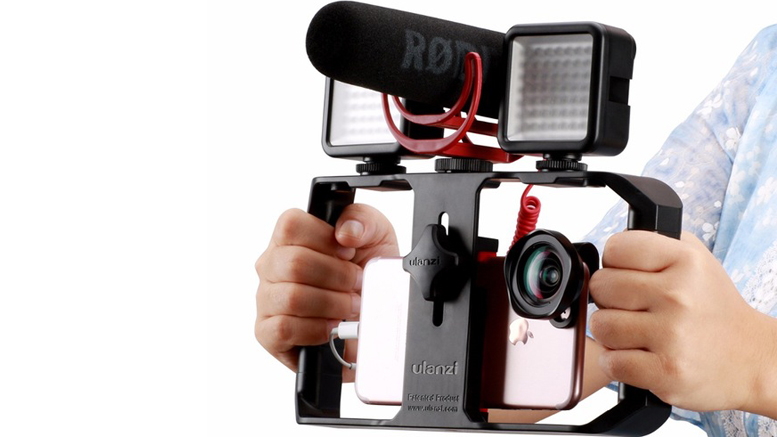 The
Ulanzi U Rig Pro has two large handles for you to use if you want to go hand-held. It also has a 1/4 inch screw mount on the bottom so if you tire of carrying it about you can also mount it on a tripod. The universal Smartphone grip will fit most Smartphones such as the iPhone 8 or X but you might want to check it fits some of the larger Smartphones before you buy it.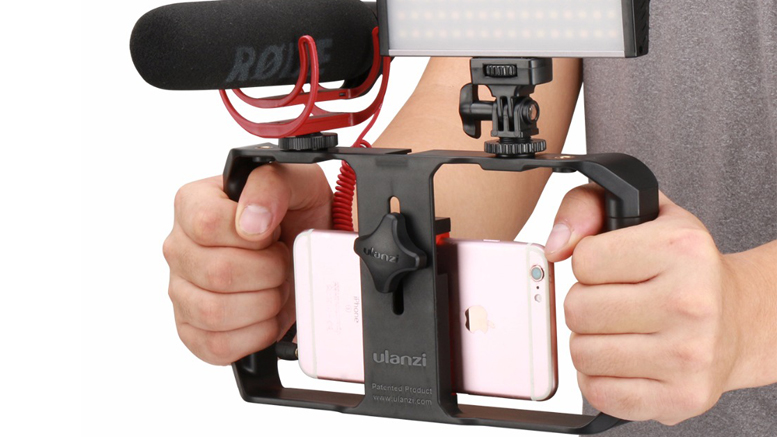 Ztylus Smartphone Grip
The
Ztylus Smartphone Grip is a universal Smartphone holder that clamps around your Smartphone. It gives you a comfortable grip while shooting video. If you have ever used a DSLR you will be familiar with the ergonomic design which has the right side pushed out to give you a comfortable grip to hold the camera. The Ztylus mimics this design and gives you the same feel for your Smartphone.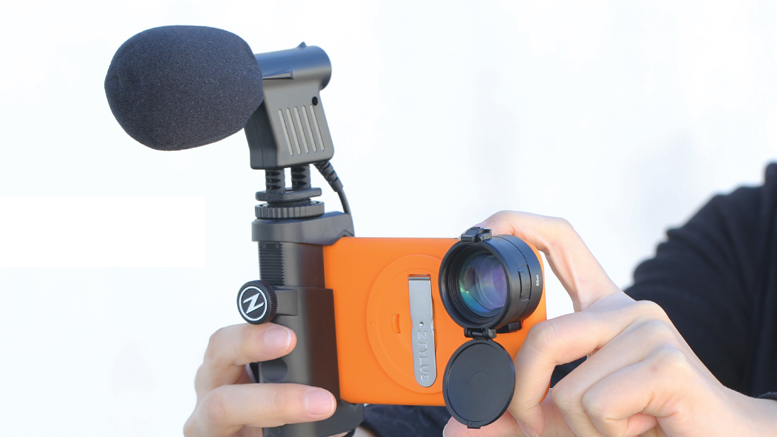 The
Ztylus is fully adjustable. You can expand the adaptor up and down which will give it a comfortable fit around most designs of Smartphone. This universal approach is good as you may replace your Smartphone but you will get many years of use out of the Zytlus. At the bottom of the Ztylus is a 1/4"tripod mount. So if you tire of hand-held you can mount the Ztylus to your favourite tripod. This is useful as it means you don't have to take the Ztylus off and replace it with another adaptor.
The
Ztylus is made of a durable plastic that should put up with most wear and tear that you can throw at it. But be aware there are limits to what it will put up with. A metal design would have been good but would have pushed up the cost and added weight to the adaptor. New to this release of the Ztylus Smartphone Grip is a cold shoe mount. You can find this at the top of the adaptor so you can add any extra equipment that needs this mount. This is a welcome addition and means you can add lights and microphones to the top of the adaptor that will be useful for those run and gun jobs.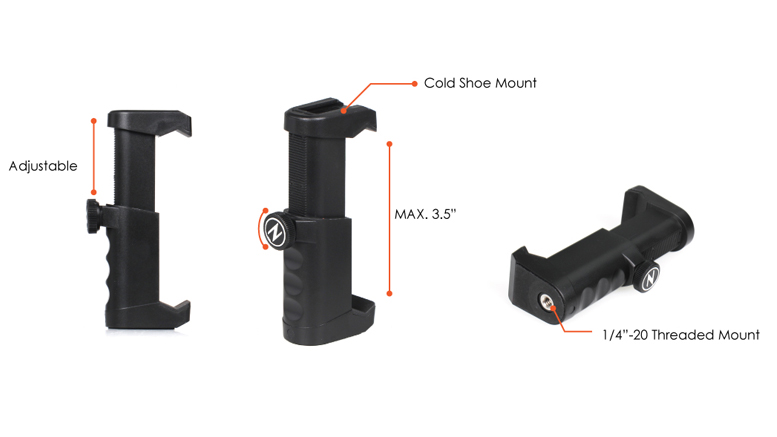 Price: £20 
$12.95
Godox LED64 Video Light
The
Godox LED64 is an excellent compact budget video light for your Smartphone. It's lightweight and portable and provides high brightness and an accurate colour temperature. It has a lux of about 1000 so it will be good enough for subjects that are close to your Smartphone. You can also add other Godoz LED64 lights together by interlocking them. This will give you more lights without using another cold shoe mount.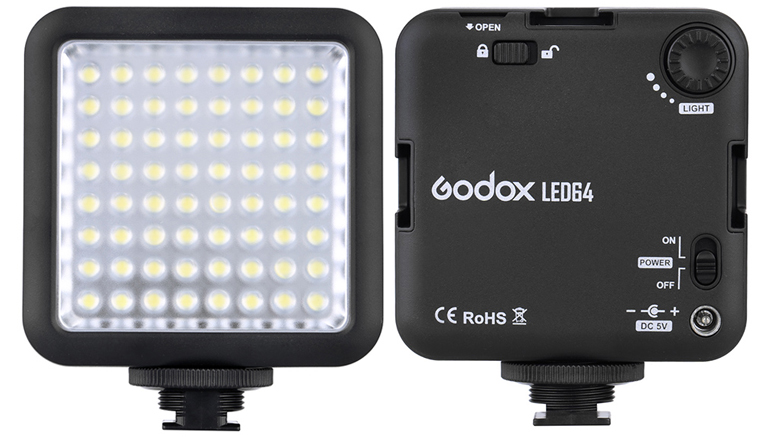 The
light itself has 64 LED bulbs and you can adjust these for brightness with the built in dimmer. It's powered by 4 AA batteries, but you can also plug in to an AC power supply if you need to use the light for long periods. The universal cold shoe mount means it will fit most Smartphone tripod adaptors or stabilisers that support the cold shoe mount.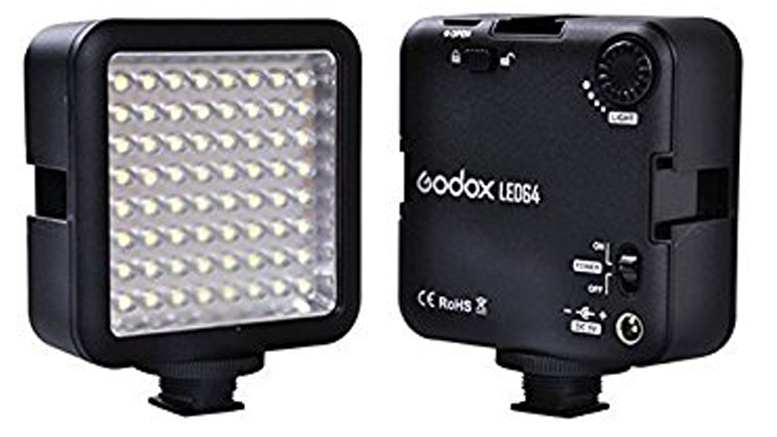 Manfrotto Compact Action Black
The
Compact Action Black Tripod is a budget offering from Manfrotto. Manfrotto has a good reputation for its various tripods and monopods and has a huge selection of tripods available. This particular model's design is for DSLRs but it will work well with any Smartphone.
It weighs in at a respectable 1.201g which makes it is light and portable. Its collapsed height is 453mm so it's small when packed down. The maximum height with the centre column up is 1550mm so it should be high enough for general shooting. If you need to move your Smartphone off the
Action Black in a hurry there is a circular quick release plate so you don't have to use screwdrivers or coins to undo any screws.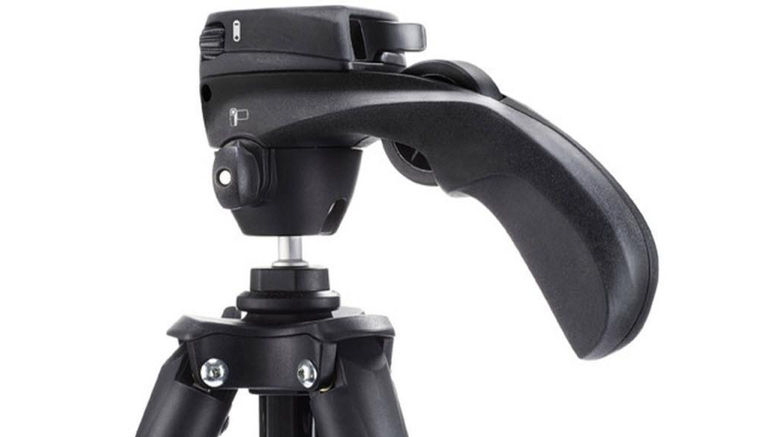 For panning and tilting there is an ergonomic joystick head with a scroll wheel for locking it in place. The head itself is smooth but don't expect too much from a tripod at this price range. If you are on a low budget this tripod should perform most tasks. Don't expect miracles at this price but it is good value for money. It also comes in different colours including black, white and red.
Zhiyun Smooth Q Gimbal
If you are on the lookout for a budget Smartphone gimbal the
Zhiyun Smooth Q is one you should consider. Costing just over a $130 this gimbal easily competes with other gimbals that cost hundreds of dollars more. It has good construction and comes with 3-axis stabilisation. The motors are responsive and it will make easy work of keeping your Smartphone Stable. It has a large 26650 mAh battery which should give you power for about twelve hours.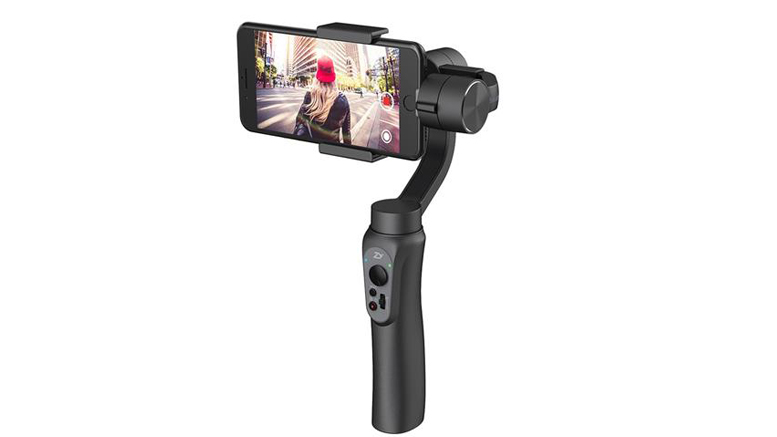 It has three settings that you can cycle between using the mode button. It also has free camera app to help you get more in-depth control from the
Zhiyun Smooth Q Gimbal. Different modes include face and object tracking and full control over the gimbals settings. If you are looking for a budget gimbal this is a good choice.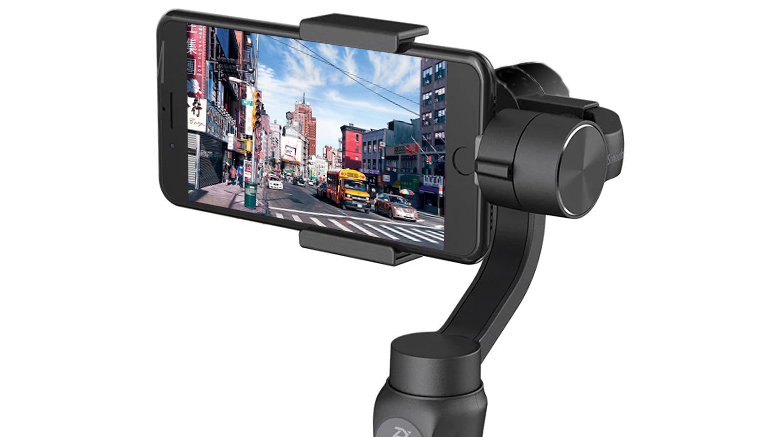 Products from Amazon.com
‹
›
Products from Amazon.com
‹
›
Products from Amazon.com
‹
›
Products from Amazon.com
‹
›
Products from Amazon.com
‹
›
Products from Amazon.com
‹
›
Products from Amazon.com
‹
›