All Smartphones usually come with some form of camera app as part of their operating system. They can vary from being good to useless. When it comes to shooting video you will quickly realise that they are not good enough for the job of making movies. Luckily there are a few apps on the market that will soon get you're little box of tricks up to speed.
Choosing the right camera software for your Smartphone can be difficult but it is important to get right. It needs to have the right blend of features but is not difficult to use. Camera apps come with multiple choices for getting the best out of your Smartphone camera hardware. Some don't have the fundamentals for shooting video and some are so time-consuming to change functions that they are just not worth it.
So which Smartphone camera apps should you buy? I would like to say the app market is full of fully featured camera apps for making videos. Sadly this is not true. As mentioned else where on this website most of the camera apps available do not have audio monitoring or peak levels. If your purpose is to only shoot videos that do not need any sync sound then this will not be an issue for you. Some apps have special features like slow mo that might be useful for certain jobs. If however you do want sync sound, and I would say that most videos do, this will limit your choices in choosing a camera app.
Yes you can use an external recorder and sync it up later but this does mean carrying another bit of expensive kit and having to go to the trouble of syncing up your sound afterwards. The whole point of shooting video on a Smartphone is that you are mobile. Luckily a few app developers have produced camera apps that do have audio monitoring although the choices are slim.
Apple iphone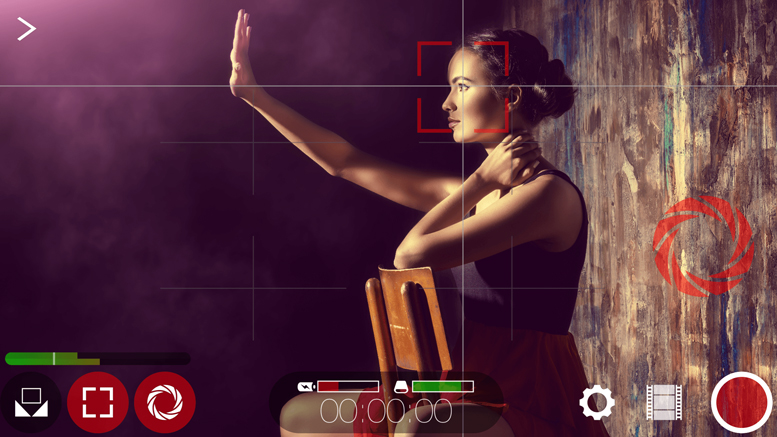 Filmic Pro
There are many camera apps available for the iphone and some have some useful features. But one of the best camera apps for iphone users, and lucky for them it's an excellent one, is Filmic Pro.
This video camera app has been around for a while now but continues to get better with every new release. This app is used to shoot feature films on the iphone and it has many functions for shooting quality video.
Filmic Pro turns your ios camera into a fully featured video camera. It has variable speed zoom, multiple frame rates, manual control focus, exposure, ISO, and shutter speed control. It also has the all important audio monitoring for getting good quality sound and it has manual gain control.
Other features include aspect ratio guides and different resolution settings. I could go on but as you can gather it is an excellent video camera app. There is also a classic version for older iphone models. The website is helpful too and has information on how to use the app and how to make movies.
Price: £7.99
ProCam 3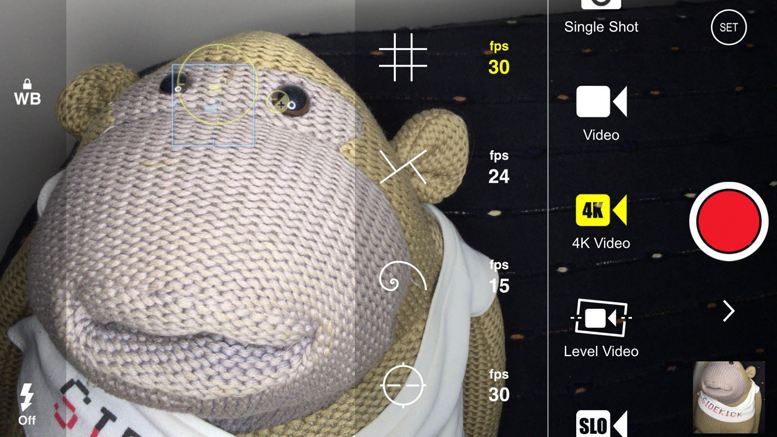 Another great camera app for the iphone is ProCam 3. Although marketed as a stills camera app ProCam 3 has an excellent feature set for video as well. It has all the manual controls you would expect including exposure, white balance, ISO, manual focus and shutter speed control.
ProCam 3 also has an impressive selection of frame rates. You can shoot at 24, 25 and 30 frames per second. You can also adjust up 120 frames per second in 1920 x 1080. Resolution size is also fully featured and ProCam 3 will record right up to Ultra HD at 3840 x 2160.  If you are keen you can buy the 4K Max in app purchase which will push an iphone 6S right up to 4038 x 2268 and 150 megabits a second.
Other useful features include audio peak meters so you can monitor a connected microphone. But be aware you cannot control gain like you can in Filmic Pro. There is also video stabilisation and a video space indicator.
Another feature is the built in video editor. I have not put this to the test but it might be useful if you need to do a quick edit or two. This is a great app that gives Filmic Pro a run for its money.
Price: £2.99
Android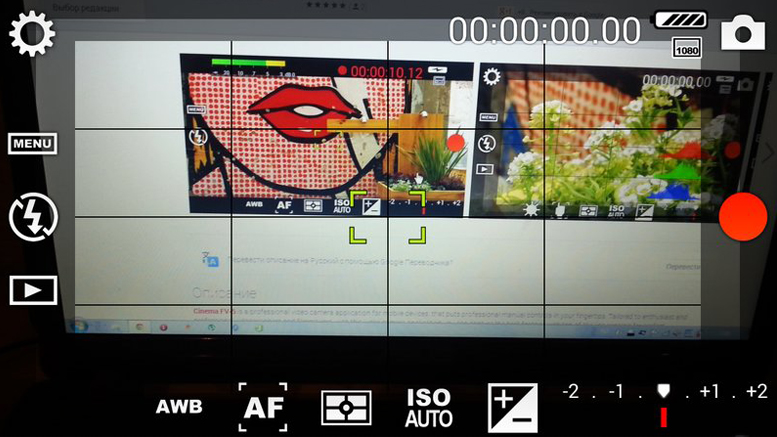 Cinema FV-5
Just like Apple's iphone Android phones also have many camera apps available. Some of them have some good features that are useful for special purposes but at the moment I would recommend Cinema Fv-5 as the best video camera app for Android.
Cinema Fv-5 gives you professional video features for your mobile and gives you manual control. This includes exposure compensation, ISO control, light metering, manual focus, white balance, zoom, different frame rates, encoding options and too many other features to list. It also of course has audio monitoring so you can check your levels for sound.
I would say that this app is not perfect and I have had problems on my Google Nexus 5 but with every release it continues to improve. Other issues, which are beyond the apps control, are there are many makes and models of Android Smartphones. This means you will not be able to get access to all the features the app has to offer because of different technology in the phones. However I still think that Cinema FV-5 is the best choice for Android.
Price: £3.99
Filmic Pro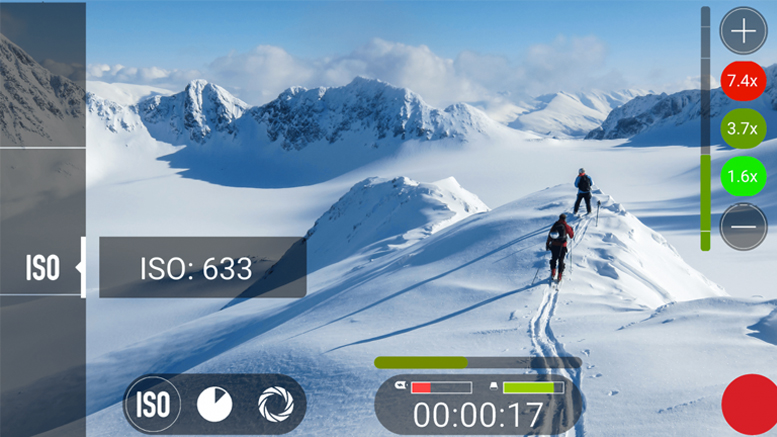 Until recently Filmic Pro was only available for iphone and ipad users. Android users could only look on with envy at the features that Filmic Pro gave the iphone. After months of development the good folks at Filmic Pro have now released a version of Filmic Pro for the Android operating system.
Just like on the iphone, Filmic Pro turns your Android camera into a fully featured video camera. It has variable speed zoom, multiple frame rates, manual control focus, exposure, ISO, and shutter speed control. It also has the-all important audio monitoring for getting good quality sound and it has manual gain control.
However users should be aware that because of the many makes and models of Android smartphones not all Filmic Pro features will work and should check the app supports their phone before they download.
Price £8.00
Windows Phone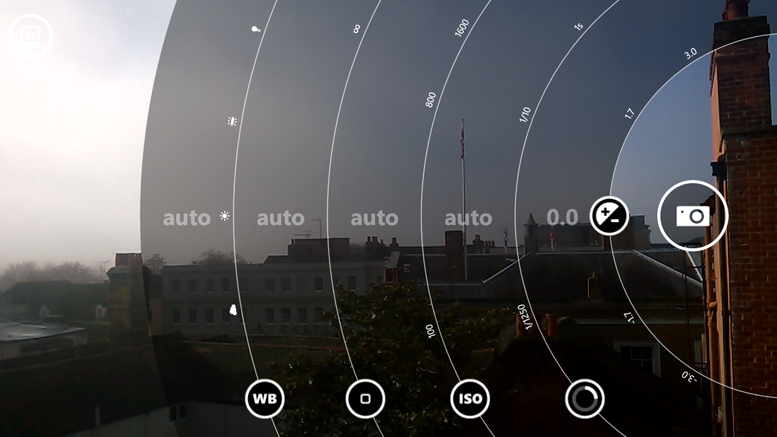 Windows Camera App
Nokia Windows Smartphones have excellent camera hardware and can take some stunning video. The only issue that lets them down is the available camera apps. At the moment I would have to recommend the Lumia Camera App and Windows Camera App which is to be the Lumia's successor.
The Lumia Camera App has many features and gives you the manual control that you would expect. It doesn't have the all important audio monitoring but you could do a pre audio level check using another audio recording app that has audio bars for metering. This would give you an idea where the audio is peaking and you could then adjust your levels and then return to the Lumia Camera App to shoot your video. This is not ideal but it's better than nothing. You could also use the Saramonic SmartMixer that has audio peak meters.
Price: Free
http://www.windowscentral.com/tag/lumia-camera
Conclusion
So there you have it. You may think my choice of apps is limited but that's because it is. I would love to have greater choice for camera apps on all operating systems. There are many excellent camera apps out there that are let down because they don't have audio monitoring.
As I said above, if this is not important to you then your choices are many. Personally I rate sound to be just as important as my video and I don't want to use an external recorder to get decent audio. So please app developers start adding audio monitoring and peak levels to your apps and then we can all have greater choices in choosing camera app software.
TIP: When shooting video on a Smartphone always put your phone into Airplane Mode. That way you won't get a phone call mid shoot which can be rather annoying.
TIP: To get the best video your shutter speed should be set to double your frame rate. E.G. If filming at 30 frames a second your shutter speed should be set to 1\60
If you would like to know more about some great budget Smartphone filmmaking equipment check out this article:
http://www.smartphonefilmpro.com/best-budget-smartphone-filmmaking-equipment/