Smartphones are bad when it comes to camera shake. This is often because they are light and do not weigh much. This can be the difference in your footage looking amateur and professional. Your audience will not forgive you for footage that makes them feel sick. If you try to walk and shoot with a Smartphone the results are often not that good. You will need to stabilise your shots.
Luckily there are many hardware solutions available in the form of Smartphone Steadicams. Steadicams have been around for a while now and used to be expensive and only available to the well off filmmaker. Recently with the rise of DSLR filmmaking there are now Steadicams available that will fit the budget of most budding filmmakers. Some are better than others and you do get what you pay for. If possible try before you buy as the results can be different between models.
Smoothshot Smartphone Stabilizer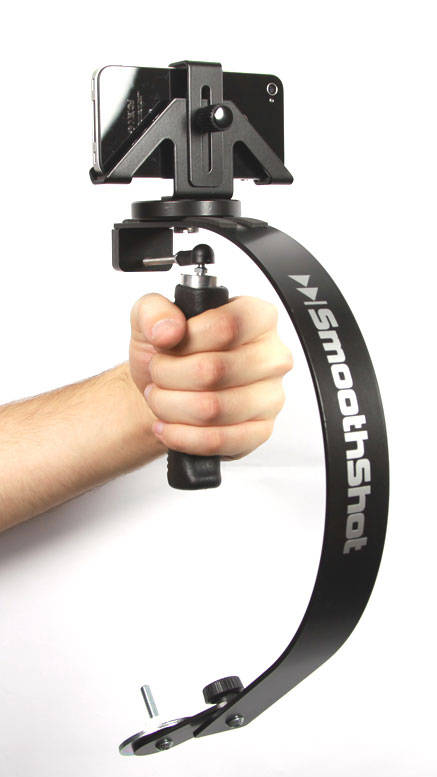 The SmoothShot Smartphone Stablizer is a budget Steadicam that takes away the dreaded shake that your footage can get when shooting hand-held. The Smoothshot will work with all Smartphones as well as DSLR's, Camcorders and GoPros between a weight of 0.3kg – 1kg.
It comes supplied with a handy iphone adaptor but if that does not fit your Smartphone you can always get a universal tripod adaptor which can screw on to the Smoothshot's 1/4 inch screw mount. The rig itself is small and won't take up much room when you are running down narrow streets. It also has a comfortable grip which makes it a pleasure to hold for long distances.
Set uptime for the Smoothshot is quick and not complicated which can be a problem with many Steadicams. Which means you should be up and running fast. There are also some excellent videos on the website to guide you through the set up process. Much thought has gone into the design and if you are on a low budget this is a great Steadicam for the price.
Price: £48
/ $70
The SYNC Smartphone Stabilizer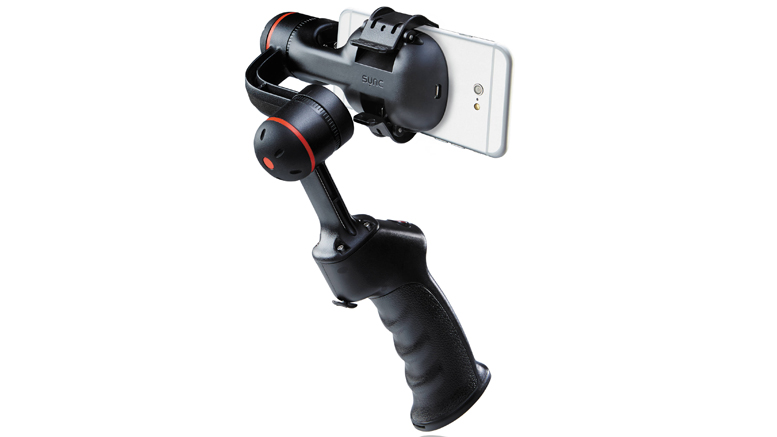 The
Sync Smartphone Stabilizer is a gimbal based Steadicam designed to take the dreaded shake out of your Smartphone footage. It comes in two varieties, one for GoPro and one for Smartphones. The Smartphone design is a version to capture stable hand-held footage with an iphone 4,5,6 and most other Smartphones with a screen size under 5.5 inches.
The Sync features a 2-axis stabiliser which has two brushless motors that incorporate a gyroscope to predict movements. This will keep the Smartphone level and counter any shaky motion. It gets its power from the included rechargeable Li-Po battery that will last up to two hours.
On the handgrip there is a toggle switch which provides 90 degrees of controllable tilt. This means it should be movable enough for those tricky tight corners. The unit itself is small and compact and shouldn't be too much of a burden when it comes to running around doing a day's shooting.
Price: £150 /
$200
FLY-X3-Plus 3-Axis Smartphone Gimbal Stabilizer
The
FLY-X3-PLUS Gimbal Stabilizer from Ikan turns your Smartphone into a compact and stable camera rig. The design of the unit is to help remove shake from your footage and give you great tracking shots.
The 3-Axis brushless motor gyro system uses built in software to stabilise your Smartphone. You do this by putting your Smartphone in the supplied cradle with any lenses you have attached and then turning the Fly X3 on. The motors then calculate the weight and balance the Smartphone. You are then ready to shoot.
The Fly X3 makes hand-held shots easy and the ease of operation is impressive. It is also light and won't give you repetitious arm strain in trying to use it. The only criticism is the price.  It's not cheap but then again it is a well made product and if you can afford it, it won't disappoint.
Products from Amazon.com
‹
›
Products from Amazon.com
‹
›