If you want to get a professional look to your videos a tripod is an essential buy. Video footage that is stable and well framed always looks better than a roaming hand-held shot. If you watch any BBC documentary you will see that nearly every shot is static or a slow tilt or pan. They do this so you as a viewer don't get sick at trying to watch a wobbly camera. This is not to say that hand-held shots don't have their uses but in general your videos will look better if you mount your Smartphone on a tripod or portable monopod.
If you don't have available a tripod your shots can radically improve by leaning up against a wall, sitting on a bench or doing anything that gets the camera static. It is better to keep the Smartphone still and let the action happen in front of it. Believe me your audience will appreciate it and your final video will look more professional.
There are many Smartphone tripods and monopods on the market that will help you achieve decent results in filming video on your Smartphone.  When looking for which one it is important to remember a few points before you buy. The first is to look for a compact tripod. This means it can pack down and be carried with out much bother. You do not want to be lugging around a huge pair of sticks when you are out filming. The whole point of shooting video on a Smartphone is that you are mobile.
Second is weight. You don't want your tripod to be too heavy. Carrying around a heavy tripod when you are running to different locations becomes tiresome and after a short while you will find yourself not using it at all. Smartphones are light and you do not need a heavy tripod to support the weight of your average Smartphone.  Heavy tripods do have the advantage of being better in the wind and you will get less shake but in most situations you will find this unnecessary.
Third is to make sure it has a good tilt and pan head.  If you want to get good panning shots the head needs to be able to turn smoothly up and down and left and right. If it doesn't your shots will jar and not look good. You can usually tell if a tripod has a good head by the term 'Video' in the tripod's title.
The fourth is cost. You can easily spend a small fortune on a good tripod. You do get what you pay for and in general it will last for years so is a worth while investment. That said if you are not doing a huge number of shoots there are some good budget tripods available that will do the job just as well. So with that in mind here are a few of the better budget tripods available.
Slik 504QF II Video Tripod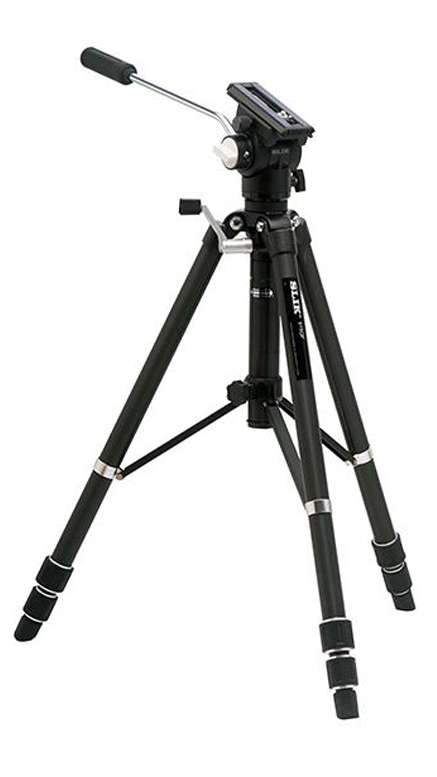 The is excellent for those who are not wishing to break the bank on their first tripod for video. It weighs a respectable 2.570g which means it won't be giving you back ache when you are carrying it around on a day's shooting.
Its collapsed height is 690mm which means it should be not too much of a burden fitted around your kit bag. The full extended height is 1506mm and it can go as low as 450mm for those difficult floor shots.
On the feet there are rubber shoes but there are no spikes. This does mean that in rough ground you may loose stability but this shouldn't be too much of a problem. There is also a centre column if you need to get a bit more height.
The video pan head has an extra long adjustable control handle that provides a smooth fluid effect when panning and tilting. It is a three-way head that should be able to handle most tasks.  While it is not the smallest tripod when collapsed it is a good all-round performer that should be able to handle most tasks you ask of it.
Price: £119
/
Manfrotto Compact Action Black
The
Compact Action Black Tripod is a budget offering from Manfrotto. Manfrotto has a good reputation for its various tripods and monopods and has a huge selection of tripods available.  This particular model's design is for DSLRs but it will work well with any Smartphone.
It weighs in at a respectable 1.201g which means it is light and portable. Its collapsed height is 453mm so it's small when kitted down. The maximum height with the centre column up is 1550mm so it should be high enough for general shooting.
If you need to move your Smartphone off the Action Black in a hurry there is a circular quick release plate so you don't have to use screw drivers or coins to undo any screws.
For panning and tilting there is an ergonomic joystick head with a scroll wheel for locking it in place. The head itself is smooth but don't expect too much from a tripod at this price range.
If you are on a low budget this tripod should be capable of performing most tasks. Don't expect miracles at this price but it is very good value for money. It also comes in a range of different colours including black, white and red.
Benro Aero 4 Video Travel Angel Tripod Kit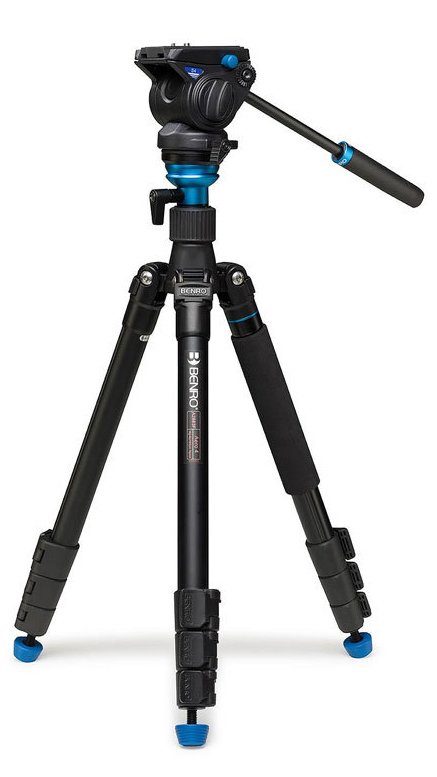 The
Benro Aero 4 Tripod is more expensive than the other tripods described here but it is a quality piece of equipment that will handle most shooting tasks. It has a weight of 1.900g so it's not too heavy to carry around and won't break your back on a day's shooting.
Its got a maximum height of 1651mm and when fully collapsed will kit down to about 465mm. This means it won't be too difficult to carry around with you. There are also spikes that can screw down on the rubber feet which will give you that extra stability if you find yourself on rough ground.
The head itself is designed for video shooting with separate pan and tilt adjustments. This means it will move smoothly to give you good panning and tilting shots. The tripod is made of tough aluminium and one of the legs can remove to give you a good monopod if needed. It also comes with a padded bag with strap so you can easily sling it on your shoulder for carrying to your next shoot.
As I said above this is not the cheapest tripod here but you do get what you pay for! The Benro Aero 2 will give you many years service before it is in need of replacing.
Sunpak VideoPro-M 4 Video Tripod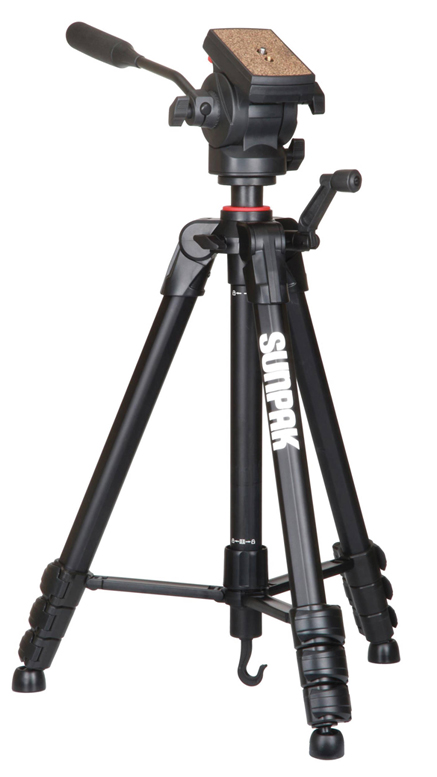 The Sunpak VideoPro-M 4 is another tripod aimed at those on a budget. It comes with some good professional features while keeping the weight down for easy travel and packing. So it won't be too much of a burden when you have to carry it around.
It weighs in at 1.905g so it's not too heavy and should not give you too much grief carrying around for a day's shooting. The maximum height is 1651mm and will collapse down to 586mm for carrying and packing away.
Unlike the other tripods mentioned here it does have leg braces that connect to the main legs which does give it a greater stability. This means that if you are on rough ground you will benefit from the extra support.
The head itself is a two-way fluid pan head designed for video shooting and should be good enough for most of your filming needs. Connected to this is a long handle to help you get some great panning shots.
The tripod is made of tough aluminium and the three adjustable feet have rubber cups to help with stability although there are no spikes. The tripod camera plate can also be quick released if you need to get your Smartphone off in a hurry.
Price: £100 / $100