Is the Zoom H1n the best all-round microphone for Smartphone filmmaking?
The Zoom H1n'is a portable stereo audio recorder with front facing X/Y microphones that has many applications for Smartphone filmmaking. It is a genuine workhorse microphone that has endless audio recording possibilities. In fact, I have been using the older version, the Zoom H1, for nearly every video I make with my iPhone.
However, if you look elsewhere on this website you will find I do not include it in any of my reviews for microphones for Smartphone filmmaking. This is because you have to add some extra equipment to it to get it to work well with a Smartphone. I have always thought that these equipment hurdles may put off the average user and so I have chosen to leave it out of my Smartphone microphone reviews. But if you are willing to kit it out correctly, the payoff for your audio is huge.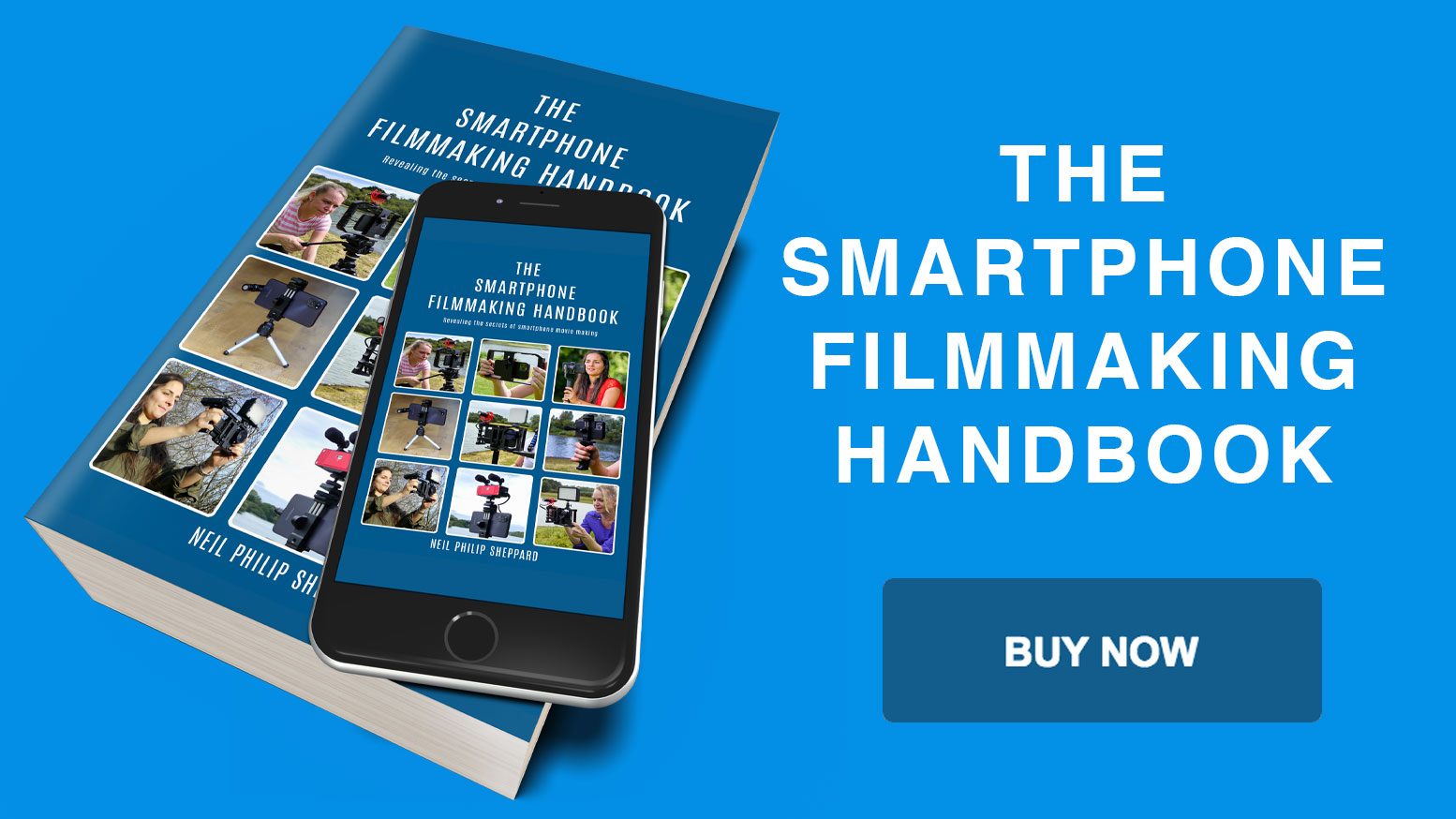 This content uses referral links. Read my ethics policy for more info.
X/Y Microphones
The original Zoom H1 has been around for a while. I bought one to use with my DSLR for video production but I was so impressed with it I started using it for Smartphone filmmaking as well. Zoom recently upgraded the Zoom H1 to the Zoom H1n. The new version has many improvements over the original but at its heart it still keeps all the features of the original.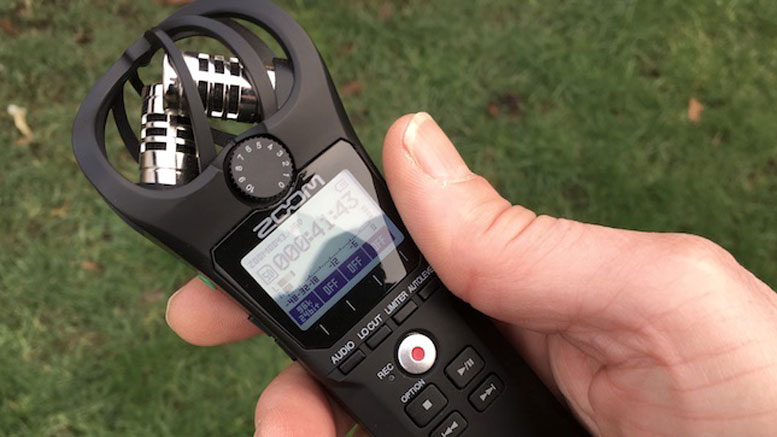 So why is the Zoom H1n so good for Smartphone filmmaking? Well for starters it has many great features for recording audio. It comes with two front facing X/Y microphones that have great audio quality that you can use for all sorts of mobile journalism situations. These microphones have a 90-degree spread so will only pick up sound that is in front of them. This great if you are running around doing quick interviews with people but don't want the hassle of complicated external microphones. Just make sure you are within 3 feet of your subject and you will get a great sound recording.

Microphone Socket
If you don't want to use the built in X/Y microphones you can always plug in an external microphone into the built in 3.5mm microphone socket. This will accept any standard TRS microphone. It also doesn't have to be a special TRRS microphone that will only work with a Smartphone's TRRS socket.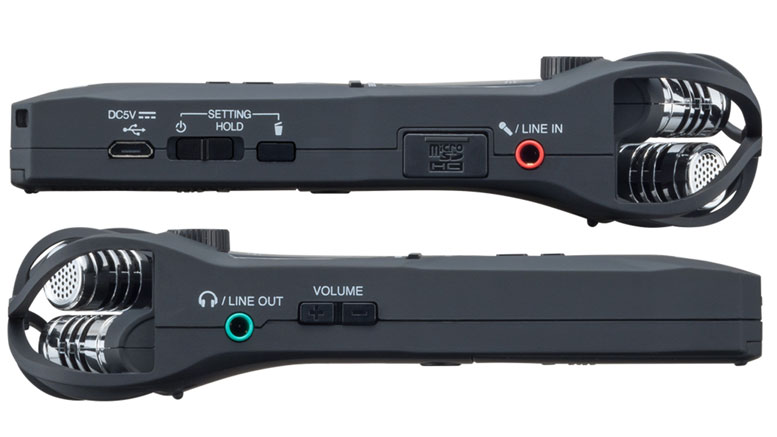 Any standard TRS microphone will work with the Zoom, which means you, will have plenty of choices from the many clip and hand-held microphones available. However, this input does not have any phantom power. So if the microphone you have needs phantom power you best look elsewhere. It does have an excellent built in preamp though and this improves the quality of the microphones you plug in hugely.
Gain Control
If you do plug in an external microphone or use the built in X/Y microphones you can adjust the input gain with the gain controls. Once adjusted you can see where your audio levels are peaking with the digital display on the top. I cannot tell you how useful this is and it is one of the main reasons I love the Zoom H1n. Video camera apps on Smartphones often have bad controls for adjusting input gain for audio. They can be hit and miss and often don't work at all. The accurate gain controls on the Zoom H1n removes this problem and combined with the digital display gives a clear and precise view of where the audio is peaking.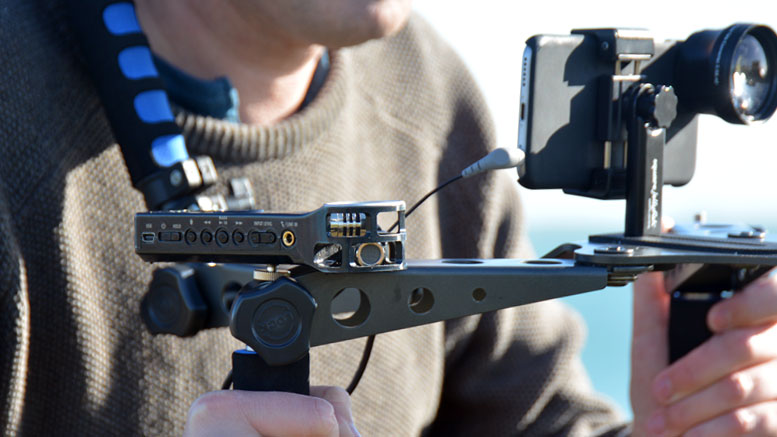 I have tried many other solutions to this like the Saramonic SmartMixer but it is nowhere near as good as the Zoom H1n. It just works. If you are doing any live video broadcasting the audio levels are particularly useful. Many live video apps like Facebook and Twitter have no audio levels to tell you where your audio is peaking. With the Zoom H1n you can be sure your audio levels are just where you want them to be.
Audio Recorder
When you record audio into your Smartphone video camera app it will normally compress the audio into a H264 or H265 codec. This is not the highest quality for good audio recording. The Zoom H1n has a built in audio recorder that will capture your audio to a micro SD card. You can record in either MP3 or in WAV to give you higher quality recordings. If you set the Zoom H1n to WAV you can adjust the sample rate up to 24bit 96khz. This will give you incredible high-quality audio recordings that you can sync back to your video when you edit it.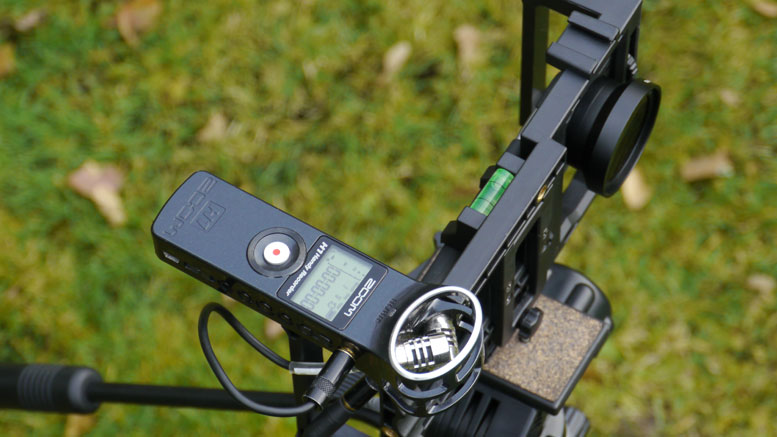 If you are filming a live music event where the quality of the audio is important, you will find this incredibly useful. The Zoom H1n also comes with free versions of Cubase and WaveLab LE software if you need help to process your audio on your computer.
Power
The Zoom H1n gets its power from two standard AAA batteries. These will give you about 10 hours of recording time. If you are just using the Zoom H1n as a microphone and are not recording with it, you should see its operation time increase by many hours.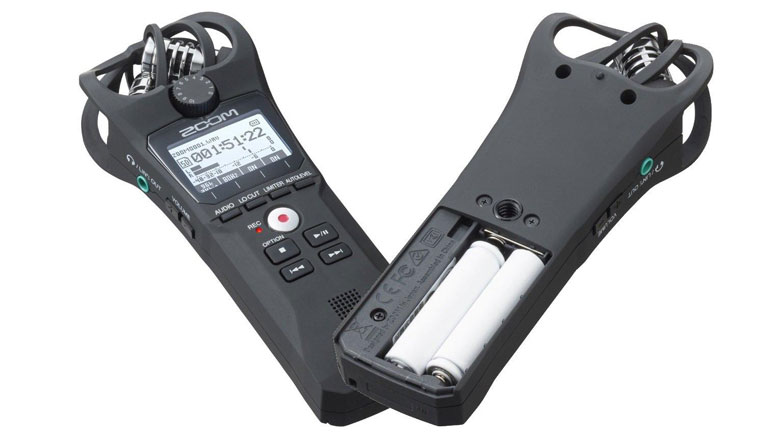 You can also power the Zoom H1n with an external AC adaptor that comes with the Zoom H1n extras pack. This has other useful stuff including a windscreen break to cover the X/Y microphones, a mini tripod stand, padded case and microphone stand adaptor. It is a worthwhile addition if you are thinking of buying the Zoom H1n.
Connecting to a Smartphone
If you want to connect the Zoom H1n to a Smartphone you will have buy some extra bits to get it to work correctly. The first is a -25db attenuation cable. The Zoom H1n has a dual headphone and line out, but I have found this isn't the case. If you use a standard 3.5mm TRS to TRRS cable to connect the Zoom to a Smartphone's microphone socket you will hear a horrible hiss on your recordings. This is because of the impedance from the headphone out.
If you use a -25db attenuation cable it will convert the headphone out from the Zoom to a genuine line out signal. This corrects the problem and gives you great quality audio into your Smartphone. You will also need to add a Rode SC4 adaptor to convert the -25db attenuation cable to a TRRS plug before you connect it to your Smartphone. If you own an iPhone without a TRRS socket you will also need to add a Lightning adaptor.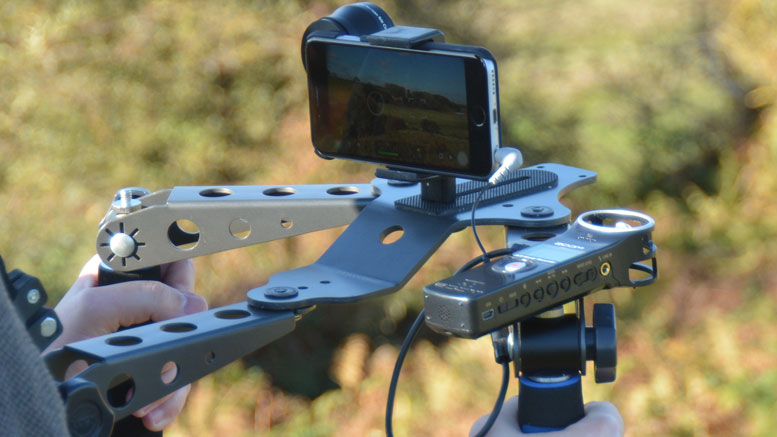 To adjust the output volume to your Smartphone you simple adjust the headphone output volume until you get a sweet spot on your Smartphone. There is also a tone generator built into the Zoom H1n to help you do this. Another item to consider is a 'cold shoe adaptor'that you screw into the bottom of the Zoom H1n. You can then mount the Zoom on any rig of tripod adaptors you may have.
Downsides
If you use the headphone out to connect the Zoom H1n to your Smartphone you will not be able to listen to your audio. I know for some this will be of great inconvenience and may put some off using it. Most of the time, I don't monitor my audio with headphones. I prefer to see where my audio is peaking on my Smartphone and the Zoom audio recorder. This may seem madness to some but to be honest as long as you have checked the Zoom is working correctly you shouldn't have any problems. I have never once had a bad recording from the Zoom H1n in all the time I have been using it. I also trust my ears by listening to my location environment for any potential audio problems. If I hear anything that could be problematic I change location.
Conclusion
I my opinion the Zoom H1n is a great solution for portable audio recording with a Smartphone. It's small, portable and will keep going for ages on the two AAA batteries carried inside it. It has many recording choices and you can plug various standard TRS microphones into it. The digital audio level display is accurate and with the gain controls you will have precise control over your audio.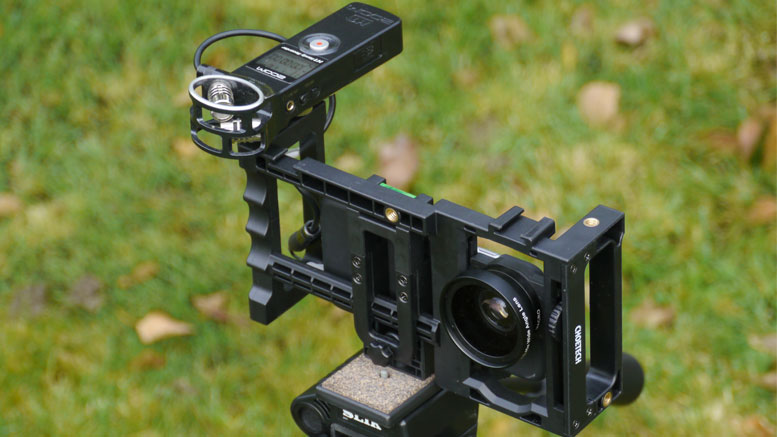 You do have to add a few items to get it to work with a Smartphone but once you have achieved this you will wonder how you got by without it. It if far from perfect! Not having any XLR inputs with phantom power is a shame. If you do want these features you should consider one of the more expensive Zoom recorders, Not having a headphone out is also a let down but not something you will miss. If Zoom would add a dedicated line out next to the headphone out this recorder would be brilliant. These issues considered, I still think the Zoom H1n is a great audio solution for Smartphone filmmaking. So if you fancy the challenge of setting up the Zoom H1n for your Smartphone, it won't disappoint you.
Price: $99.00 £80.00 €89.00

What are the 15 best microphones for Smartphone filmmaking?
What are the 9 best iPhone Lightning Port Microphones?
11 Best Smartphone Microphones of 2018
Best External Android Microphones For Video & Podcasting 2018