What are the 15 best microphones for Smartphone filmmaking?
There are many choices for Smartphone microphones for filmmaking. What you choose to buy will depend on what you want your microphone to do. With this in mind, I have grouped the microphones here into categories to help you. All of these microphones and adaptors use the 3.5mm port. So if your Smartphone does not have one of those you will need to get a 3.5mm to
for iPhone 7, 8 X, and XS or a
for Android Smartphones without the 3.5mm port.

This content uses referral links. Read my ethics policy for more info.
Lavelier or lapel microphones
Rode
Smart Lav+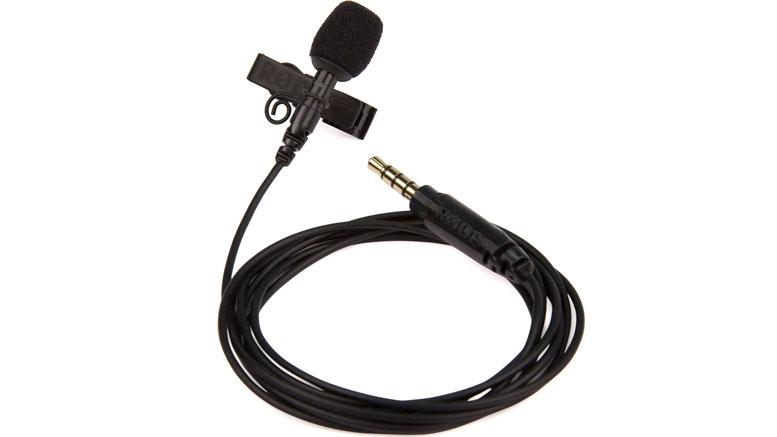 The
is a lapel microphone designed for use in interviews and other audio tasks where there is a need for a close-to-subject microphone. It's advertised as a broadcast quality microphone and I must say that having used it the audio quality is good.
The sound quality is clear and well defined with a good signal-to-noise ratio. It comes with a foam pop shield to take care of any nasty plosives and a sturdy metal clip to attach it to clothing. It doesn't have any gain control so you cannot adjust the audio level going into the Smartphone. This is not an issue for apps with adjustable gain but could be a problem when using Facebook live. The solution to this is to clip the microphone slightly lower down on the subject if the sound is too loud. This is not ideal but does solve the problem.
Do make sure you buy the plus version of this microphone and not the slightly older version as the new one has many improvements since that model. You might also want to consider the
extension cable, as the cable on the Rode Smart Lav+ is a little short.
Price:

iRig Mic Lav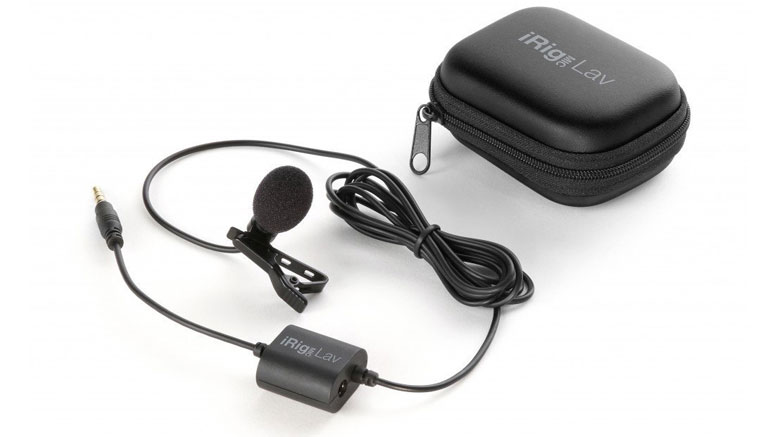 The
is a similar lavalier microphone to the Rode Smart Lav+. It comes with a handy foam windshield to reduce unwanted noise and includes a mounting clip to attach it to your subject. The microphone has a generous cable length which should be enough for most recording tasks and will give you plenty of flexibility when on location. Near the connector there is also a small box with a 3.5mm socket so you can connect headphones if you need to do any audio monitoring.
The 3.5mm headphone socket also serves the dual-purpose of being able to connect a second iRig Mic Lav. This means you can have two microphones going into the same Smartphone. A switch on the connector box allows you to choose between a monitor setting for use with headphones or an input setting for use with another iRig Mic Lav. When you connect two Mic Lav's together you can still monitor your audio by using the other 3.5mm socket on the second iRig Mic Lav. This is a great solution if you need to do a two-person interview or need the interviewer and interviewee on camera at the same time.
IK Multimedia also sells a two-pack of the
if you need to do this. The sound quality of the iRig Mic Lav is good and stands up well against other lapel microphones like the
. Audio recorded with the microphone attached to the chest of a subject is clear and does not have any distortion.
The windshield also helps to reduce unwanted sounds when filming outdoors and will help to lessen any unwanted background noise and echo. The iRig Mic Lav is an excellent microphone for video camera apps and other audio applications and will work with most iPhone and Android Smartphones with a 3.5mm socket. The daisy chaining of two microphones also makes it special in this area of lapel microphones and a welcome addition for two person interviews.
Price:

Boya BY-M1 3.5 mm Lavalier Microphone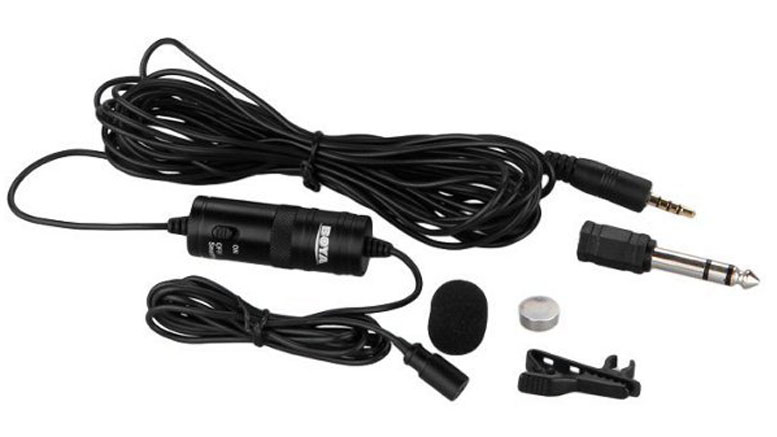 The
is a low budget lavalier microphone with good quality audio for sound recordings and great for location interview work. It comes with a six metre long cable, which is great if you want to get your Smartphone further away from your subject. It is an omni-directional condenser microphone which means it will pick up sound equally well from all around the microphone.
It comes with a standard 3.5mm jack that you can switch between Smartphone and DSRL. This means you can even plug it in to your DSLR camera as well as your Smartphone. It does need a small battery to give the microphone phantom power, which isn't much of a problem but be aware there is no battery light to tell you if it may be running out of power. So you will need to keep an eye on your audio levels in case the battery runs flat.
Price:

Directional microphones
Rode VideoMic Me
The
is a clip on directional shotgun microphone for your Smartphone. You can use it with an iPhone with a 3.5mm socket but the adjustable mount should work with most other Smartphones with a 3.5mm socket. It is a directional microphone, which means it will only pick up what is in front of it. This means you won't pick up any nasty noises behind you when you are trying to shoot your videos.
Included with this microphone is a large windshield. This is handy for shooting video outside and should remove most wind noise from the microphone. At the back of the microphone is a headphone port. This is useful for checking your audio while you are filming. This microphone does not have any gain control so if your sound levels are too loud you will need to correct them using your video camera app's audio gain control. Facebook live has no audio gain control in the app so this microphone may not be suitable for loud performances. There is also a lightning port version of this microphone called the Rode VideoMic Me-L.
Price:

Saramonic SmartMixer
The
s a compact and lightweight audio splitter that sits above your Smartphone to give you various audio choices for attaching microphones. It does this by connecting to your Smartphone's 3.5mm socket with the supplied TRRS cable. The Smartmixer has a mini XLR socket that can connect to a standard balanced XLR microphone with the adaptor cable the set includes.
The Smartmixer also supports 48v phantom power and has a microphone pre amp for extra gain. It has two microphone/line 3.5mm sockets for you to connect the two included condenser microphones. You can also use these sockets with other 3.5mm TRS microphones. The
has an overall gain control for all the attached microphones so you can control the audio levels going into your Smartphone. There is also an audio level display so if your video camera app does not have an audiometer you can use the Saramonic to get the correct audio levels.
A headphone socket is also present so you can hear what you are recording with a set of headphones. The Smartmixer gets its power from a 9 volt battery and this should last four to five hours. Another welcome extra to the Smartmixer is the included steel handle and Smartphone grip. This will fit most Smartphones and will give you some added stability while filming. Above this is a mount so you can securely slot in the Smartmixer above your Smartphone.
Price:

Rode VideoMic Pro +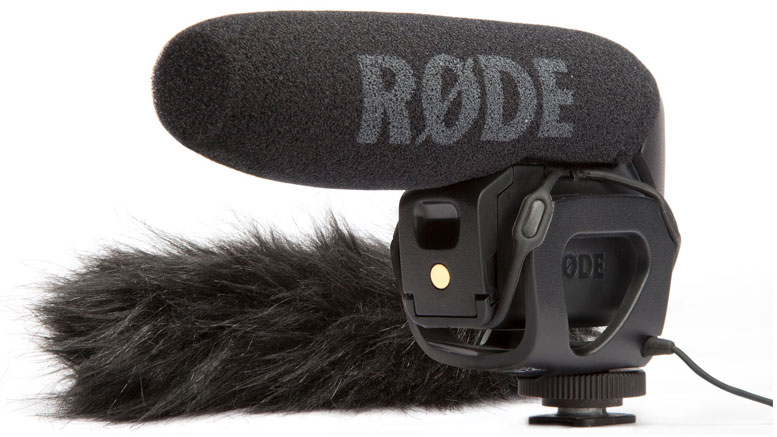 The
is a directional shotgun microphone and the successor to Rode's popular VideoMic Pro. The original
gave DSLR users better audio by bypassing the poor built in microphones on DSLR cameras. It quickly found use with Smartphone users who saw how a proper shotgun microphone could improve their audio recordings.
The
adds many new features to the original VideoMic Pro. It now has improved circuitry and features a two-stage high pass filter, level control and a high frequency shelf. There is also a power button so you can turn it on or off as needed. The connecting cable is now detachable which means you can replace it with a TRRS cable like the
so it will work with your Smartphone. The windshield now features micro-fibre flocking and better all-round protection from wind without the need for an extra furry windsock to cover the microphone.
To reduce sounds from bumps there is also a Rycote Lyre suspension support, which keeps the microphone stable when you are moving around. The microphone gets its power from a rechargeable lithium battery. This will give you about 100 hours of use so it is unlikely you will run out of power when filming. If you are unfortunate to run out of power you can slot in some AA batteries, which will also power the VideoMic Pro +. This will keep the microphone working until you can recharge it with the provided USB cable.
Price:

Rode VideoMic Go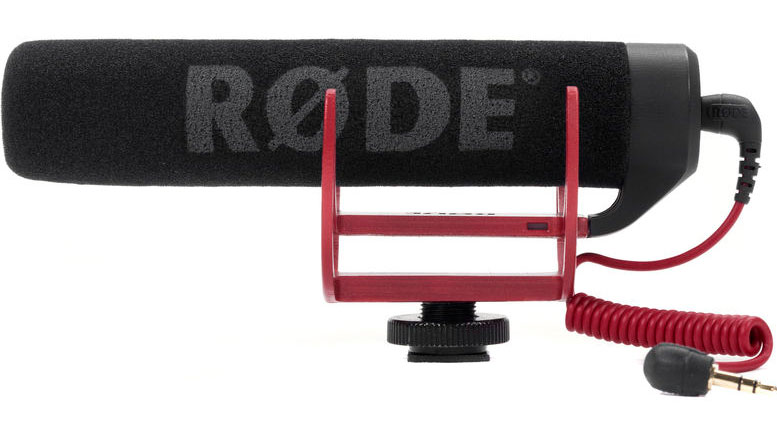 The
is a directional shotgun microphone similar to Rode's VideoMic Pro +. It has less features than the Rode VideoMic Pro + but it is also a third of the price. So if you are on a budget and looking for a shotgun microphone for your Smartphone this could be a good choice. Like the
it does come with a suspension mount, to help cushion the microphone when you are moving. This is useful if you are running around with your Smartphone and don't want to pick up any unwanted sounds on your audio.
The
is a mono microphone and comes with a mono lead to connect it to a DSLR. To get it to work with your Smartphone you will need to invest in the
patch cable. This will convert the microphone's audio output to a TRRS signal so it will work properly with your Smartphone. The VideoMic Go does not need batteries but does need power from your Smartphone to work correctly. This comes from a low voltage power supply that comes from your Smartphone's 3.5mm headphone socket. It is however easy to set up. You just mount the microphone on a cold shoe mount like the one found on the iOgrapher and connect the cable to your Smartphone's 3.5mm socket. Once you have done this you are ready to start recording your audio.
Compared with other microphones it is not heavy. It weighs only 73 grams so you will hardly know that is there. It also comes with a foam windshield for when you are filming outside or in windy weather. This does a good job most of the time but for harsher climates you may want to add a more advanced protection like Rode's own
. The suspension mount does get in the way a little when putting this on but it is possible to add an extra wind shield if your need it. Overall this is a good low cost shotgun microphone that is lightweight and easy to set up and use. Don't expect the features found in its bigger brother the
, but as beginner microphone for your Smartphone, this is good value for money.
Price:

Takstar SGC-598 Condenser Microphone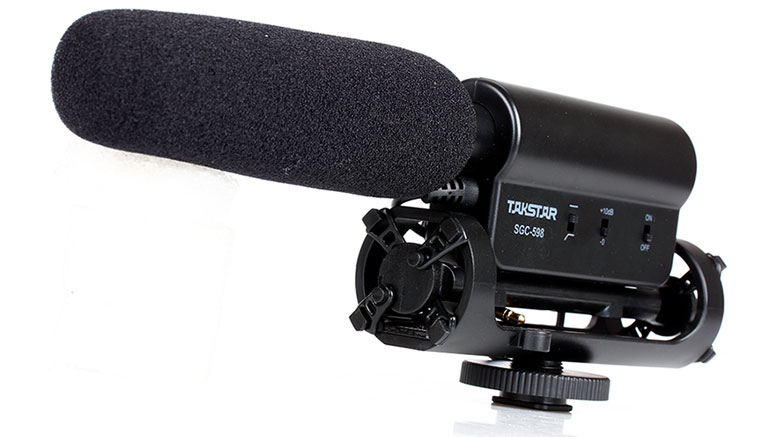 The
is a low cost shotgun microphone with a shock resistant mount. It also comes with a windsock and a handy carrying pouch. Reviewers often compare this microphone next to more expensive microphones like the
which can cost hundreds of dollars more. The
is not as good as the Rode VideoMic Pro + but in various tests it stands up well to this competition and is a fraction of the cost.
The build quality is decent and it also has +10db audio boost and a low-cut switch. The frequency is 50kHz, which is a pretty good for a budget microphone of this type. It does lack bass for low-end frequencies but you can solve this by adding the bass back in, when edit your video. It also has a cardioid polar pick up pattern which is common for a shotgun microphone and it does a good job of only picking up sounds that are in front of it. Please note though, to get it to work with your Smartphone you will need to add an adaptor like the Rode SC4. As far as shotgun microphones go, it's excellent value for money.
Price:

Hand-held microphones
IK Mulitmedia iRig Mic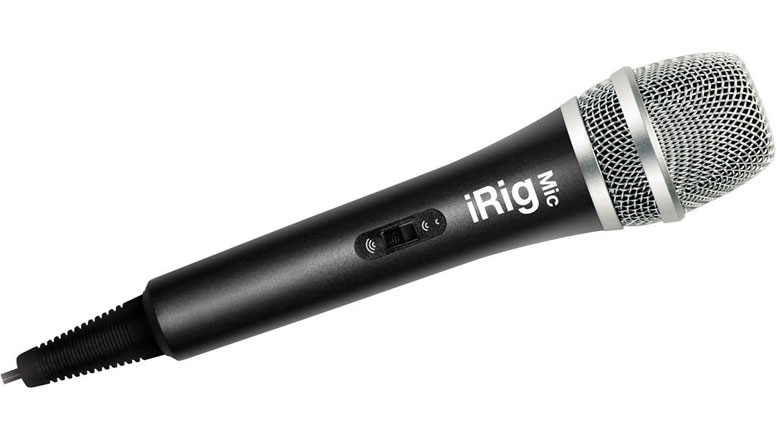 The
is a hand-held condenser microphone that plugs into the 3.5mm input on your Smartphone. This is a budget microphone that is useful for on location interviews and newsgathering. Its sensitivity is less than some other hand-held microphones so you will need to make sure you are close to the subject to get a good audio level. Try not to be more than three feet away from your subject when you record your audio.
The
is a unidirectional microphone that comes with a headphone port for audio monitoring, so you will be able to hear audio as you record it. The gain control adjusts by a three-level switch that gives high, mid, and low gain choices. This can be a little limiting and you may have to use your video camera app's audio gain control to get a good level. It has a familiar form design for a hand-held microphone and is ideal for location interviews and recording bands and singers. This is a budget microphone so don't be expecting quality audio recordings compared with other hand-held microphones. However, I would say that if you use it in quiet locations it should give you acceptable results.
Price:

Rode Reporter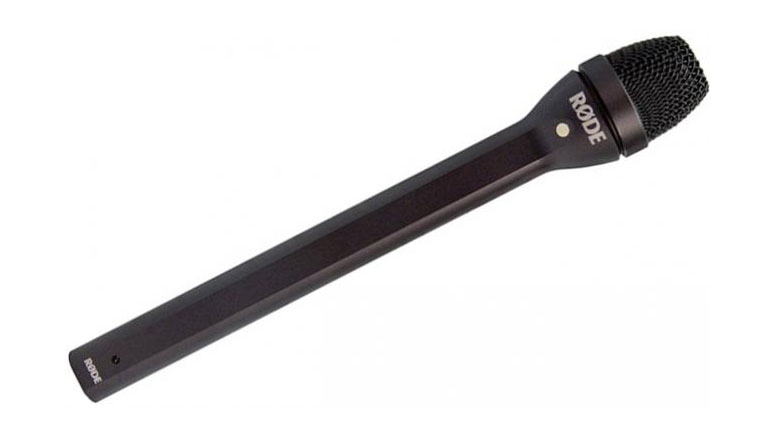 The design of the
microphone is specifically for location reporting and interviews. It is an omni-directional dynamic XLR microphone that connects to your Smartphone by an adaptor like the IK Multimedia
. Its omni-directional pattern will allow you to pick up most of the audio between you and your subject with out the need to move it around too much.
It has a solid all metal construction that will put up with most of the rigours of mobile reporting and its excellent build quality means it will keep working long after you replace your Smartphone. It has a well-balanced weight that will not give you arm strain while you are doing a long interview. There is also a shock mount for the microphone's diaphragm capsule to help reduce any handling noise. The frequency response of the
microphone is 70Hz and 15Hz. The sound peaks off at 70Hz, which means that when you are filming outside or in loud areas the microphone will help to reduce low audio rumbles or wind noises in bad weather. This helps to lessen unwanted noise and give natural sound recordings.
There is no gain control on this microphone but since you can only use it with an XLR adaptor this is not a problem. Most
for Smartphones have built in pre amps and gain controls so you can adjust the levels of the attached microphone. If you are looking for a quality hand-held interview microphone, this is a good recommendation.
Price:

Sennheiser MD-46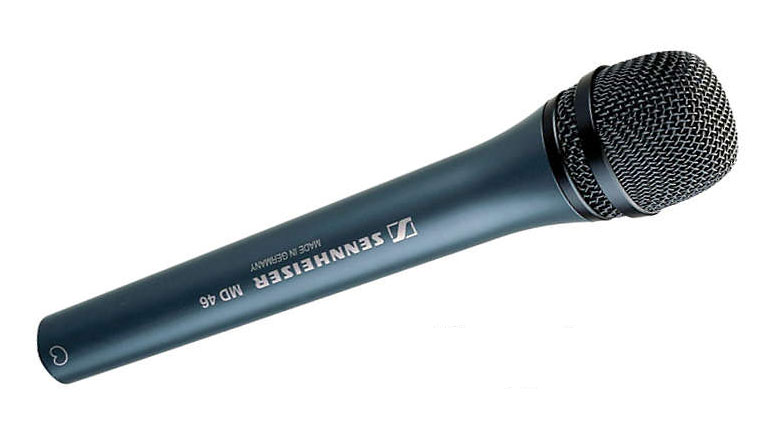 The
is an interview and newsgathering XLR microphone like the Rode Reporter. Unlike other hand-held omni-directional microphones, the MD-46 has unidirectional cardioid pattern. This means it has excellent background-noise rejection and will give you low noise in windy conditions. It features a long handle to make it easy to hold and will give you enough reach to get the microphone near the person you are interviewing. It is also light, weighing only 0.79 lb so you won't get arm ache on a long interview.
The cardioid pattern of this microphone means it is great for capturing voice recordings and removing any unnecessary interfering sound. This means if your subject is more than twelve inches away you will barely hear them. This is not a hindrance but helpful for reducing unwanted background noise. If you are doing an interview in a busy crowd you may hear some background noise but your subject will be loud and clear providing they are close to the microphone.
It is also good at reducing any unwanted plosives you may pick up. These are the annoying thumps you get when someone says a B or P. The
can do this because of the reduced sensitivity of the microphone, which helps it work at higher gain levels without getting any audio clipping. In other words this microphone is great at recording speech and getting rid of other sounds you don't want. This makes it a great location microphone for interviews and newsgathering.
Price:

XLR adaptors
IK Multimedia iRig Pre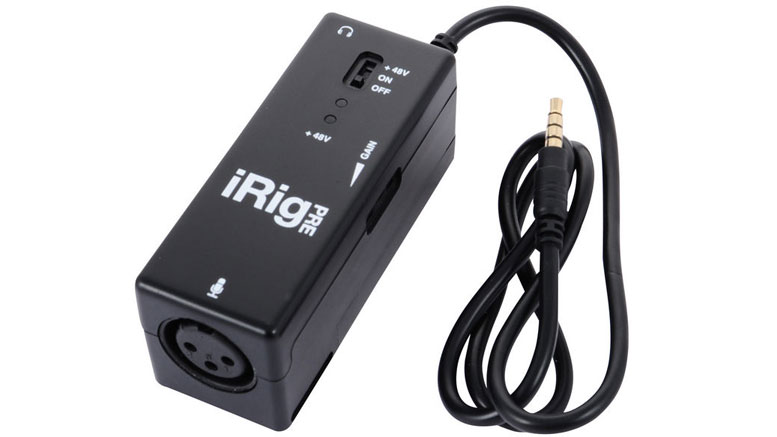 If you are going to connect a professional XLR microphone to your Smartphone you are going to need an XLR adaptor. This gives a better connection to audio equipment and less interference problems. The
is an XLR to TRRS mini jack adaptor that makes it possible for you to connect all types of professional balanced microphones to your Smartphone. Some professional microphones need their own power supply to work.
The iRig Pre solves this problem with a built in 48v phantom power supply. This supplied power will allow microphones that need an external power supply to work correctly when you connect them to the
. The included 9 volt battery also powers a built in pre amp. The pre amp is a welcome addition and will improve the sound quality of your audio recordings by giving you more gain. The iRig Pre also has a gain control. If the audio is peaking too loud on your Smartphone you can adjust the gain control until you get the right level. This can be useful if the subject is too loud or the video camera app you are using doesn't have its own gain control.
If you plan to film location news reports with a microphone like the
, the iRig Pre is essential. It will allow you to connect any XLR microphone to your Smartphone and give you more gain with the built it pre amp.
Price:

Saramonic SmartRig 2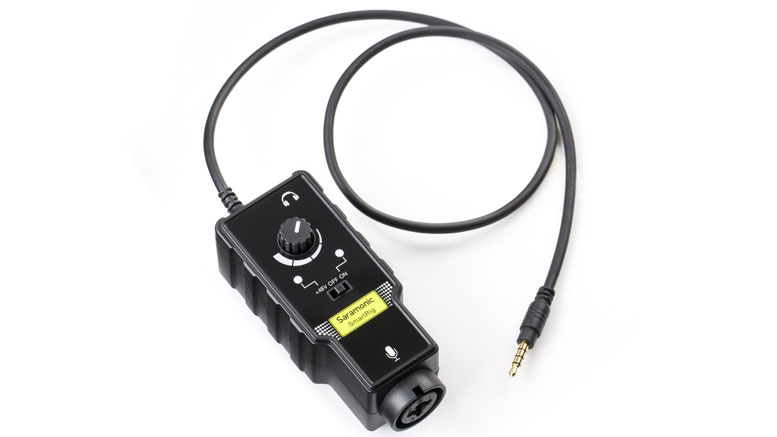 The
is a similar product to IK Multimedia's
. It is an adaptor that connects professional XLR microphones to your Smartphone's 3.5mm input socket. It has a built in pre amp to give better audio quality and a gain control to adjust the audio recording level. It also has 48v phantom power for XLR microphones that need it.
The
gets its power from a single 9 volt battery. This will give you many hours of use before you need to replace it but be aware if you turn on phantom power you will reduce the power more quickly. There is also a headphone port for audio monitoring if your video camera app supports it. The SmartRig 2 has great build quality and the audio gain dial is easier to use than the one on the iRig Pre.
There isn't much to separate the
against the iRig Pre and both are great at connecting XLR microphones. If you don't have either one you're severely limiting your audio recording choices with your Smartphone.
Price:

Saramonic SmartRig Plus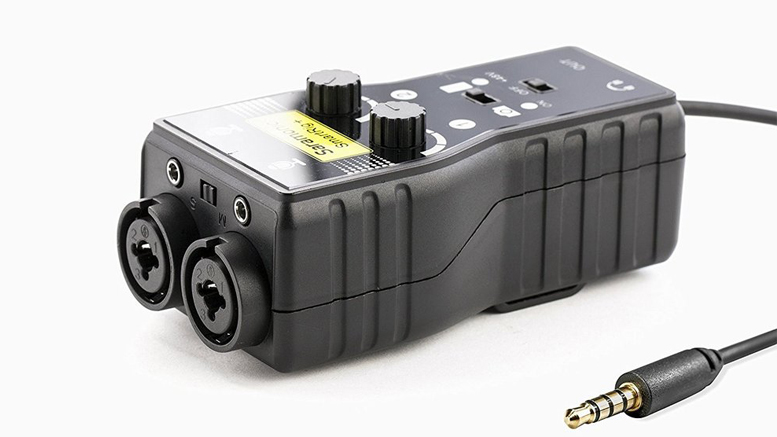 The
is the bigger brother of the Saramonic SmartRig 2. Where it differs is the option to connect two XLR microphones to your Smartphone instead of one. In fact, it has multiple connections for you to add many microphones. If you don't want to use the two XLR sockets you can use the inner holes to plug in two ¼ inch instrument jacks that are common with musical instrument cables. Alongside these there are also two 3.5mm sockets for connecting audio equipment that needs 3.5mm inputs.
Combined with the two XLR sockets it is possible to connect four microphones at once. Each audio channel has a gain control so you can adjust the audio level. You do this with the two control dials and these will clearly show you where your gain settings are set. If you set these channels to stereo the SmartRig Plus will give you a mixed down stereo channel. Or you can set them to mono so you can control each channel independently. The
comes with 48v phantom power for both XLR channels. So if you connect a microphone that needs an external power source you can power it from the SmartRig Plus.
There is also a switch for changing the 3.5mm output cable to a TRRS Smartphone signal or to a TRS signal for a standard DSLR camera. So there is no need to buy a separate adaptor to get the SmartRig Plus to work with your Smartphone. Next to the 3.5mm output cable you will find the headphone socket. This is useful if you want to monitor your audio with your favourite pair of headphones. This socket can also double up as a second output alongside the 3.5mm cable if you need to record to a second audio recorder. The
gets its power from a single 9v battery which should give you about six hours of use. At the bottom of the SmartRig Plus you will also find a ¼ inch screw mount. You can use this to add a cold shoe adaptor so you can mount it above your Smartphone with the help of an
or other Smartphone case.
Price:

Rode Wireless Go Radio Mic
If you need a low budget wireless microphone for your Smartphone movies you cannot go far wrong with the Rode Wireless Go Radio Microphone. The Rode Wireless Go includes a transmitter and a receiver which both measure just 44mm x 45.3mm x 18.5mm in size and weigh a mere 31g.
The transmitter has an omni-directional condenser microphone that is right inside the unit. You can use this as a lapel microphone or you can add your own TRS lapel microphone, which you can plug into the transmitter's 3.5mm microphone socket.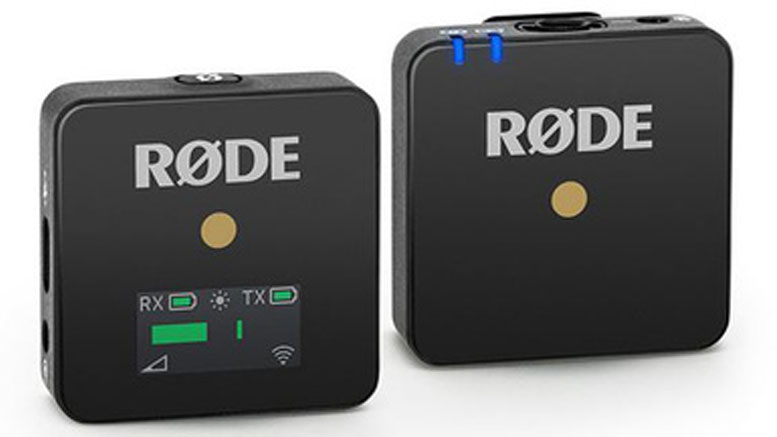 The receiver has a range of up to 70 metres but be aware that you must keep a line of sight with the transmitter or you may get reception problems. The receiver has a clip mount and you can also attach it to cold shoe mount above your Smartphone. You can set the TRS output socket to lower the audio signal by -0dB, -6dB or -12dB if you need to bring down the audio gain into your Smartphone.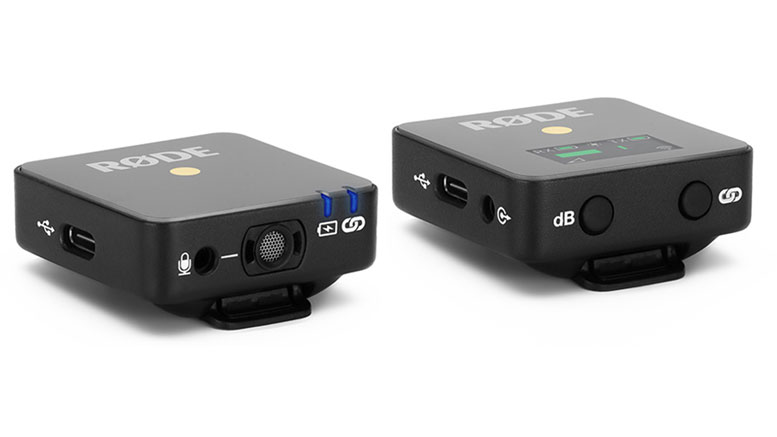 However, to get the receiver to work with your Smartphone you will need to use a TRS to TRRS adaptor like the Rode SC7. Both transmitter and receiver have built in batteries that you charge with the included USB-C cable. On full charge they should give you up to 7 hours continuous use.

Other Popular posts like this:
What are the 9 best iPhone Lightning Port Microphones?
11 Best Smartphone Microphones of 2018
Best External Android Microphones For Video & Podcasting 2018