What are the best wireless microphones for Smartphones?
It wasn't until recently that if you wanted a wireless microphone for Smartphone filmmaking it would cost you a small fortune. This is no longer the case. I am glad to say that there are now many wireless microphones available for your movie production.
With so much choice it can be difficult to know what to invest in. With that in mind, I have picked some the best wireless microphones to help you with your choice.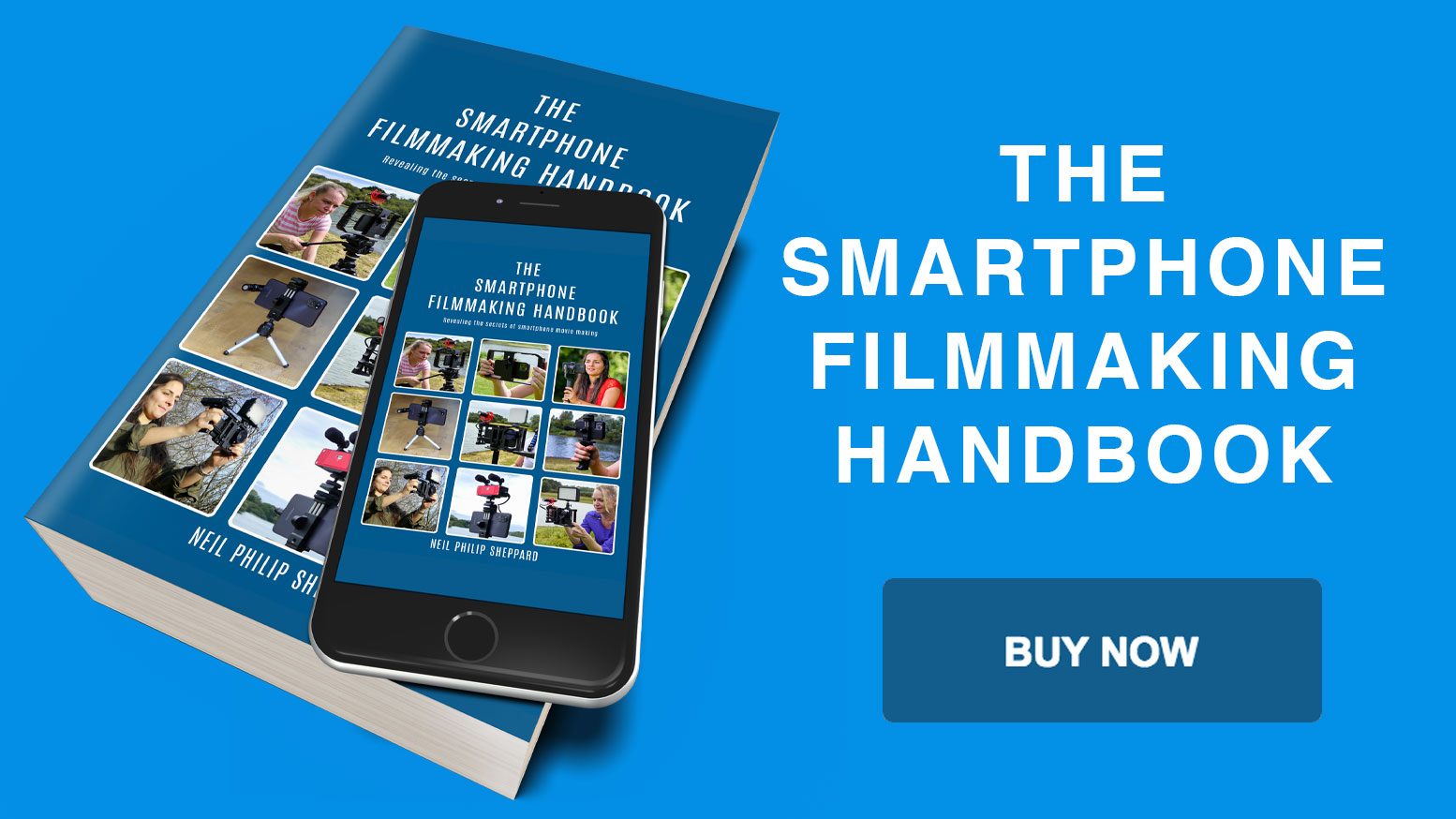 Rode Wireless Go II Radio Mic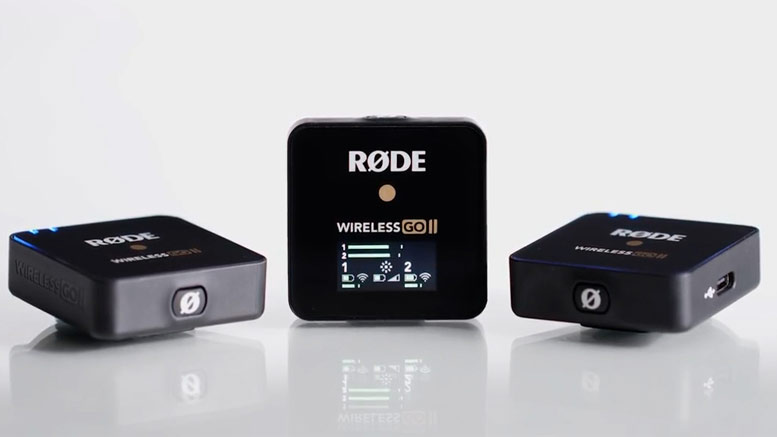 If you need a low budget wireless microphone for your Smartphone movies you cannot go far wrong with the Rode Wireless Go II Radio Microphone. The Rode Wireless Go II includes two transmitters and receiver, which both measure just 44mm x 45.3mm x 18.5mm in size and weigh a mere 31 grams.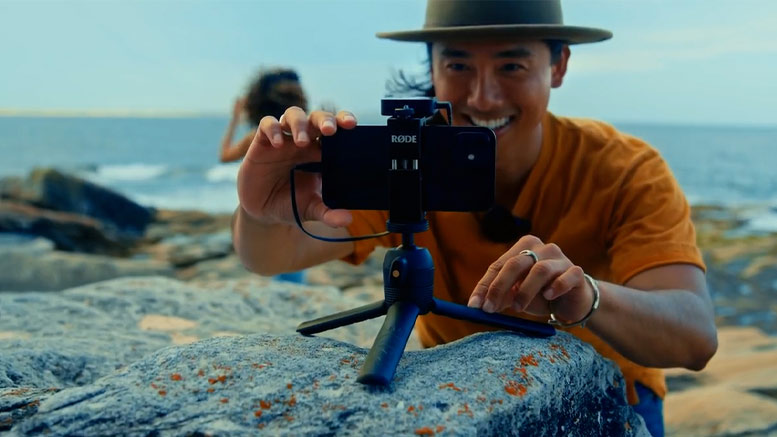 The transmitters have an omni-directional condenser microphone that is right inside the unit. You can use this as a lapel microphone or you can add your own TRS lapel microphone, which can plug into the transmitter's 3.3mm microphone socket. The transmitters also have built in audio recorders that will hold up to 40 hours of recorded sound.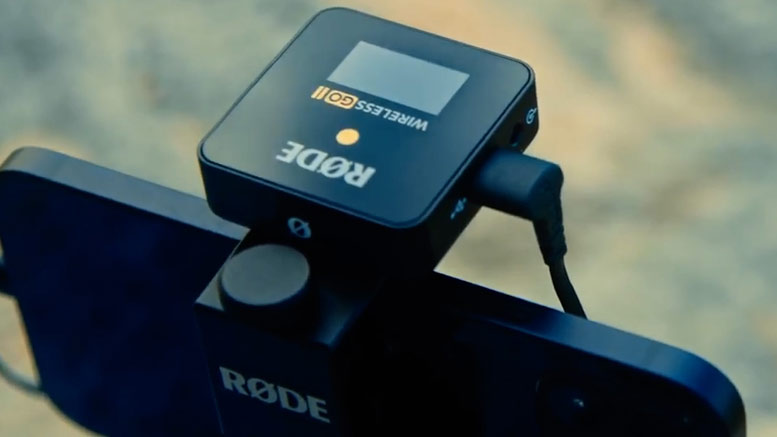 The receiver has a range of up to 200 metres but be aware that you must keep a line of sight with the transmitter or you may get reception problems. The receiver has a clip mount and you can also attach it to a cold shoe mount above your Smartphone. You can set the TRS output socket to lower the audio signal by -0db, -6db or -12db if you need to bring down the audio gain into your Smartphone.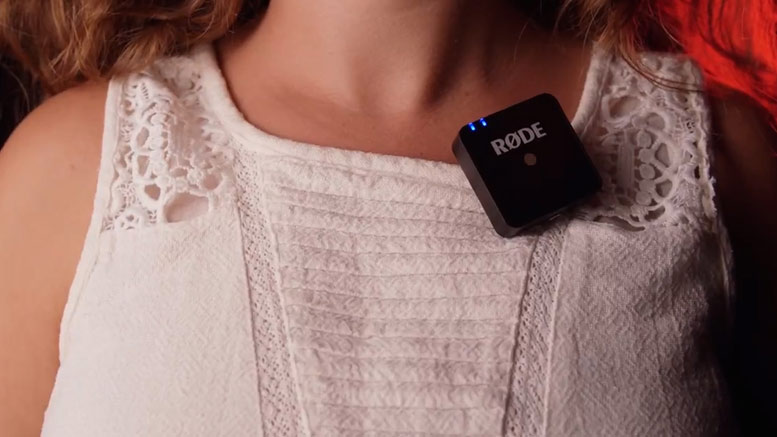 It also has a USB-C output to connect to Smartphones. Both transmitters and receiver have built in batteries that you can charge with the included USB-C cable. On full charge they should give you up to 7 hours continuous use.
Price: $259.00 £222.00 €234.00

Saramonic Blink 500 B3/B5 Wireless Microphone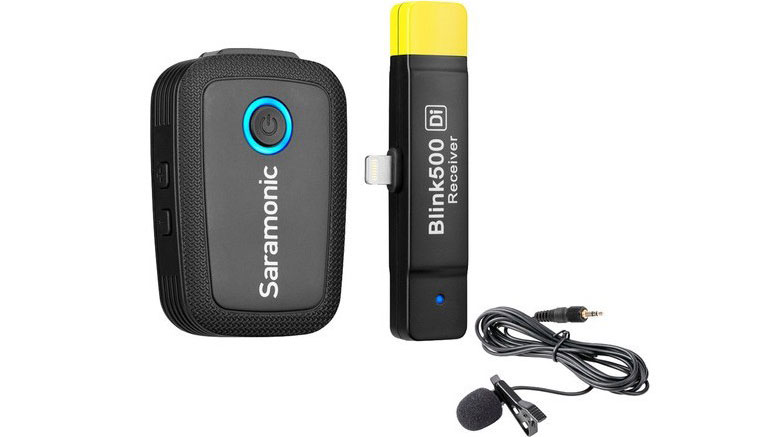 The Saramonic Blink 500 B3/B5 is compact lightweight wireless microphone system for iPhone or Android Smartphones that will give you quality broadcast audio for your videos. The transmitter is similar to the Rode Wireless Go. It is a small and compact microphone that you can clip to your subject's clothing for interviews or mobile reporting.
If you don't like to use the built-in microphone on the transmitter, you can plug in the provided SR-M1 Lavalier microphone instead. This can be less intrusive than the transmitter microphone and not as noticeable on clothing. You simply hide the transmitter in another location on your subject's body.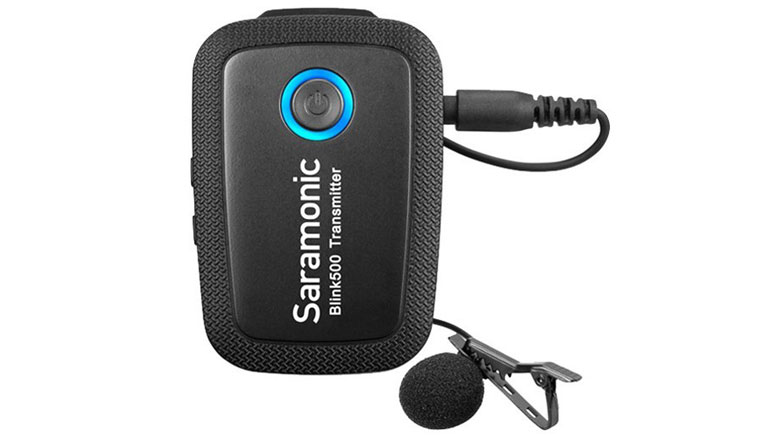 The Blink 500 RXDi receiver plugs into your iPhone's lightning port. It is lightweight and takes up little space when connected to your iPhone. In fact, you can use it with a Smartphone gimbal without upsetting its balance. This is useful for those who want smooth shots when using their iPhone.
The receiver needs no batteries to power it. It gets its power from the iPhone, so you won't have to worry about it running out of power.
Saramonic also sell the Blink500 B5 and it is identical to the Blink 500 B3. The difference is that it is a USB-C wireless microphone for use with Android Smartphones. Unlike the B3, the Blink 500 RXDi B5 receiver plugs into the USB-C port of your Android Smartphone. It gets its power from the Android Smartphone it connects to.

Both systems run on the 2.4Ghz frequency, which seems to be the popular choice for this type of wireless microphone system. You shouldn't have too many problems using it but you should be aware that this is a line of sight microphone. Don't expect it to work miracles if your subject walks into another room without you.
If you need two microphones you can add another Blink 500 transmitter and both microphones will connect to the RXDi receiver. Saramonic sell a double microphone and one receiver pack just for this purpose. Alternatively, you can buy a second transmitter separately.
Price: $219.00 £166.00 €198.00

DJI Mic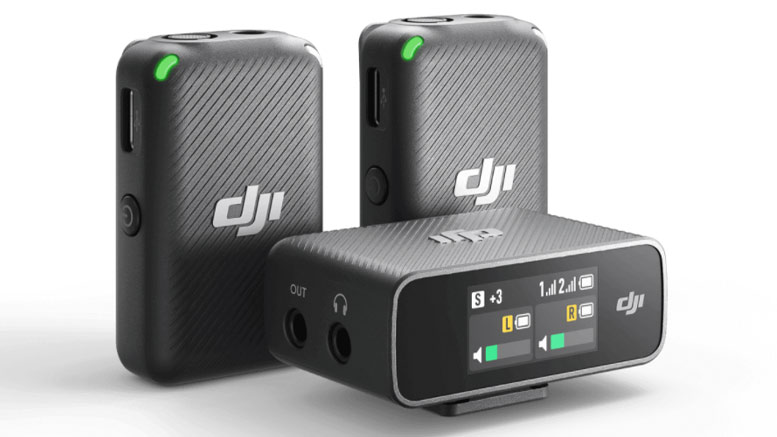 The DJI Mic is an easy, all-in-one wireless microphone system designed to work with cameras, smartphones, laptops, and not just DJI cameras. It comes with two transmitters and one receiver, allowing the user to field a cost-effective and portable two mic system. The transmitters each contain an omni-directional microphone, as well as inputs for an external microphone, and it all comes in a charging case that considerably extends the battery life.
The charging case gives you a huge, portable source of power that allows you to keep recording for up to 15 hours or so without needing a charge, but it also automatically pairs the transmitter and receiver whenever they're dropped back in, which saves a lot of hassle. The DJI Mic charging case can charge everything at once, and only needs one USB-C cable.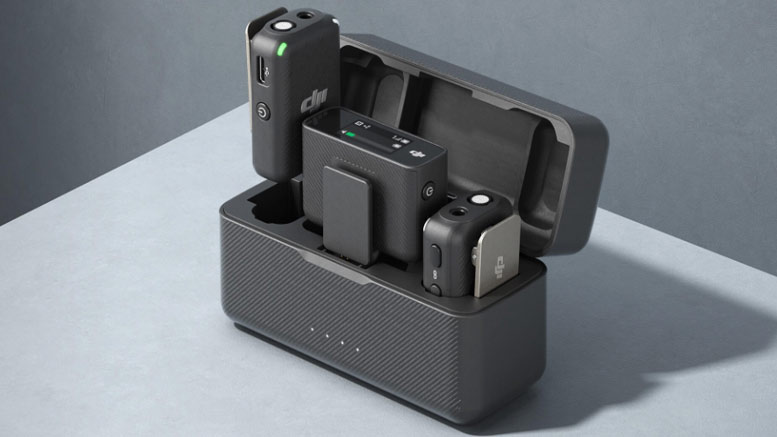 In the case, you'll find the USB-C and Lightning adapters, making it easy to set up the microphones with an iPhone or Android smartphone. There's also the cold shoe adapter for the receiver. You can also use the receiver's touchscreen to activate safety channel mode. This is a separate track that records with a volume of -6DB, and is a great way to prevent your audio from being irreparably blown out by a sudden loud noise. The transmitters have a range of 250m and also have built in audio recorders that can record your audio as a backup.
Price: $289.00 £280.00 €280.00
Boya BY-WM3D/BY-WM3U Wireless Microphone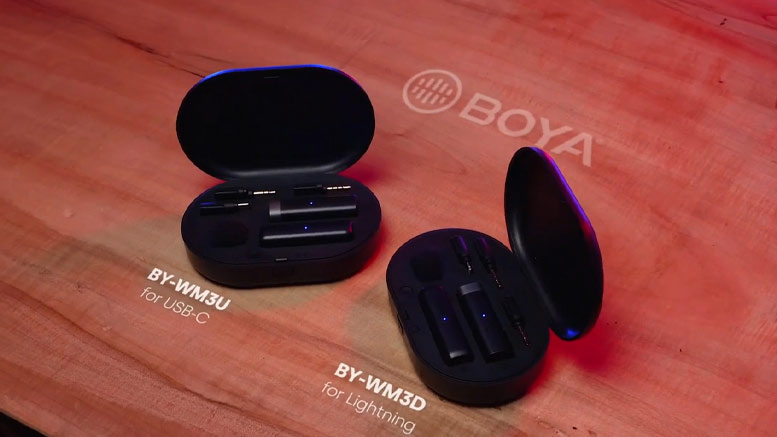 The BY-WM3D/BY-WM3U is similar to the Saramonic Blink 500 wireless microphone. It is a compact wireless microphone set for use with Android and iPhone Smartphones. The Boya BY-WM3D receiver uses the lightning port on an iPhone and the BY-WM3U receiver uses the USB-C port on an Android Smartphone.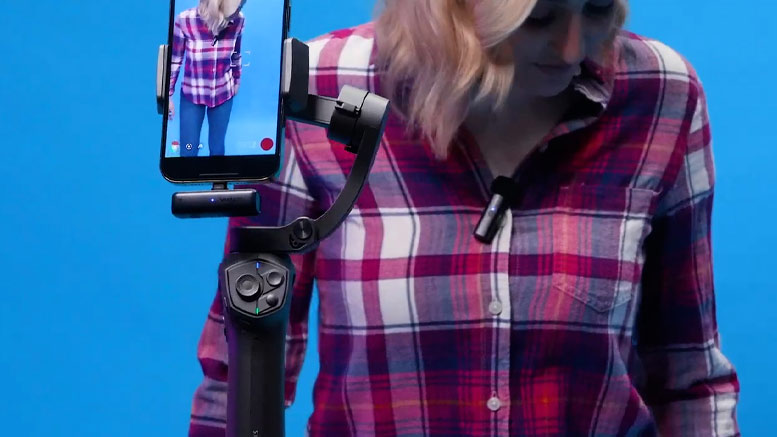 Both wireless microphones use the 2.4GHz band for wireless transmission. Both the transmitter and the receiver have a compact housing which makes the Boya suitable for making instructional videos, interviews, and other audio filmmaking tasks.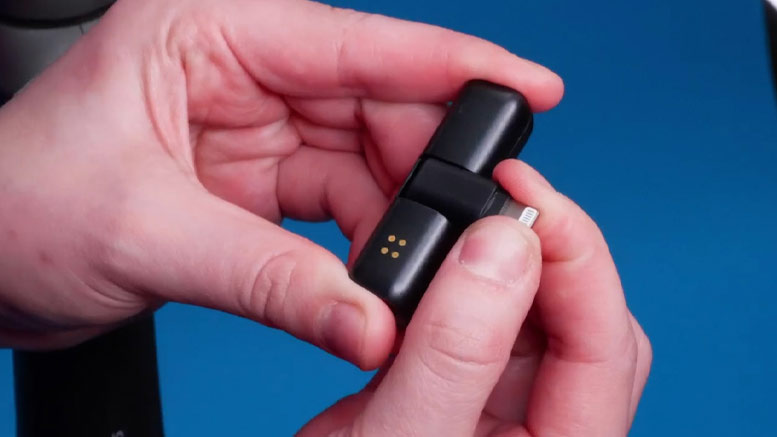 The Boya is supplied in a wireless charging case, which, in addition to charging, is also used to connect the transmitter and receiver. The supplied adapters and windscreen can also be stored in this charging case. The unit weighs only 129 grams, with the transmitter and receiver weighing only 10.5 and 9.5 grams respectively.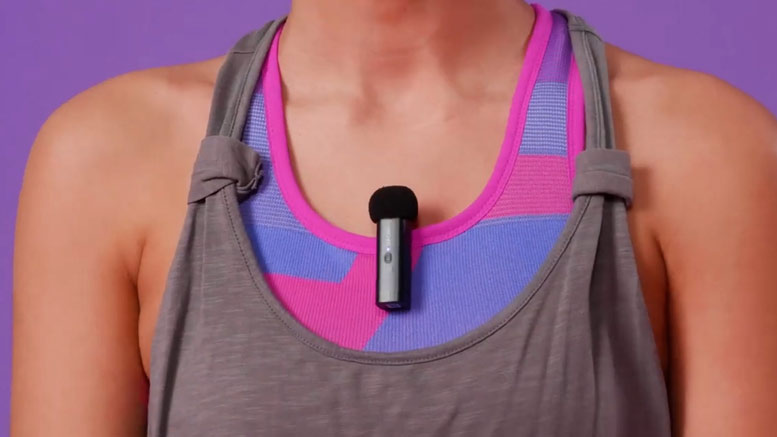 Both the transmitter and the receiver are made of high quality plastic. It also includes a 3.5mm TRS Adaptor, which is suitable for DSLR cameras and a 3.5mm TRRS Adaptor for Smartphones and tablets with a 3.5mm socket.
Price: $125.00 £90.00 €113.00

SabineTek SmartMike+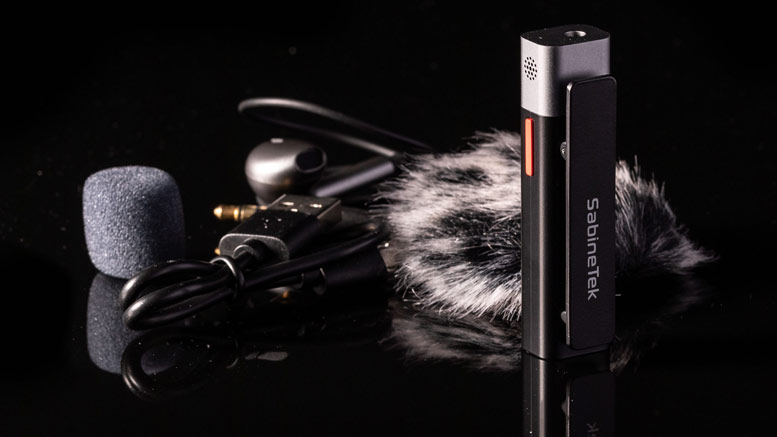 Until recently you had to spend a small fortune to buy a wireless microphone for filmmaking. Fortunately, there are now many wireless microphones available for your Smartphone. The SmartMike+ from Sabinetek is a Bluetooth 5.0 wireless microphone that aims to be your number one choice for mobile filmmaking. It works with both iOS and Android Smartphones and comes with a earphone with 3.5mm jack, foam windshield, dead-cat windshield, USB Charging Cable and a helpful user Manual. So it has plenty of extras for many audio recording situations.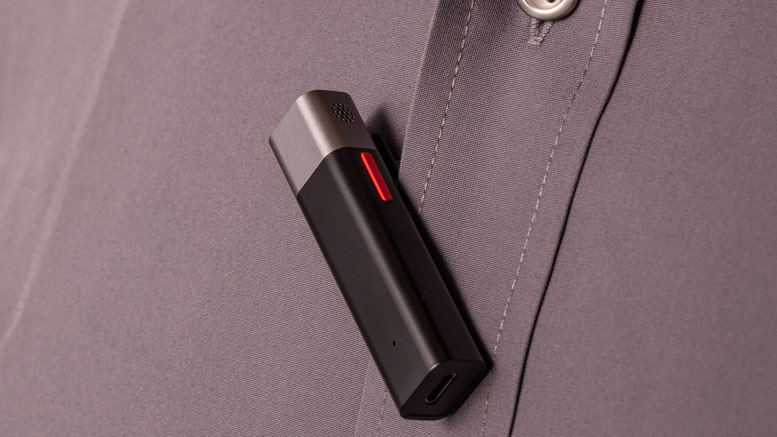 The Sabinetek SmartMike+ is compact in size and small enough to leave in your Smartphone filmmaking kit bag without taking up any room. It weighs in at just 14 grams and its size and weight make it extremely portable for mobile filmmaking. It features a 44.1khz/48khz stereo sound pickup for quality sound recording and will transmit in real-time back to your Smartphone. You can also add a second SmartMike+ so you can record two people at the same time. The SmartMike+ app can also mix in real time background music from streaming apps like Spotify and iTunes.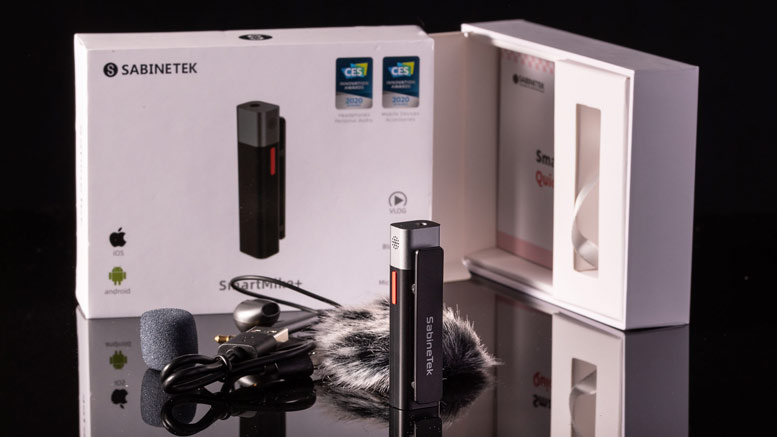 You can fully charge the SmartMike+ in one hour and this should give you 5-6 hours of use before it needs recharging from the 110mAh battery. You charge the SmartMike+ with the USB cable that comes withe the microphone. You can also start and stop recordings on the SmartMike+ app by pressing the button on the microphone. Double clicking the button will switch between the front and rear camera on your Smartphone. If you plug in the earphone that comes with the SmartMike+ you can use the microphone to make phone calls and listen to music from your Smartphone.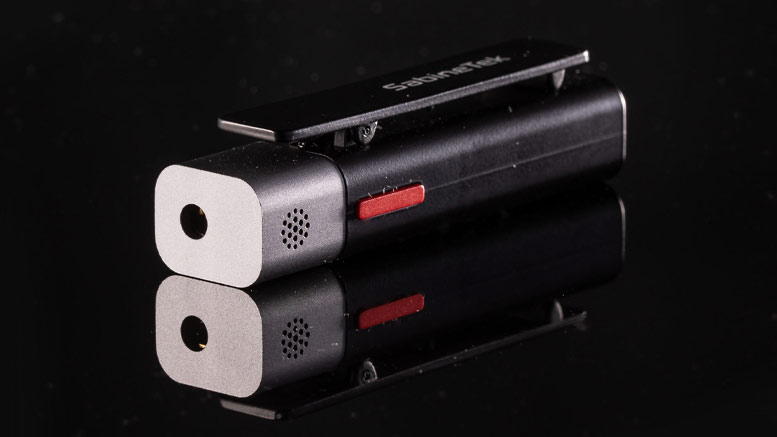 If you buy a second SmartMike+ it can be paired with the first and they can act as transmitter and receiver. You can use the 3.5mm output jack on the receiver SmartMike+ to connect to the microphone input on a DSLR camera. This is handy to give you a great low budget solution for a wireless microphone for a video camera.
The app has three modes: Vlog, Interview and Audio. The Vlog mode will operate as a standard video camera recorder. Interview mode will also record video and audio from the SmartMike+ but will also record audio from the Smartphone's internal microphone at the same time. Audio mode will record just sound without video. There are a choice of Aspect ratios including 1:1, 4:3 and 16:9. Other features include mixing levels, gain, monitor and noise suppression.
There is a choice of resolutions including 540p, 720p, 1080p and 4k and you can also switch between front and rear cameras. Another great feature is audio transcription. When you finish recording your video you can tap the CC button and have your audio transcribed to subtitle on your video. You can also export an SRT file for YouTube subtitles.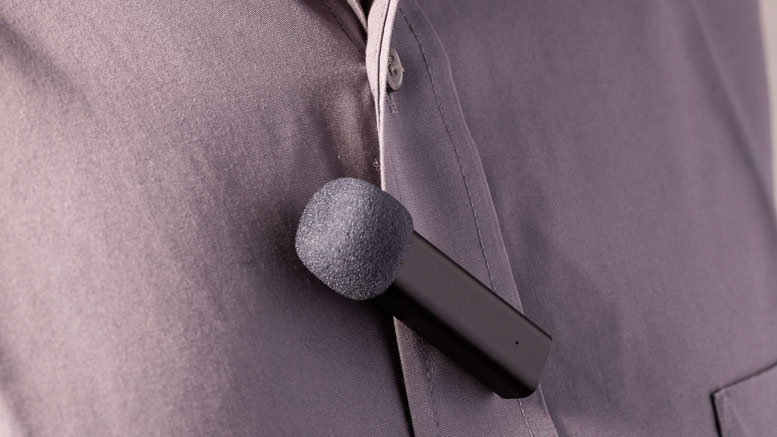 The SmartMike+ sounds great and will easily give you better quality audio than you Smartphone's built in microphone. If you are filming outside you can add the foam windshield or for more extreme weather conditions the furry dead-cat. Both will improve the quality of your audio and give you great sound recordings. So is the SmartMike+ the best Bluetooth microphone for filmmaking? Well you cannot go too far wrong with this wireless microphone. It will give you great audio recordings in a compact size at a great low cost price.
Price: $139.00 £59.00 €70.00

Other Popular posts like this:
What is the best video production kit for Android and iPhone Filmmaking?
Is the DJI OM 5 the best smartphone gimbal?
What are the best iPhone microphones for filmmaking?
What are the best budget portable audio recorders for filmmaking?