What are the 6 best lights for Smartphone Filmmaking?
The beginner filmmaker can often ignore the need to light a location for video. If you don't make the effort to light correctly you will get a poor looking final image. So you should always try to take advantage of available light in the room when you need it. You should also be aware of how you position yourself against the sun to help you get a better exposed image.
If however you do have a camera light with you your choices for lighting your subject are far greater than without. Lights don't just help you to get a correctly exposed image they can also help in creating an atmosphere or mood. Where you place a light in the room, adding a filter to a light and bouncing lights off different surfaces can all help to create a different feeling to an image.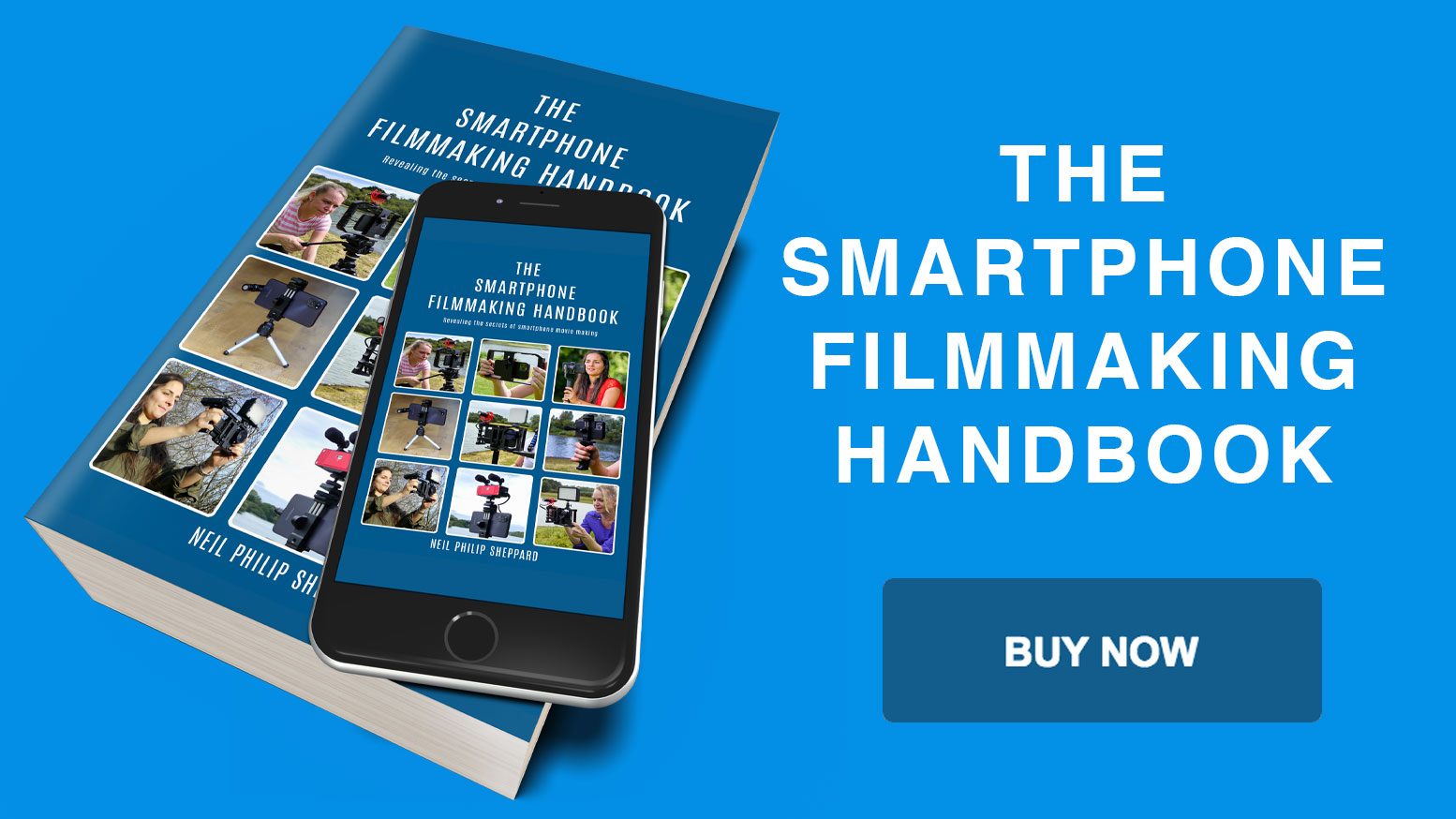 This content uses referral links. Read my ethics policy for more info.
Portable Camera Lights
It is not always possible to carry a full lighting kit when you are a mobile filmmaker so the best solution to this problem is to carry with you some portable lighting. One option is to carry with you one of the many portable LED camera lights that are now available. These lights usually have a cold shoe adaptor so you can mount them above your Smartphone. This is a good solution when you need to light someone quickly.
Which light you buy depends on your budget. Some come with diffusers which can take the edge of any harsh light they cast and some have colour filters to change the colour balance from warm to cool. Whatever you buy do make sure it has a cold shoe mount or adaptor so you can slide the light on to a rig. That way it will sit nicely near your Smartphone when shooting. To help you choose here are a few suggestions.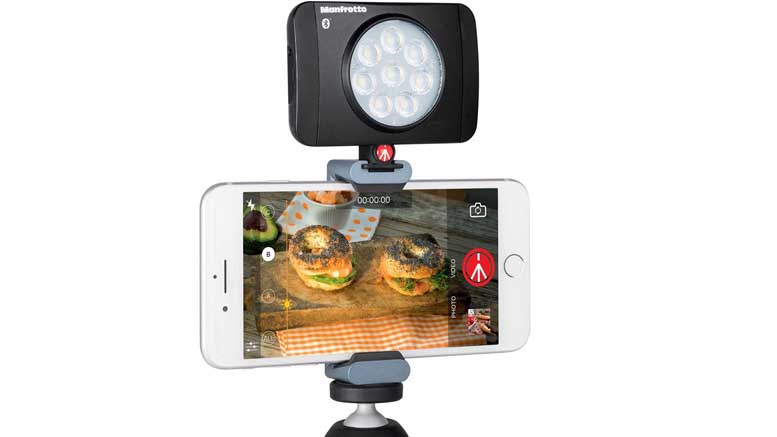 Genaray LED-2100 36 LED Compact On-Camera Light
The Genaray LED-2100 is a compact LED light that may look small but provides 40 watts of power when turned on. It has a cold shoe so you can mount it to any rig with a cold shoe mount. It also comes with a bracket so you can mount the light next to your Smartphone. This is handy if you want to use your cold shoe mount for a microphone instead. Inside the cold shoe mount is ¼" screw socket so you can also mount the light to a stand if needed.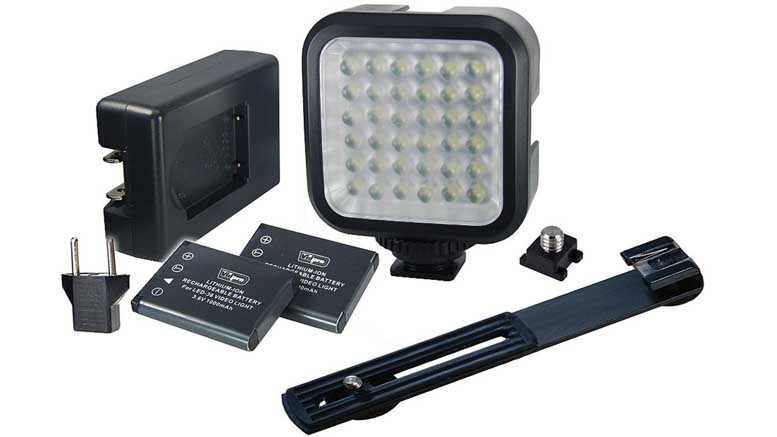 The light itself will cast up to 25 feet so is powerful enough for most tasks. It has a daylight colour balance, which means it has a Kelvin of 5600K. So you don't have to worry about orange tints or having to put a colour filter on. Make sure you set the white balance on your Smartphone to match it though so you get a correct exposure.
If you worry about unwanted shadows the built in diffuser will soften the light and give your subject a gentler look. This avoids having to soften the light with a separate diffuser, which is one fewer item to carry. You can also join other LED-2100's together and stack them horizontally or vertically if you need greater power from the single light.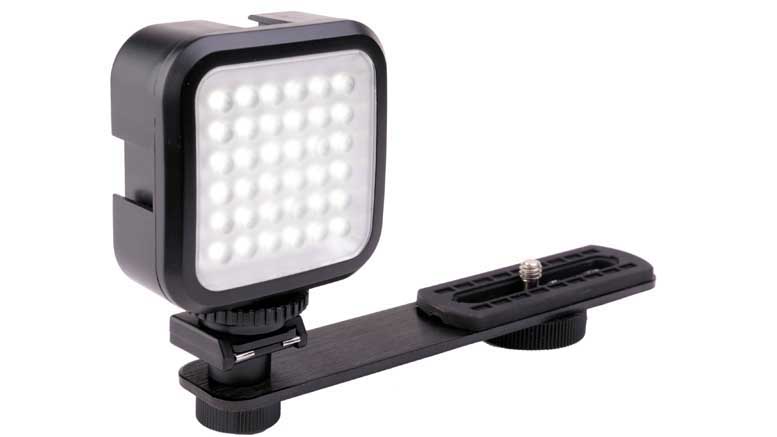 The light itself gets its power by a lithium-ion battery and the LED-2100 includes two batteries with a wall charger. This means you can have one battery on charge while you are using the other. Each battery lasts about an hour so you might not want to use the LED-2100 for any long jobs. But you can always invest in a few more batteries to lengthen the time you can use it.
Price: $22.95 £18.00 €21.00

Lume Cube 1500 Lumen Light
The Lume Cube is a small but powerful LED light that will fit neatly into your kitbag and won't take up much room. Measuring at 1.5 inches you could easily carry a few of them and it has many uses for Smartphone video. As the name suggests it has a Lumen power of 1500, which equals about 25 watts, which is ample power for a light of this size.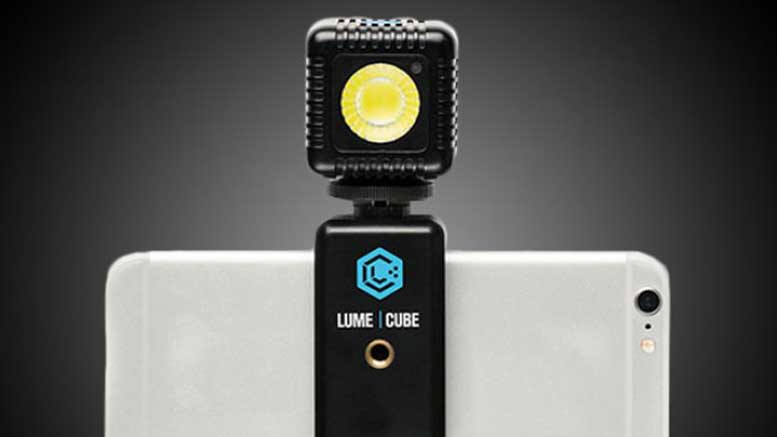 Another great feature of the Lume Cube is that you can control it with your Smartphone. If you want to adjust the brightness you can do this wirelessly over Bluetooth. In fact you can control up to five Lume Cubes this way so you could have them in various awkward places and still have full control over them.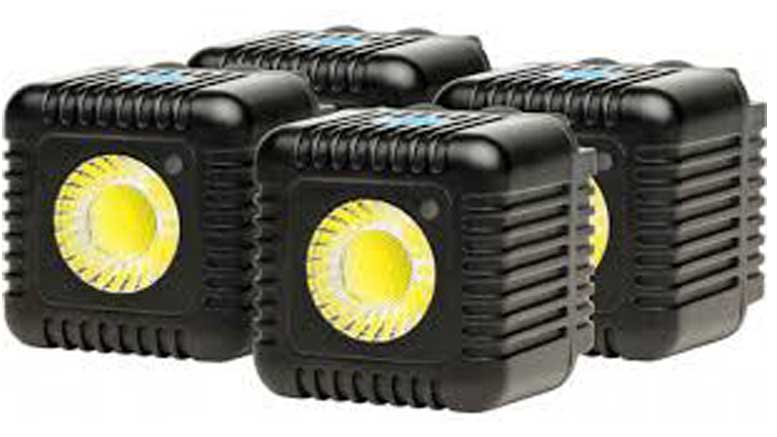 If you want to mount the Lume Cube to a stand you can do that too with the screw mount and it also has a built in magnet and suction cup that allows you to attach it to almost anything. This is great help if you are filming in a tight space like a car. You can even put them in a waterproof case and throw them in a pool and then control them with your Smartphone. There are many lighting possibilities with this light and it has various attachments available so you can mount it on a Go Pro camera or even a Drone.
Price: $69.95 £56.00 €63.00

Rotolight NEO On-Camera LED Light
The Rotolight Neo may be expensive at $300 but it is a quality LED light. It's distinct because of its round shape, which holds 120 LED lights. These LED's also have built in wave modulation so you won't have to worry about any annoying flicker. It's powerful too, boasting a Lux of 1077, which equals to about 75 watts. When turned on it will give you a beam angle of 50 degrees with a reach of about 3 feet so it's great for close up work.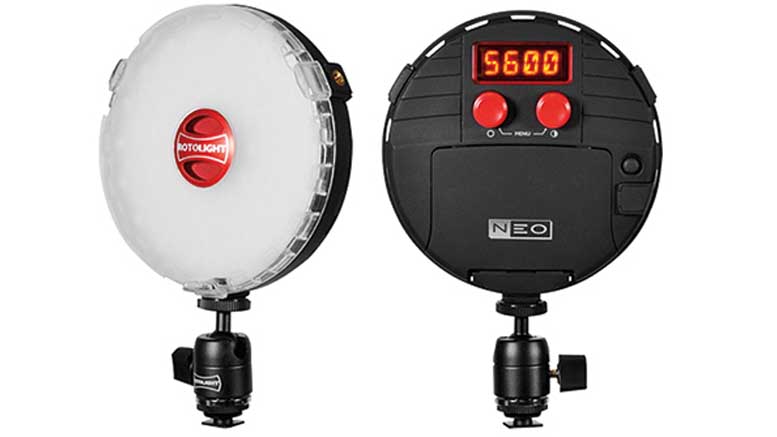 To power the NEOyou will need to provide six AA batteries, which should give you enough power for about 3 hours of continuous use. This might be too short for some but it does come with AC adaptor so you can plug it into a power socket if you need more time. Alternatively you might want to invest in some rechargeable AA batteries to avoid having to buy new ones.
The NEO has adjustable colour temperature, which you can change by using the rear-mounted rotary knob. Give this a twist and you can change it from 3150K to 6300K in 10 selectable steps. This is handy if you want to change your colour balance to match location lights. You can also control the brightness from 1 to 100 in 1% steps so you have total control with the brightness when lighting a scene.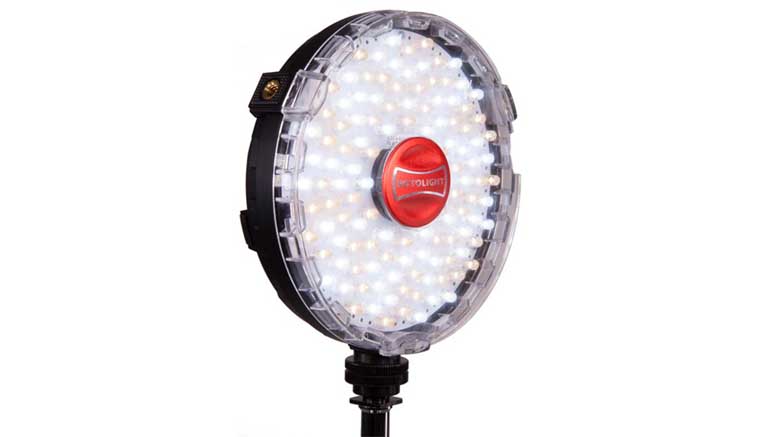 A bonus feature is the SFX mode. These special lighting effects can create slower or faster strobe lighting, TV flicker to give the impression the subject it watching TV and emergency service lights like a Police car. It can also mimic candlelight, a full on blaze from a campfire and even lightning.
Price: $206.00 £162.00 €180.00

iBlazr 2
The iBlazr 2 is compact wireless LED light designed specifically for Smartphones. It has a touch sensor control and can sync wirelessly to an app to control its many features. You can also control the colour temperature and this can change to daylight or tungsten or a mix of the both if you want it. This gives you great flexibility when you are filming and makes it easy to match lighting conditions when you are out and about.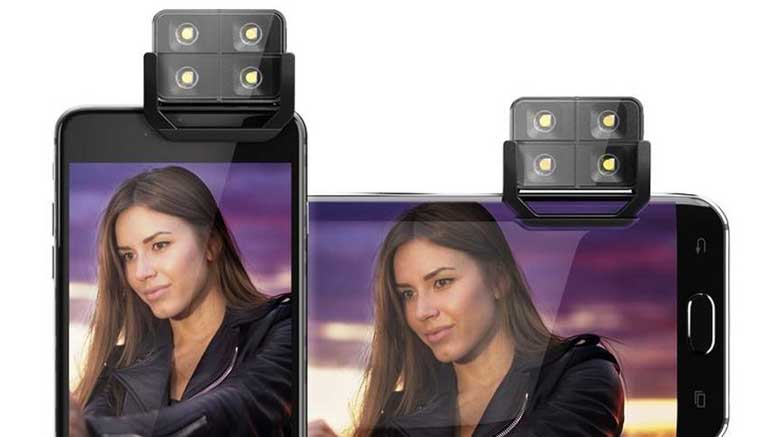 Supplied with the iBlazr 2 is a clip mount, which you can use to attach the light to the side of your Smarphone. This means the light can sit right next to your Smartphone, which makes it ideal for vox pops or run, and gun shoots. Also included is a diffuser, which will soften the light and help to give your subject a flattering look and reduce shadows. This is useful for close up work when you don't want to blind your subject.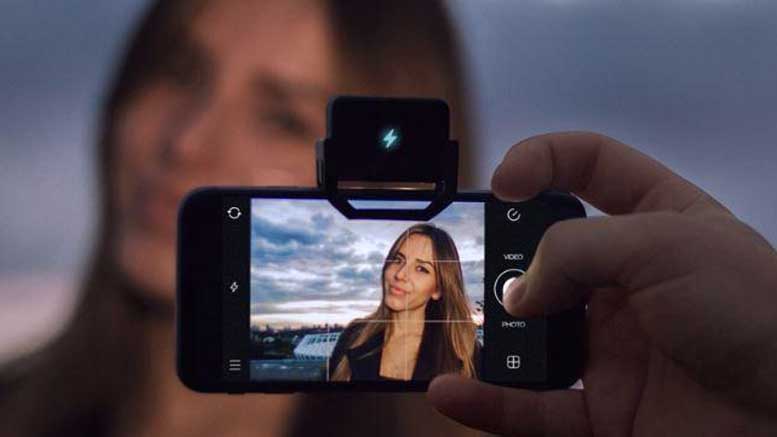 The built in battery will last about 3 hours, which should be enough for most jobs, but you cannot change the battery if you run out of power. However it does come with a USB charger so you could always plug it in to a portable power pack if you need to continue using it. There is also a power indicator on the back of the light to warn you when it may be about to run out of power.
Manfrotto LumiMuse 8
The LumiMuse 8 is the biggest and brightest LED light in Manfrotto's LumiMuse range but is still portable and perfect for Smartphone video. You can control the brightness of the light by simply adjusting the four stage dimming button which also doubles up as the on and off switch. It's powerful too, with a bright light running at 8 Lux.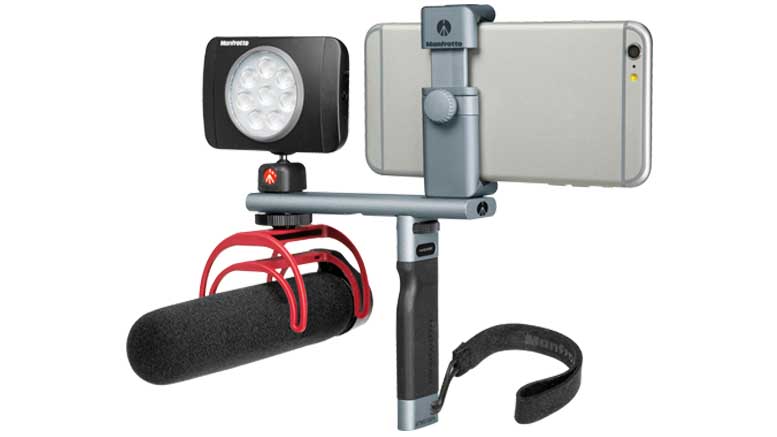 There are plenty of mounting choices for the LumiMuse 8 and it comes with a ball-head, which includes a cold-shoe attachment so you can mount it to any cold-shoe adaptor. There is also a ¼" screw thread so if you want to mount the light on a stand you can.
Also included is a set of colour filters and a filter mount so you can change the colour temperature of the light if needed. There is also a handy carry case to keep the filters and adaptors safe when travelling about. You can also buy other filter kits to use with the LumiMuse if the supplied ones don't give you the right results.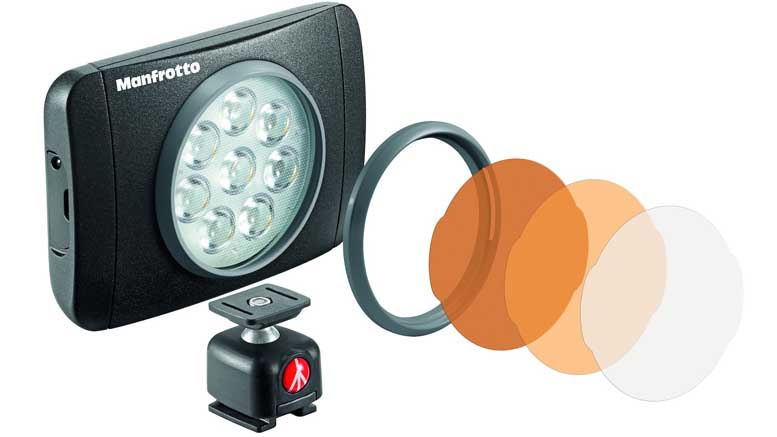 The LumiMuse gets its power by Li-on batteries, which you charge by a standard micro USB port. When fully charged these will usually last about one hour before needing a recharge which should give you enough time for short video shoots. Although it's wise to carry a portable charger just in case you need to recharge the light.
Price: $78.00 £63.00 €70.00

Godox LED64 Video Light
The Godox LED64 is an excellent compact budget video light for your Smartphone. It's lightweight and portable and provides high brightness and an accurate colour temperature. It has a lux of about 1000 so it will be good enough for subjects that are close to your Smartphone. You can also add other Godox LED64 lights together by interlocking them. This will give you more lights without using another cold shoe mount.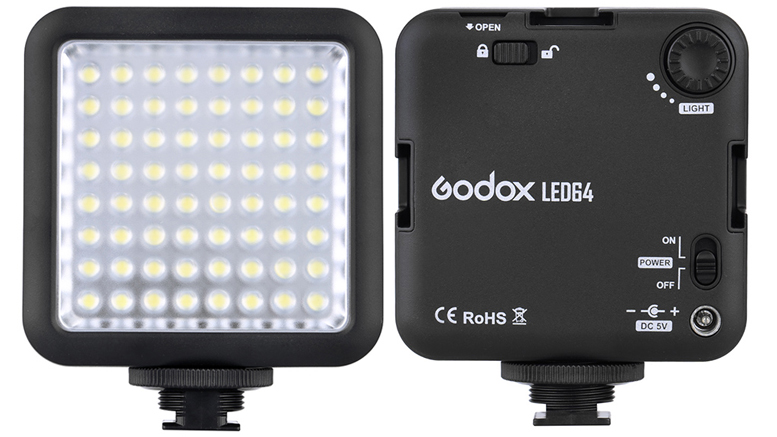 The light itself has 64 LED bulbs and you can adjust these for brightness with the built in dimmer. It's powered by 4 AA batteries, but you can also plug in to an AC power supply if you need to use the light for long periods. The universal cold shoe mount means it will fit most Smartphone tripod adaptors or stabilisers that support the cold shoe mount.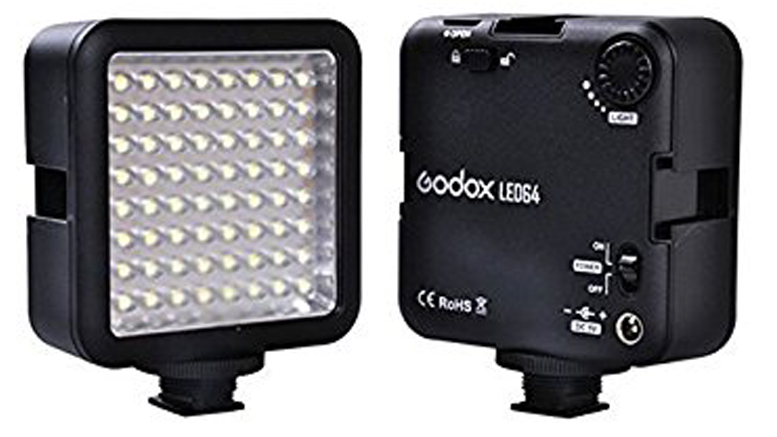 Price: $26.95 £21.00 €25.00

Other Popular posts like this:
Top 10 Best On Camera LED Lights in 2018
Top 10 Best On-Camera LED Lights in 2018
Top 10 Best On-Camera LED Lights 2018