What is the best budget Android filmmaking kit?
Android Smartphones are often thought of as poor cousins to iPhones for filmmaking. This is not the case. You can make great films with your Android Smartphone. With the new camera2 API standard you can now use professional video camera apps like Filmic Pro with your Android Smartphone.
But you will need more than this great video camera app to make good movies. Microphones, lights, camera rigs, tripods, gimbals are just some of the equipment you may need to buy to make professional films.
In the past, such equipment would have been expensive but there are some great low budget alternatives you can buy to improve your Android filmmaking. You don't have to sacrifice quality either. Many low budget choices for Android Smartphones can be just as good as their more expensive counterparts.
So if you want to take your Android Smartphone filmmaking to the next level, and don't want to break the bank, the following equipment suggestions maybe good choices!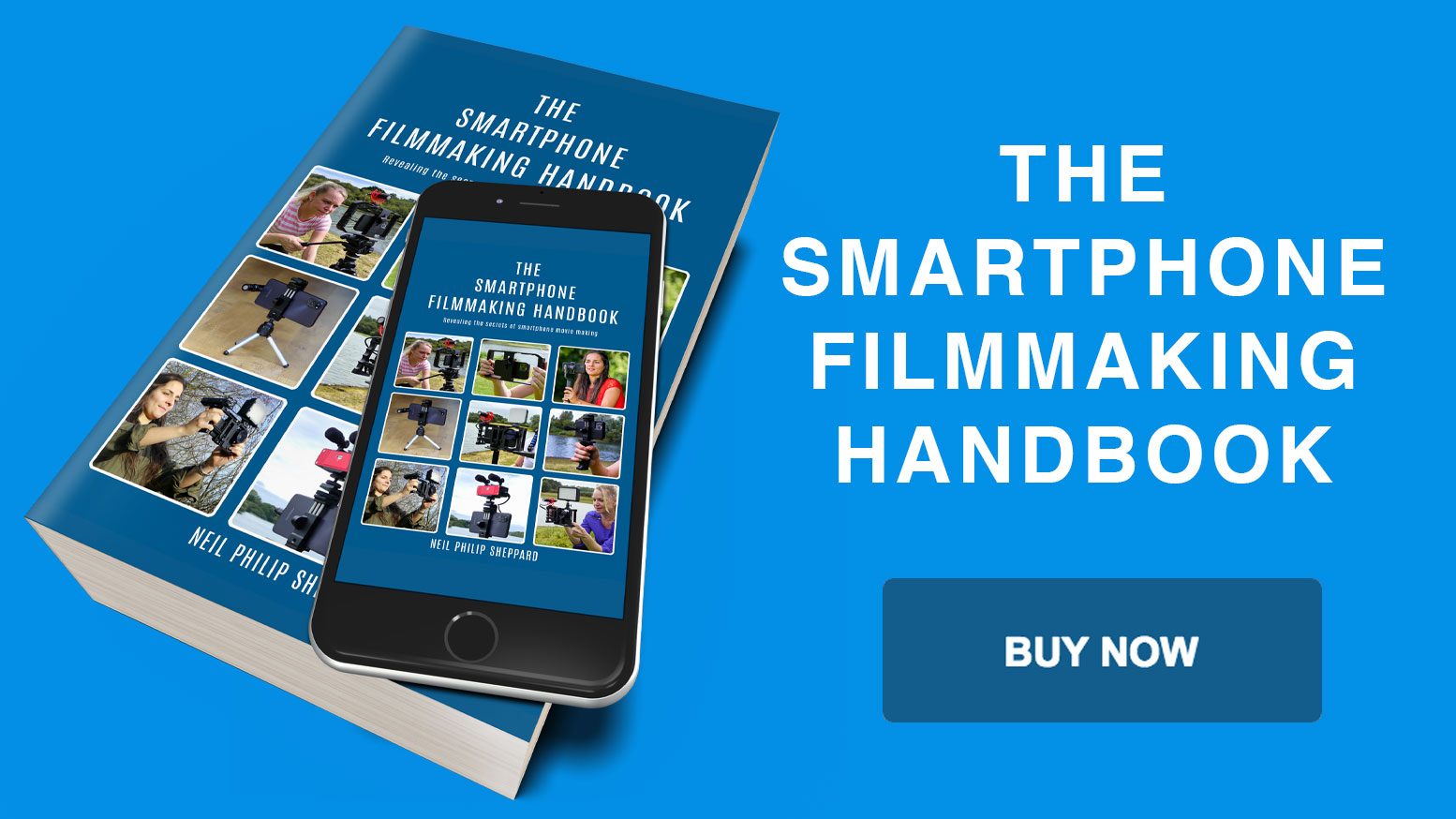 This content uses referral links. Read my ethics policy for more info.
Boya BY-DM2 Lavalier Microphone
If you need a budget lavalier microphone for your Smartphone you could consider the Boya BY-DM2. This lavalier microphone is similar to the Boya BY-M1 so if you are familiar with that microphone you will be well aware of what to expect from the BY-DM2. The Boya BY-DM2 will give you good clear high-quality sound recordings to any connected USB-C Smartphone but if you are using an Android Smartphone make sure it is using an operating system of 5.0 or later as it may not work.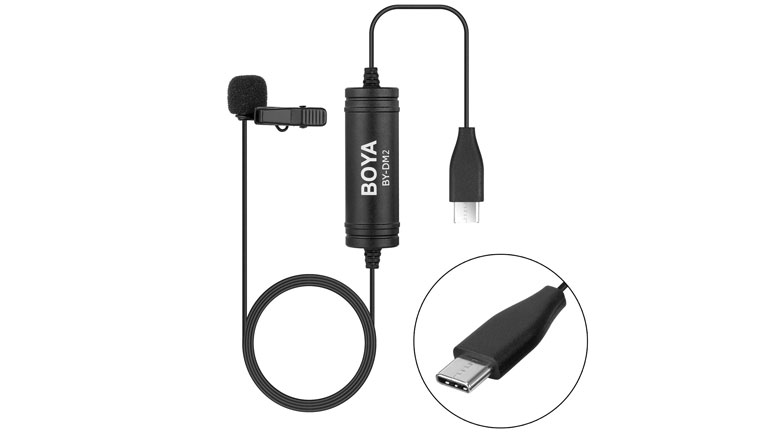 It will provide up to 24-bit 48 kHz resolution with a frequency response of 20 Hz to 20 kHz. It is also an omni-directional microphone which means it will pick up sound from all directions which is perfect for interviews and documentaries. It has a sensitivity of -42/-3db and gain of 0-3db and gets its power from the Smartphone or device that it connects to. So make sure your Smartphone has enough power to run it before you buy it.
Price: $69.95 £56.00 €63.00

Boya BY-DM100 Condenser Microphone
The Boya BY-DM100 is a stereo condenser microphone which will plug direct into any Smartphone with a suitable USB-C port. It is a directional microphone with a cardioid pick up pattern. This means it will only pick up sounds that are in front of it and ignore unwanted sounds from the left, right and behind. This will give you high-quality sound recordings that will be a huge improvement compared with the built in microphone in your Smartphone.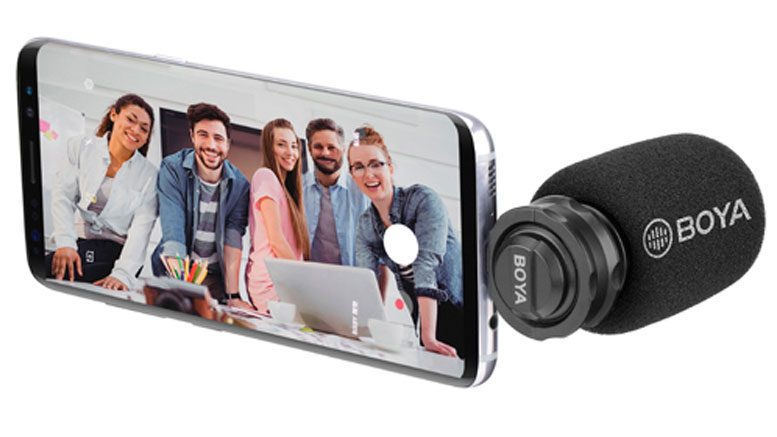 It has a frequency response of 25-20KHz and a sensitivity of -38+/-3dB. It measures about 67mm in length so you can easily keep it on you and it won't take up much room in your pocket. It gets its power from the Smartphone that it plugs into so remember to check that your device has enough power to use it correctly. If you need a cheap audio solution for your USB-C Android Smartphone the Boya BY-DM100 is a good choice.
Price: $60.00 £48.00 €54.00

Rode Wireless Go Radio Mic
If you need a low budget wireless microphone for your Smartphone movies you cannot go far wrong with the Rode Wireless Go Radio Microphone. The Rode Wireless Go includes a transmitter and a receiver which both measure just 44mm x 45.3mm x 18.5mm in size and weigh a mere 31g.
The transmitter has an omni-directional condenser microphone that is right inside the unit. You can use this as a lapel microphone or you can add your own TRS lapel microphone, which you can plug into the transmitter's 3.5mm microphone socket.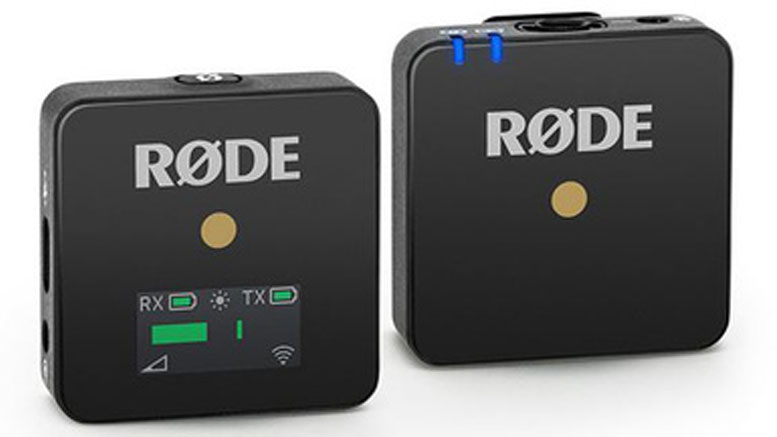 The receiver has a range of up to 70 metres but be aware that you must keep a line of sight with the transmitter or you may get reception problems. The receiver has a clip mount and you can also attach it to cold shoe mount above your Smartphone. You can set the TRS output socket to lower the audio signal by -0dB, -6dB or -12dB if you need to bring down the audio gain into your Smartphone.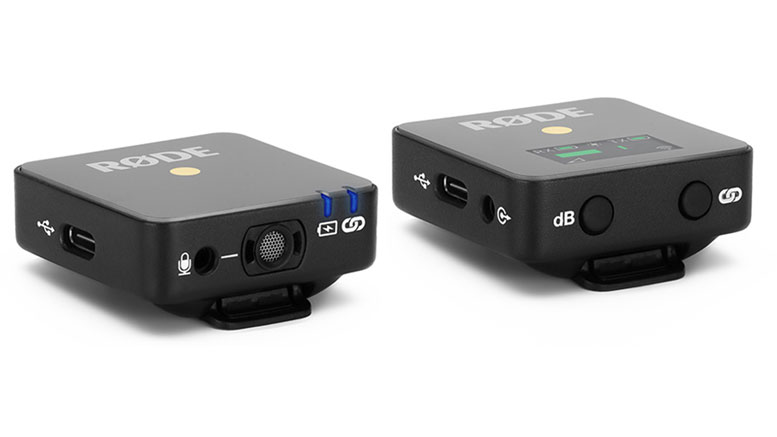 However, to get the receiver to work with your Smartphone you will need to use a TRS to TRRS adaptor like the Rode SC7. Both transmitter and receiver have built in batteries that you charge with the included USB-C cable. On full charge they should give you up to 7 hours continuous use.
Price: $199.00 £160.00 €179.00

Ulanzi U-Rig Metal Handheld Stabiliser
If you are looking to add lights and microphones to your iPhone you will need an iPhone camera rig that has some cold shoe mounts to support this equipment. The Ulanzi U-Rig Metal Handheld Stabiliser is fully compatible with Apple iPhones and most Android models including dual camera phones. It has a Universal Lens Adapter with 37mm & 17mm lens mounts which are fully adjustable to fit your Smartphone. Most standard 37mm and 17mm threaded lenses will fit just fine and it is compatible with a variety of conversion lenses, filters and DOF adapters.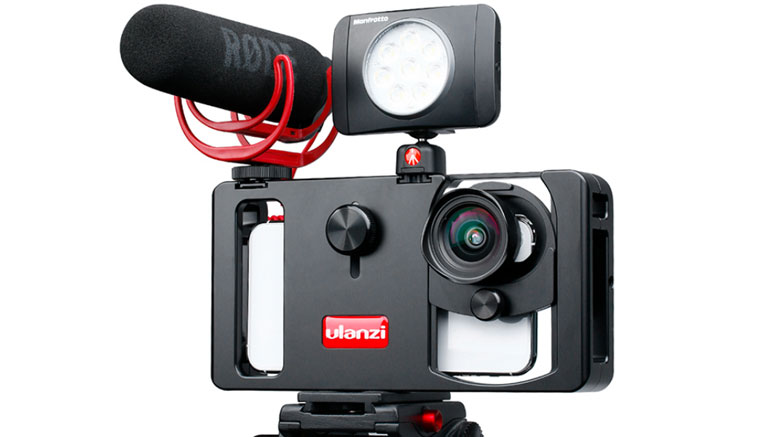 It has two Cold Shoe Mounts and four 1/4 inch threaded Mounts. This will allow you to attach a variety of photography and filmmaking gear to improve your videos. Its metal design also makes it near indestructible. So it will put up with all the action you can throw at it. You can also use if with or without a tripod and it will mount on any tripods with a 1/4 inch screw.
Price: $59.00 £47.00 €53.00

Godox LED64 Light
If you are filming in low light and want to get a good image you are going to need a light. LED lights are the preferred choice for filmmakers as these have low power consumption and can give off a lot of light. The Godox LED64 is an excellent compact budget video light for your Smartphone.
It's lightweight and portable and provides high brightness and accurate colour temperature. It has a lux of about 1000 so it will be good enough for subjects that are close to your Smartphone.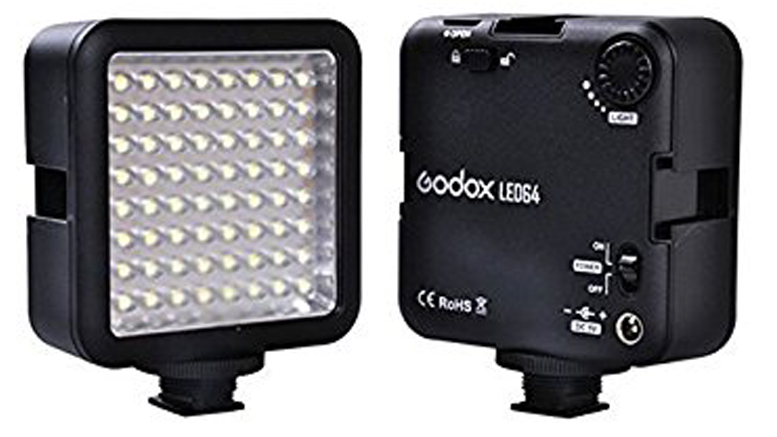 You can also add other Godox LED64 lights together by interlocking them. This will give you more lights without using another cold shoe mount. The light itself has 64 LED bulbs and you can adjust these for brightness with the built in dimmer.
It's powered by 4 AA batteries but you can also plug in to an AC power supply if you need to use the light for long periods. The universal cold shoe mount means it will fit most Smartphone tripod adaptors or stabilisers that support the cold shoe mount.
Price: $20.00 £16.00 €18.00

Ulanzi Tripod Adaptor
If you want to mount your Smartphone to a tripod you are going to need a good tripod mount! There are many tripod adaptors on the market but many are of poor quality and break easily. Good choices include the Ztylus Smartphone Grip, Shoulderpod S1 or the Square Jellyfish Spring Tripod Mount.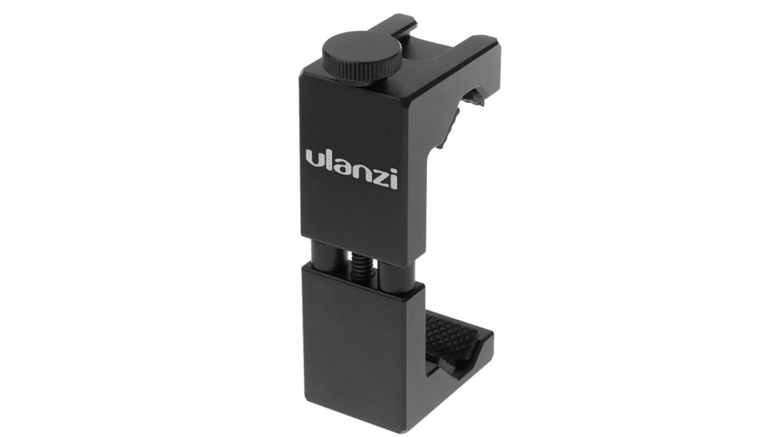 My personal favourite is the Ulanzi adjustable Smartphone mount with cold shoe adaptor. This tripod mount is made of solid aluminium alloy and incredibly robust. It is fully adaptable and will fit all models of Smartphone. It has a ¼ inch screw socket at the base so you can mount it on to any standard tripod. It also comes with a cold shoe mount so you can add a microphone or a light above your Smartphone if you need to.
Price: $15.00 £12.00 €13.00

K&F Concept 70″/177cm Travel Tripod
The K&F Concept Travel Tripod is the ideal solution to reduce the camera shake of your video. It has a standard quarter-inch screw so you can add your favourite Smartphone tripod adaptor or you can use the Smartphone adaptor that comes with it. It has a minimum height of 20.9″/53cm and a maximum height of 70″/177cm with the extended centre column.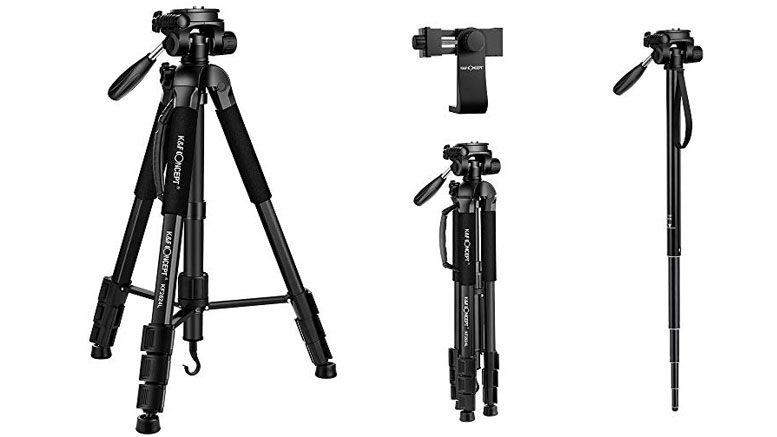 This tripod can also convert to a monopod in seconds with a height that ranges from 16.1″/41cm to 57.9″/147cm. The maximum weight at 3.7Lbs/1.7kg and it comes with a storage bag so it's easy to carry and transport. If you want to do pans and tilts there is a handle attached to the tripod head so you can perform smooth camera movements with your Smartphone.
Price: $44.00 £35.00 €39.00

DJI Osmo Mobile 3
The DJI Osmo Mobile 3 is the newest Smartphone gimbal for mobile that follows DJI's other successful Smartphone gimbals, the DJI Mobile 1 and 2. It is a Smartphone gimbal that helps you to record smoother and more professional looking videos. It also helps in making it easier to capture shots like time-lapse and panoramas.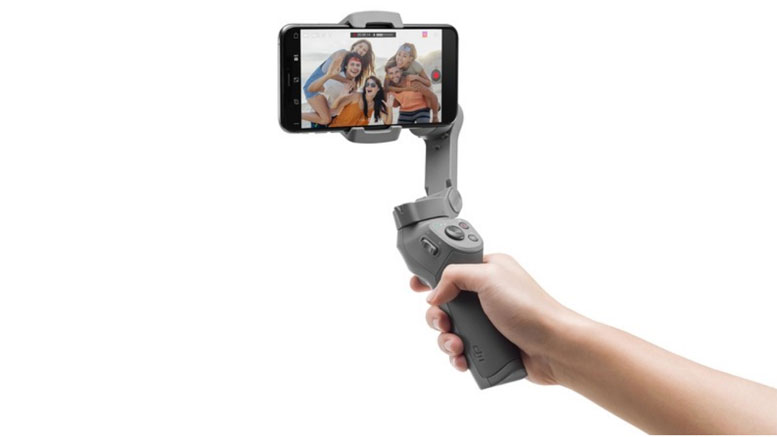 The Osmo Mobile 3's has big improvements in its hardware. It now combines the best features of its predecessors but now has a new re-engineered body. Some of the biggest complaints about the Osmo Mobile 2 were its bulkiness and that is was hard to store and carry. The Osmo Mobile 3 now has a folding arm which means it takes up far less room when it is not in use. The new standby mode, that's activated by pressing the M button three times, allows the gimbal to fold up without being fully turned off. This means you can go from compact mode to filming in a few seconds.
The new Mobile 3 has a new clamp to hold your favourite Smartphone. It no longer has a horizontal grip but a new vertical mount. This means it can now hold various makes of Smartphone. It also features new anchors for counterweights so you can counterbalance any lenses you may wish to add to your Smartphone.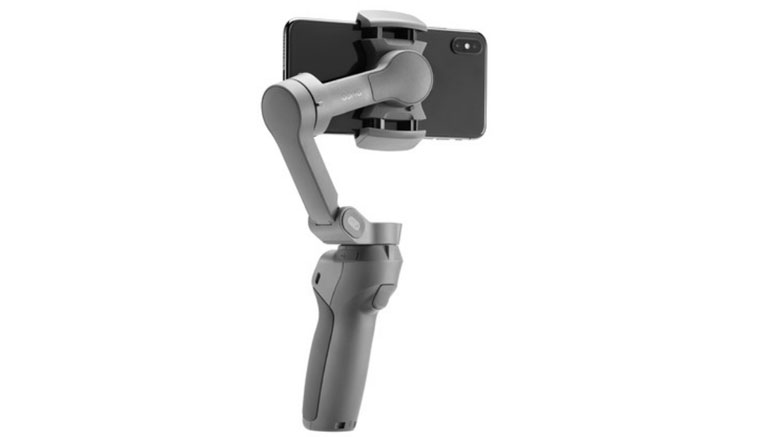 DJI have put back the trigger grip on the handle that was originally on the Osmo Mobile 1. This means you have instant access to controls right at your fingertips. You can also now switch from portrait to landscape mode by simply double tapping a button. You no longer have to make this adjustment by a dial on the back of the gimbal that was present on the Osmo Mobile 2.
Other improvements include a USB-C port to recharge the gimbal's internal battery and you should get up to 15 hours of use from a fully charged battery. You can also charge your Smartphone from the Osmo Mobile 3 if your Smartphone runs low on power. The new DJI Osmo Mobile 3 also doesn't block the lightning port or phone jack found on older Smartphones as the first two gimbals do. Which means you can plug in a microphone.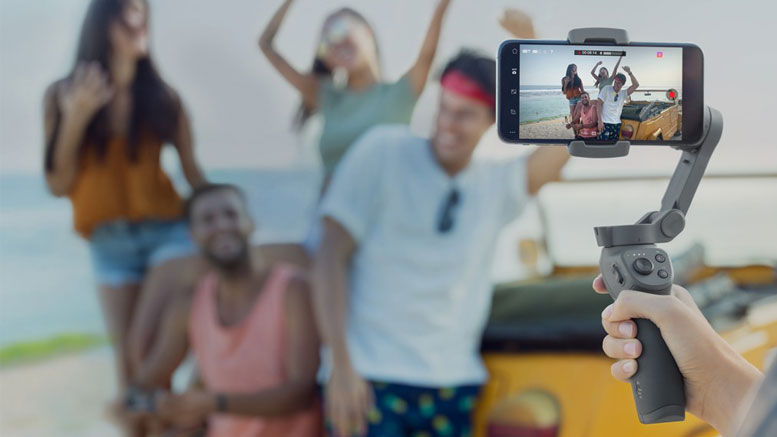 The price is good too with the Osmo Mobile 3 costing less than the Osmo Mobile 2 at $119. There is also a slightly more expensive package that adds a mini tripod that you can screw into the ¼ inch socket on the handle of the Osmo Mobile 3. This package also includes a padded case for the gimbal.
Price: $119.00 £99.00 €107.00

Other posts like this:
What is the best budget iPhone filmmaking kit?
What is the best budget Smartphone filmmaking equipment?
7 Essential Smartphone Filmmaking Accessories