What is the best Smartphone filmmaking kit for Social Media?
Your Smartphone can be a powerful media production tool for producing content for social media. In the past you would have had to spend a small fortune on an expensive camera, lights and microphones to make professional looking videos. However, now with a modern Smartphone you can produce quality video content for your blog, YouTube, Facebook and Instagram pages.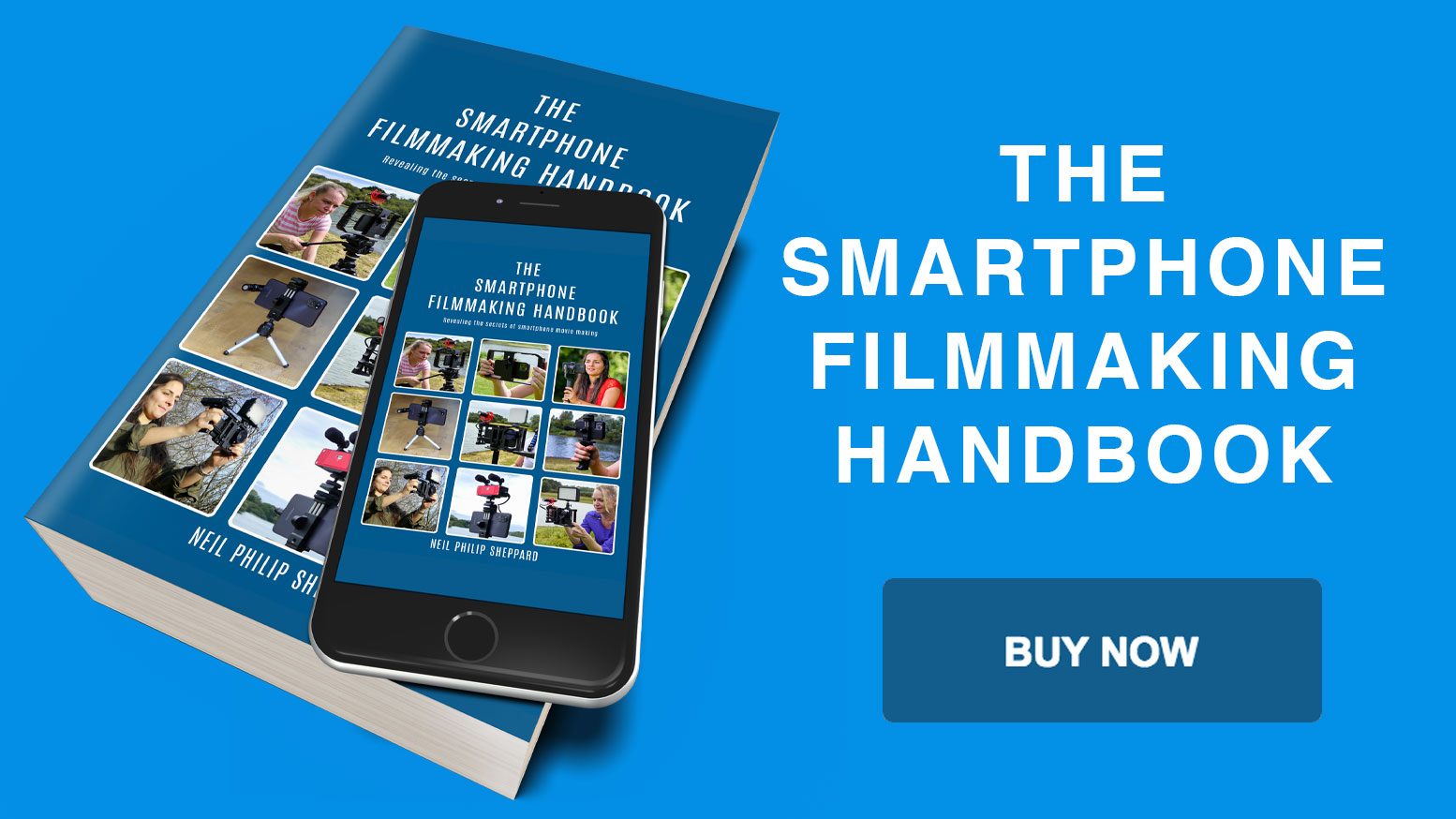 Although most modern Smartphones can create great looking videos they can have problems with camera shake and poor audio. Not to worry, there is plenty of low cost Smartphone camera gear available to help solve these problems. With a few select purchases you can convert your Smartphone into a media production powerhouse.
This content uses referral links. Read my ethics policy for more info.
Boya BY-DM100 / BY-DM200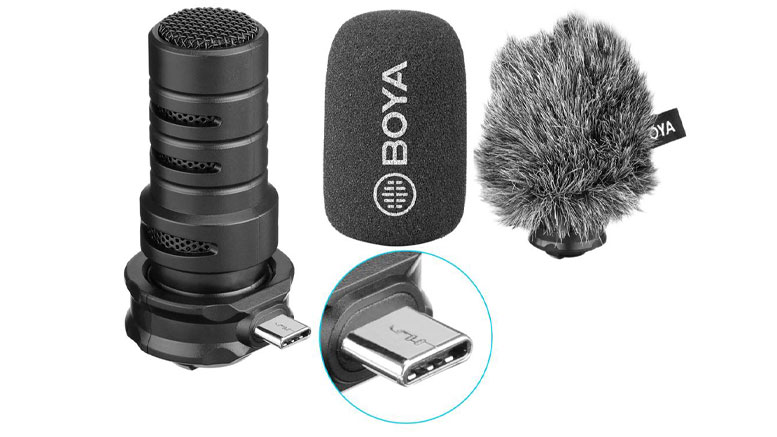 The Boya BY-DM100 / BY-DM200 is a cardioid condenser stereo microphone that is similar in design to the Rode VideoMic Me. It is ideal for run and gun interviews and location filming. It slots in nicely to your Smartphone's lighting (BY-DM200) or USB-C (BY-DM100) port to give you clean audio recording while on the move.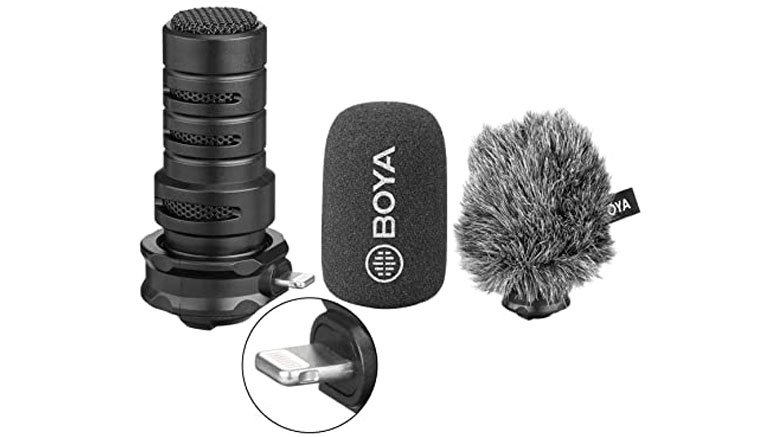 It comes with a foam windshield for average weather conditions and a fake fur windshield for bad weather with extreme wind conditions. So it will give you plenty of protection when you are location filming. It has a frequency response between 25hz and 20khz and a signal to noise ratio of 80db.
Price: $39.00 £32.00 €35.00

LavMicro Di / LavMicro UC / LavMicro-S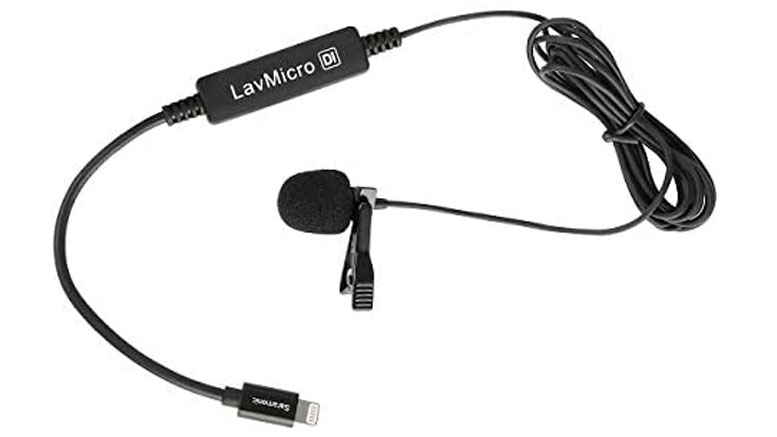 The Saramonic LavMicro is a great Lavalier microphone, which is perfect for video interviews with your Smartphone. It comes in three different versions. The LavMicro Di is for iOS iPhones, the LavMicro UC is for USB-C Android Smartphones and the LavMicro-S for Smartphones with a 3.5mm microphone socket.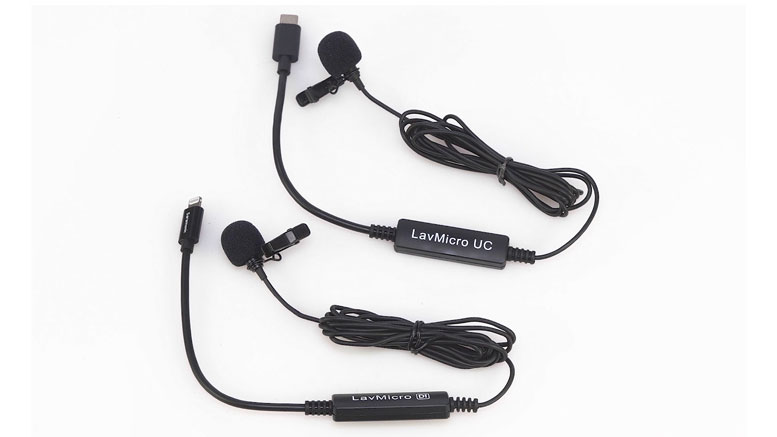 It is an omnidirectional microphone, which means it will pick up sounds from all around. It has a frequency response of 30 – 20000 Hz and will record in 24bit 48khz resolution. It also has a sensitivity of -42+/-3DB. It gets its power from the Smartphone so there is no need to power it with external batteries.
Price: $99.00 £80.00 €88.00

Saramonic Blink 500 B3/B5 Wireless Microphone System with Lavalier
The Saramonic Blink 500 B3/B5 is compact lightweight wireless microphone system for iPhone or Android Smartphones that will give you quality broadcast audio for your videos. It comes in two versions: The 500 B3 for iOS iPhones and the 500 B5 for Android USB-C Smartphones. The transmitter is similar to the Rode Wireless Go. It is a small and compact microphone that you can clip to your subject's clothing for interviews or mobile reporting. If you don't like to use the built-in microphone on the transmitter, you can plug in the provided SR-M1 Lavalier microphone instead. This can be less intrusive than the transmitter microphone and not as noticeable on clothing. You simply hide the transmitter in another location on your subject's body.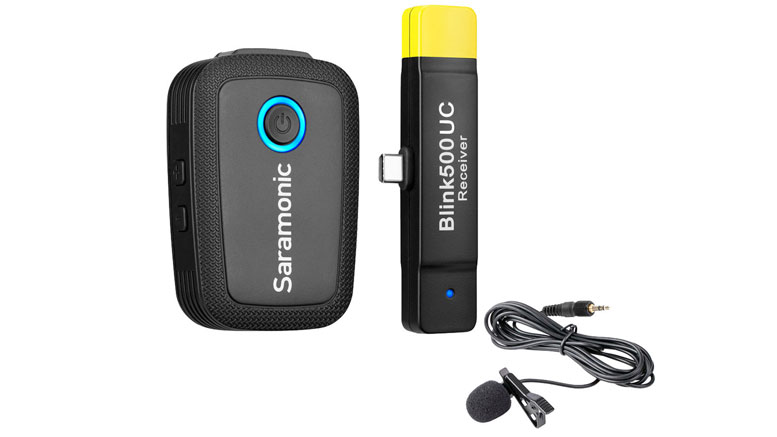 The Blink 500 RXDi B3 receiver plugs into the lightning port of your iPhone or if you have the RXDi B5 receiver, it will plug into your Android Smartphone's USB-C port. It is light weight and takes up little space when connected to your Smartphone. In fact, you can use it with a Smartphone gimbal without upsetting its balance. This is useful for those who want smooth shots when using their Smartphone. The receiver needs no batteries to power it. It gets its power from the Smartphone, so you won't have to worry about it running out of power.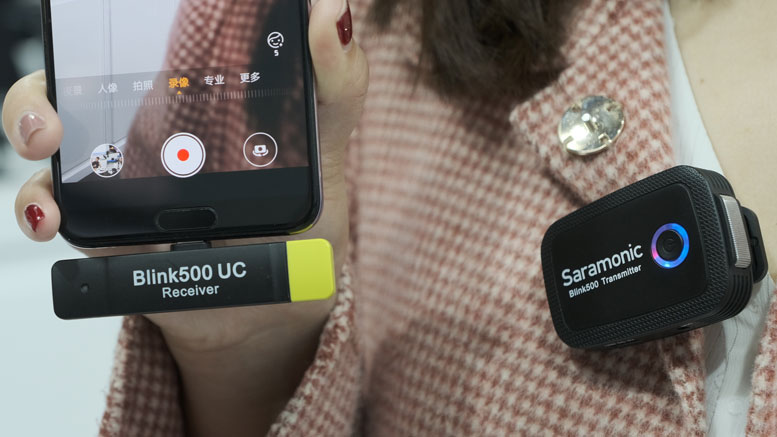 The whole system runs on the 2.4Ghz frequency, which seems to be the popular choice for this type of wireless microphone system. You shouldn't have too many problems using it but you should be aware that this is a line of sight microphone. Don't expect it to work miracles if your subject walks into another room without you. If you need two microphones you can add another Blink 500 transmitter and both microphones will connect to the RXDi receiver. Saramonic sell a double microphone and one receiver pack just for this purpose. Alternatively, you can buy a second transmitter separately.
Price: $219.00 £175.00 €194.00

Neewer CN-216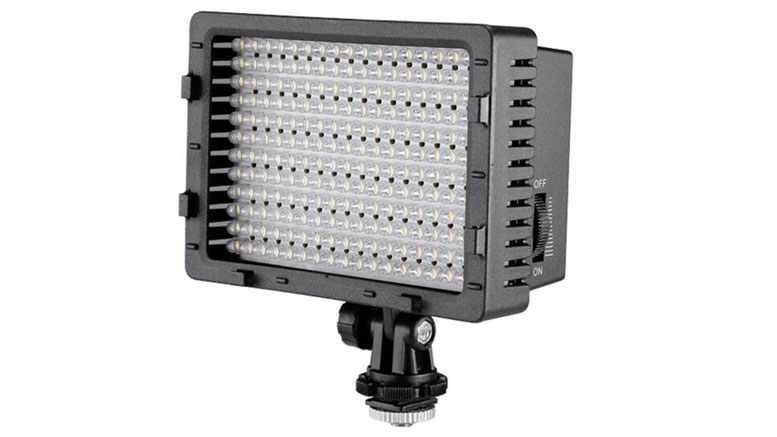 If you are looking for a light with the most brightness you cannot go far wrong with the Neewer CN-216. It gives off tons of light, which should be more than enough for your filming needs. It can do this with a special LED bulb layout to give it a brighter and wider lighting range. You can also adjust this brightness with the built in dimmer. The LED lights should have a lifespan of up to 50000 hours. So they are not going to go wrong any time soon. It has a colour temperature between 3200K and 5600K so it will balance between daylight and indoor lighting. You can also affect the colour balance by adding the two filters that come with it in front of the LED panel.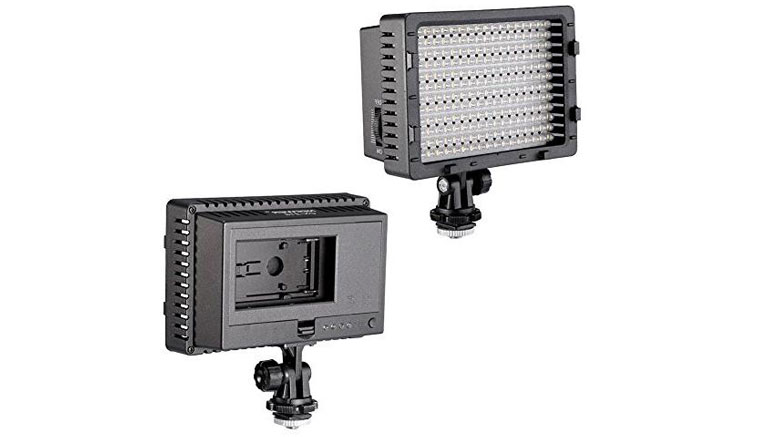 There are extension slots on the side of the CN-216 and these allow you to combine several of the lights together. This means you can have a bigger lighting panel if you need it. It is good on energy consumption and gets its power from 6 AA batteries or a rechargeable NP-F lithium battery. There is also a battery indicator to let you know how much power the light has before it turns off. At the bottom of the light is a cold shoe mount so you can add it to your Smartphone rig or put it on a tripod.
Price: $36.00 £29.00 €32.00

Shoulderpod G2 Smartphone Rig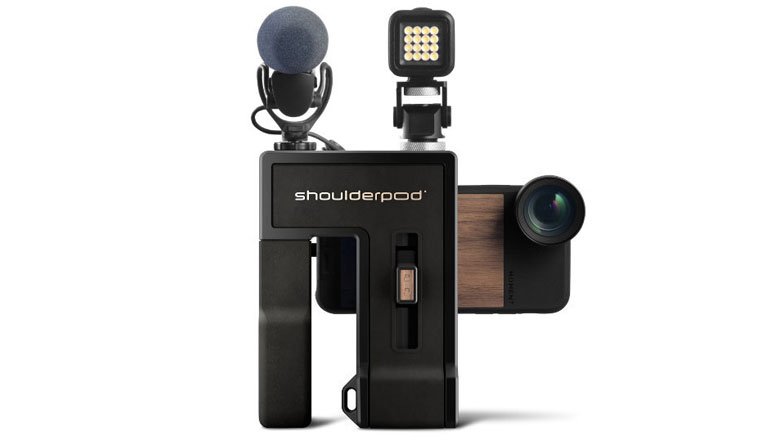 The Shoulderpod G2 Smartphone Rig is an ideal solution for mounting lights and microphones to your Smartphone. It has a spring-loaded clamp that will quickly release your Smartphone when you need to remove it in a hurry. It will also hold your Smartphone securely in place with its smart clamp break. This makes the clamp harder to open and will keep your Smartphone safe in the clamp.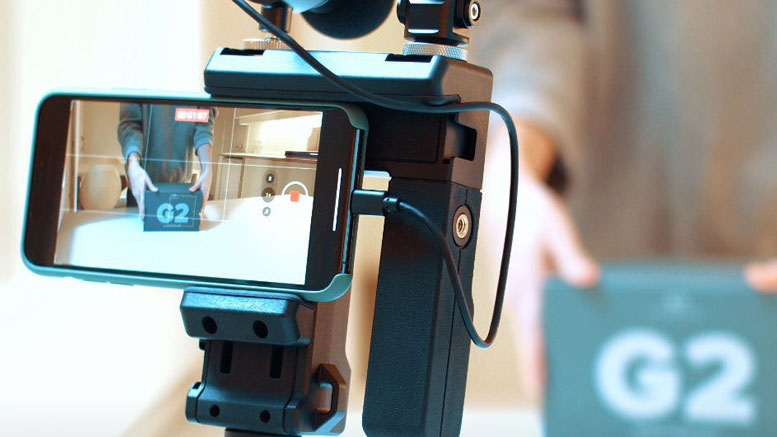 The Shoulderpod G2 will hold any modern Smartphone between 65mm and 90mm with or without a case but it won't fit smaller Smartphones like the iPhone 4 or 5. So if you have an older Smartphone now is the time to upgrade. The G2 will also film in portrait as well as landscape, so you have two choices on how to set up your Smartphone for filming.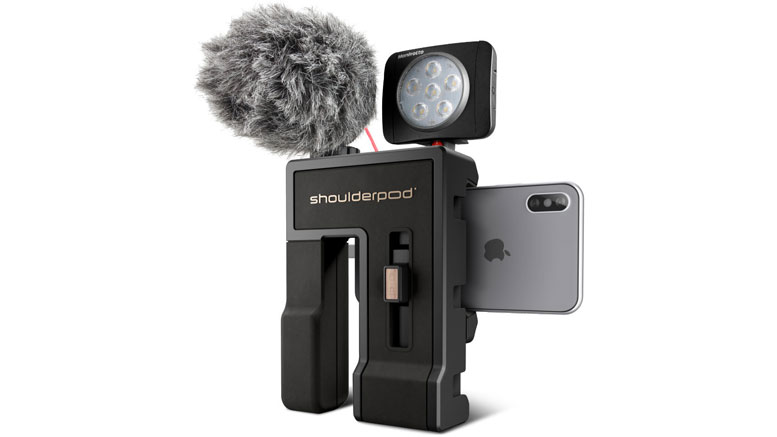 The G2 has 6 cold shoes for adding microphones, lights and other filmmaking gear. It also has two ¼ inch screw mounts that will allow you to mount the G2 in landscape or portrait on a tripod. You can also use these screw mounts to add other filmmaking gear if needed. The Shoulderpod G2 is made of a tough fibreglass composite, so it should happily put up with any bumps a drops that may happen on a day's filming.
Price: $72.00 £58.00 €64.00

Magnus VT-400 Aluminium Tripod System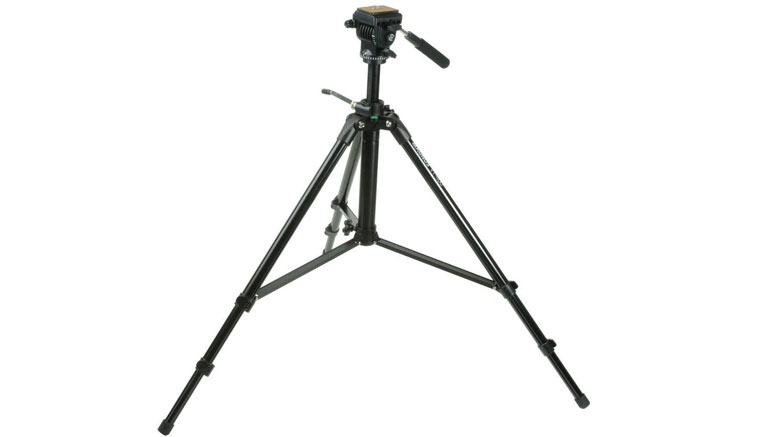 The Magnus VT-400 is a great mid-level tripod and head for shooting video. It has a 2-way fluid pan and tilt mechanism head, which will give smooth pans for general video production. This head has two independent locks so you can secure it in both the up and down and left to right positions, so your Smartphone won't move an inch.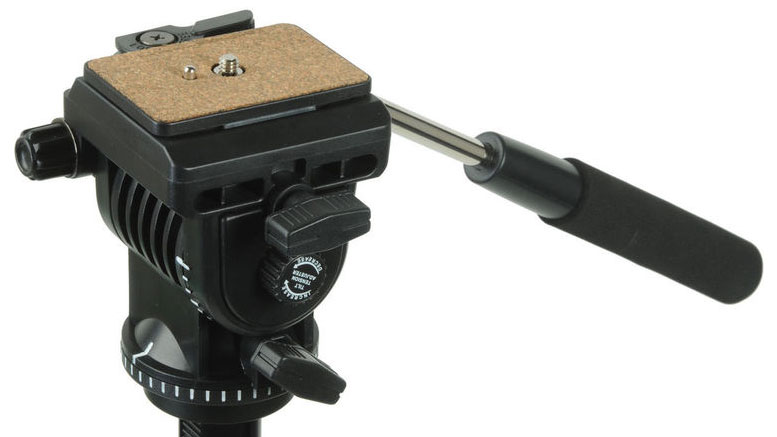 You can also remove your Smartphone with the quick release plate at the top of the tripod. This tripod can support a maximum weight of 15lbs, this should be fine for most Smartphones. The maximum height of the legs is 64 inches and these are built of tough anodised aluminium.
Price: $130.00 £105.00 €115.00

DJI Osmo Mobile 3
The DJI Osmo Mobile 3 is the newest Smartphone gimbal for mobile that follows DJI's other successful Smartphone gimbals, the DJI Mobile 1 and 2. It is a Smartphone gimbal that helps you to record smoother and more professional looking videos. It also helps in making it easier to capture shots like time-lapse and panoramas.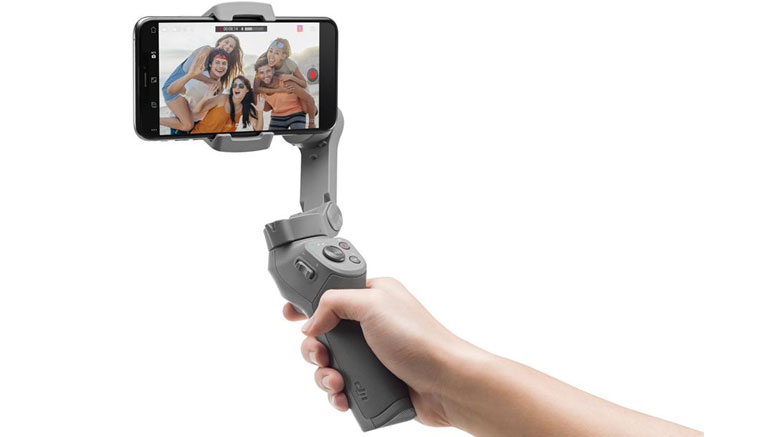 The Osmo Mobile 3's has big improvements in its hardware. It now combines the best features of its predecessors but now has a new re-engineered body. Some of the biggest complaints about the Osmo Mobile 2 were its bulkiness and that is was hard to store and carry. The Osmo Mobile 3 now has a folding arm which means it takes up far less room when it is not in use. The new standby mode, that's activated by pressing the M button three times, allows the gimbal to fold up without being fully turned off. This means you can go from compact mode to filming in a few seconds.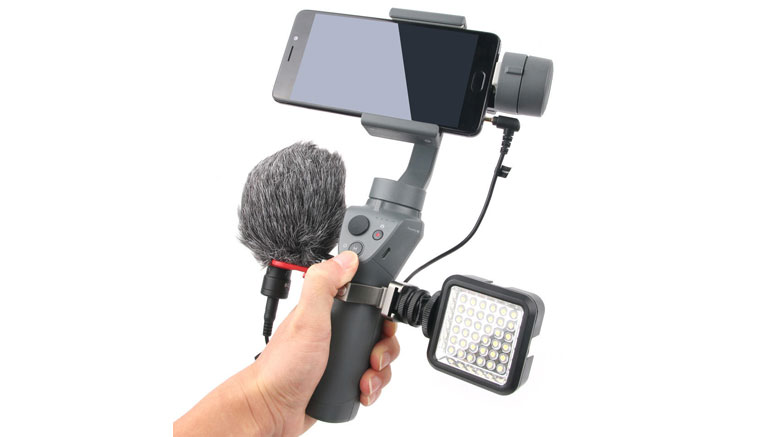 The new Mobile 3 has a new clamp to hold your favourite Smartphone. It no longer has a horizontal grip but a new vertical mount. This means it can now hold various makes of Smartphone. It also features new anchors for counterweights so you can counterbalance any lenses you may wish to add to your Smartphone.
DJI have put back the trigger grip on the handle that was originally on the Osmo Mobile 1. This means you have instant access to controls right at your fingertips. You can also now switch from portrait to landscape mode by simply double tapping a button. You no longer have to make this adjustment by a dial on the back of the gimbal that was present on the Osmo Mobile 1.
Price: $99.00 £99.00 €99.00

Other Popular posts like this:
What is the best budget iPhone filmmaking kit?
What is the best budget Android filmmaking kit?
What is the best budget Smartphone filmmaking equipment?