What is the best budget iPhone filmmaking kit?
You can create great videos with the iPhone and it has many features to make it a great video camera. Feature films line Tangerine Dream and Unsane have both been made with the iPhone. But to achieve this quality the directors of those films had to add some extra equipment to get professional results. Microphones, video camera apps, lights, camera rigs, tripods, gimbals are just some of the equipment you may need to buy to make professional movies. This can be expensive and can quickly put off your average first time filmmaker.
However there are some low budget alternatives you can buy to improve your iPhone filmmaking. Just about all the equipment mentioned above has a low budget option. You don't have to sacrifice quality either. Many low budget choices for the iPhone can be just as good as their more expensive counterparts. So if you want to take your iPhone filmmaking to the next level and don't want to break the bank, the following equipment suggestions maybe good choices!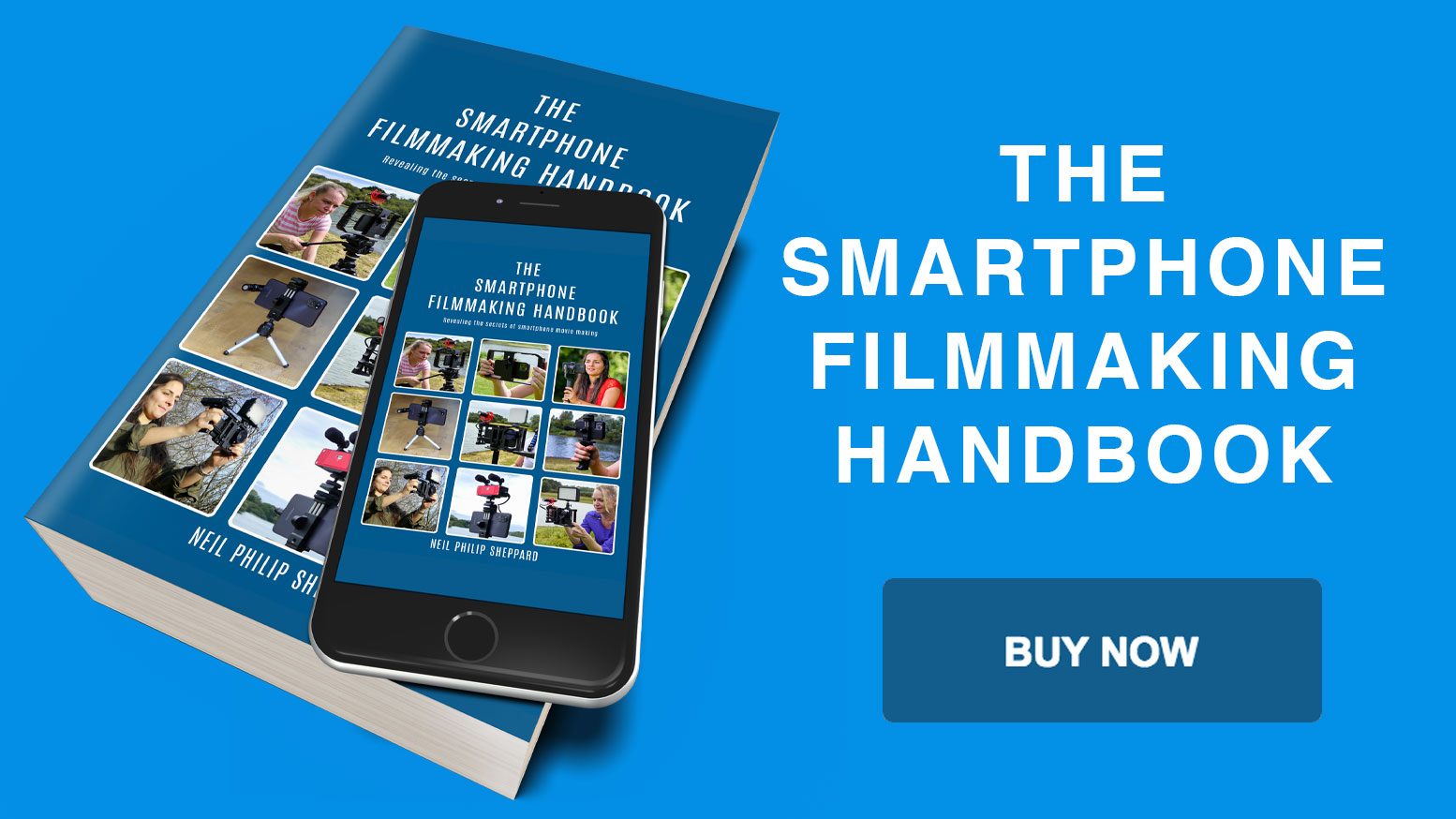 This content uses referral links. Read my ethics policy for more info.
Clip Lapel Microphone
A good lapel or clip microphone is essential for doing a sit down interview or podcast. There are plenty of clip microphones available for the iPhone. The
Rode Smartlav+ is a good choice but the cable can be a little short and it can be expensive.
A good budget choice is the
Boya BY-M1 clip microphone. This budget friendly microphone has good quality audio for sound recordings and is great for interview work. It comes with six metre long cable which is great if you want to get your iPhone further away from your subject.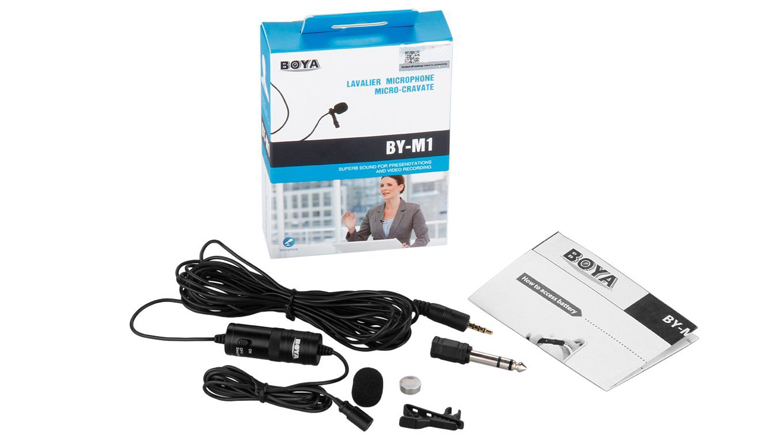 It is an omni-directional condenser microphone which means it will pick up sound equally well from all around the microphone. It comes with a standard 3.5mm jack that you can switch between Smartphone and DSRL. This means you can even plug it in to your DSLR camera as well as your iPhone. It does need a small battery to give the microphone phantom power which isn't much of a problem but be aware there is no battery light to tell you if it may be running out of power. So you will need to keep an eye on your audio levels in case the battery runs flat.
If you have an iPhone which only has a lightning port you will have to use a
. The good news is these usually come free with any new iPhone.

iPhone Camera Rig
If you are looking to add lights and microphones to your iPhone you will need an iPhone camera rig that has some cold shoe mounts to support this equipment. There are plenty of rigs on the market like the
iOgrapher but if you are looking for a budget iPhone stabiliser the
Ulanzi U Rig Pro is great cheap alternative.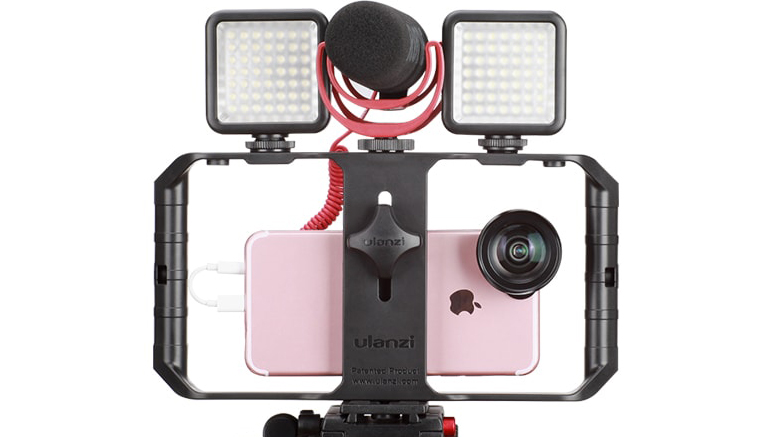 This is the newer version of the
Ulanzi's Smartphone grip and it has many improvements over the older version. It has two cold shoe mounts for you to add a light or a microphone. So it's handy for adding extra equipment to your Smartphone. It has two large handles for you to use if you want to go hand-held. It also has a 1/4 inch screw mount on the bottom so if you tire of carrying it about you can also mount it on a tripod.

Video camera app
If you want to film professional video with your iPhone you are going to have to upgrade your camera app. Although the built-in camera app on the iPhone is fine, a professional video camera app will give you manual control over the focus, exposure, frame rate, bit rate and the audio. Filmic Pro is a great video camera app for the iPhone but if you are looking for a free alternative you might want to try Mavis.
Mavis is a professional video camera app that gives you full manual control over your iPhone's camera. The audio tools give full support for internal and external audio sources. You can connect a microphone by the lightning port or the headphone port and use Mavis to monitor and record the incoming audio. The app also has audio gain control for both internal and external microphones so you can adjust your audio levels. You can also see where your audio is peaking with the on screen audio levels.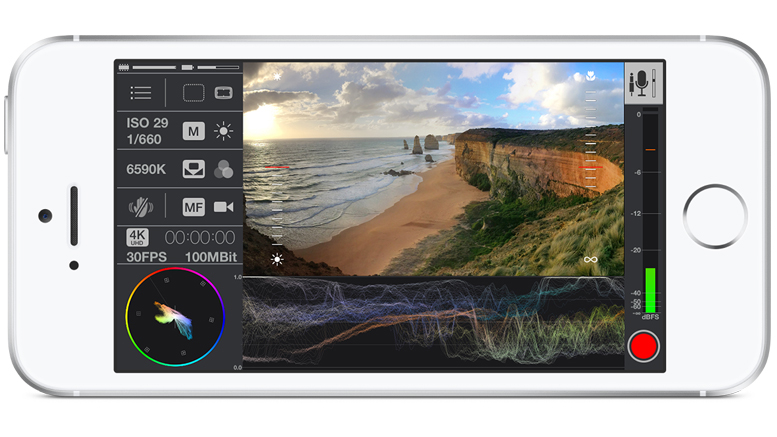 Mavis also has full colour control and gives you extensive manipulation over your image. The built in vector scope will help you to adjust the colour and you can use the waveform monitor to adjust your blacks and whites for a perfect image. These scopes will show a precise analysis of your colour values as the iPhone camera sees it.
If you want to pay for a small in app purchase you can get access to Mavis' other resolution settings. You can record in resolutions up to 4K with Bit Rates up to 100mbs. You can also select different frame rates up to 240 frames a second if you wish to film in slow motion. You store these in quick set-up presets so you don't have to keep adjusting the settings. Video files can save to the camera roll or in the Mavis app for when you need to start editing.
Price: Free

Lights
If you are filming in low light and want to get a good image you are going to need a light. LED lights are the preferred choice for filmmakers as these have low power consumption and can give off a lot of light. The
is and excellent compact budget video light for your iPhone. It's lightweight and portable and provides high brightness and accurate colour temperature. It has a lux of about 1000 so it will be good enough for subjects that are close to your iPhone.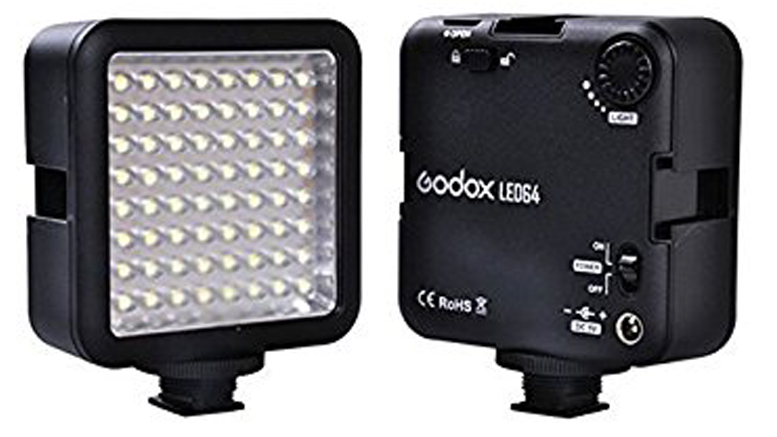 You can also add other
lights together by interlocking them. This will give you more lights without using another cold shoe mount. The light itself has 64 LED bulbs and you can adjust these for brightness with the built in dimmer. It's powered by 4 AA batteries but you can also plug in to an AC power supply if you need to use the light for long periods. The universal cold shoe mount means it will fit most Smartphone tripod adaptors or stabilisers that support the cold shoe mount.
Price:
£17

Tripod
If you want to keep your iPhone still you are going to need a tripod. There are many different choices for tripods but they can often be expensive, heavy and not good for video production. Whatever you get make sure you can smoothly pan and tilt with it. You also want a tripod that is compact and not too heavy to carry around. The
Compact Action Black Tripod is a good budget offering from Manfrotto. Manfrotto has an excellent reputation for its various tripods and monopods and has a huge selection of tripods available. This particular model's design is for DSLRs but it will work well with any Smartphone.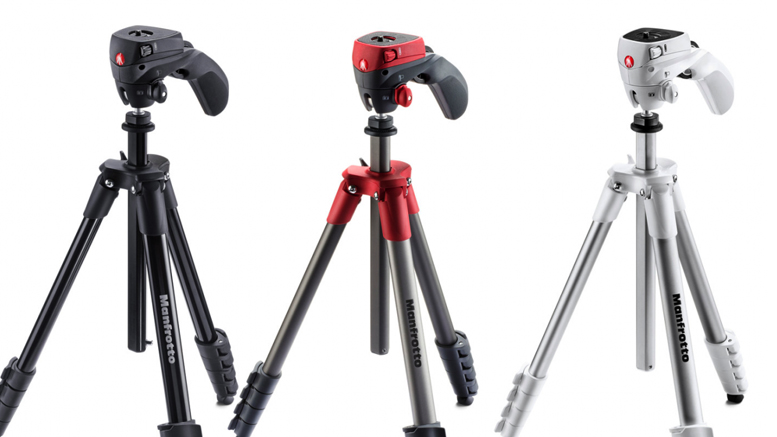 It weighs in at a respectable 1.201g which means it is light and portable. Its collapsed height is 453mm so it's small when kitted down. The maximum height with the centre column up is 1550mm so it should be high enough for general shooting. If you need to move your Smartphone off the Action Black in a hurry there is a circular quick release plate so you don't have to use screwdrivers or coins to undo any screws.
For panning and tilting there is an ergonomic joystick head with a scroll wheel for locking it in place. The head itself is smooth but don't expect too much from a tripod at this price range. If you are on a low budget this tripod should perform most tasks. It also comes in different colours including black, white and red.

Tripod Adaptor
If you want to mount your iPhone to a tripod you are going to need a good tripod mount! There are many tripod adaptors on the market but many are of poor quality and break easily. Good choices include the
Ztylus Smartphone Grip,
Shoulderpod S1 or the
Square Jellyfish Spring Tripod Mount.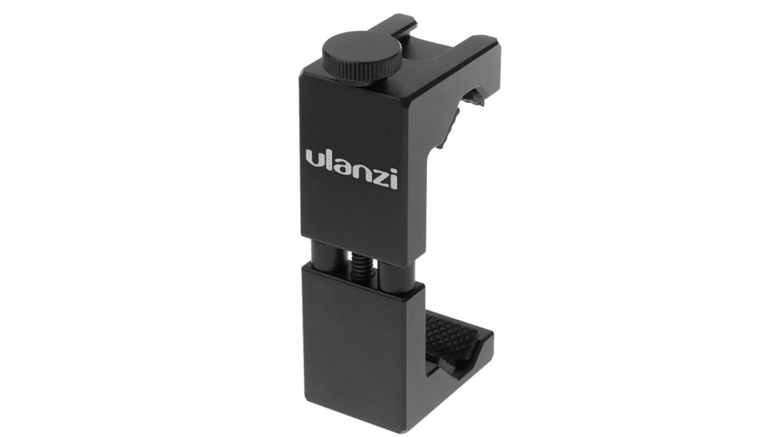 My personal favourite is the
Ulanzi adjustable Smartphone mount with cold shoe adaptor. This tripod mount is made of solid aluminium alloy and incredibly robust. It is fully adaptable and will fit all models of iPhone. It has a ¼ inch screw socket at the base so you can mount it on to any standard tripod. It also comes with a cold shoe mount so you can add a microphone or a light above your iPhone if you need too.

Gimbal
If you want to get smooth hand-held tracking shots with your iPhone you will want to invest in a gimbal. Gimbals use a set of motors to balance your iPhone while you move about to give you great smooth tracking shots. In the past gimbals were expensive but now you can get a quality one for a fraction of the cost. There are two great choices for low budget gimbals.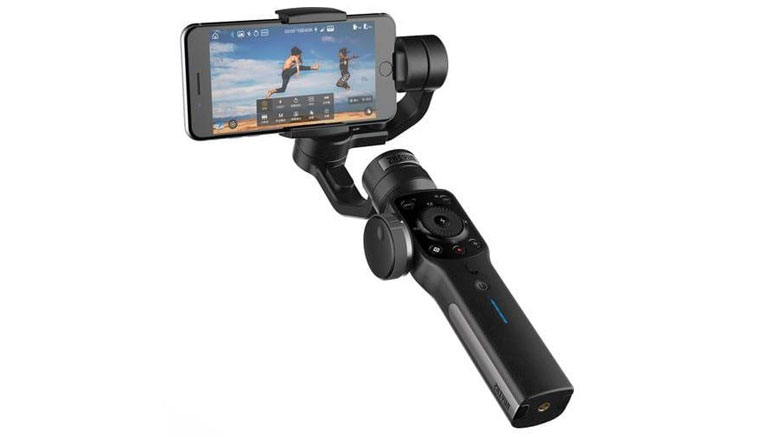 The first is the
Zhiyun Smooth 4 and the other is
DJI Osmo Mobile 2.

My personal preference is The DJI Osmo Mobile 2.
The Osmo Mobile 2 is the successor to the Osmo Mobile and it is a huge upgrade from the old model. It is made of high-strength nylon which is lighter than the magnesium and plastic in the original. The handle is also more comfortable when you hold it. Its redesign makes it more comfortable in the hand and easier to operate especially when you are doing long shoots. It also now has a ¼ inch screw socket on the bottom of the handle so you can put the
Osmo Mobile 2 on a camera jib or other accessory if needed.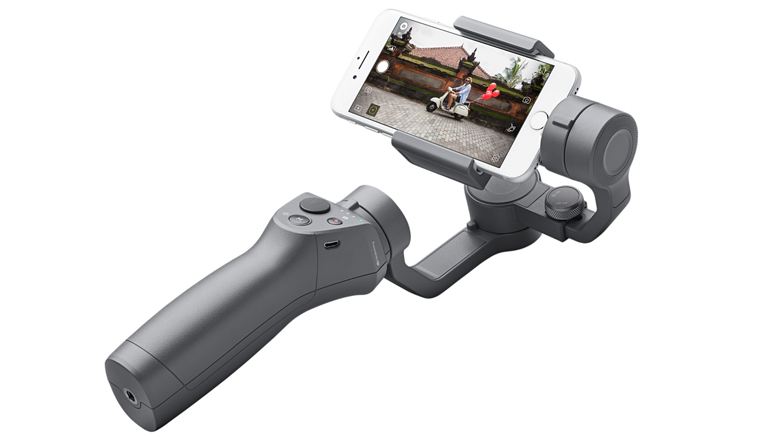 DJI have slimed down the controls of the
Osmo Mobile 2 and it is now simpler to use. Some of the buttons also have more than one setting. Powering up the Osmo Mobile 2 and switching the mode is now on the same button. There is a dedicated record button and a thumb pad to control pans and tilts. There is also a zoom switch on the side if you want to get closer to your subject. To get the full benefits of the Osmo Mobile 2 you will need to install DJI's Go camera app available for iOS. When installed and paired with your iPhone you will get full control of the zoom function, settings and different modes. Other apps like Filmic Pro will also give you control of the Osmo Mobile 2 if you are not keen on the DJI camera app.
Once you turn on the
Osmo Mobile 2 you will see it automatically orient and balance your iPhone. Once it does this you can start filming immediately. You will get about 15 hours of use out of the Osmo Mobile 2. This is a huge increase on the old version which would last about 5 hours. However you can no longer swap the battery as you could on the old version but with 15 hours of use it is unlikely you will run out of power on a day's filming. When the battery does get low there is a handy battery indicator to let you know that it is low on power. You can also charge your iPhone from the Osmo Mobile 2 through a standard USB port at the rear. To charge the Osmo Mobile itself you just plug in the micro USB port and hook it up to the mains power supply.

Directional Microphone
A directional microphone is an essential buy if you want to record good quality audio with your iPhone. If you are on an extreme low budget you might want to consider the
. The Takstar SGC-598 is a low cost shotgun microphone with a shock resistant mount. It also comes with a windsock and a handy carrying pouch. Reviewers often compare this microphone next to more expensive microphones like the Rode VideoMic Pro which can cost hundreds of dollars more.
The
is not as good as the Rode
VideoMic Pro but in various tests it stands up well to this competition and is a fraction of the cost. Please note though to get it to work with your iPhone you will need to add an adaptor like the
Rode SC4. As far as shotgun microphones go, it's excellent value for money.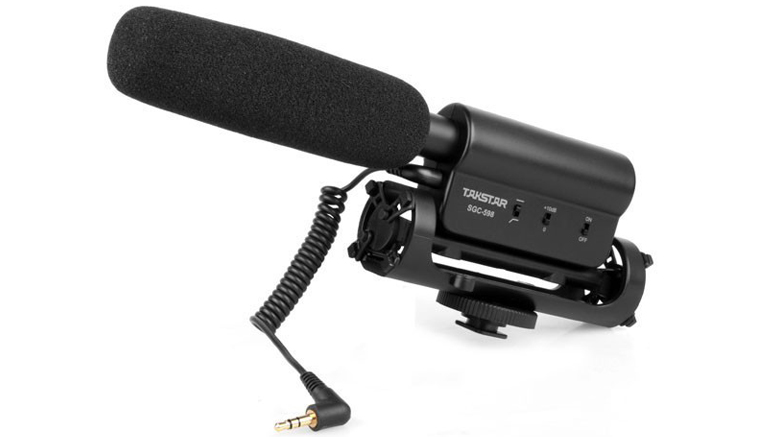 Price:
£20

If you can stretch you budget higher you should consider the
Shure MV88. The
Shure MV88 is a direction condenser microphone that plugs in to the iPhone's Lightning Port. It has a 90-degree hinge so you can adjust it to different angles to capture the best sound. You can also turn it up and down if you need to. The sound quality does not let it down either and it can record up to 24bit 48kHz which is fine for most video work.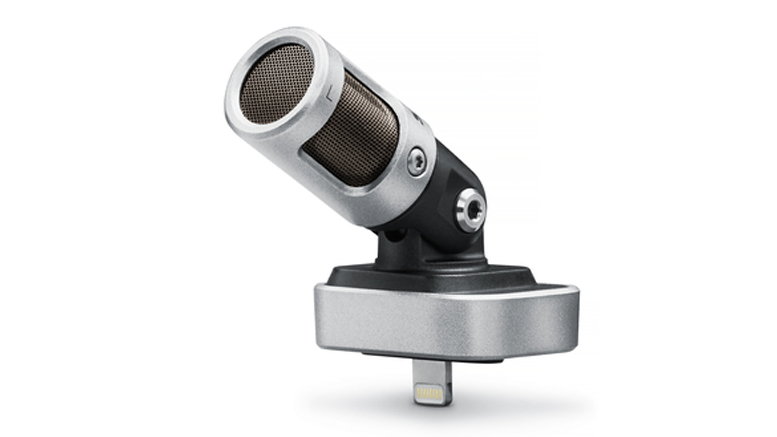 It has a solid metal construction and comes with a windscreen to cut down any unwanted sound in windy environments. This microphone is one of the smallest here so if you are looking for a compact audio solution this could be a good choice. This microphone may not be budget unlike the other choices here but it is an excellent microphone.

Popular Posts Like This:
iPhone Filmmakers Guide – Must-Have Camera Accessories
iPhones, iPads, accessories and apps for filmmaking
7 Essential Smartphone Filmmaking Accessories