What is the best budget iPhone filmmaking kit?
You can create great videos with the iPhone and it has many features to make it a great video camera. Feature films line Tangerine Dream and Unsane have both been made with the iPhone. But to achieve this quality the directors of those films had to add some extra equipment to get professional results. Microphones, video camera apps, lights, camera rigs, tripods, gimbals are just some of the equipment you may need to buy to make professional movies. This can be expensive and can quickly put off your average first time filmmaker.
However there are some low budget alternatives you can buy to improve your iPhone filmmaking. Just about all the equipment mentioned above has a low budget option. You don't have to sacrifice quality either. Many low budget choices for the iPhone can be just as good as their more expensive counterparts. So if you want to take your iPhone filmmaking to the next level and don't want to break the bank, the following equipment suggestions maybe good choices!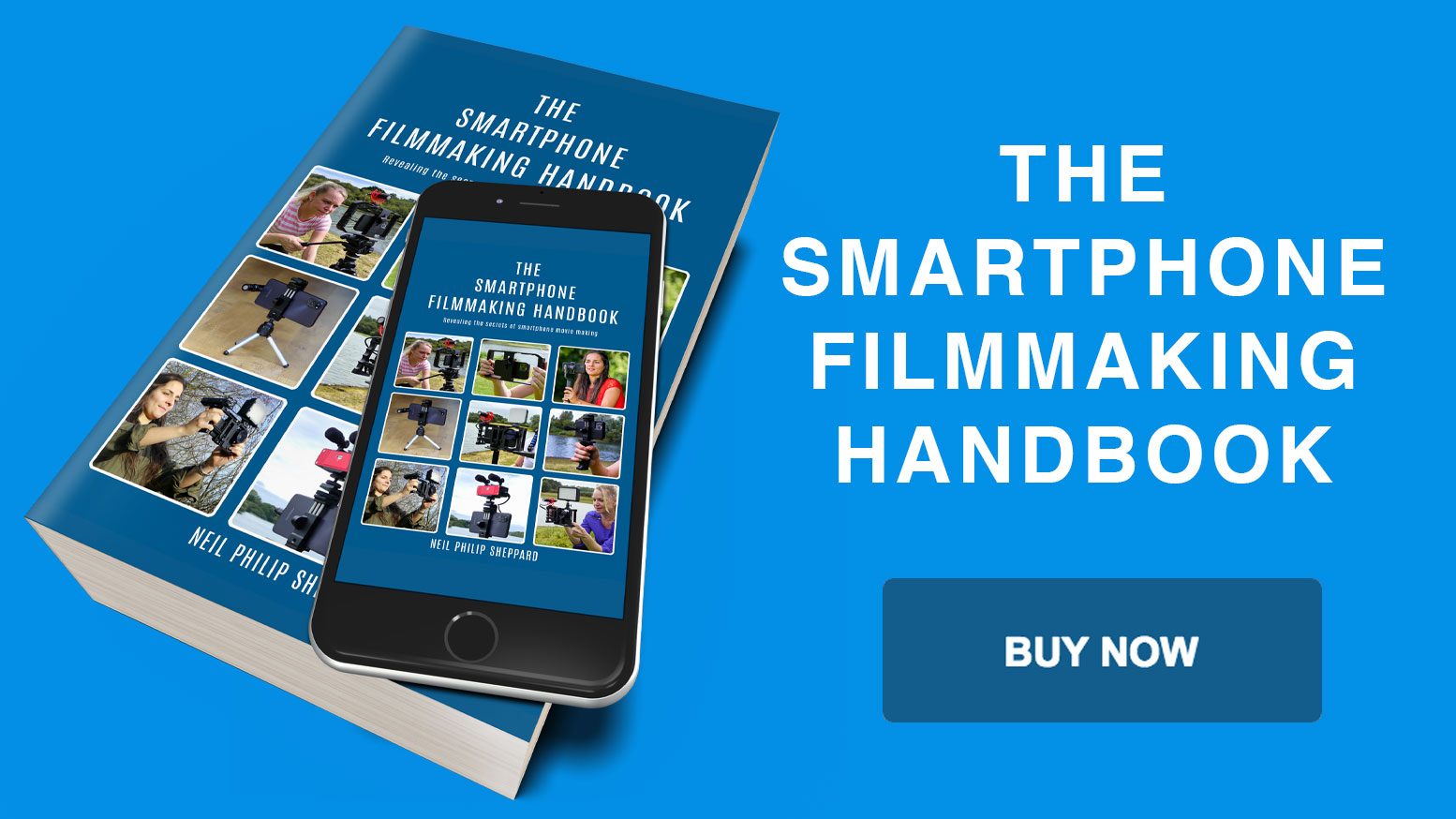 This content uses referral links. Read my ethics policy for more info.
Clip Lapel Microphone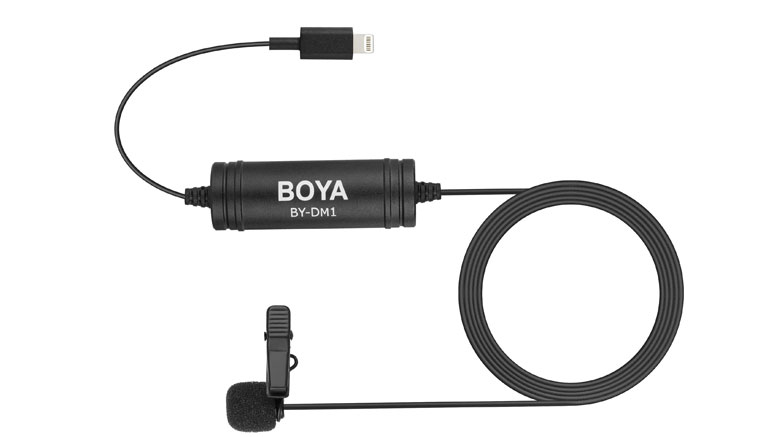 A good lapel or clip microphone is essential for doing a sit down interview or podcast. The Boya BY-DM1 lavalier microphone will give you clear, high-quality sound recordings and it connects direct to your iPhone's lighting port. There is no need for annoying adaptors. It is about the quarter of the price of other more expensive microphones like the Sennheiser ClipMic Digital so it is a real bargain; just don't expect the same quality of sound. In fact, if you are familiar with the Boya BY-M1 lavalier microphone you will be fully aware of what this microphone can achieve.
It offers up to 24-bit / 48 kHz resolution with a frequency response of 20 Hz to 20 kHz. It is an omnidirectional microphone, which means it will pick up sounds from all around. This makes it great for doing interviews and documentaries. It has a sensitivity of -42+/-3DB and gets its power from the iPhone. It also has a generous cable about 6 meters, which should be enough to get you far enough away from your subject. If you are looking for a budget lightning port microphone you cannot go to far wrong with this.
Price: $69.00 £56.00 €63.00

iPhone Camera Rig
If you are looking to add lights and microphones to your iPhone you will need an iPhone camera rig that has some cold shoe mounts to support this equipment. The Ulanzi U-Rig Metal Handheld Stabiliser is fully compatible with Apple iPhones and most Android models including dual camera phones. It has a Universal Lens Adapter with 37mm & 17mm lens mounts which are fully adjustable to fit your Smartphone. Most standard 37mm and 17mm threaded lenses will fit just fine and it is compatible with a variety of conversion lenses, filters and DOF adapters.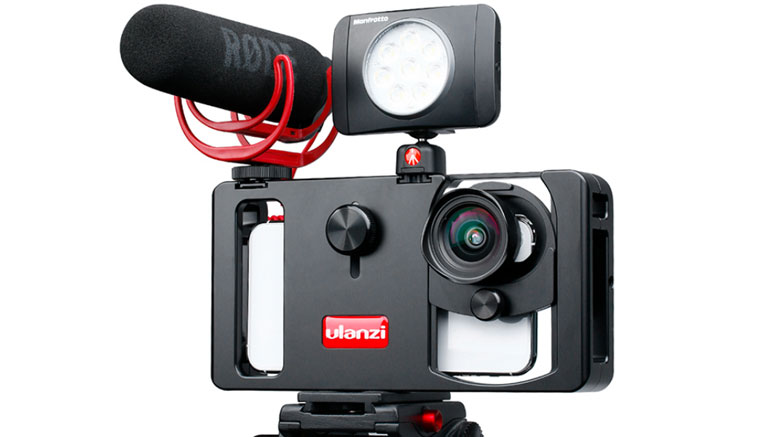 It has two Cold Shoe Mounts and four 1/4 inch threaded Mounts. This will allow you to attach a variety of photography and filmmaking gear to improve your videos. Its metal design also makes it near indestructible. So it will put up with all the action you can throw at it. You can also use if with or without a tripod and it will mount on any tripods with a 1/4 inch screw.
Price: $73.00 £60.00 €65.00

Video camera app
If you want to film professional video with your iPhone you are going to have to upgrade your camera app. Although the built-in camera app on the iPhone is fine, a professional video camera app will give you manual control over the focus, exposure, frame rate, bit rate and the audio. Filmic Pro is a great video camera app for the iPhone but if you are looking for a free alternative you might want to try Mavis.
Mavis is a professional video camera app that gives you full manual control over your iPhone's camera. The audio tools give full support for internal and external audio sources. You can connect a microphone by the lightning port or the headphone port and use Mavis to monitor and record the incoming audio. The app also has audio gain control for both internal and external microphones so you can adjust your audio levels. You can also see where your audio is peaking with the on screen audio levels.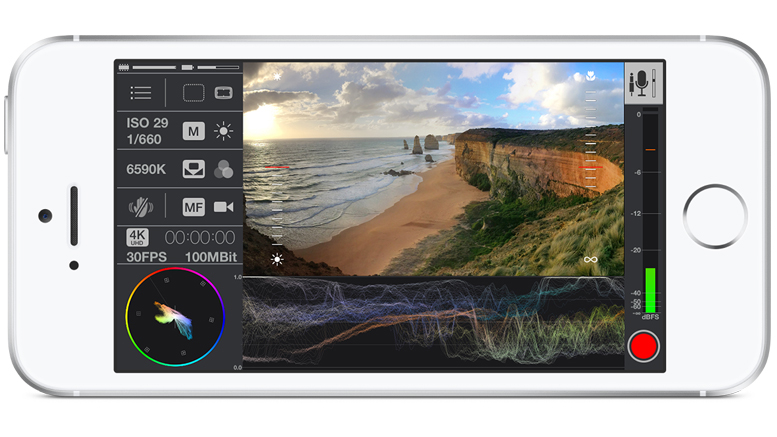 Mavis also has full colour control and gives you extensive manipulation over your image. The built in vector scope will help you to adjust the colour and you can use the waveform monitor to adjust your blacks and whites for a perfect image. These scopes will show a precise analysis of your colour values as the iPhone camera sees it.
If you want to pay for a small in app purchase you can get access to Mavis' other resolution settings. You can record in resolutions up to 4K with Bit Rates up to 100mbs. You can also select different frame rates up to 240 frames a second if you wish to film in slow motion. You store these in quick set-up presets so you don't have to keep adjusting the settings. Video files can save to the camera roll or in the Mavis app for when you need to start editing.
Price: Free

Lights
If you are filming in low light and want to get a good image you are going to need a light. LED lights are the preferred choice for filmmakers as these have low power consumption and can give off a lot of light. The Godox LED64 is and excellent compact budget video light for your iPhone. It's lightweight and portable and provides high brightness and accurate colour temperature. It has a lux of about 1000 so it will be good enough for subjects that are close to your iPhone.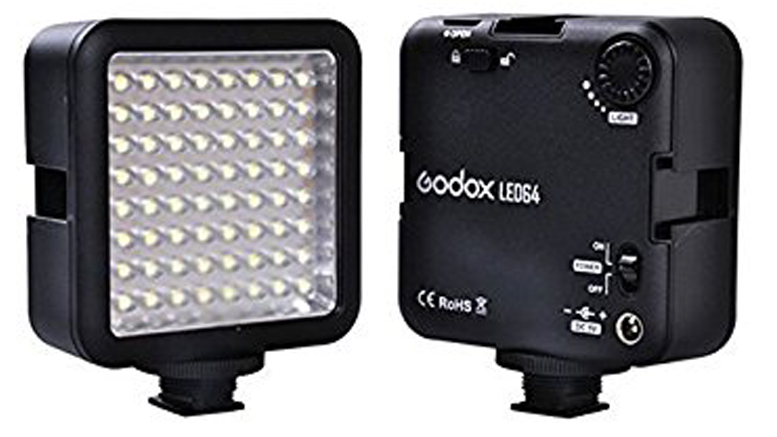 You can also add other Godox LED64 lights together by interlocking them. This will give you more lights without using another cold shoe mount. The light itself has 64 LED bulbs and you can adjust these for brightness with the built in dimmer. It's powered by 4 AA batteries but you can also plug in to an AC power supply if you need to use the light for long periods. The universal cold shoe mount means it will fit most Smartphone tripod adaptors or stabilisers that support the cold shoe mount.
Price: $26.95 £21.00 €24.00

Tripod
If you want to keep your iPhone still you are going to need a tripod. There are many different choices for tripods but they can often be expensive, heavy and not good for video production. Whatever you get make sure you can smoothly pan and tilt with it. You also want a tripod that is compact and not too heavy to carry around. The K&F Concept Travel Tripod is the ideal solution to reduce the camera shake of your video. It has a standard quarter-inch screw so you can add your favourite Smartphone tripod adaptor or you can use the Smartphone adaptor that comes with it. It has a minimum height of 20.9″/53cm and a maximum height of 70″/177cm with the extended centre column.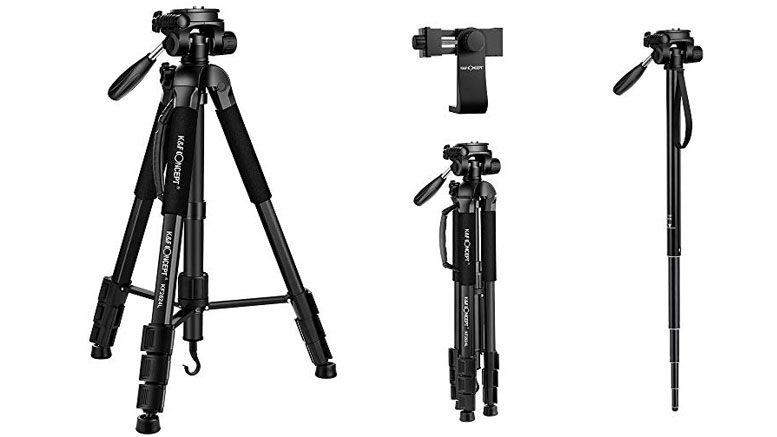 This tripod can also convert to a monopod in seconds with a height that ranges from 16.1″/41cm to 57.9″/147cm. The maximum weight at 3.7Lbs/1.7kg and it comes with a storage bag so it's easy to carry and transport. If you want to do pans and tilts there is a handle attached to the tripod head so you can perform smooth camera movements with your Smartphone.
Price: $89.99 £72.00 €80.00

Tripod Adaptor
If you want to mount your iPhone to a tripod you are going to need a good tripod mount! There are many tripod adaptors on the market but many are of poor quality and break easily. Good choices include the Ztylus Smartphone Grip', Shoulderpod S1 or the Square Jellyfish Spring Tripod Mount.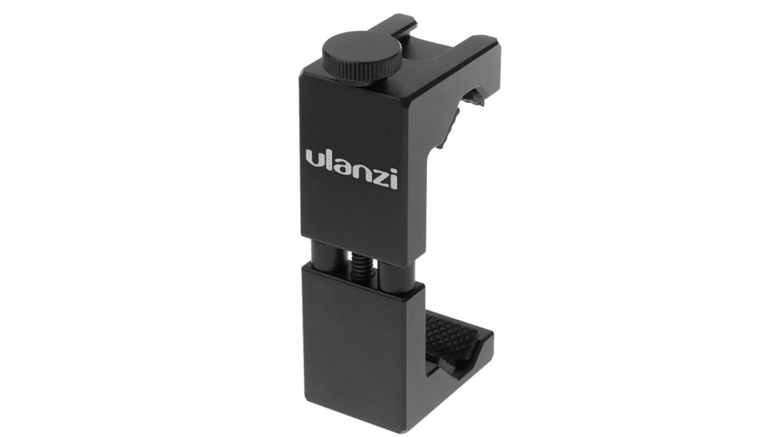 My personal favourite is the Ulanzi adjustable Smartphone mount with cold shoe adaptor. This tripod mount is made of solid aluminium alloy and incredibly robust. It is fully adaptable and will fit all models of iPhone. It has a ¼ inch screw socket at the base so you can mount it on to any standard tripod. It also comes with a cold shoe mount so you can add a microphone or a light above your iPhone if you need too.
Price: $14.95 £12.00 €13.00

Gimbal
If you want to get smooth hand-held tracking shots with your iPhone you will want to invest in a gimbal. Gimbals use a set of motors to balance your iPhone while you move about to give you great smooth tracking shots. In the past gimbals were expensive but now you can get a quality one for a fraction of the cost. There are two great choices for low budget gimbals.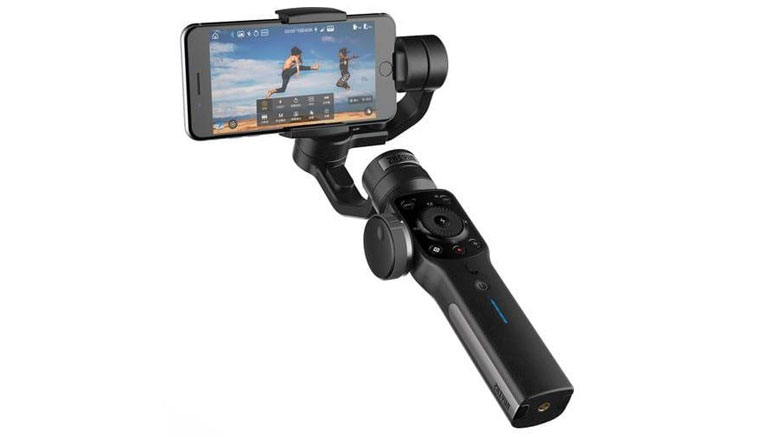 The first is the Zhiyun Smooth 4 and the other is DJI Osmo Mobile 2.
Price: $99.00 £99.00 €99.00

My personal preference is The DJI Osmo Mobile 2. The Osmo Mobile 2 is the successor to the Osmo Mobile and it is a huge upgrade from the old model. It is made of high-strength nylon which is lighter than the magnesium and plastic in the original. The handle is also more comfortable when you hold it. Its redesign makes it more comfortable in the hand and easier to operate especially when you are doing long shoots. It also now has a ¼ inch screw socket on the bottom of the handle so you can put the  on a camera jib or other accessory if needed.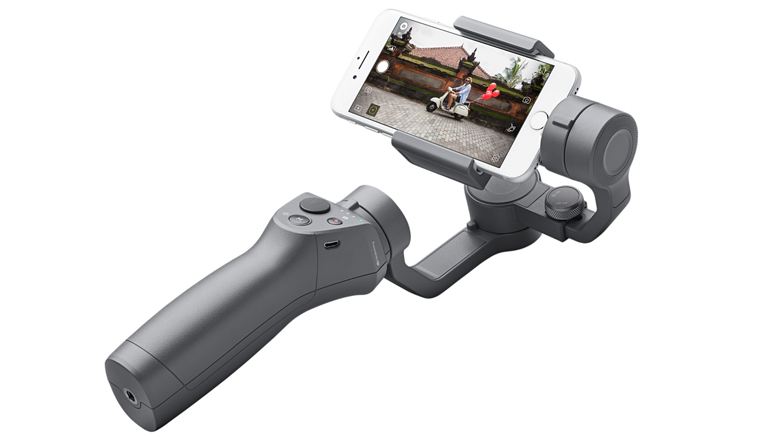 DJI have slimed down the controls of the Osmo Mobile 2 and it is now simpler to use. Some of the buttons also have more than one setting. Powering up the Osmo Mobile 2 and switching the mode is now on the same button. There is a dedicated record button and a thumb pad to control pans and tilts. There is also a zoom switch on the side if you want to get closer to your subject. To get the full benefits of the Osmo Mobile 2 you will need to install DJI's Go camera app available for iOS. When installed and paired with your iPhone you will get full control of the zoom function, settings and different modes. Other apps like Filmic Pro will also give you control of the Osmo Mobile 2 if you are not keen on the DJI camera app.
Once you turn on the Osmo Mobile 2 you will see it automatically orient and balance your iPhone. Once it does this you can start filming immediately. You will get about 15 hours of use out of the Osmo Mobile 2. This is a huge increase on the old version which would last about 5 hours. However you can no longer swap the battery as you could on the old version but with 15 hours of use it is unlikely you will run out of power on a day's filming. When the battery does get low there is a handy battery indicator to let you know that it is low on power. You can also charge your iPhone from the Osmo Mobile 2 through a standard USB port at the rear. To charge the Osmo Mobile itself you just plug in the micro USB port and hook it up to the mains power supply.
Price: $119.00 £99.00 €99.00

Directional Microphone
A directional microphone is an essential buy if you want to record good quality audio with your iPhone. The Boya BY-DM200 is a cardioid condenser stereo microphone that is similar in design to the Rode VideoMic Me-L. It slots in nicely to your iPhone's lighting port to give you clean audio recording while on the move.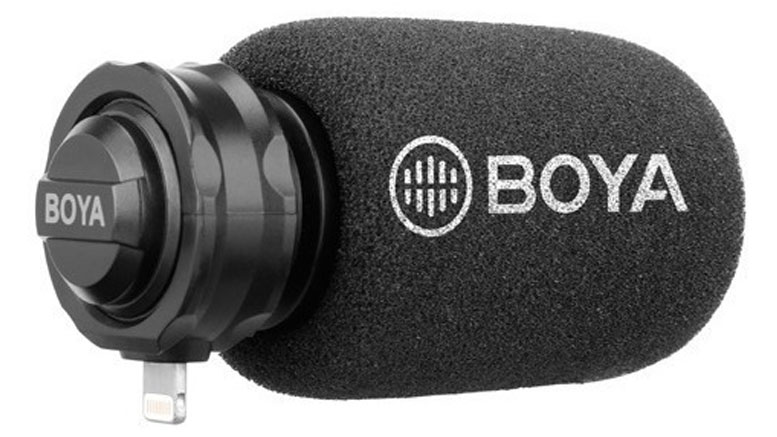 It comes with a foam windshield for average weather conditions and a fake fur windshield for bad weather that has extreme wind. So it will give you plenty of protection when you are location filming. It has a frequency response between 25hz and 20khz and a signal to noise ratio of 80db. If you are looking for a cheaper alternative to the Rode VideoMic Me-L, this could be a good choice.
Price: $59.99 £48.00 €54.00

XLR Adaptor
The Saramonic SmartRig Di is a similar audio adaptor to the iRig Pro. It will allow you to connect any XLR microphone to your iPhone's lightning port. You can also plug in a musical instrument like a guitar to the ¼" socket if you feel like recording a music session. You control gain from the thumbwheel and this will allow you to set precise levels for your audio recordings.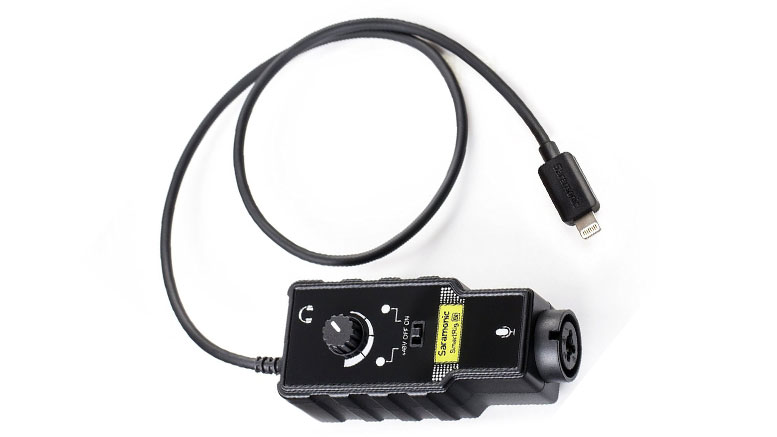 The SmartRig Di has a frequency response of 20 Hz to 20 Khz and a signal to noise ratio of 80db at 1KHZ, -30dBu input. The SmartRig Di gets its power from a 9V battery and this will also enable it to provide any microphone with +48 phantom power, if it should need it. You can also switch the phantom power on and off, as you need it. If you want to listen to your audio as you record it, you can plug in you favourite headphones to the included 3.5 mm headphone port.
Price: $119.00 £99.00 €99.00

Hand-Held Micrphone
The iRig Mic HD 2 is the successor to the IK Multimedia's iRig Mic HD. Just like that microphone, it is a hand-held condenser microphone that is good for interviews, voiceovers or music recordings. It has a metal body, which makes it robust and tough enough to put up with most audio recording jobs. It also comes with a dial control to adjust the gain.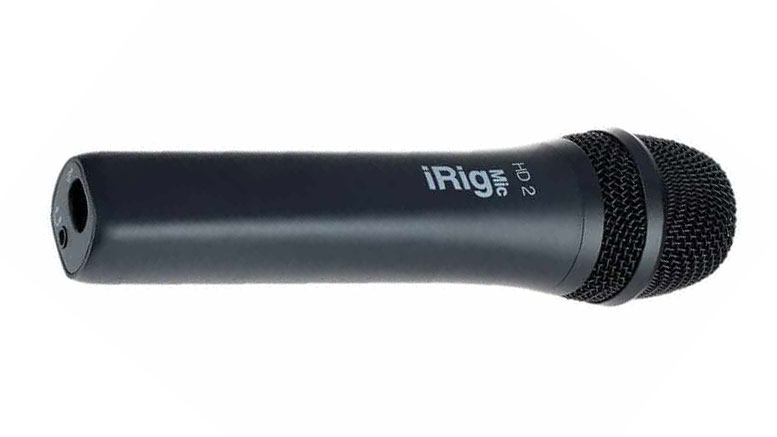 The built-in pre amp gives improved audio recording and a gain boost to the audio signal. It can record audio up to 24bit 96kHz. So it won't disappoint you with the quality of its sound recordings. It also has a cardioid pick up pattern, which will help reject any unwanted sounds from around the microphone. There is a headphone port so you can listen as you record your audio. This is handy if you want to make sure you're getting the best sound for your video and helpful in picking up any audio problems. You can use this port to attach another audio recorder if needed. There is also a desk microphone stand if you want to do any voice-over work.
Price: $129.00 £105.00 €117.00

Popular Posts Like This:
iPhone Filmmakers Guide – Must-Have Camera Accessories
iPhones, iPads, accessories and apps for filmmaking
7 Essential Smartphone Filmmaking Accessories