Unleash your creative potential with these top iPhone and Android video rigs
In recent years, Smartphones have become more powerful and versatile, making them a popular choice for amateur and professional video production. However, holding the Smartphone steady while filming can be challenging, resulting in shaky and poor quality videos.
That's where Smartphone video rigs come in. These handy accessories can provide stabilisation, improved audio, and lighting options, giving your videos a professional touch.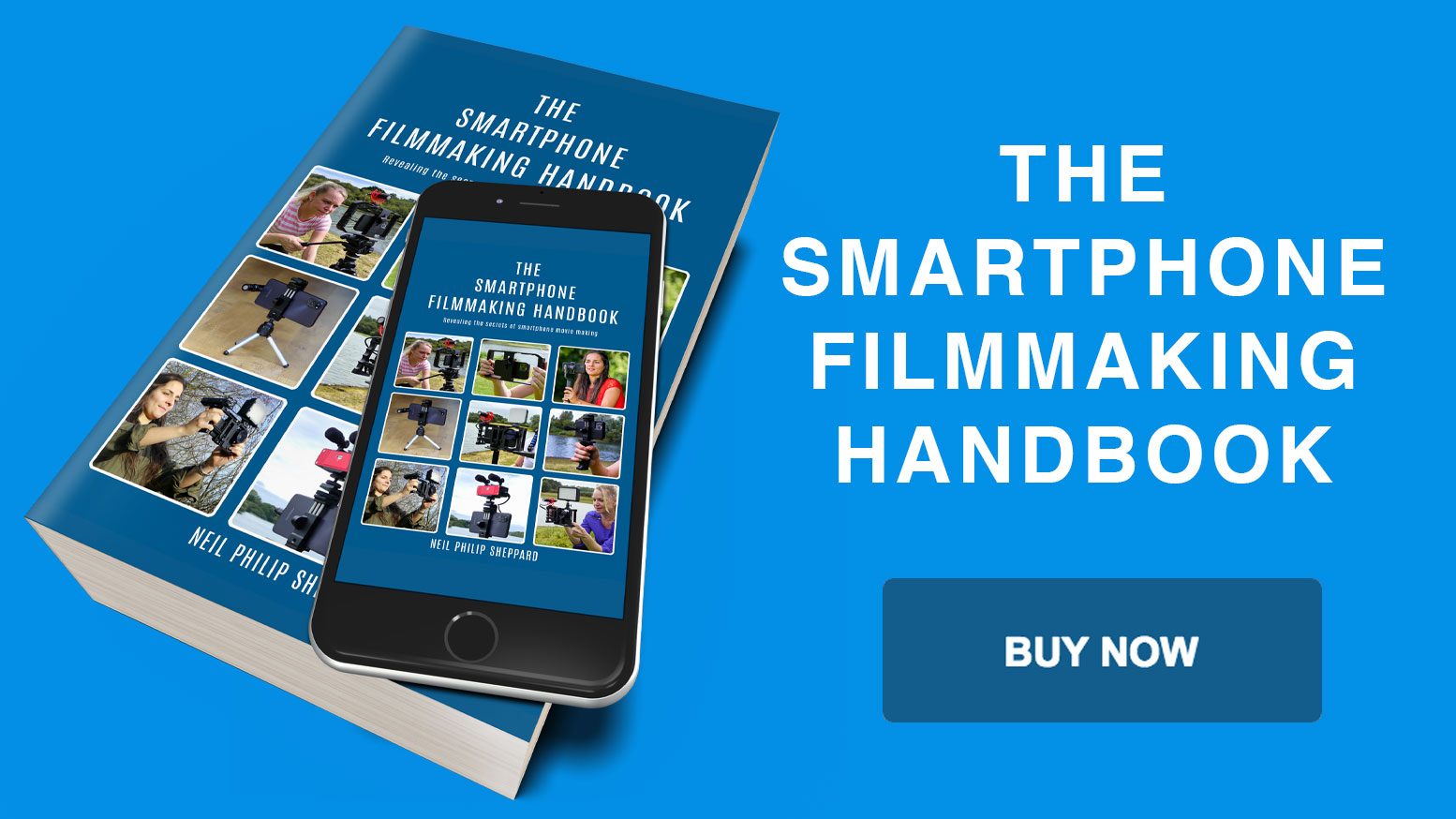 Zeadio Video Action Handheld Stabiliser
The Zeadio Video Action Handheld Stabiliser is great for Skateboarding, Rollerblading, Motor Racing, Biking, Surfing, Hunting, Snowboarding, Skiing and any Extreme Sports situation where stability is essential. Its multi-functional and you can remove both side handles, which makes it ideal for recording different wonderful angles for quality video recordings.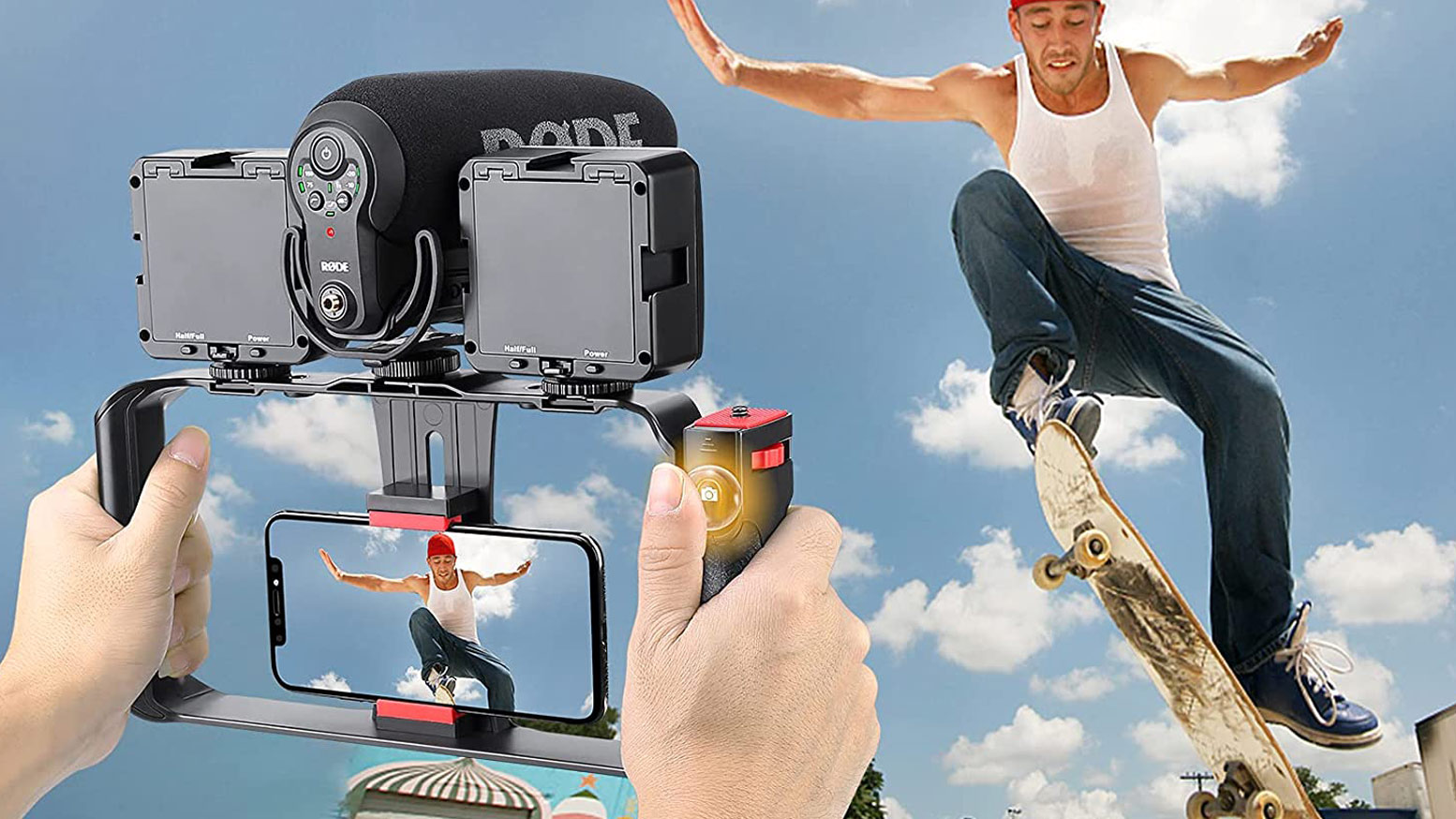 It has a muti-functional compatibility and will fit all cameras and camcorders with a standard 1/4″ thread mount. It also comes with the removable wireless shutter that will fit most Smartphones. This makes low angle filming a breeze and is ideal for making moving low angle videos.
The triple cold shoe mount can be used to attach extra video lights or microphones at the same time. It can also be connected to a tripod, monopod, slider and other specialised equipment.
Price: $39.99 £32.00 €37.00

Neewer A104 Smartphone Video Rig
The Neewer A104 Smartphone Video Rig has been designed with a fully adjustable Smartphone holder. This video rig is compatible with iPhone 14 Plus, 14 Pro Max, 13 Pro Max, 13 Mini, XR, X, XS Max, Samsung Galaxy S22 Ultra, Pixel 6 Pro and other Smartphones with dimensions 55mm to 100mm in width. This makes it ideal for use as a Smartphone stabiliser for video recording.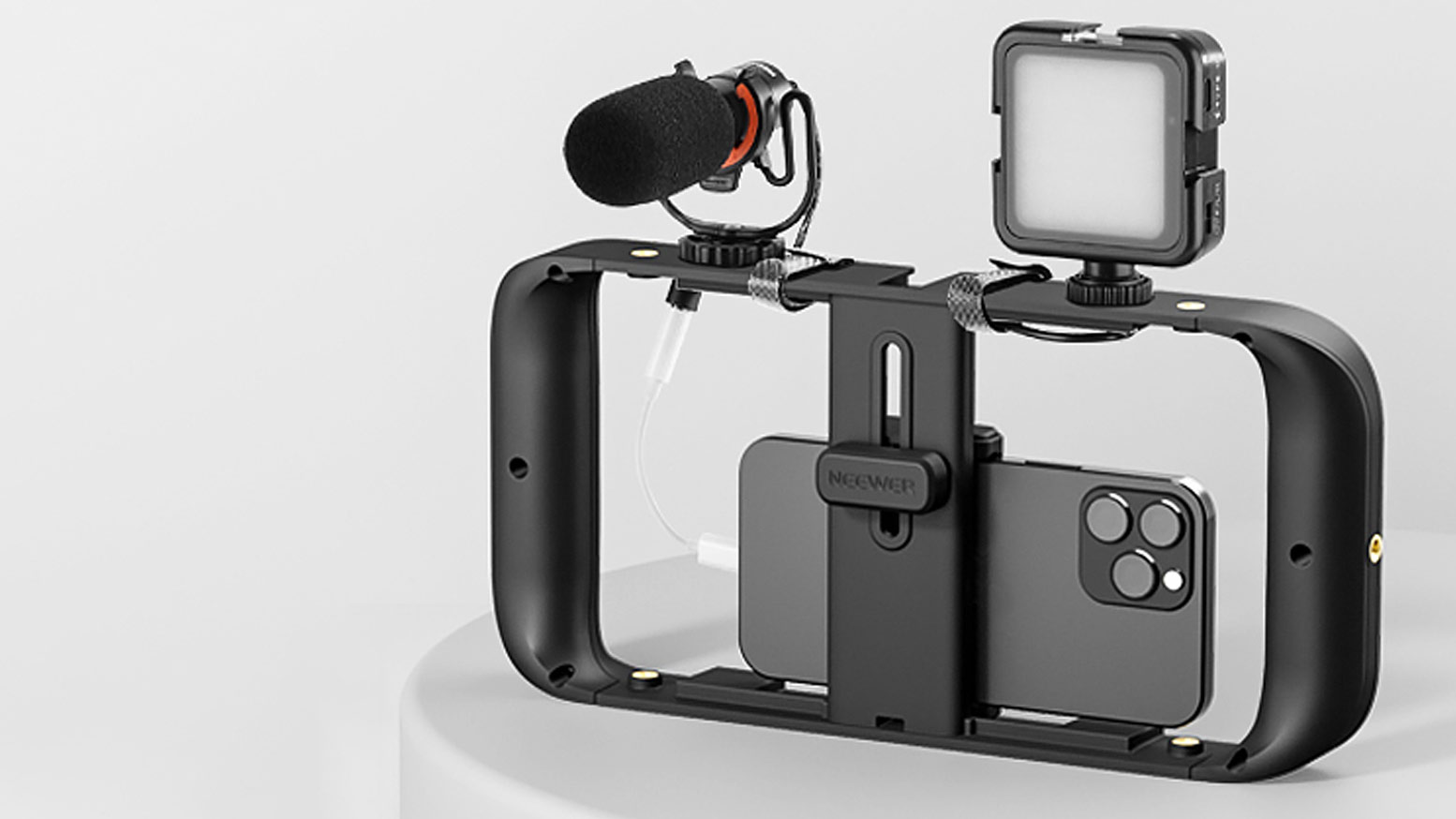 It has five cold shoe mounts and six 1/4″ threaded holes so you can connect various accessories to the rig, such as a compact LED video light, a mini microphone and a top handle. It's lightweight and easy to use and made of robust yet lightweight hybrid plastic.
The rig is also easy to hold and provides a comfortable grip for filming on the go. Two cable straps prevent the cable from hanging loose or blocking your Smartphone's camera's view. As well as handheld operation, you can mount the rig on a desktop tripod, handgrip, or light stand in portrait and landscape orientations.
Price: $17.99 £15.00 €17.00

SmallRig Video Rig Kit
The SmallRig Video Rig Kit is a dual handheld video stabiliser designed for the iPhone 14 Pro. It features two handles for stable shooting, with one wireless control side handle for efficient shooting with your Smartphone's video camera app. This Smartphone video rig comes with multiple 1/4 inch threaded holes and two cold shoe mounts for attaching a tripod, a video light, a microphone, as well as a hand strap.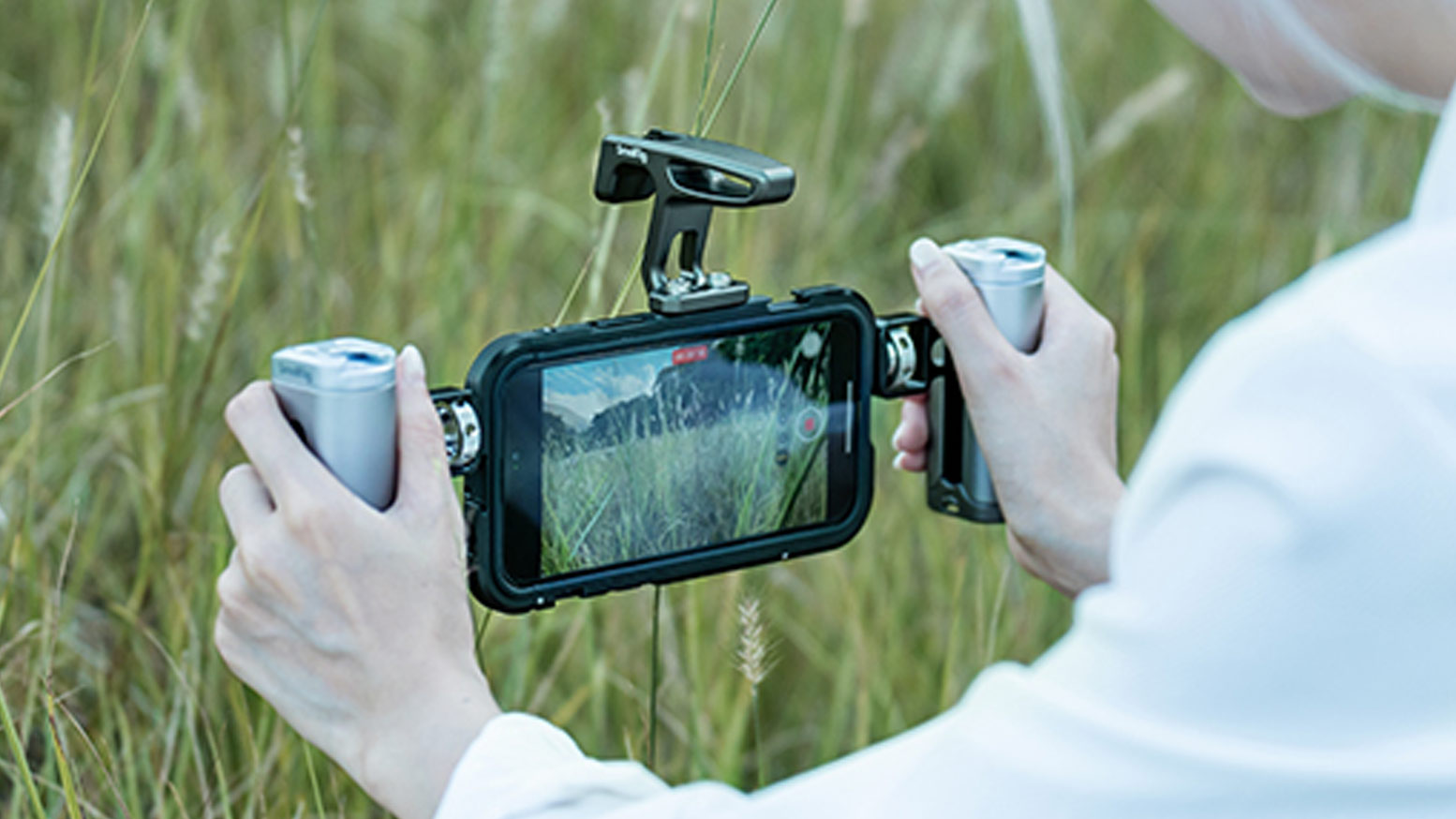 The lens backplane adaptor of this video rig kit is compatible with any M-mount lens or you can replace the SmallRig 17mm backplate adapter to connect a 17mm threaded lens. It has one-click disassembly and assembly for convenient operation.
The all-inclusive body design of all aluminium alloy material is perfectly compatible for the iPhone 14 Pro and will keep it properly protected.
Price: $89.90 £72.00 €83.00

Ulanzi Lino Smartphone Video Rig with Handle
The Ulanzi Lino Smartphone Video Rig has a double handle design and is specially designed for live video blogging. The double grips make it more comfortable to hold and will make you Smartphone more stable.
The adjustable handles can also be moved to a different angle to give you a better grip. The Ulanzi iPhone stabiliser has 10 standard 1/4″ screw ports, 4 cold shoe mounts and 2 Arri locating pin 1/4″ screw ports. This means you can freely expand the accessories you need to meet Your various shooting needs.
You can hold this Smartphone rig horizontally or hold it vertically. In addition, the 1/4″ screw on the bottom of the Lino rig can be fitted to a tripod. The dual handles are also detachable to meet the creative needs of hand-held horizontal and vertical shooting.
It is compatible with the iPhone 14 pro max, iPhone X and above models, and Android Smartphones within the size range of 5.4 inches to 6.7 inches. It is made out of a high-strength aluminium alloy with a total weight is only 245g and is easy to carry with one hand.
Price: $59.95 £48.00 €55.00

Movo SPR-20 Foldable Smartphone Video Rig
The Movo SPR-20 Foldable Smartphone Video Rig has an ABS cage that can be extended for a two-handed grip, collapsed for a compact one-hand configuration, or folded to be used as a stand.
The adjustable Smartphone holder opens up to 3.3″ wide and is capable of accommodating the Apple iPhone, Google Pixel, and Samsung Galaxy Smartphones.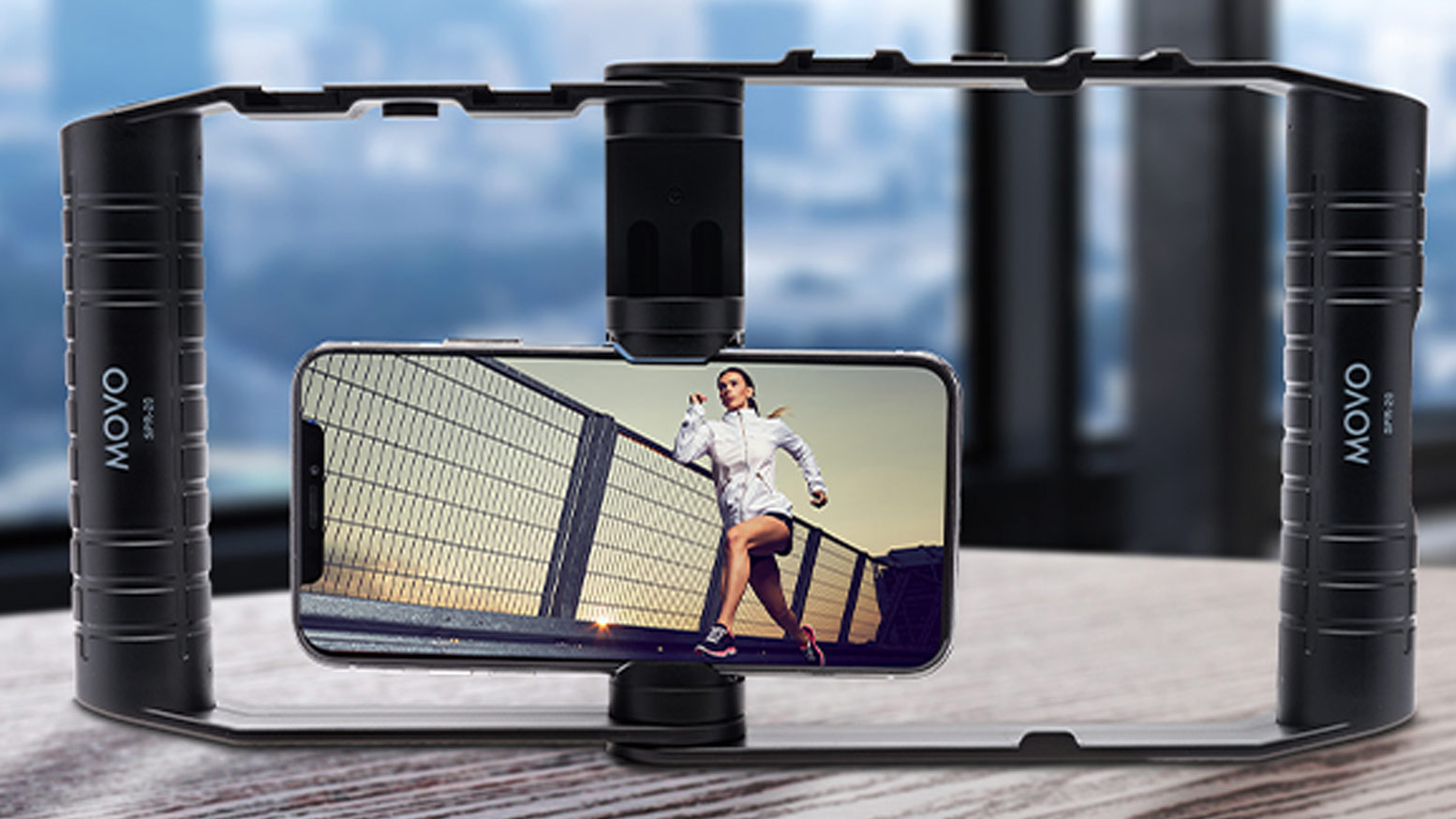 It has 4 cold shoe mounts, which allow for a variety of LED lights, microphones and other attachments you may wish to add. It also has 4 1/4″ threaded mounts which will enable the rig to be secured on tripods and other stabilisers.
Price: $12.95 £11.00 €12.00

Movo SPR-5 Metal Smartphone Video Rig Grip
Movo SPR-5 Metal Smartphone Video Rig Grip is another great handheld video rig for stabilising your iPhone and Android Smartphone video. It has an adjustable Smartphone holder that can accommodate devices up to 3.9 inches wide and rotates for horizontal or vertical shots.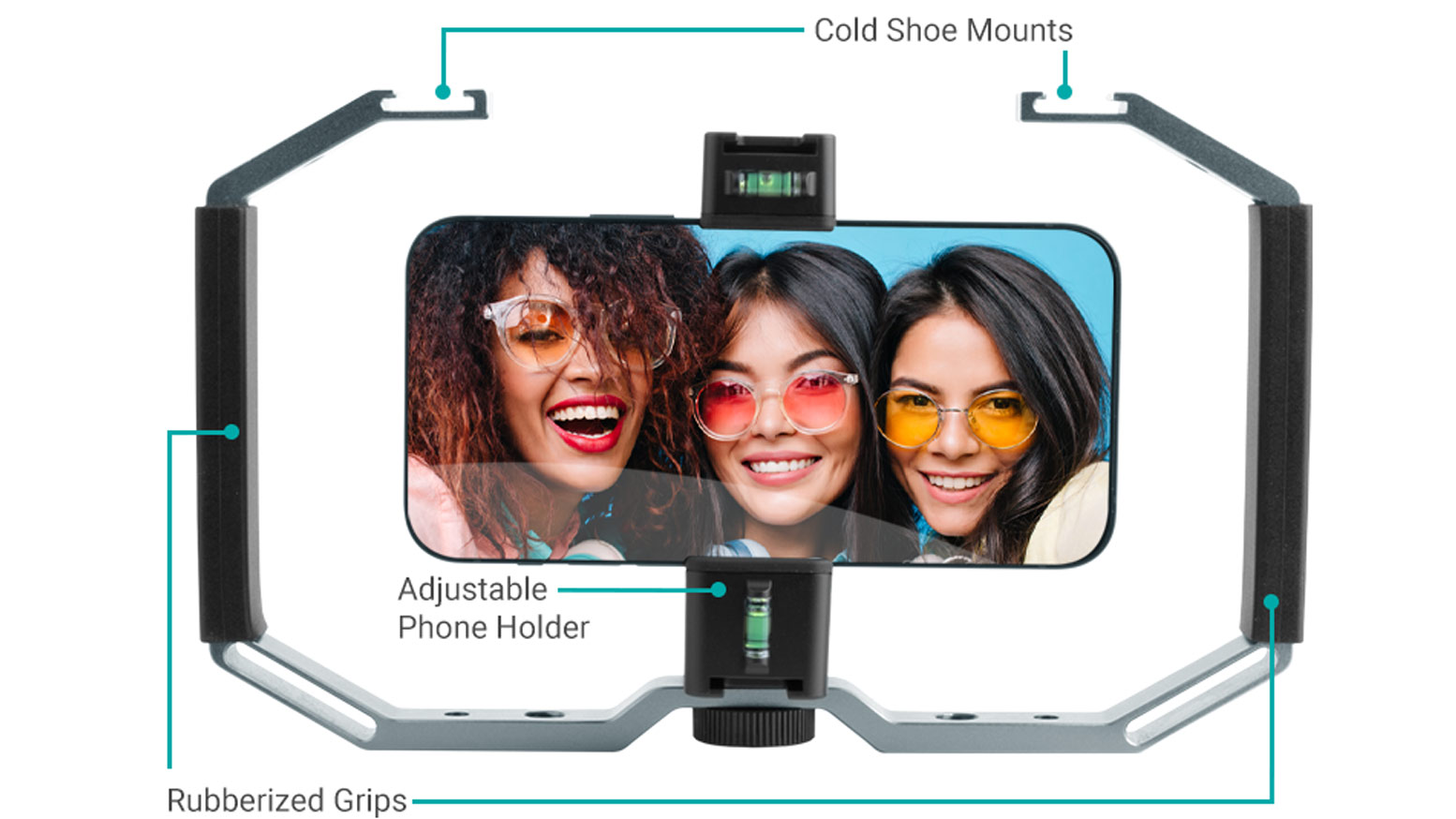 It has two cold shoe mounts so you can mount a variety of microphones, lights, and other attachments to the rig. It is lightweight and has a tough aluminium frame that can withstand the elements, while rubberised hand grips make it easy to record for extended periods of time.
Price: $29.95 £24.00 €27.00

Other Popular posts like this:
Is CapCut the best free video editor for iOS and Android?
Best Smartphones for video production and filmmaking 2023