What are the best lapel microphones for Smartphone filmmaking?
Lavalier or lapel microphones are clip on microphones that you sometimes see worn by newsreaders. They are small condenser microphones that have an omnidirectional pattern to pick up sound. Because you place them close to the subject's mouth the omnidirectional pattern picks up little unwanted sound. This makes them great for individual actors or performers.
Their small size also means you can hide them in clothing hiding them from the viewer. Lavalier microphones may be omnidirectional but they do have some directional qualities. This means they produce clear audio recordings. If you have many actors or presenters, a Lavalier microphone is a great solution to hear everyone clearly. Although, this will mean adding some form of external mixer to balance all the different microphones. Professional lapel microphones can often be expensive but there are some low cost choices available.

This content uses referral links. Read my ethics policy for more info.
Deity V.Lav Microphone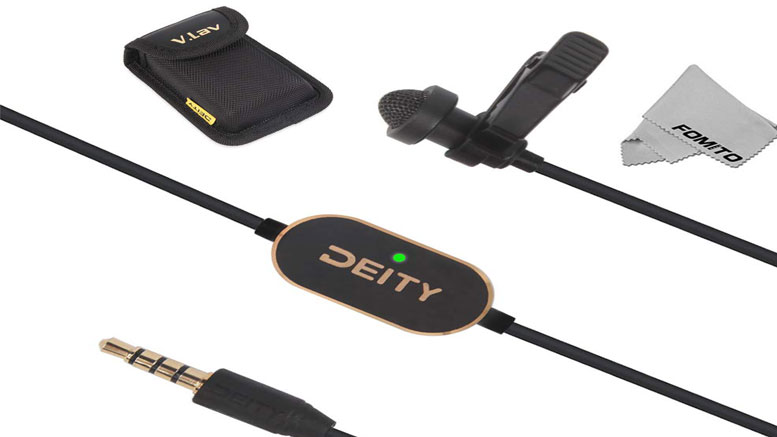 The Deity V.Lav is a lapel microphone that you can use with many devices without the need to invest in adaptors. It is a broadcast-grade omnidirectional lavalier microphone for use in video production. It features a microprocessor that adapts the TRRS plug to work with almost any 3.5mm microphone input. This means it will work with DSLRs, Camcorders Smartphones, portable audio recorders, laptops and wireless audio transmitters. It comes with a 5m cable that should give you plenty of length to attach to your video camera.

The Deity V.Lav gives a clear and natural sound, which will pick up sound equally from all directions. The V.Lav gets its sound from two LR41 cell batteries, which are enclosed in a aluminium housing. This battery power only comes into use after the microphone determines what audio device it is plugged in to. If it recognises the device does not need external power it will put its batteries into standby. The V.Lav comes with a windscreen to reduce wind noise when filming outside and a cord organiser to manage the long cable. There is also a carry case to protect and carry the microphone.
Price: $49.00 £39.00 €44.00

Lavmicro DI Lavalier Microphone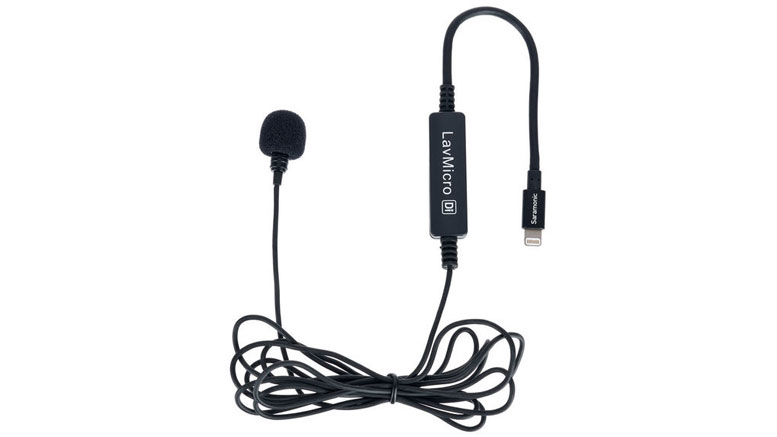 The Saramonic LavMicro Di is another great Lavalier microphone, which is perfect for video interviews with your iPhone's lightning port. It allows you to record in stereo to any iOS device with a lightning port. It is an omnidirectional microphone, which means it will pick up sounds from all around.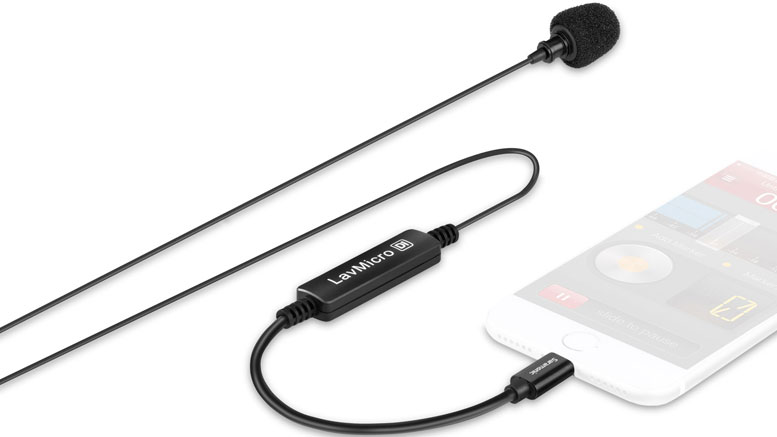 It has a frequency response of 30 – 20000 Hz and will record in 24bit 48khz resolution. It also has a sensitivity of -42+/-3DB. It gets its power from the iPhone so there is no need to power it with external batteries. If you don't fancy the Boya or Sennheiser clip microphones, this is a great choice.
Price: $99.00 £80.00 €89.00

Boya BY-M1 Microphone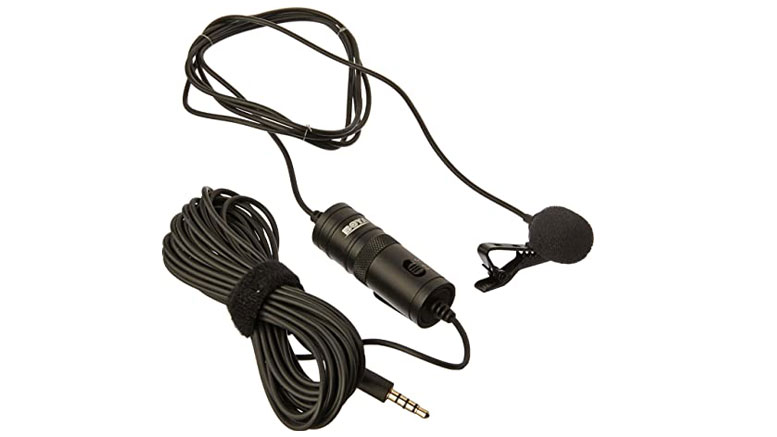 The Boya BY-M1 is a low budget lavalier microphone with good quality audio for sound recordings and great for location interview work. It comes with a six-meter long cable, which is great if you want to get your video camera further away from your subject. It is an omnidirectional condenser microphone, which means it will pick up sound equally well from all around the microphone.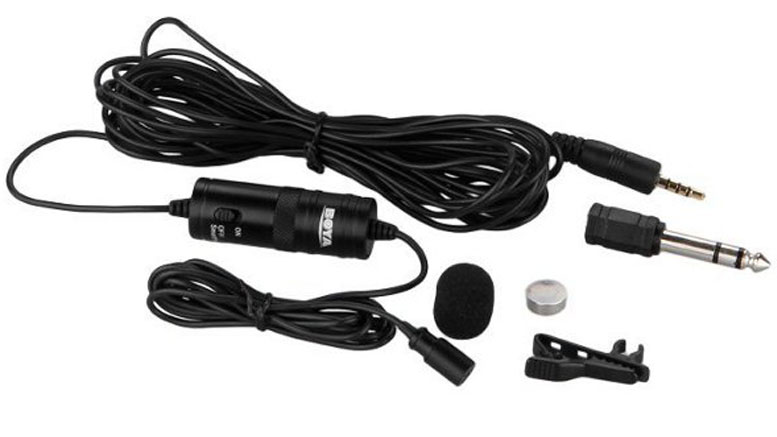 It comes with a standard 3.5mm jack that you can switch between Smartphone and standard TRS. This means you can plug it in to your video camera as well as your Smartphone. It does need a small battery to give the microphone phantom power, but this is only for use with a video camera. It isn't too much of a problem but be aware there is no battery light to tell you if it may be running out of power. So you will need to keep an eye on your audio levels in case the battery runs flat.
Price: 19.95 £16.00 €18.00

Purple Panda Lapel Microphone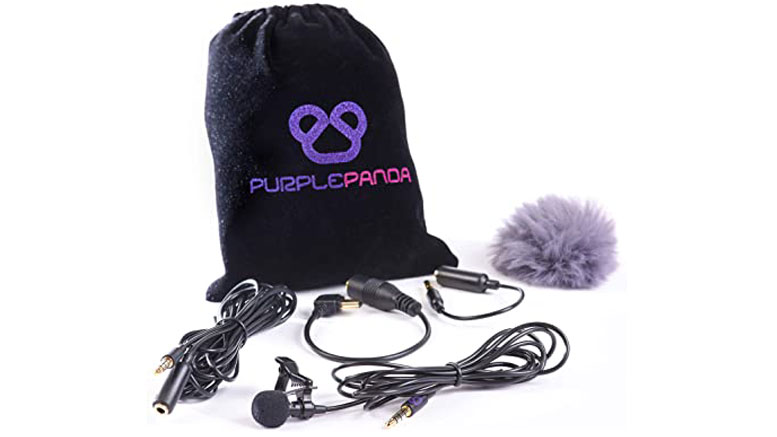 The Purple Panda Lapel Microphone is another quality microphone that is great at recording stereo audio to your Smartphone and video camera. It has a tough build quality and it is light and discrete enough not to be of notice to the person that is wearing it.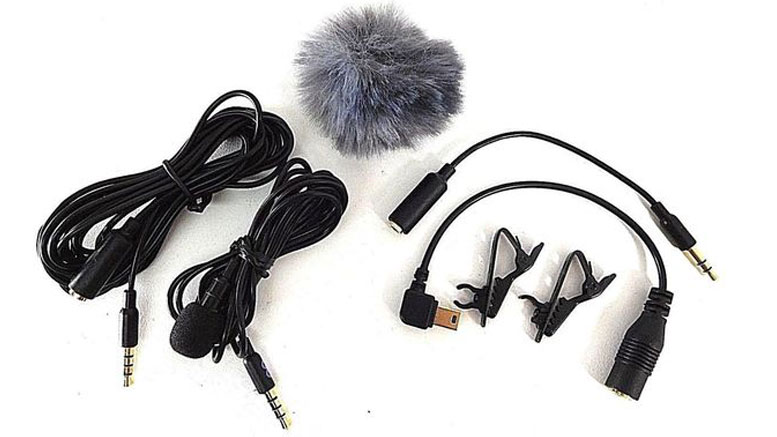 This microphone comes with many accessories that make it adaptable to many recording situations. It has a 3-meter extension cord so you can get further away from you subject if you need too. It also comes with a mini USB adaptor and a TRS adaptor so you can plug it into an audio recorder, video camera and other audio devices. Other accessories include a windscreen to disguise plosives and a drawstring pouch to keep everything in a safe place. The inclusion of all of the adaptors enables maximum compatibility with as many devices as possible.
Price: $39.99 £32.00 €36.00

Boya BY-DM2 Lavalier Microphone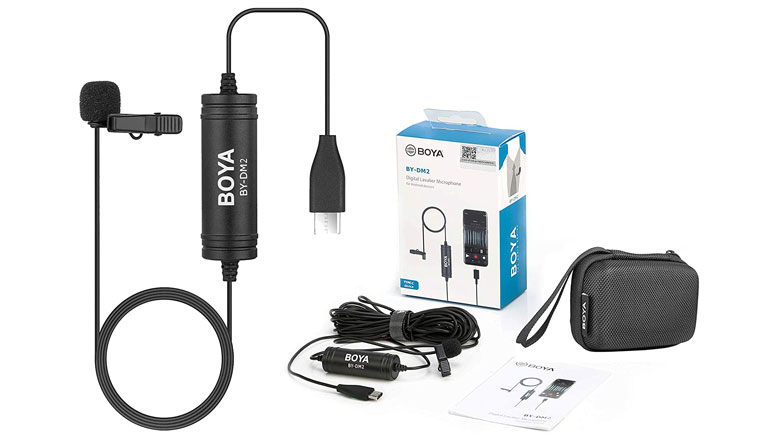 If you need a budget lavalier microphone for your USB-C Smartphone you could consider the Boya BY-DM2. This lavalier microphone is similar to the Boya BY-M1, so if you are familiar with that microphone you will be well aware of what to expect from the BY-DM2. The Boya BY-DM2 will give you good clear high-quality sound recordings to any connected USB-C Smartphone but if you are using an Android Smartphone make sure it is using an operating system of 5.0 or later, as it may not work.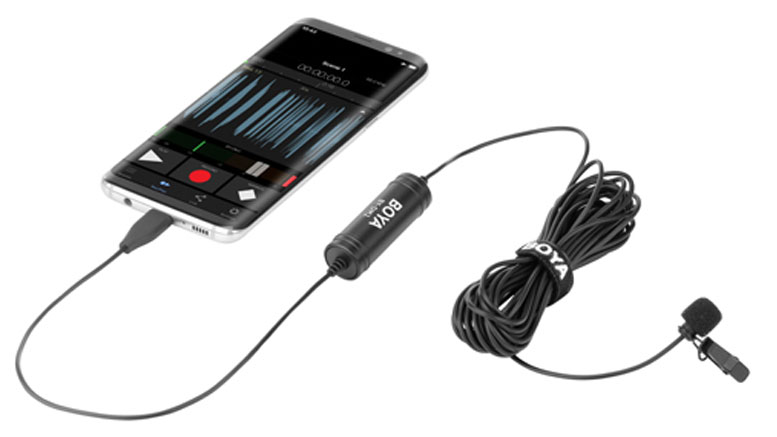 It will provide up to 24-bit 48 kHz resolution with a frequency response of 20 Hz to 20 kHz. It is also an omnidirectional microphone, which means it will pick up sound from all directions, which is perfect for interviews and documentaries. It has a sensitivity of -42/-3db and gain of 0-3db and gets its power from the Smartphone or device that it connects too. So make sure your Smartphone has enough power to run it before you buy it.
Price: $69.95 £56.00 €63.00

Rode Smart Lav+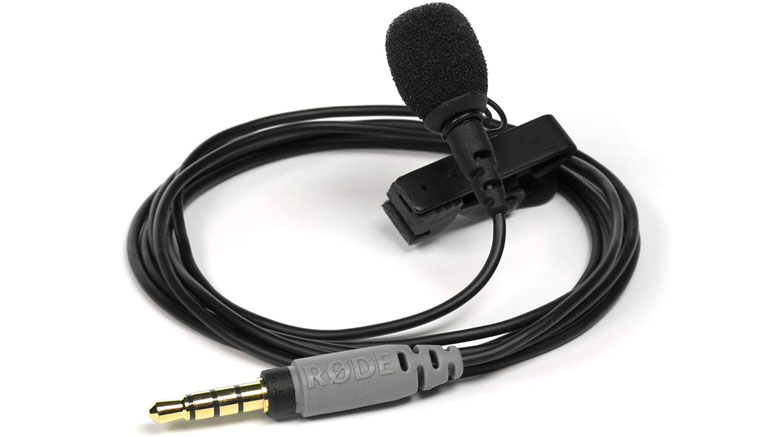 TheRode Smart Lav+is a lapel microphone designed for use in interviews and other audio tasks where there is a need for a close-to-subject microphone. It's advertised as a broadcast quality microphone and I must say that having used it the audio quality is good.
The sound quality is clear and well defined with a good signal-to-noise ratio. It comes with a foam pop shield to take care of any nasty plosives and a sturdy metal clip to attach it to clothing. It doesn't have any gain control so you cannot adjust the audio level going into the Smartphone. This is not an issue for apps with adjustable gain but could be a problem when using Facebook live. The solution to this is to clip the microphone slightly lower down on the subject if the sound is too loud. This is not ideal but does solve the problem.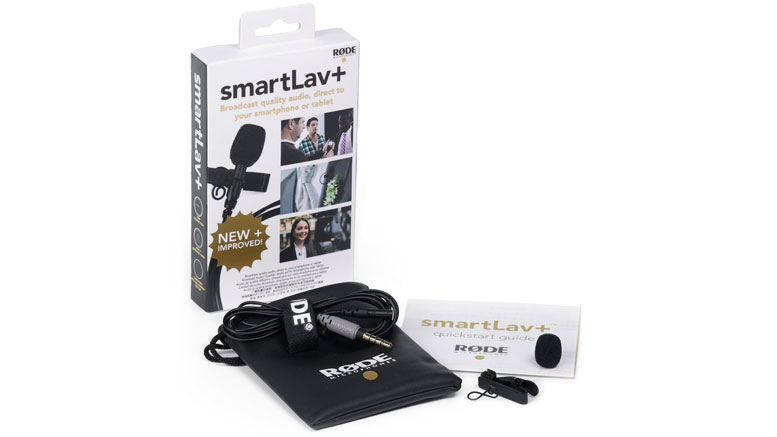 Do make sure you buy the plus version of this microphone and not the slightly older version as the new one has many improvements since that model. You might also want to consider the Rode SC1 extension cable, as the cable on the Rode Smart Lav+ is a little short.
Price: $90.00 £72.00 €81.00

Other Popular posts like this:
What are the best lightning port iPhone microphones?
What are the best wireless microphones for Smartphones?
What are the 15 best microphones for Smartphone filmmaking?
What are the best budget portable audio recorders for filmmaking?