What are the 8 best Smartphone tripod mounts?
So what are the best Smartphone tripod mounts? There are a lot on the market but only a few are any good. So why do you need one? Well Smartphones are not good when it comes to camera shake. A fast move left, right, up and down usually results in shaky footage that isn't nice to watch. This is due to the fact Smartphones are light. The only way to lessen it is to steady the Smartphone and this needs some form of Tripod mount so you can attach it to a gorilla pod, tripod or camera rig.
Most Cameras have a ¼ inch screw mount on them so you can easily attach them to a tripod. Smartphones do not have such mounts so to attach them to a tripod you will need a tripod mount. Due to the fact there are many shapes and sizes of Smartphone finding the right adaptor can be tricky.
When I went shopping for a tripod mount I found it difficult to find the right one. They are either too small to fit around the larger Smartphones or the build quality was terrible. When you do find one you like make sure you check the dimensions of the tripod mount so it will fit comfortably around your Smartphone. Also reason in that a Smartphone may have a case on and the tripod mount can fit around that too.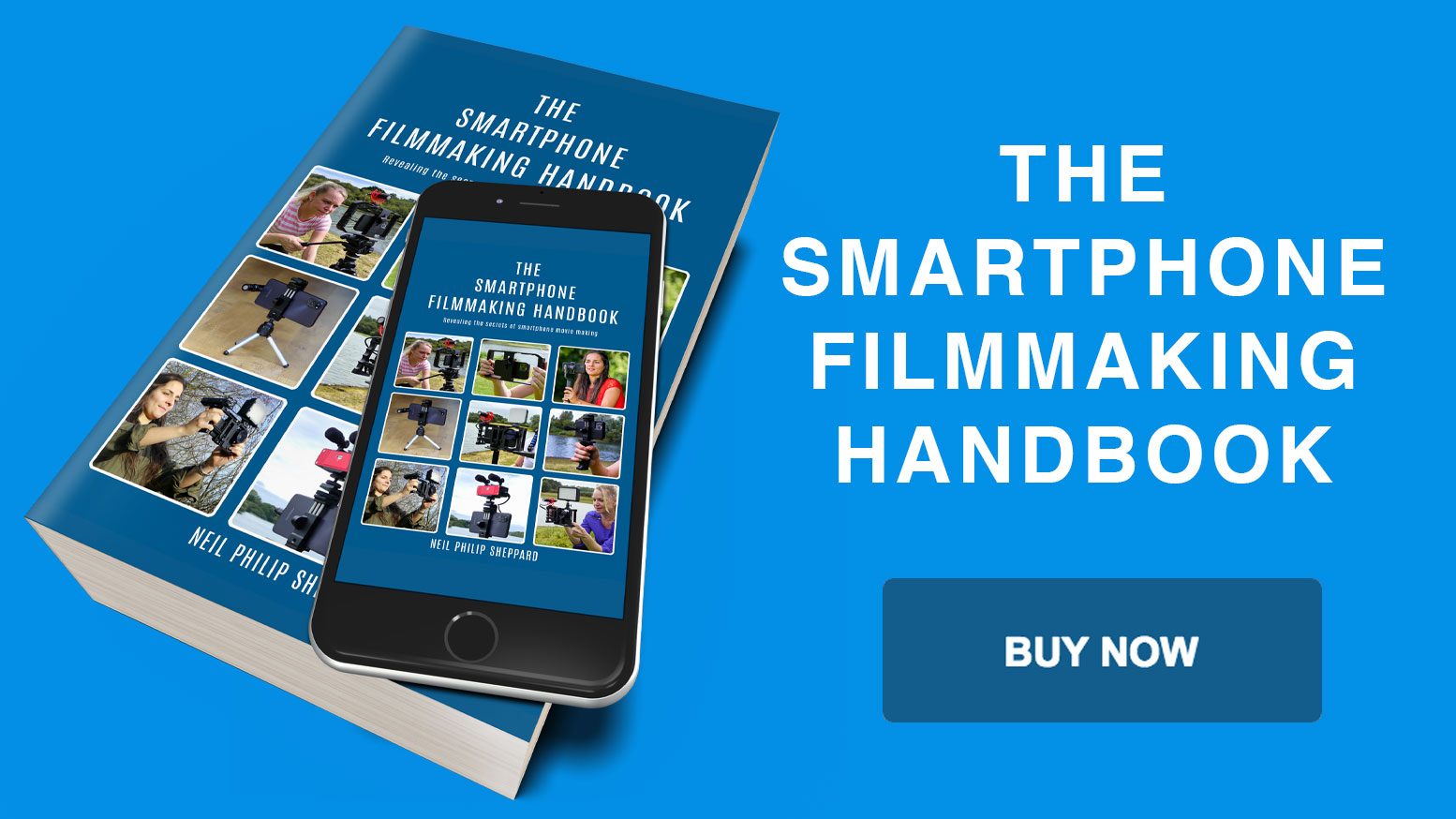 This content uses referral links. Read my ethics policy for more info.
Ulanzi adjustable Smartphone mount
One of my personal favourites is the Ulanzi adjustable Smartphone mount with cold shoe adaptor. This tripod mount is made of solid aluminium alloy and incredibly robust. It is fully adaptable and will fit all models of iPhone.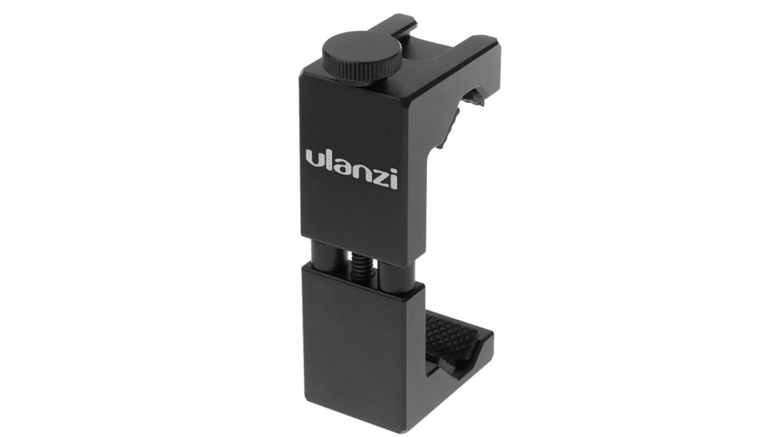 It has a ¼ inch screw socket at the base so you can mount it on to any standard tripod. It also comes with a cold shoe mount so you can add a microphone or a light above your iPhone if you need too.
Price: $11.95 £10.00 €11.00

Ztylus Smartphone Grip
The Ztylus Smartphone Grip is a universal Smartphone rig that clamps around your Smartphone. It gives you a comfortable grip while shooting video. If you have ever used a DSLR you will be familiar with the ergonomic design which has the right side pushed out to give you a comfortable grip to hold the camera. The Ztylus mimics this design and gives you the same feel for your Smartphone.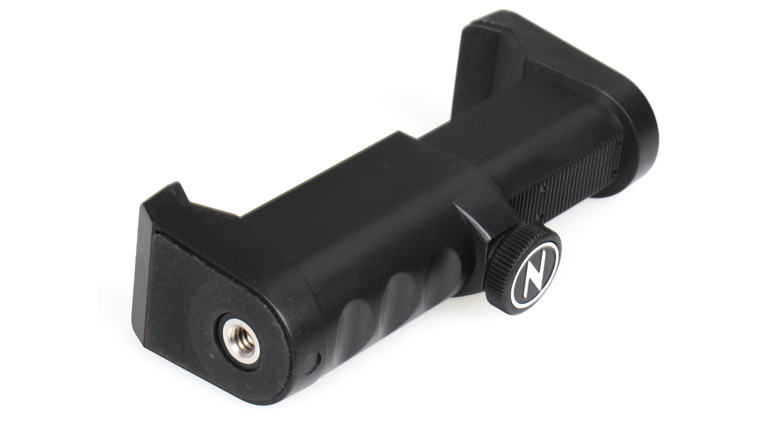 The Ztylus is fully adjustable. You can expand the adaptor up and down which will give it a comfortable fit around most designs of Smartphone. This universal approach is good as you may replace your Smartphone but you will get many years use out of the Zytlus. At the bottom of the Ztylus is a 1/4"tripod mount. So if you tire of hand-held you can mount the Ztylus to your favourite tripod. This is useful as it means you don't have to take the Ztylus off and replace it with another adaptor.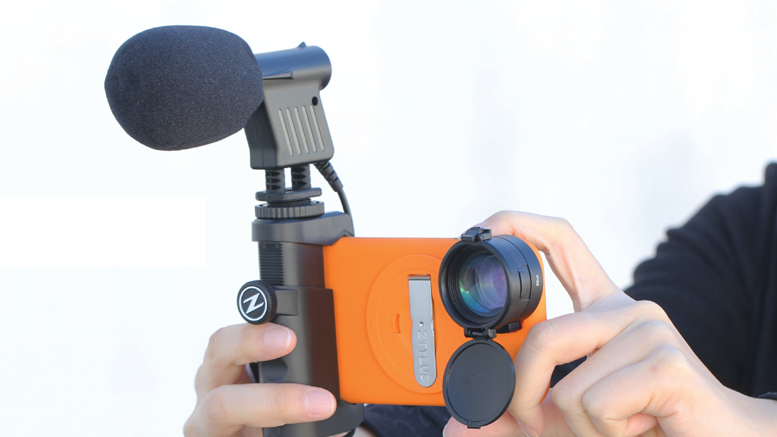 The Ztylus is made of a durable plastic that should put up with most wear and tear that you can throw at it. But be aware there are limits to what it will put up with. A metal design would have been good but would have pushed up the cost and added weight to the adaptor.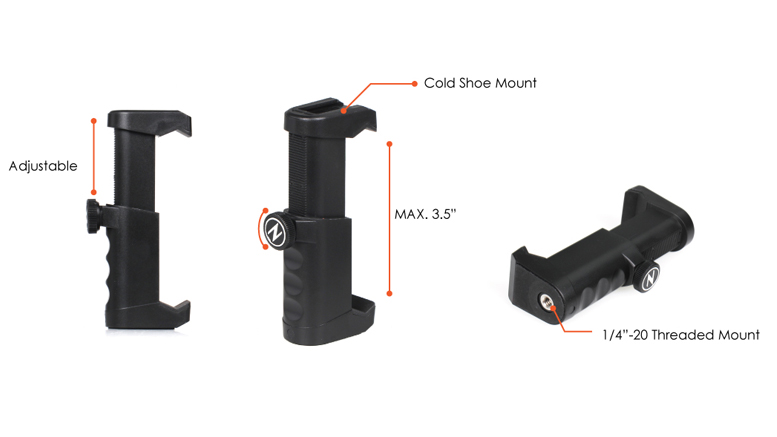 New to this release of the Ztylus Smartphone Grip is a cold shoe mount. You can find this at the top of the adaptor so you can add any extra equipment that needs this mount. This is a welcome addition and means you can add lights and microphones to the top of the adaptor which will be useful for those run and gun jobs.
Price: $14.99 £12.00 €14.00

Saramonic SR-BSP1 Aluminium Smartphone Holder
The Saramonic SR-BSP1 Smartphone Holder is my number one choice out of this list and the Smartphone adaptor I use the most. It is made of solid aluminium and feels indestructible. An adjustable screw goes through the whole adaptor that will fit around most large Smartphones.
There are three screw ¼" screw mounts, one on the bottom and two on the sides which means you can mount your Smartphone vertical or horizontal. Handy if you need to get those portrait shots. On the top of the adaptor is a cold shoe mount. This is useful if you want to add other equipment like an external microphone or camera light.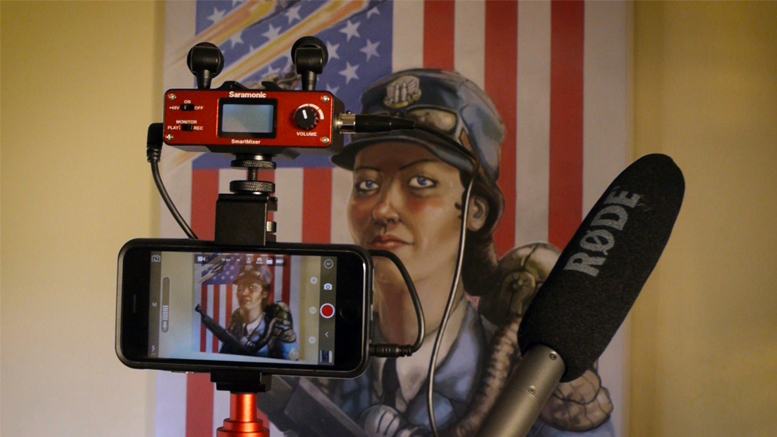 The Saramonic Aluminium Smartphone Holder also comes with an aluminium tube grip that you can use to give you some extra stability. On the bottom of this grip is another ¼" screw mount so you can screw it into a gorilla pod if needed.
The build of this rig is excellent and it is one of the best mounts I have seen. It may be a little expensive but this will keep going long after your Smartphone has died.
Price: $39.00 £31.00 €35.00

Shoulderpod S1
Created out of a successful kickstarter campaign, the Shoulderpod S1 came from a design by a group of Spanish mobile photographers who wanted a better solution to mount there Smartphones. It has many uses, one being an independent stand that you can use for watching video on your Smartphone. There is also an included handgrip which allows you to hold your Smartphone steadily and an added wrist strap.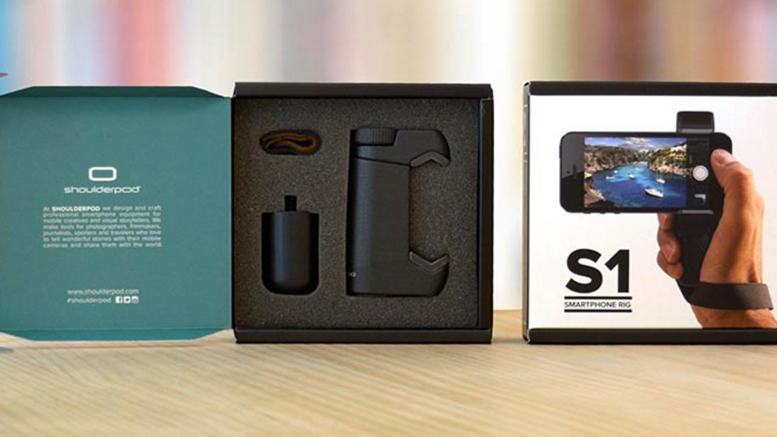 The S1 holds the Smartphone in place by a clamp with rubber inlays to make sure your mobile is not scratched or damaged when clamped. It will adjust between 48mm to 93mm in width which will fit even the largest of Smartphones. You do this by adjusting the dial at the top. This can take a little time but you can speed up the process by holding down the spring-loaded top part of the clamp with one finger and turning the dial with the other.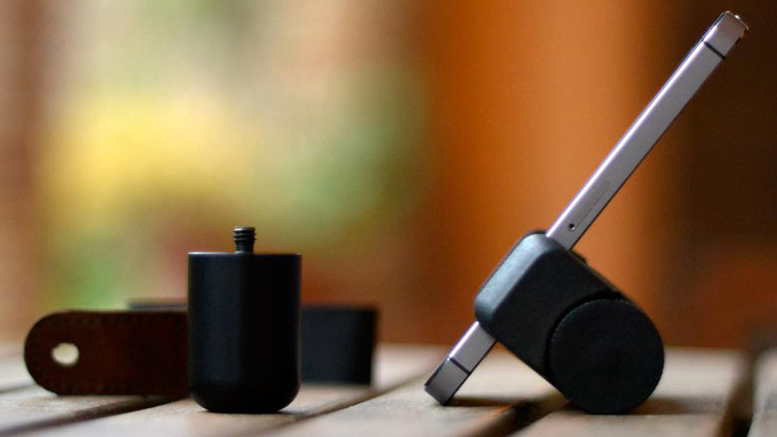 The included handgrip will screw into the ¼" screw mount on the S1 and is made of a sturdy aluminum. The S1 itself is made from plastic but feels robust enough to handle most situations and will hold your Smartphone firmly in place.
Price: $49.99 £40.00 €45.00

Square Jellyfish Spring Tripod Mount
The Square Jellyfish Spring Tripod Mount is a good choice for a Smartphone tripod adaptor. It will fit around most large size Smartphones and has enough room to fit around a Smartphone case as well. The unit twists so you can use your Smartphone vertically and horizontally depending on your needs. The arms are spring loaded and will clamp nicely around most Smartphones and fold down so you can pack the adaptor away with the minimum of fuss and space.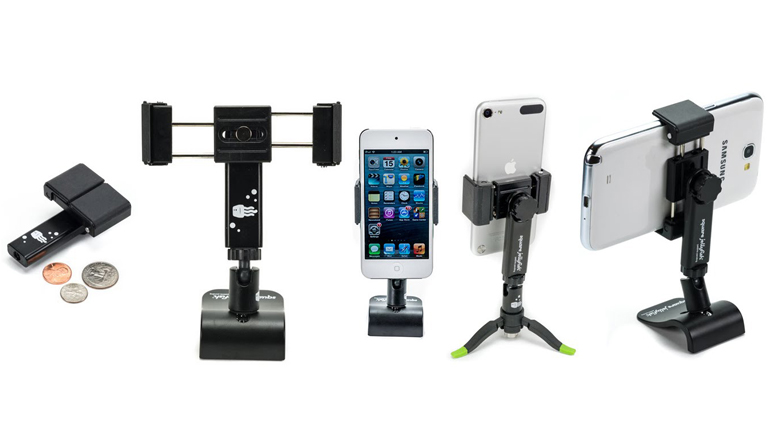 I love this adaptor and after trying out many tripod mounts, this was the one I use a lot. It's great that it collapses down and is fully adjustable. I also found it easy to fit around my Smartphone without doing it any damage.
Price: $16.95 £13.00 €15.00

Glif tripod Mount
The Glif is a tripod mount that will fit most Smartphones. It has an unusual design in that you slide your Smartphone into it rather than clamping it around like most Smartphones. The Glif will work with Smartphones with a maximum width of 86.4mm which will cover most makes and models.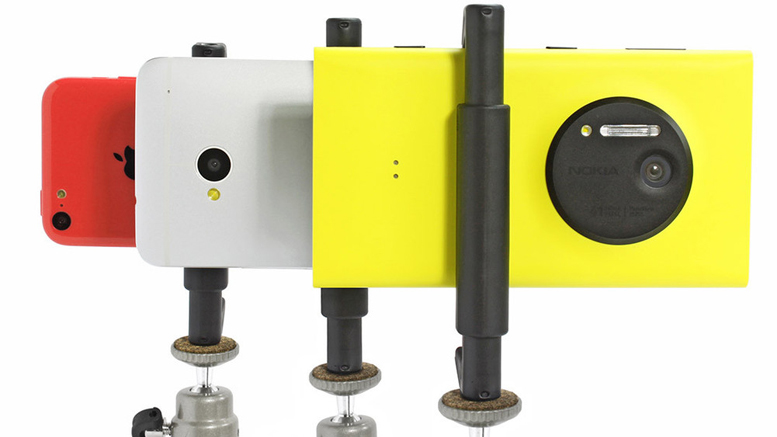 It has a ¼ inch screw mount on both ends so you can use it any way up. This also comes in handy for putting adaptors on for mounting lights or microphones. The clamp itself is adjustable by the supplied hex key which will adjust its height. This is the down side of this adaptor. If you need to change the clamp size you have to use the hex key and if this is not available you will be a little bit stuck.
Price: $27.99 £22.00 €25.00

Istabilizer Smartmount Tripod adaptor
The iStabilizer Smartmount is a similar tripod mount to the Square Jellyfish mount. It has spring loaded arms that will fit around a Smartphone of up to a width of 90mm. This should fit around most large Smartphone's that have a case on.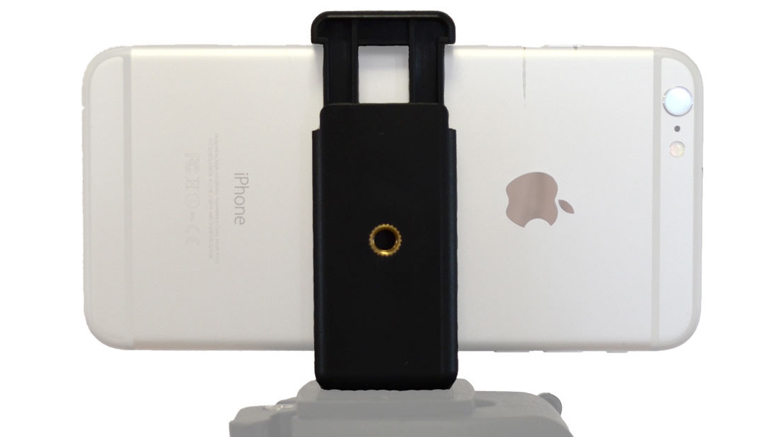 It's a small unit that is compact enough to fit into any kit back and be ready when needed. It has two ¼ inch screw mounts. One on the bottom and one on the back of the unit to you can mount your Smartphone in various ways on your tripod.
Price: $21.99 £18.00 €19.00

RetiCAM Tripod Mount
The Reticam tripod mount is an-all metal clamp that grips the Smartphone in place with rubber pads fitted inside the clamp. It has a large metal screw that goes through the whole unit and this will screw tight to clamp the Smartphone in place. At the bottom is the usual ¼ inch screw mount for screwing in place to a tripod.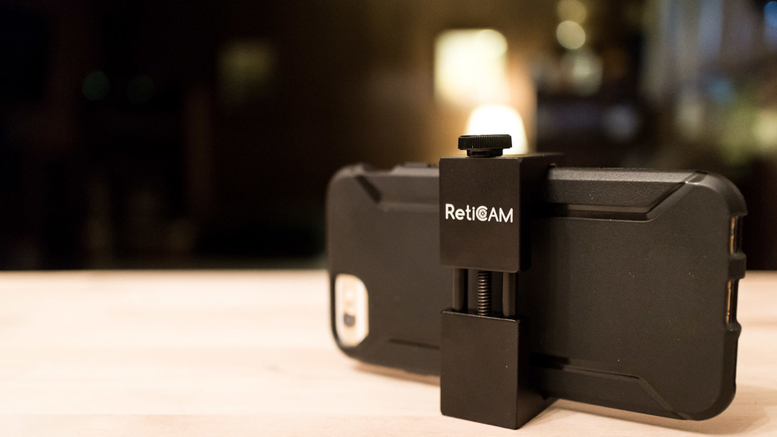 I like the look of this tripod mount and its sturdy metal construction means it will last a while. The screw bolt does mean the mount does take a little time to put around the Smartphone but this should not slow you down too much. I could not find any size specs for the full width of the clamp so make sure it will fit your Smartphone.
Price: $19.99 £16.00 €18.00