Live Video Streaming with Teradek Live: Air Solo
Live: Air Solo is a free iPhone camera app made by Teradek. It's designed to let you stream to multiple social media platforms such as YouTube, Twitch, Ustream and Livestream. Live streaming to social media has recently become popular with news agencies, media outlets and businesses fully embracing it. The public is also quickly taking up this exciting technology too.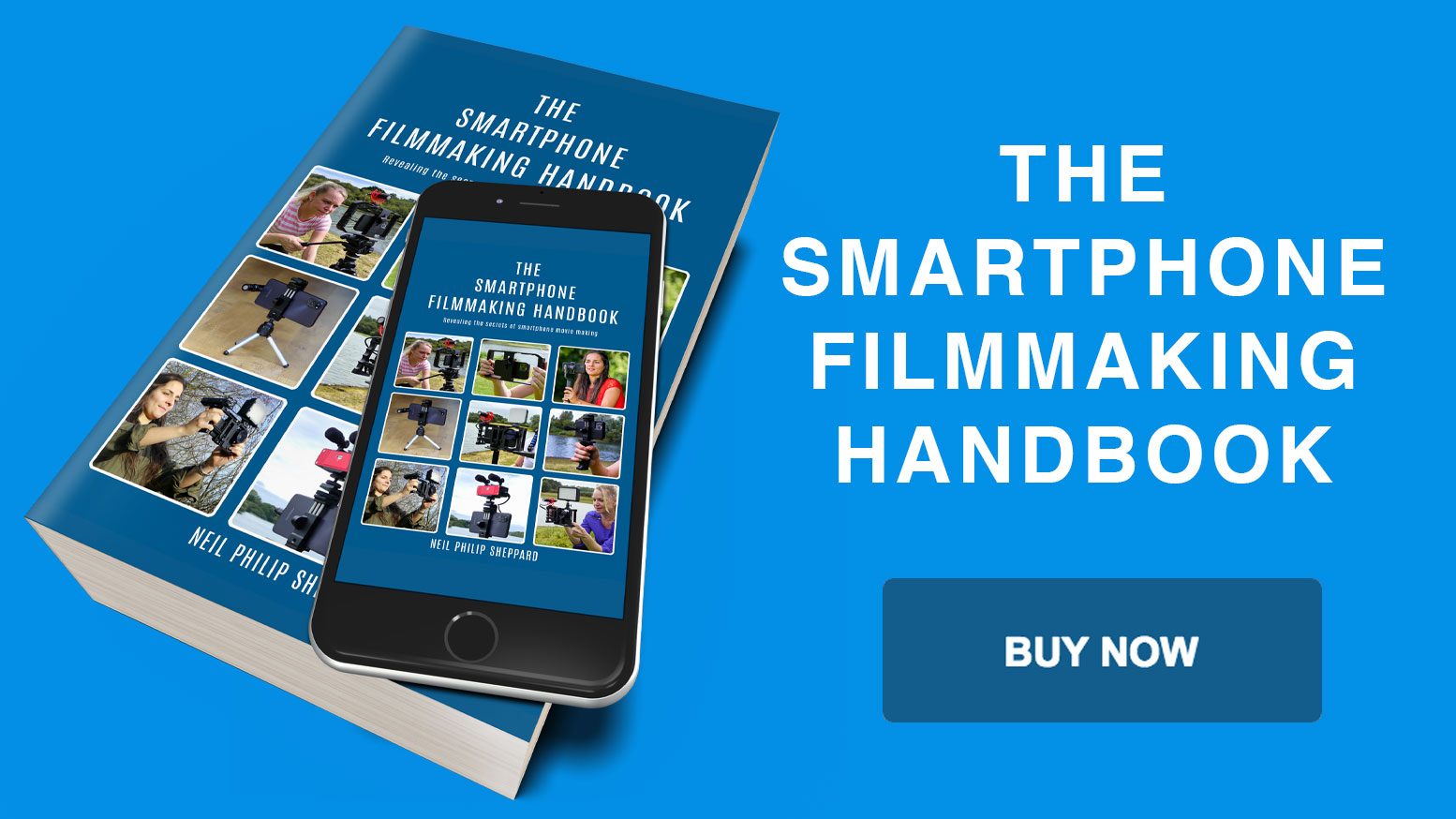 Hardware Supported
The design of Live: Air Solo is to work with Teradek's hardware streaming boxes like the VidiU. You do not need this hardware to get the app to work though. Live: Air Solo will work just fine on its own. Teradek are giving the app away free with the aim that some of these users will buy into their hardware solutions as well.
Better than other apps
So what does Live: Air Solo give you the other social media apps don't? Well if you have ever used some other apps for live streaming you will find it limiting because they have no camera controls. Live: Air Solo gives you the controls that you would want and full manual control over the camera. This makes taking control of your live streams a whole lot easier.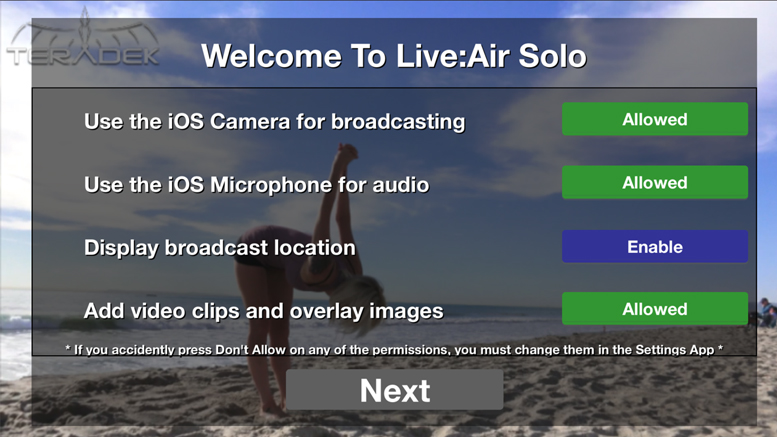 Stream to different platforms
Hit the blue icon with the cogs on at the top left of the screen and you will see many different choices. The Broadcast destinations tab will take you through to the streaming options that Live: Air Solo supports. You can select Ustream, Youtube and various other alternatives and then set them up to stream to your favourite social media platform.
Different encoder settings
Encoder settings are fully adjustable and if you have limited bandwidth for your broadcast you can reduce the video quality for a more reliable stream. This is useful if you are using 4G when you don't have access to Wi-fi.
Go live
Once you have set up your social media platforms all you have to do is push the red go live button. This is at the top right of the screen, push this and you will start streaming outlive. There is a little delay in this so give yourself plenty of start time before the action starts.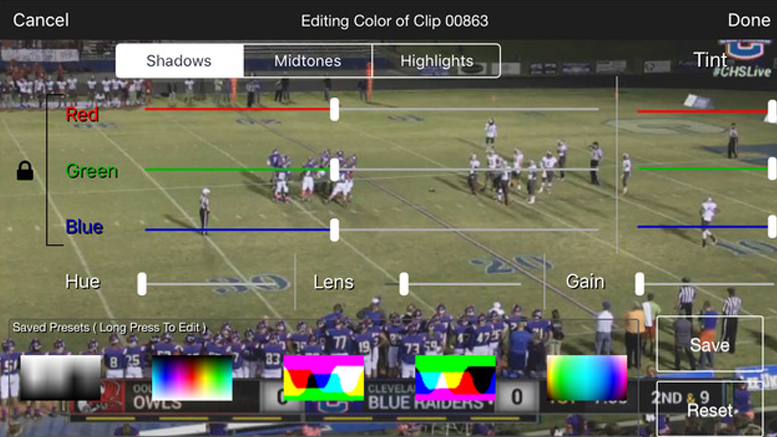 Broadcast in 16:9
Live: Air Solo also has the ability to broadcast in a 16:9 ratio. Currently Facebook's live streaming only broadcasts in a 4:4 ratio. For most occasions this will be fine but if you want to use your footage after the event this can be limiting. Also filming events like sports or live music get a lot easier with the 16:9 ratio.
Full Audio Controls
Audio controls are also present in Live: Air Solo. You can manually adjust the audio level from any external microphone you may be using. I cannot stress enough on how useful this is. On a recent live stream I did on Facebook of a band, it had distorted sound. This was because I had no control over my audio from the external microphone. Being able to control these levels means you can reduce audio gain as needed. Useful when the band is so loud they are blowing your eardrums out. Next to the audio levels is the speaker icon. Remember to turn this on before going live or your broadcast will be mute. You will know when it is on because it will have sound wave lines next to the speaker icon.
Add titles and lower thirds
Another great feature with Live: Air Solo is the ability to add graphic lower thirds to your live broadcasts. This is a great feature. Before you start your broadcast you can set peoples names and manually bring them in on screen just like professional news broadcasts.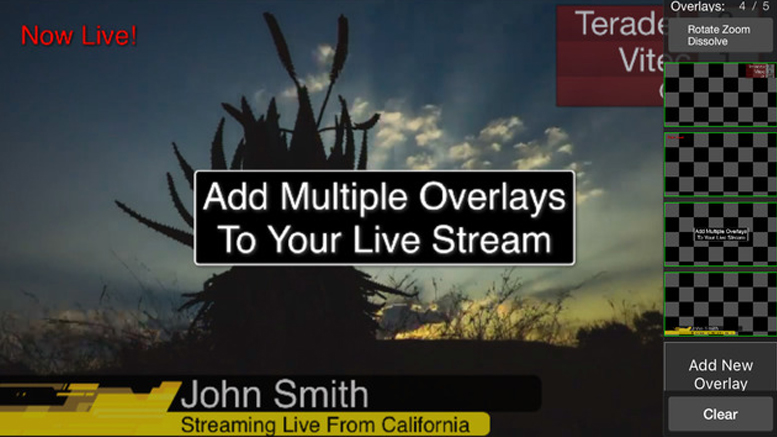 Play in videos live
You can also play in videos stored on your iPhone to your live stream. So if you are streaming live and want to broadcast a video you have already made you can play it in live. This can be handy for pre made reports or recorded interviews. There is also a good selection of transition effects for playing your videos in and out.
Full image control
Live: Air Solo has full image control so if you want to adjust exposure and focus you can. This is useful if you are filming in conditions where lighting may not be at its best. Full manual control over your filming will always give your live broadcasts a professional feel. You can even add colour tints and lens effects.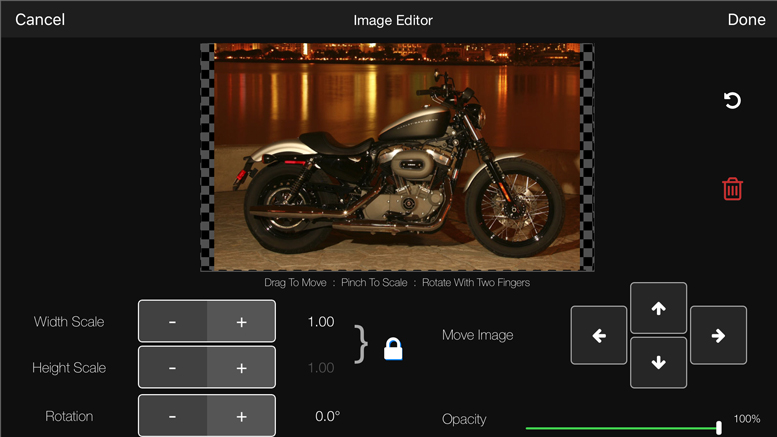 Conclusion
I think that this is a great app. If you are getting into live streaming to social media this app is a must have. Having manual control over your live broadcasts is essential for delivering a quality live video to social media. Manual audio control and 16:9 are must haves for broadcasting live. Add to this that Teradek are giving Live: Air Solo away free you cannot go too far wrong.
Price: Free
http://teradek.com/pages/liveair-solo