What are the 10 best Smartphone Microphones for filmmaking?
This article has been updated:
What are the 15 best microphones for Smartphone filmmaking?
When it comes to recording sound Smartphone microphones are bad. It is one of the issues that let's them down for shooting video. Most microphones built into Smartphones are poor at best. The sound is tinny and unless you have a camera app that has audio monitoring you will have no idea if your sound is too loud or too quiet.
Sound is often not thought as important as visuals when making videos. This is a massive mistake. No matter how good your footage is if your sound is poor your viewers will switch off fast. If you do have to use the built in microphone on your Smartphone remember to be no further than three feet away from your subject if you are doing an interview. In other words get as close as you can to get a good signal-to-noise ratio.
The best way to solve sound issues on a Smartphone is to buy a dedicated external microphone. This can fit into the mini jack of the Smartphone or sometimes the power charging port. Microphones come in many varieties such as lapel clip mics, directional boom mics and hand-held interview mics. The mic you choose depends on the shoot you are doing. A standard interview shoot may need a lapel mic where as a vox pop interview in the street might need a hand-held mic or directional mic.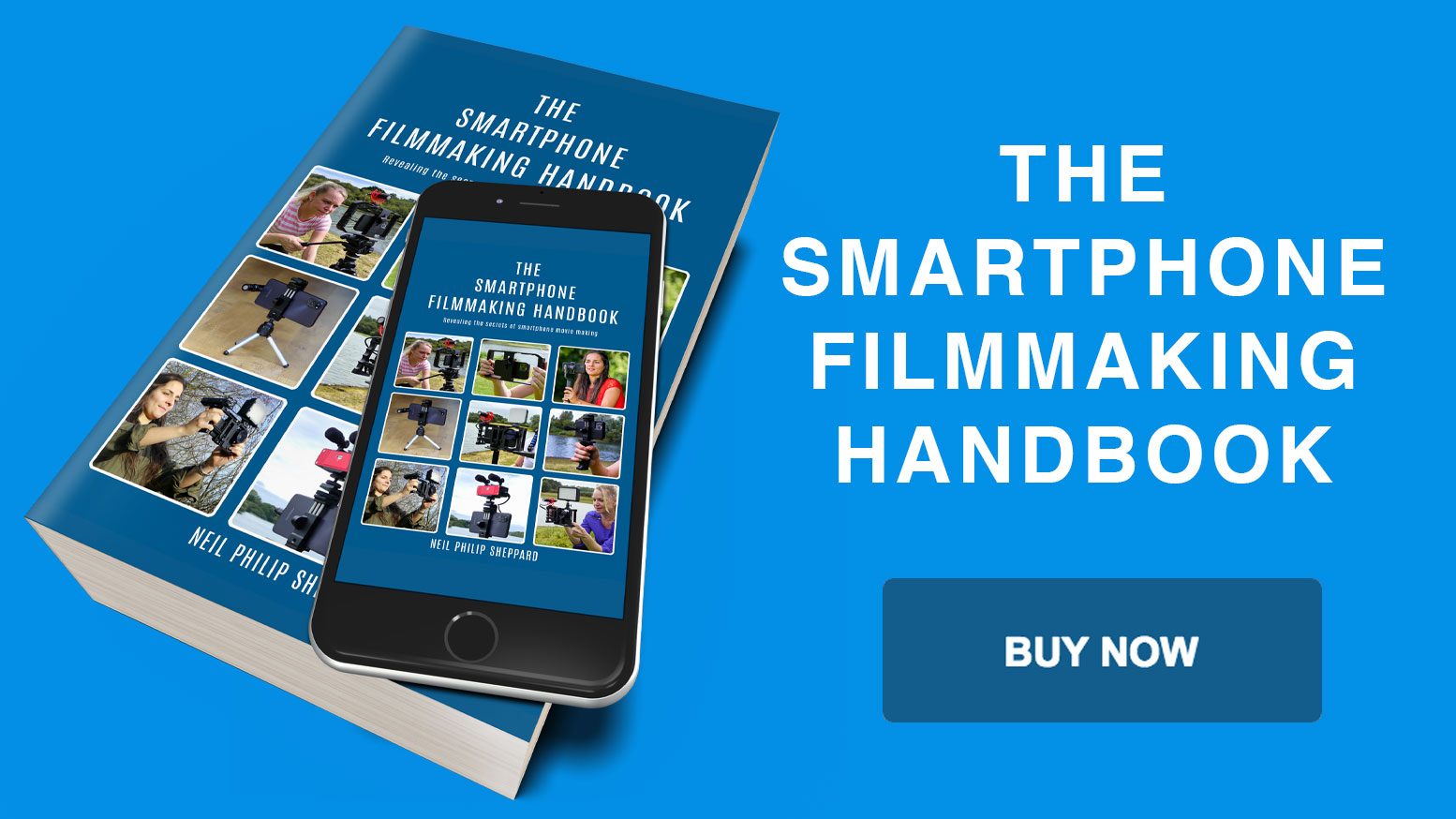 How much you decide to spend on a microphone is up to you. Often cheap microphones can sound poor so you should invest in a good quality microphone. You should also be aware that if you are putting a microphone into a Smartphone's mini jack port it must have a trrs mini jack. Standard microphones will not work with Smartphones unless they have an adaptor. You can recognise a trrs jack by the three black strips on it. A standard stereo mini jack has two stripes and a mono mini jack has one. If the mini jack does not have these three black stripes it will not work.
Another issue to consider is to make sure the camera app you are using supports external microphones. Not all of them do. You will need to switch from the Smartphone's on-board mic to the external mic in the menu settings of your camera app. It's best to do some tests with external mics to make sure that this is working correctly.
So here are few of the microphones that are out on the market at the moment. As I said above you do get what you pay for. That said there are a few budget microphones out there that will give you good results.
This content uses referral links. Read my ethics policy for more info.
Irig Mic Cast
The Irig Mic Cast is portable directional microphone that plugs into your Smartphones 3.5mm port. It has two gain controls for both high and low settings. It's good for single source recording and an excellent replacement for your Smartphone's poor built in microphone. It does have a headphone port for monitoring but this only seems to work with some camera applications.
What I like about this microphone is that it is handy to keep with you due to its small size. The sound quality is okay but not outstanding. It is however a big improvement on a built in microphone on a Smartphone.
Price: $29.99 £24.00 €27.00

Rode VideoMic Me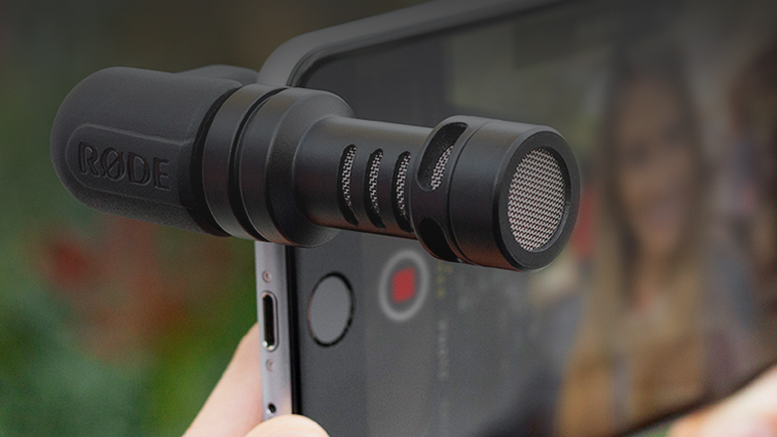 The Rode VideoMic Me is a clip on directional mic for your Smartphone. It is designed for ipad and iphone but the adjustable mount that clips the mic to the iphone should work on most Smartphones. It is a directional mic which means it will only pick up what is in front of it. This means you won't pick up any nasty background noise when you are trying to shoot your videos.
Included with is mic is a large wind shield. This is handy for shooting video outside and should remove most wind noise from the mic. On the back of the mic is a headphone port so if you want to listen to what your recording this should be helpful.
I don't own of these yet but it looks like an excellent portable directional mic for location shooting. Its small form means it is also portable and won't take up much space.
Price: $59.00 £47.00 €53.00

Rode Smart Lav+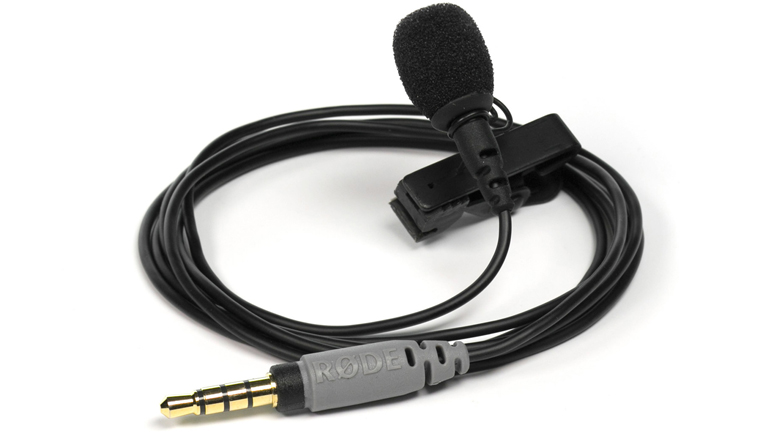 The Rode Smart Lav+ is a lapel clip microphone designed for use in interviews and other audio tasks where there is a need for a close to source microphone. It's advertised as a broadcast quality microphone and I must say that having used it the results are good. Sound quality is clear and well defined with a good signal-to-noise ratio. It comes with a foam pop shield to take care of any nasty plosives and a sturdy metal clip to attach to clothing.
The only issue that lets it down is a lack of gain control so you can adjust the signal going into the Smartphone. The solution to this is to just clip the microphone slightly lower down on the subject if the sound is too loud. This is not ideal but does resolve the problem.
You can also buy an adapter so it can work with standard video cameras as well. For the price I think this microphone is an essential buy if you are doing interview recording. Do make sure you buy the plus version of this microphone and not its slightly older brother as there has been many improvements since that model.
Price: $79.00 £64.00 €71.00

IK Multimedia Irig Pre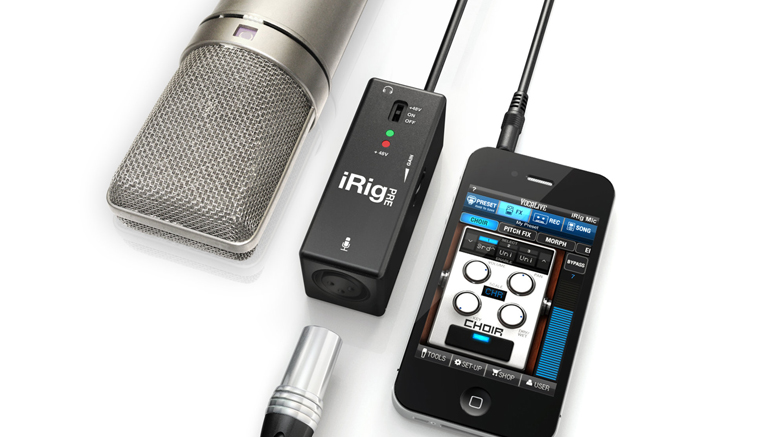 Most professional microphones connect by XLR adapters. This gives a better connection to audio equipment and less interference problems. The Irig Pre is an XLR to trrs mini jack adapter that makes it possible for you to connect all types of professional balanced microphones to a Smartphone.
The Irig has built in phantom power that lets it power microphones that need a separate power supply. The included 9 volt battery also powers a built in pre amp. The pre amp is a welcome addition and is a great improvement to sound quality. It also has the-all important gain control. If the audio is peaking too loud on a Smartphone you can adjust the gain control until you get the right level.
I would say that for the price the Irig Pre is a must have buy if you want to record quality audio on a Smartphone and should be standard issue in all kitbags.
Price: $35.00 £28.00 €31.00

Saramonic SmartMixer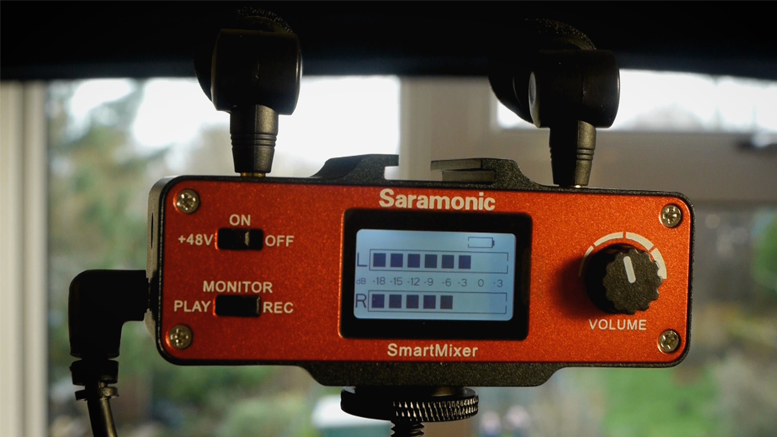 The Saramonic SmartMixer is a compact and lightweight audio interface that will sit comfortable above a Smartphone to give you various audio choices. It connects to the Smartphone's 3.5mm input jack and has the-all important trrs jack.
The interface has a mini xlr input that can connect to standard balanced XLR microphone via the adapter cable the set includes. This also supports phantom power and has a microphone pre amp. It also has two microphone/line 3.5mm inputs for you to connect the included condenser microphones and these inputs can also fit other 3.5mm microphones.
Included on the unit are gain controls for all the microphone inputs so you can control the audio levels on a Smartphone. There is also an audio level meter so if your camera app does not have audio metering you can use the Sarmonic to get correct levels. A headphone jack is also present so you can hear what you are recording via a set of headphones. A 9 volt battery powers the whole unit.
Included also is a hand-held rig that will fit most Smartphones and gives you some added stability while shooting. Above this is a handy mount for the audio interface.
I think that this is an excellent piece of equipment and ticks many boxes for recording good quality audio into a Smartphone. Not only do you have great surrounding microphones on the interface you can also connect any other microphone as well.
Price: $119.00 £96.00 €107.00

IK Mulitmedia Irig Mic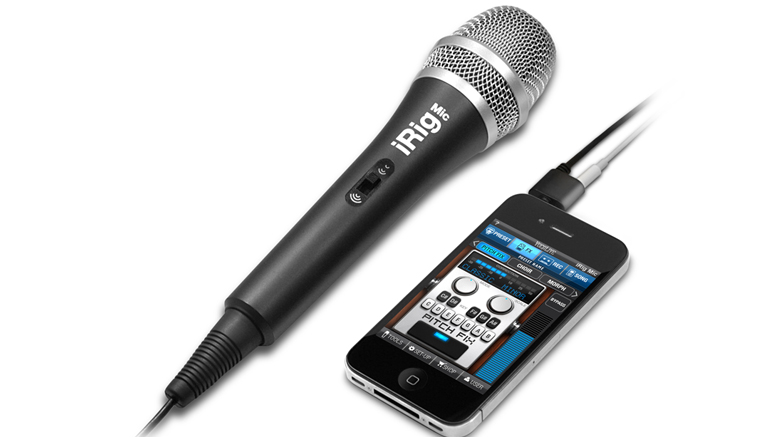 The Irig Mic is a hand-held condenser microphone that plugs into the 3.5mm jack on a Smartphone. This is a good mic for interviews but make sure you are close to your subject to get a good signal. It is a unidirectional microphone and comes with a headphone port for monitoring. Gain control adjusts by a three-level switch that gives high, mid, and low gain choices. It has a familiar form design and is ideal for general reporting and recording bands and singers.
I have heard mixed reviews about this microphone and as I don't own one so I cannot comment on how good it is. I would say that not having a variable gain control is a let down as this makes it difficult to adjust any input gain into the Smartphone. That said it is low cost and I am sure would have its uses.
Price: $39.00 £31.00 €35.00

Zoom iQ6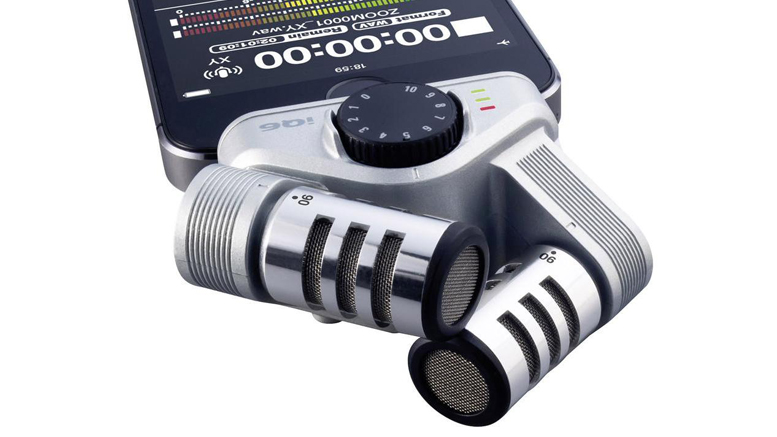 The Zoom iQ6 is a unidirectional condenser microphone that plugs into the iphone's lightning port. It features two high quality condenser microphones in an x/y configuration and if you are familiar with the Zoom h4n you will recognise that they are the same microphones in use on that device.
You can change the mic angles from 90 to 120 degrees to get different audio capture angles. There are level controls to adjust input audio gain so you can get the correct levels on your Smartphone. There is also a headphone port for audio monitoring.
Getting good surrounding sound on a Smartphone can often be a problem and I could see this microphone being a good solution to this. Be aware though that this devise is only compatible with iphones or ipads with a lightning port.
Price: $99.00 £80.00 €89.00

IK Multimedia Irig Field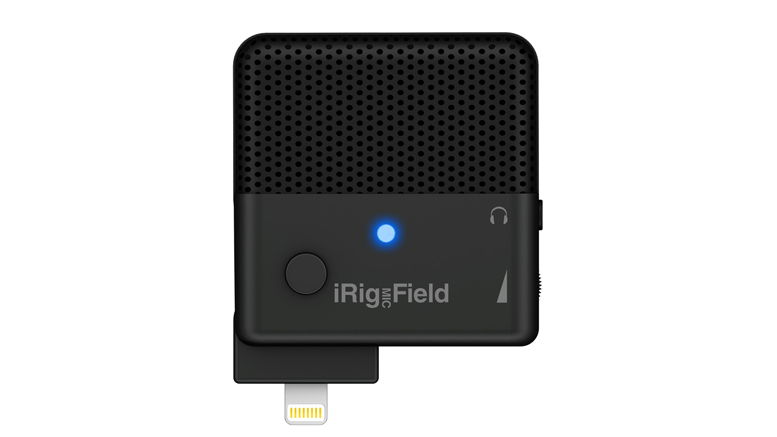 The Irig Field microphone has a similar form design to the Irig Mic Cast. It is more expensive than its budget cousin but this extra expense gives you better quality sound recordings. It is a digital stereo microphone that fits into the lightning port of an iphone or ipad.
This microphone has many uses for video and audio applications and is an excellent replacement for your Smarphone's on-board microphone. It has a built in pre amp which increases the gain and gives better quality audio. It is also small and portable enough for you can carry it with out to much hassle. It has gain control for changing audio levels and indicator lights to warn you if the audio is peaking. The microphone also has a swivel so you can direct the microphone depending on your needs. It also has a headphone port for audio monitoring.
Price: $79.99 £64.00 €72.00

Saramonic Smart Rig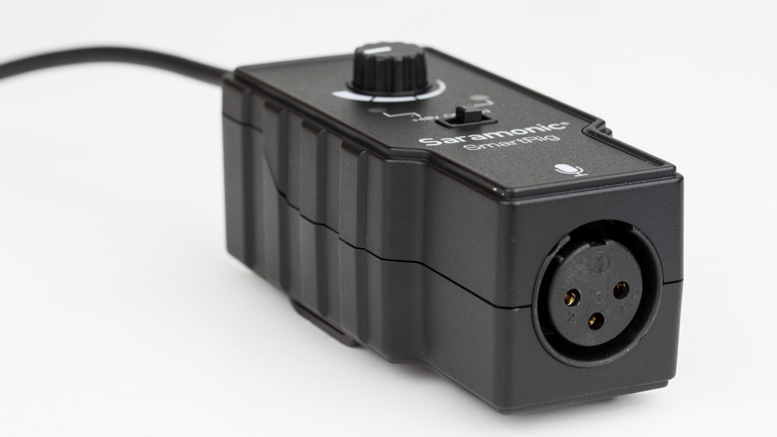 The Saramonic Smart Rig' is a similar product to IK Multimedia's Irig Pre. It is an XLR adaptor to connect professional microphones to a Smartphone's 3.5mm input jack. It has a built in pre amp to give better signal quality and a gain control to adjust the audio recording level. It also has phantom power to power microphones that need it. Also included is a headphone port for audio monitoring. Power to the whole unit is by a 9 volt battery.
The build quality of this unit looks better than the Irig Pre and I like the gain dial which is easier to use than the one on the Irig Pre. If you don't already have an Irig Pre I would say that this is an essential buy.
Price: $35.00 £28.00 €31.00

IK Multimedia Irig Mic HD 2
The Irig Mic HD 2]is the successor to the IK Multimedia's Irig Mic HD. Just like that microphone it is a hand-held condenser microphone that is good for interviews, voiceovers or music applications. It is more expensive than the Irig Mic but the quality is much better. It has a metal body to make it more robust and comes in two different colours black and silver which both have a lightning port connector.
It has dial for gain control and a built in pre amp. This is a huge improvement over the cheaper Irig Mic. The pre amp gives improved audio recording and a gain boost to signal.
Price: $129.00 £104.00 €116.00


Other Popular posts like this:
What are the 9 best iPhone Lightning Port Microphones?
11 Best Smartphone Microphones of 2018
Best External Android Microphones For Video & Podcasting 2018