What are the best Smartphone Rigs and Hand Grips?
It's a known fact that when shooting video with a Smartphone they can be prone to shake. This is because they are light and this means that it is easy to get wobble in your images. Footage will always look better if the image is static and the action happens in front of it. There are situations when you need a hand-held shot but they should be kept to a minimum and your audience will appreciate this. An easy way to stabilise your shots is to simply lean up against something so you can steady your arm.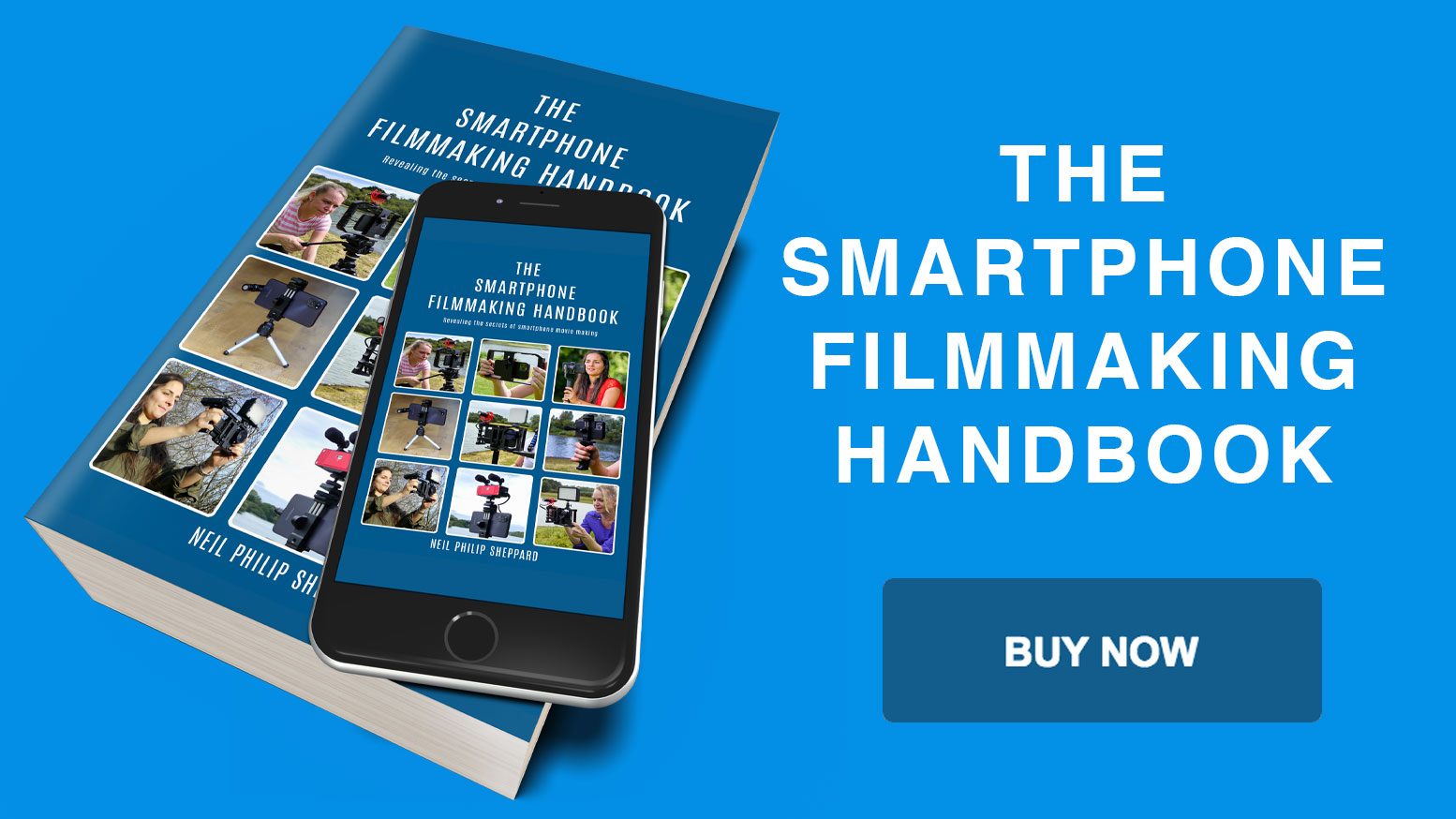 To solve this problem there are many Smartphone rigs and hand grips available which can help to reduce the dreaded wobble in your footage. They range from the simple pistol grip to full on rigs that you can add lights and microphones.
What you want to spend on a rig is up to you. I would say that expensive rigs that are specific to one model of Smartphone can sometimes be a bad investment. Smartphones update in design every year so a £300 rig that is specific to a particular Smartphone is only going to have a limited lifespan. Rigs that are adjustable to a Smartphone's shape and design are better because you can adapt them when you update your Smartphone.
This content uses referral links. Read my ethics policy for more info.
DSLR Flash Gun Grip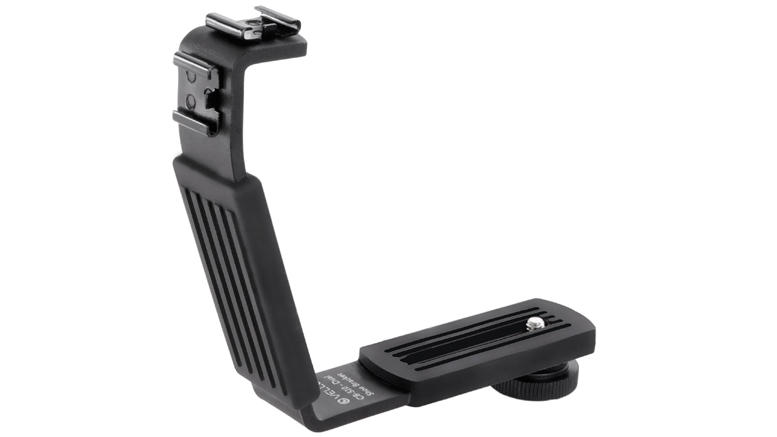 If you are on a budget this can be an excellent solution to removing the shake from your footage. A DSLR Flash Gun Grip has a 1/4 inch screw that you add a Smartphone Tripod adaptor like the Square Jelly Fish.  Combine these two together and you have a great handgrip for your Smartphone.
The bonus of the Flash Gun Grip is that they have a cold shoe mount for the Flash. You can use this mount to attach lights or microphones. This is incredibly useful and a good solution for adding extra equipment to your Smartphone.
There are many different Flash Gun Grips on the market but if you are going to pick one look for the type that you can fold down or collapse. This means the Flash Gun Grip can easily pack down into your kitbag when you need to transport it.
Price: $11.99 £10.00 €10.00

DSLR Pistol Grip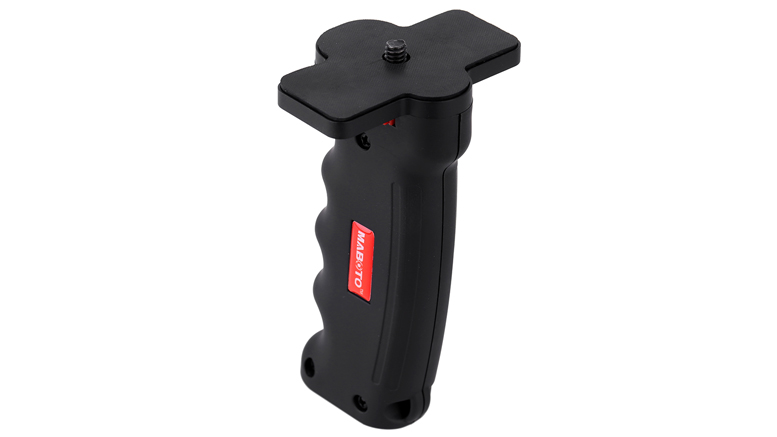 Pistol grips for cameras have been around for years. I have one I use that originally came with a 16mm film camera from the 1960's. They are simple in design but are incredibly useful for helping stabilise your footage.
The Pistol grips design is like the grip on a handgun. They have a 1/4 inch screw at the top of the grip and this can easily screw into a Smartphone tripod adaptor. Add the two together and you have a great portable solution for removing the shake from your video.
There are many different pistol grips available to buy. They all do the same job and you can usually find one for around £10 so they won't bust the bank. If you are on a budget and are looking for a cheap solution to mount your Smartphone this is a good way to go.
Price: $11.99 £10.00 €11.00

BeastGrip Pro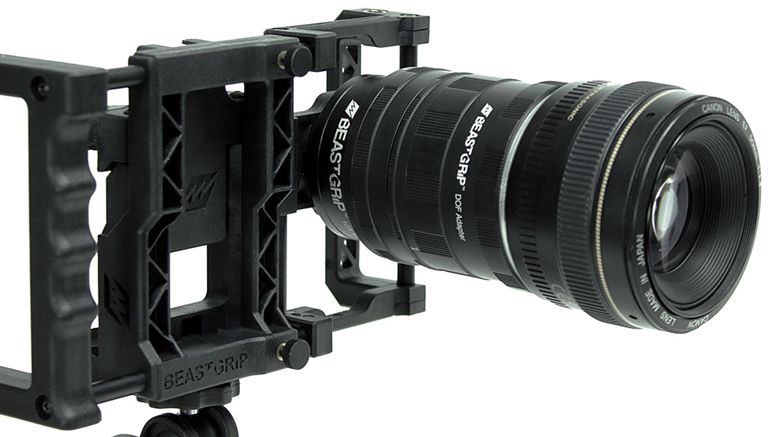 BeastGrip Pro is an adjustable lens and camera rig system that's design is to fit with most Smartphones. It has a modular design which means it can adjust to the personal needs of the user and can adapt for adding lights and microphones.
The rig itself has spring-loaded clamps which should ensure a secure grip around a Smartphone and firmly keep it in place. The ¼ screw mounts that are on the BeastGrip Pro  can also work with professional photographic equipment and should be good enough for most situations.
The BeastGrip Pro also comes with an adjustable lens mount system. You simply move the lens slider into the position where you want to cover your Smartphone lens. The lens mount will fit any lens with a 37mm thread so there are plenty of choices for different lenses.
Price: $165.00 £133.00 €148.00

iOgrapher for iPhone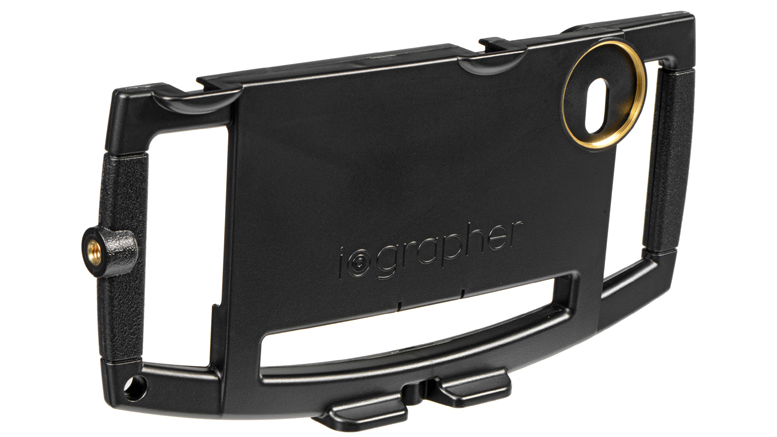 The iographer is a hand-held rig that gives you the ability to attach different lights, microphones and other equipment to an iphone. It has an easy clip system so it's not too difficult to move your Smartphone in and out of the rig. This will be a great help when it comes to setting up in a hurry.
At the bottom of the rig is a ¼ inch screw mount which means you can easily attach the rig to a tripod when you tire of going hand-held. There are also two cold shoes on top of the rig which means you can add any microphones or lights as needed.
The Iographer also comes with a 37mm lens adaptor which means you can add any extra lenses you may need to improve the look of your shots. Although the Iographer's design is only for the model of Smartphone you buy it for it is good value for the price. This means you won't be too out-of-pocket when you need to replace it.
Price: $55.99 £45.00 €50.00

Ulanzi U Rig Pro
If you are looking for a low cost Smartphone stabiliser grip the Ulanzi U Rig Pro is great budget answer. This is the newer version of the Ulanzi's Smartphone grip and it has many improvements over the older version. It has two cold shoe mounts for you to add a light or a microphone. So it's handy for adding equipment to your Smartphone.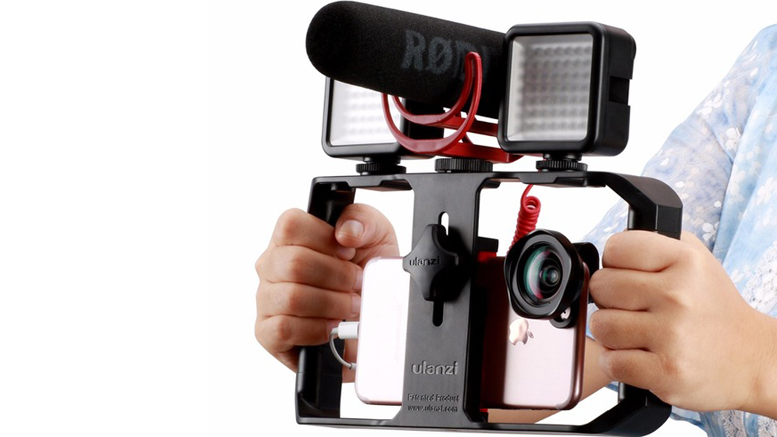 The Ulanzi U Rig Pro has two large handles for you to use if you want to go hand-held. It also has a 1/4 inch screw mount on the bottom so if you tire of carrying it about you can also mount it on a tripod. The universal Smartphone grip will fit most Smartphones such as the iPhone 8 or X but you might want to check it fits some of the larger Smartphones before you buy it.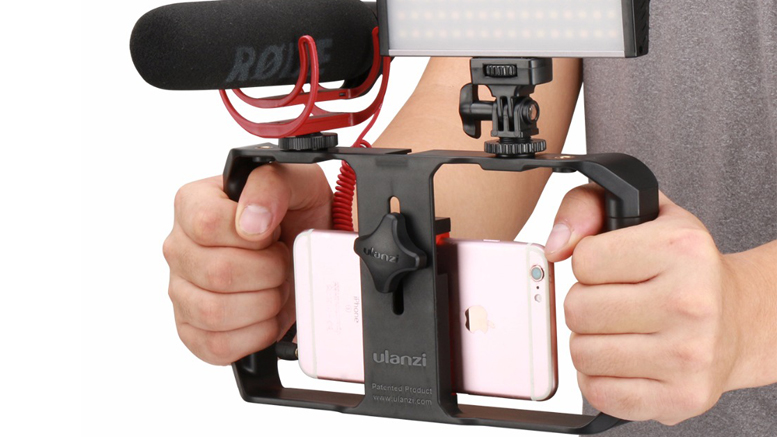 Price: $25.95 £21.00 €23.00


Other Popular posts like this:
What are the best 5 hand-held gimbals for Smartphones?
13 Must See Smartphone Camera Rigs