What are the best hand-held gimbals for Smartphones?
Stabilisation helps enormously in the quality of Smartphone video. You maybe able to film high-quality video on your Smatphone but if the viewer ends up feeling sick watching it you may have a problem. Shaky video can be very distracting to the viewer. You can reduce the shake if your Smartphone has image stabilisation, but it is best to prevent this shake rather than correct it.
One of the best solutions to this is to use a hand-held gimbal. This will help to remove most of that dreaded shake. A Smartphone gimbal will make your videos look smooth, fluid and give them a professional look by removing the shaky movement. It is the best solution if you plan to be on the move while filming. It is also great for action and sports shots, moving over rough terrain or following a reporter. Gimbals can do this with the help of 3-axis brushless motors and special software to counterbalance the shake. There are many gimbals available to buy and some are better than others. To help you choose the right one here are some of the most popular available.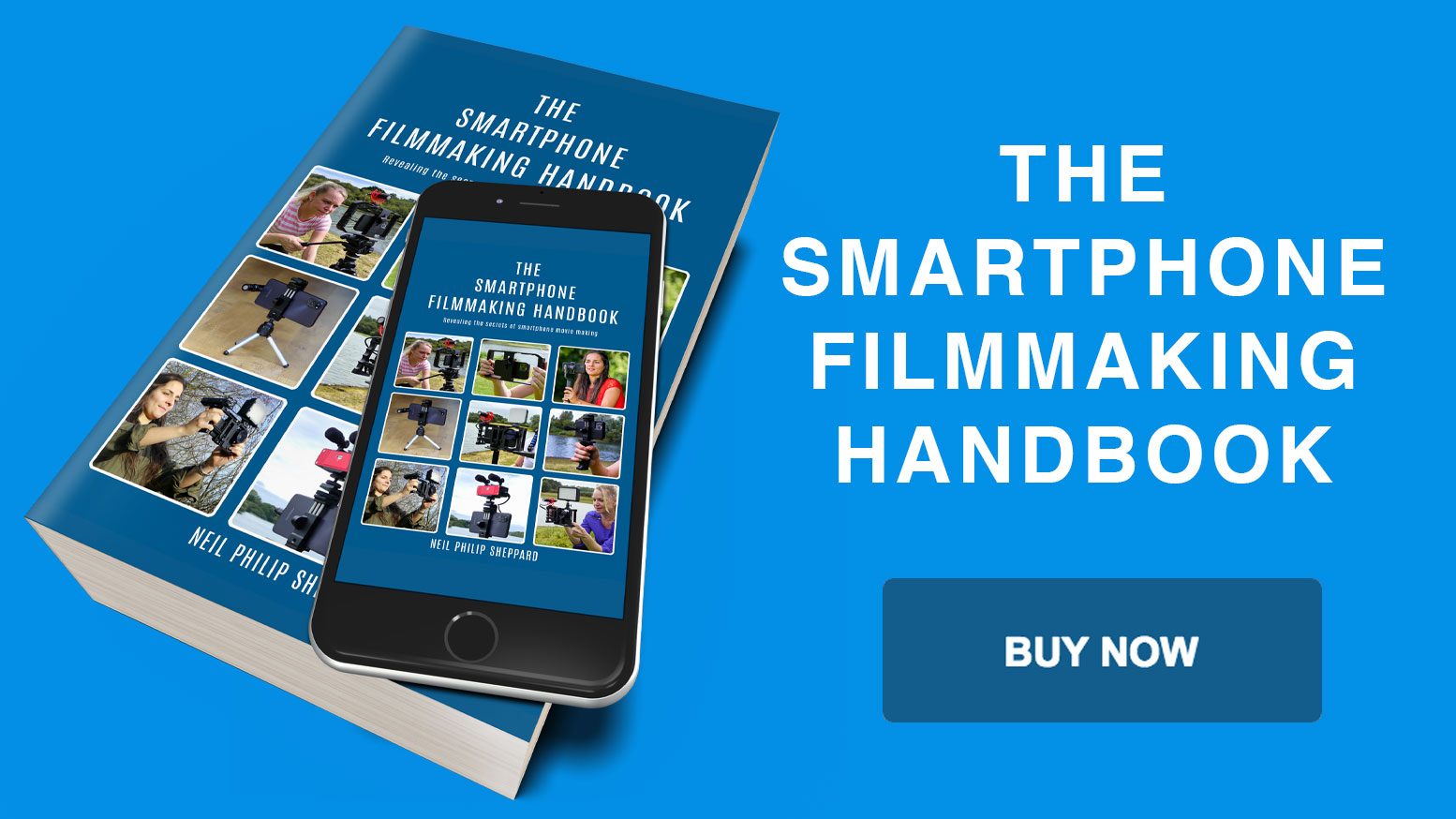 This content uses referral links. Read my ethics policy for more info.
Zhiyun Smooth 4
The Zhiyun Smooth 4 is a 3-axis gimbal that should have no problem smoothing out your shaky video shots. The build quality is solid and made of a tough plastic which feels rugged but is not too heavy. It has an integrated panel that means you don't have to keep touching your Smartphone's screen to change the settings. You can also use special hot-keys to control the gimbal as well as your Smartphone. The Zhiyun Smooth 4 comes with a handle wheel that allows you to zoom in or out which is great if you need to take a close-up shot. The FN switch on the handle will also give you precise focus of your image. If you want to track an object the Smooth 4 will lock on to any object on screen. This means that when you move it will follow that object with full stabilisation. The gimbal also features a locking mechanism to keep the arm from swaying.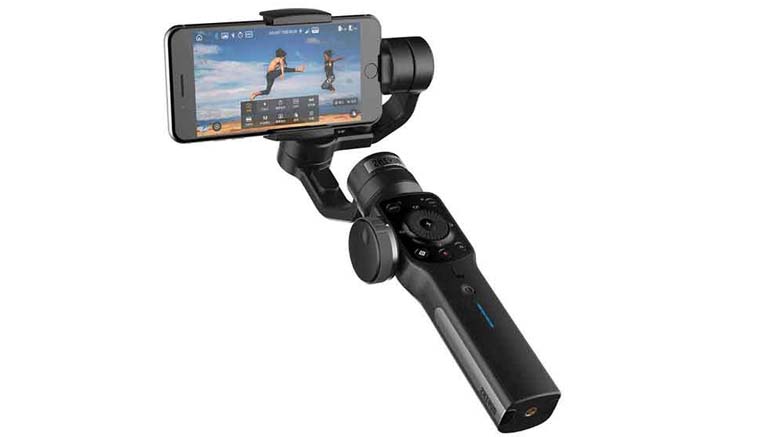 When fully charged the The Zhiyun Smooth 4 will run continuously for 12 hours. You can charge your Smartphone by connecting it to the Smooth 4 using a USB cable. You can also charge the Smooth 4 itself with a USB-C cable connected to a mains power supply or a portable power source. The Smooth 4 is fully compatible with any accessories you choose to add to your Smartphone. So if you do decide to add a light or a lens the Smooth 4 will keep its balance.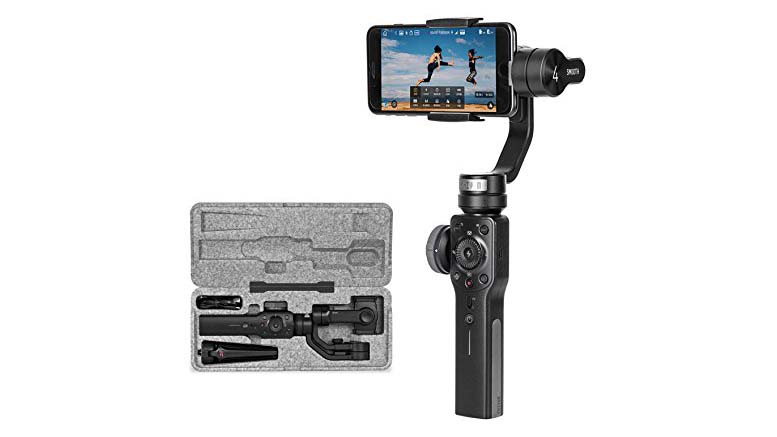 You can achieve many advanced shooting techniques with the Smooth 4 and it includes such features as Time Lapse, Motion Lapse and Moving Time Lapse. There is also a Freestyle Time Lapse which lets you adjust the shooting range, angle and focus. With these settings you can capture some unique shots. You can also capture the movements of objects which can include crowds and even moving silhouettes. You can mount the gimbal to a dolly or tripod with the ¼ inch screw mount found at the bottom of the handle.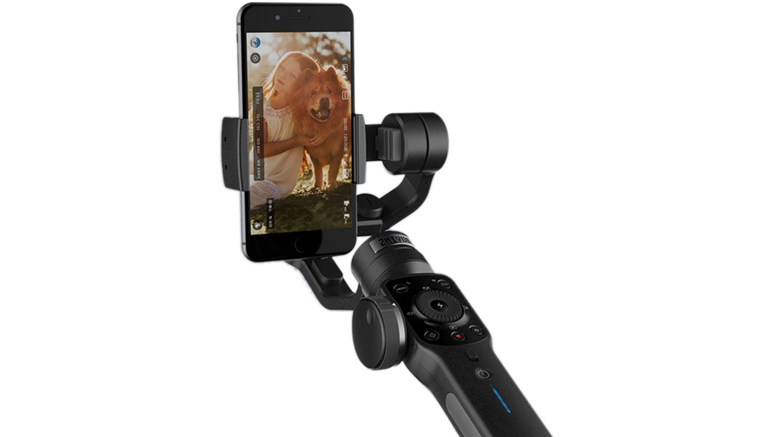 The Smooth 4 has a built in dedicated switch for Pan Follow and Lock Mode. In Pan Follow Mode the gimbal will restrict itself to vertical movements and will only move left and right. In Lock Mode you can move the gimbal wherever you like but your Smartphone will stay in a locked position. There is a trigger on the Smooth 4's handle that will activate two other modes. Once you hold down the bottom of the trigger it will allow you to do smooth up, down, left and right movements. If you hold down the top of the trigger it will allow you to do the same movements but a lot faster. You can also control all the Smooth 4's settings with the available app.
Price: $99.00 £99.00 €99.00

DJI Osmo Mobile 3
The DJI Osmo Mobile 3 is the newest Smartphone gimbal for mobile that follows DJI's other successful Smartphone gimbals, the DJI Mobile 1 and 2. It is a Smartphone gimbal that helps you to record smoother and more professional looking videos. It also helps in making it easier to capture shots like time-lapse and panoramas.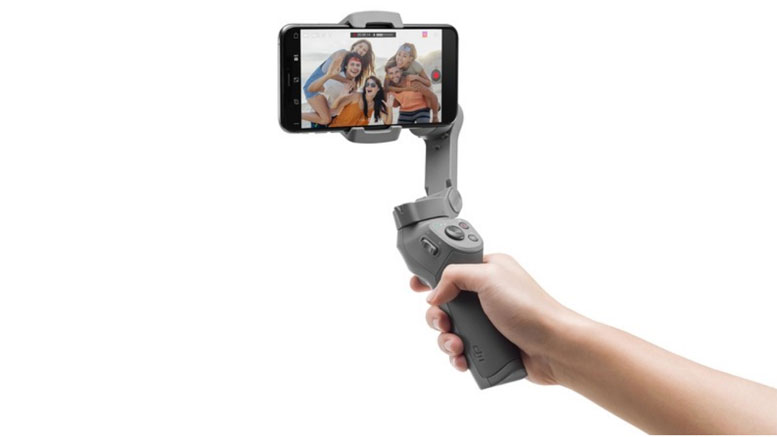 The Osmo Mobile 3's has big improvements in its hardware. It now combines the best features of its predecessors but now has a new re-engineered body. Some of the biggest complaints about the Osmo Mobile 2 were its bulkiness and that is was hard to store and carry. The Osmo Mobile 3 now has a folding arm which means it takes up far less room when it is not in use. The new standby mode, that's activated by pressing the M button three times, allows the gimbal to fold up without being fully turned off. This means you can go from compact mode to filming in a few seconds.
The new Mobile 3 has a new clamp to hold your favourite Smartphone. It no longer has a horizontal grip but a new vertical mount. This means it can now hold various makes of Smartphone. It also features new anchors for counterweights so you can counterbalance any lenses you may wish to add to your Smartphone.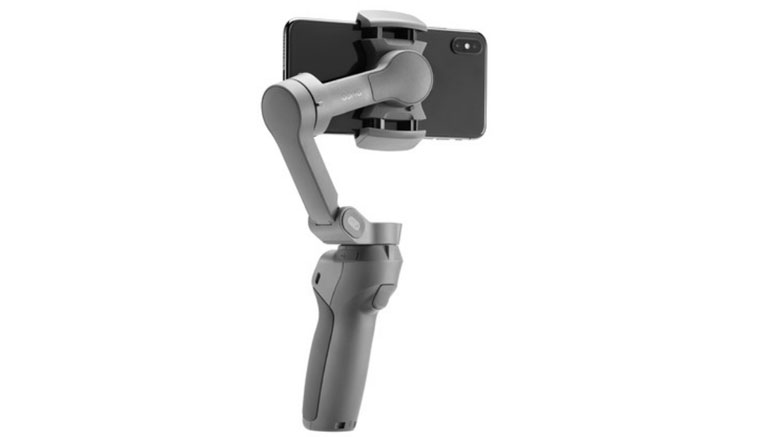 DJI have put back the trigger grip on the handle that was originally on the Osmo Mobile 1. This means you have instant access to controls right at your fingertips. You can also now switch from portrait to landscape mode by simply double tapping a button. You no longer have to make this adjustment by a dial on the back of the gimbal that was present on the Osmo Mobile 2.
Other improvements include a USB-C port to recharge the gimbal's internal battery and you should get up to 15 hours of use from a fully charged battery. You can also charge your Smartphone from the Osmo Mobile 3 if your Smartphone runs low on power. The new DJI Osmo Mobile 3 also doesn't block the lightning port or phone jack found on older Smartphones as the first two gimbals do. Which means you can plug in a microphone.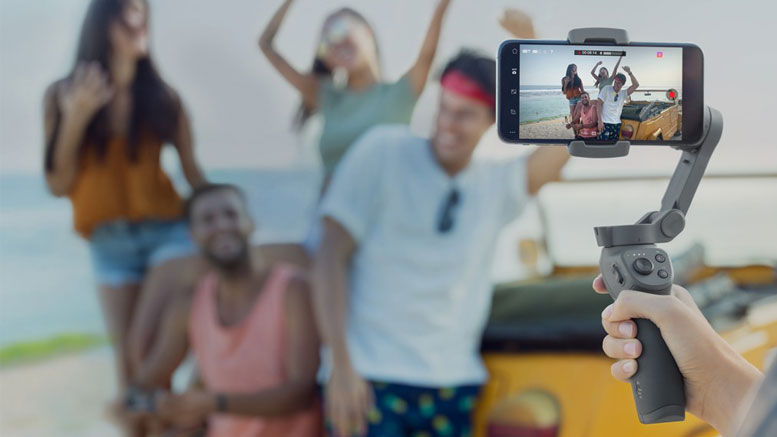 The price is good too with the Osmo Mobile 3 costing less than the Osmo Mobile 2 at $119. There is also a slightly more expensive package that adds a mini tripod that you can screw into the ¼ inch socket on the handle of the Osmo Mobile 3. This package also includes a padded case for the gimbal.
Price: $119.00 £99.00 €99.00

DJI Osmo Mobile 2
The DJI Osmo Mobile 2 is the sequel to the drone company's Osmo Mobile. DJI has an excellent reputation for producing quality gimbals for the camera market and when it released the first Osmo Mobile for Smartphone it proved to be very popular. It gave users professional stability for there Smartphone at a lower price then the expensive DSLR equivalents. It took the gimbal to the masses and made it mainstream which before had only been a niche tool for professionals. DJI has improved the Osmo Mobile 2 hugely compared with the original. It now comes with simpler controls, improved stabilisation and a much lower price.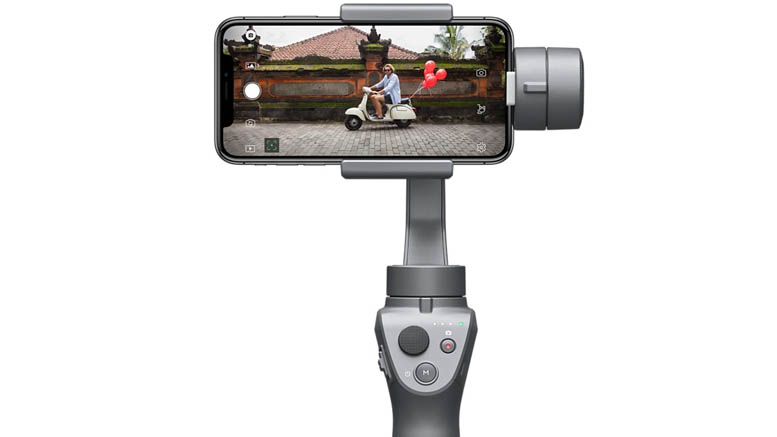 The Osmo Mobile 2 is a huge upgrade from the old model. It is made out of high-strength nylon which is lighter than the magnesium and plastic in the original. The handle is also more comfortable when you hold it. Its redesign makes it more comfortable in the hand and easier to operate especially when you are doing long shoots. It also now has a ¼ inch thread on the bottom of the handle so you can put the Osmo Mobile 2 on a camera jib or other accessory if needed. DJI also sells a tripod and extension rod if you want to add to the Osmo Mobile 2.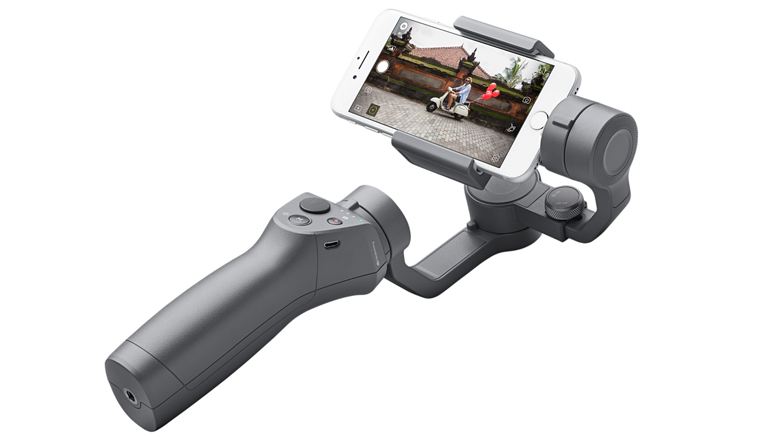 If you are a fan of Instagram and Snapchat you can now film in portrait with the Osmo Mobile 2. You can change orientation by turning a knob on the back of the gimbal and this will keep your Smartphone locked in the portrait setting. To adjust your Smartphone you have to remove it and it is a pity there is not an automatic way of doing this as it can be a little time-consuming. The way the Osmo Mobile 2 holds on to your Smartphone has also seen an improvement. The new spring-loaded clamp means you can swap between various sizes of Smartphone with little bother. It is also keeps a secure grip on your Smartphone with little risk of it falling out. It will work just fine with the iPhone X, iPhone 8, Google Pixel 2 and Samsung Galaxy Note 8.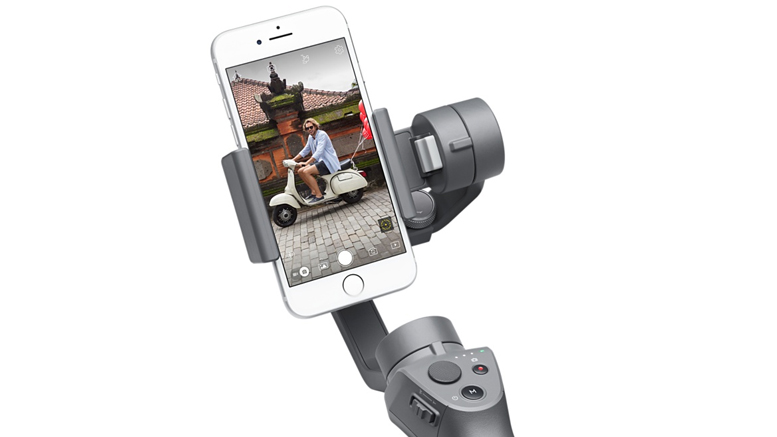 DJI have slimed down the controls of the Osmo Mobile 2 and it now simpler to operate. Some of the buttons also have more than one setting. Powering up the Osmo Mobile 2 and switching the mode is now on the same button. There is a dedicated record button and a thumb pad to control pans and tilts. There is also a zoom switch on the side if you want to get closer to your subject. You may get slight small shakes with the Osmo Mobile 2 but this does depend on the conditions that you are filming in. Practising your walk and pace to minimise bumps will help to get good stable results. The optical image stabilisation on some Smartphones can also affect stabilisation. Sometimes the Osmo Mobile 2 and the Smartphone can fight each other for stability. If this happens you should turn off OIS on your Smartphone. Sadly this is not possible if you are using an iPhone.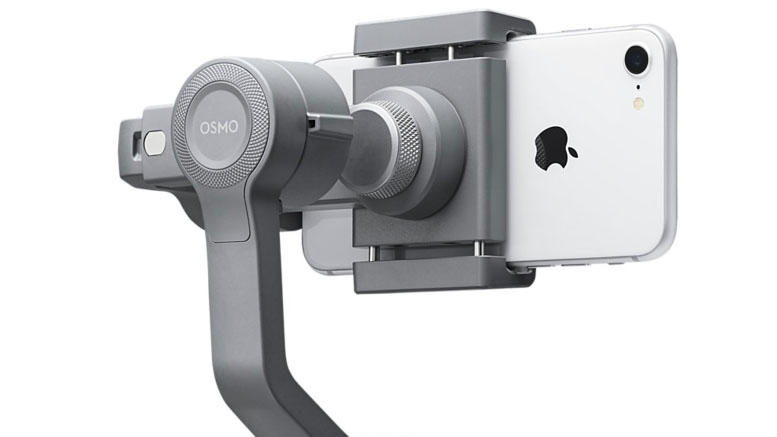 To get the full benefits of the Osmo Mobile 2 you will need to install DJI's Go camera app available for iOS and Android. When installed and paired with your Smartphone you will get full control of the zoom function, settings and different modes. Other apps like Filmic Pro will also give you control of the Osmo Mobile 2 if you are not keen on the DJI camera app. Once you turn on the Osmo Mobile 2 you will see it automatically orient and balance your Smartphone. Once it does this you can start filming immediately. You will get about 15 hours of use out of the Osmo Mobile 2. This is a huge increase on the old version, which would last about 5 hours. However you can no longer swap the battery as you could on the old version but with 15 hours of use it is unlikely you will run out of power on a day's filming. When the battery does get low there is a handy battery indicator to let you know that it is low on power. You can also charge your Smartphone from the Osmo Mobile 2 through a standard USB port at the rear. To charge the Osmo Mobile itself you just plug in the micro USB port and hook it up to the mains power supply.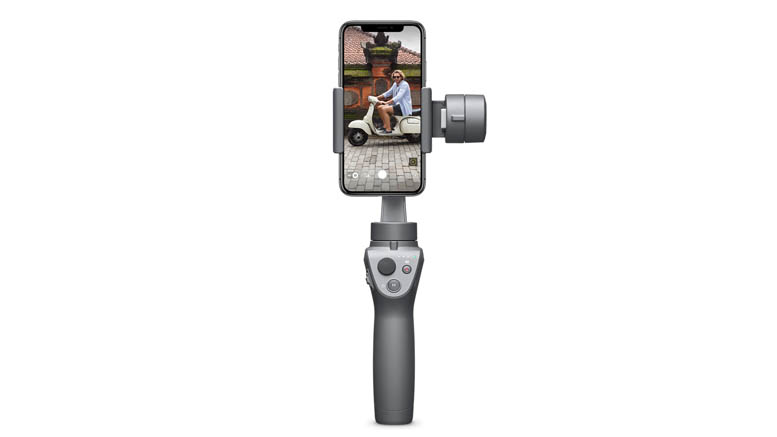 To get the best out of the Osmo Mobile 2 you will need to get familiar with all the controls. To walk and shoot is straightforward enough but setting the direction of the Smartphone can be a bit tricky. You do this by using the thumb pad which will allow you to tilt your Smartphone up and down and pan left and right. You can also adjust the speed of these movements with the DJI Go camera app.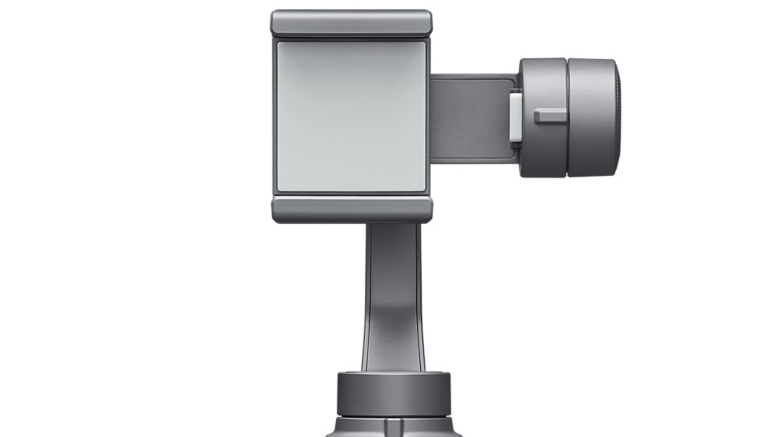 The thumb pad can take practice to use and sometimes your Smartphone will move away from what you are filming or remain fixed in one direction while you are trying to move around. To correct this tap the mode button and it will lock your Smartphone horizontally. Double tapping the mode button will centre your Smartphone. Triple tapping the mode button will switch to your Smartphone's front facing camera. Handy if you want to film yourself going for a walk around.  The Mobile 2 also has artificial intelligence. The AI will lock on and track subjects with a feature call Active Track. You can set this to low, middle and high settings. You can also try out the new hyperlapse feature, as well as previous settings like motion lapse, panoramic and light trail modes. You can also tilt the handle in various directions up to a 45degree angle.
Price: $119.00 £99.00 €99.00

Other Popular posts like this:
Top 10 Best 3 Axis Gimbal for smartphone & GoPro in 2018
5 Best iPhone Gimbal Stabilizers in 2018
Best Smartphone Gimbal of 2018