The Saramonic MixMic is a Dual XLR microphone adaptor with shotgun microphone. Its design is to work with DSLR or camcorder but with a Rode SC4 adaptor it will work just as well with a Smartphone. The iPhone 7 may no longer have the 3.5mm port but there are still plenty of other Smartphones out there that haven't. And I am sure in time even the iPhone 7 will have a suitable adaptor in the future.
Quality audio is always an issue with Smartphones and adding professional XLR microphones can give superior audio recordings. There are plenty of single XLR adaptors on the market but not many dual ones that are handy for doing interviews.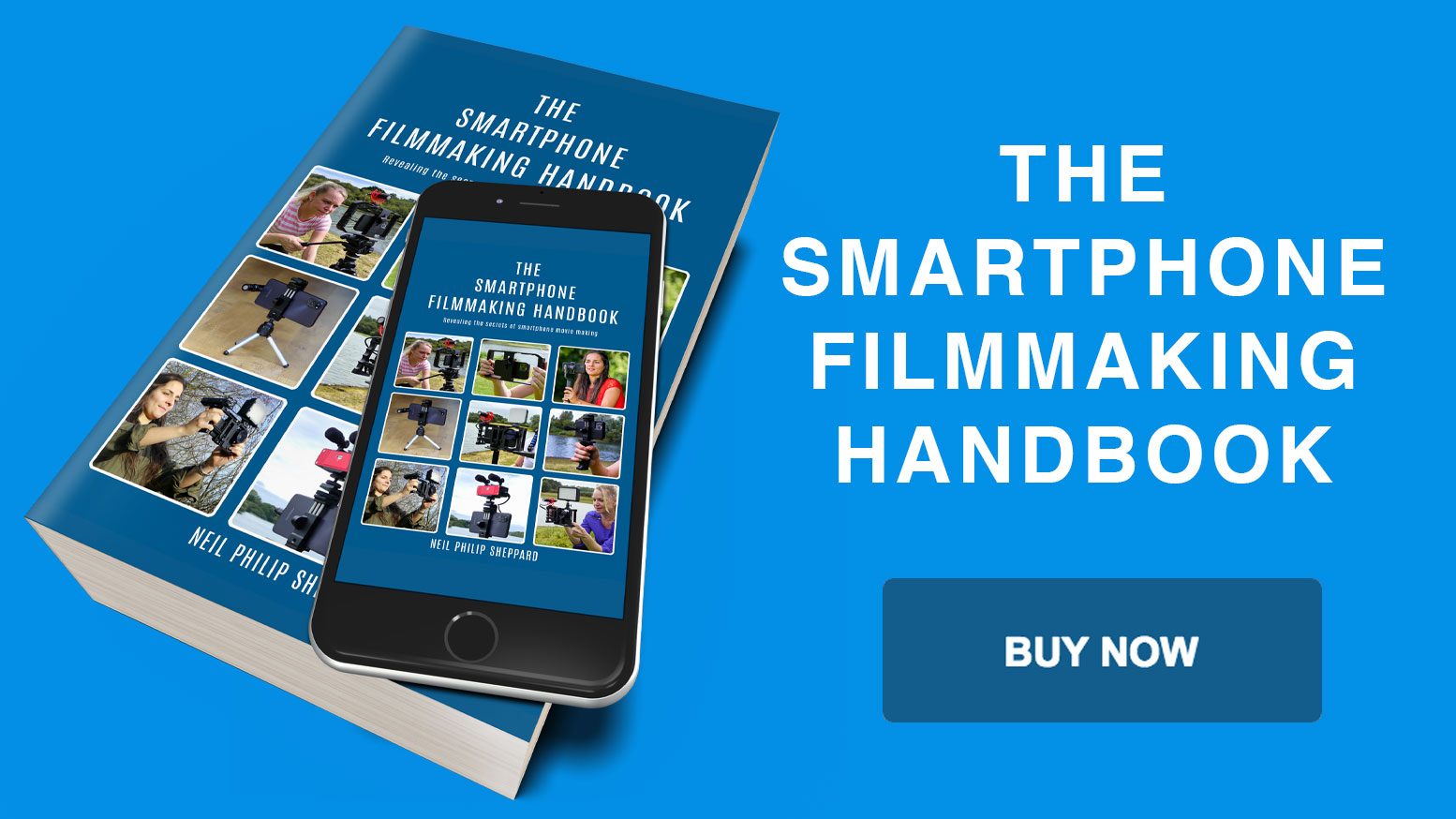 This content uses referral links. Read my ethics policy for more info.
Dual XLR
The Saramonic MixMic features two pro-standard XLR sockets with separate gain controls for each channel. This means that if you have two microphones connected you can control the gain on each if one source is louder than the other.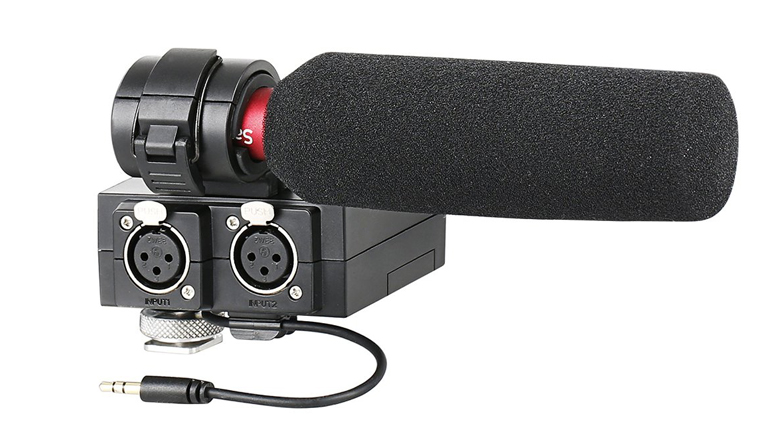 Mic/Line Inputs
Also included is the feature to switch between Mic and Line inputs. This is useful if you are connecting to a mixing desk or soundboard and need a lower frequency of sound. On the unit are also low-cut filters for each channel. You can add phantom power to microphones if you need too as well.
Dual Gain Control
The unit gets its power from a 9-volt battery that should last the day for general filming. There is also a preamp for better gain. You can also switch each channel on and off and mix both channels to a stereo mix if you need too. On the top is a shotgun microphone mount as well as a cold shoe mount for other adaptors. On the bottom of the unit is a cold shoe adaptor that you can use to mount to a flashgun rig or a Smartphone tripod adaptor that has a cold shoe mount like the Ztylus Smartphone Grip.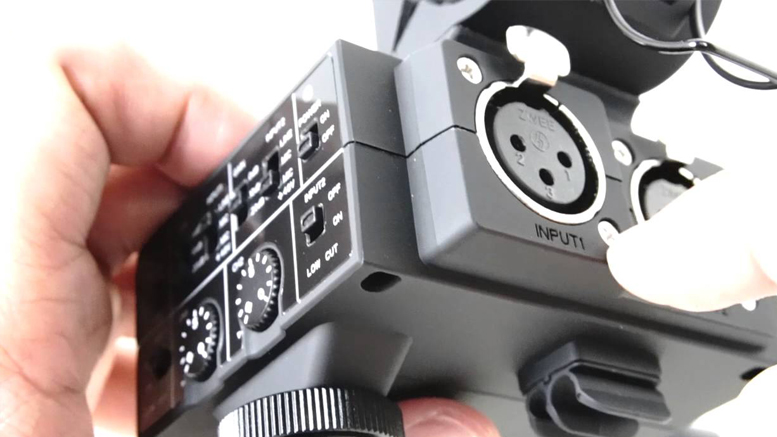 SR-NV5 Shotgun Microphone
Another great addition to this kit is the included shotgun microphone. The Saramonic SR-NV5 shotgun microphone is a great microphone that compares well to a Rode NTG-3 at a fraction of the price. It also comes with a windshield and dead cat for extreme weather.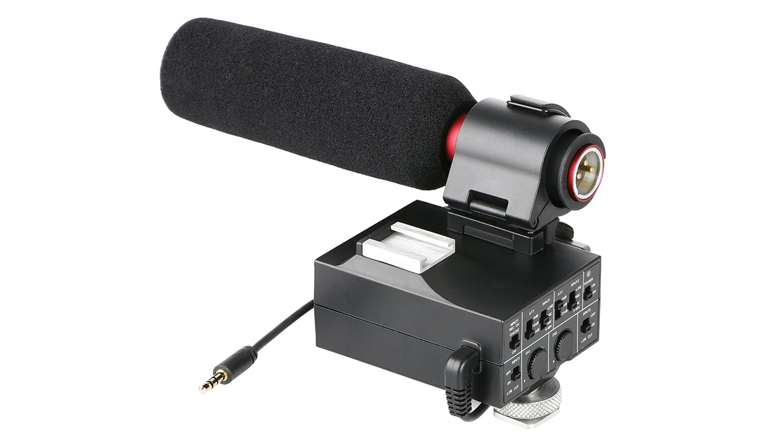 No headphone jack
There are some down sides to this audio solution. The main one is the lack of a headphone port. Which means you cannot listen to the sound that you are recording, which is a shame. There are also no visual audio levels so you need to watch the levels of your audio with your camera app. The unit is also plastic and this might not be to everyone's taste but is robust enough for most jobs.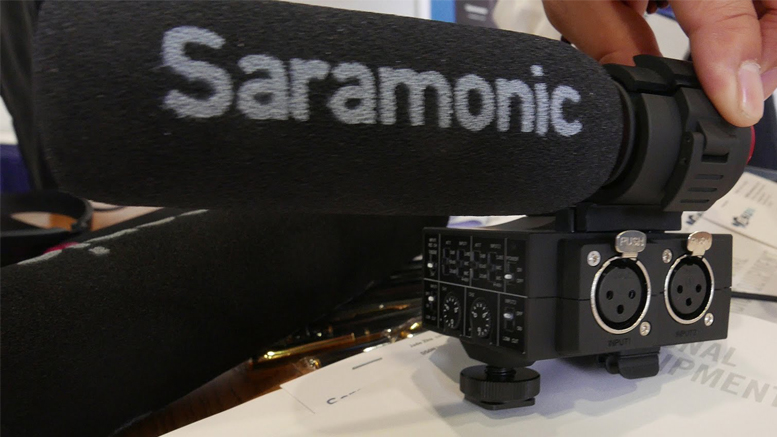 Conclusion
I think that this is a great solution for those that need two XLR inputs with independent level controls and phantom power. The included microphone is also of a high-quality and will be useful for many different types of audio recording. The lack of a headphone port is the only fault on a great pro audio solution for Smartphones.
Price: $189.00 £153.00 €171.00

Input Connections
2 x XLR balanced – Mic/Line (included SR-NV5 microphone takes up 1 input, if used)
Output Connection
1 x 1/8″ (3.5 mm) wired connector
Power Requirements
9 V alkaline or lithium battery
THD
Less than 0.01% @ 1 kHz, -30 dBu input
Frequency Response
20 Hz to 20 Khz, +/-0.5 dB
SNR
80 dB @ 1 kHz, -30 dBu input
Dimensions
XLR adapter (WxHxD): 3.31'' x 3.94'' x 3.27″ (84 x 100 x 83 mm)
Microphone (Diam. x L): 1.69″ x 7.36″ (43 x 187 mm)
Weight
XLR adapter: 5.9 oz (167g)
Microphone: 2.1 oz (60g )
Other Popular posts like this:
What are the 15 best microphones for Smartphone filmmaking?
What are the best lightning port iPhone microphones?
What are the best wireless microphones for Smartphones?