What are the best wireless microphones for Smartphones?
This Article has been updated
Using a Smartphone for filmmaking means you are far more mobile than a conventional film crew. However, when it comes to recording your sound you can limit your mobility with wired microphones. These connect to your Smartphone by cables that can constrain your subject's freedom to move around as well as restrict your own movements. The solution to this problem is to use a wireless microphone, which uses a transmitter and a receiver.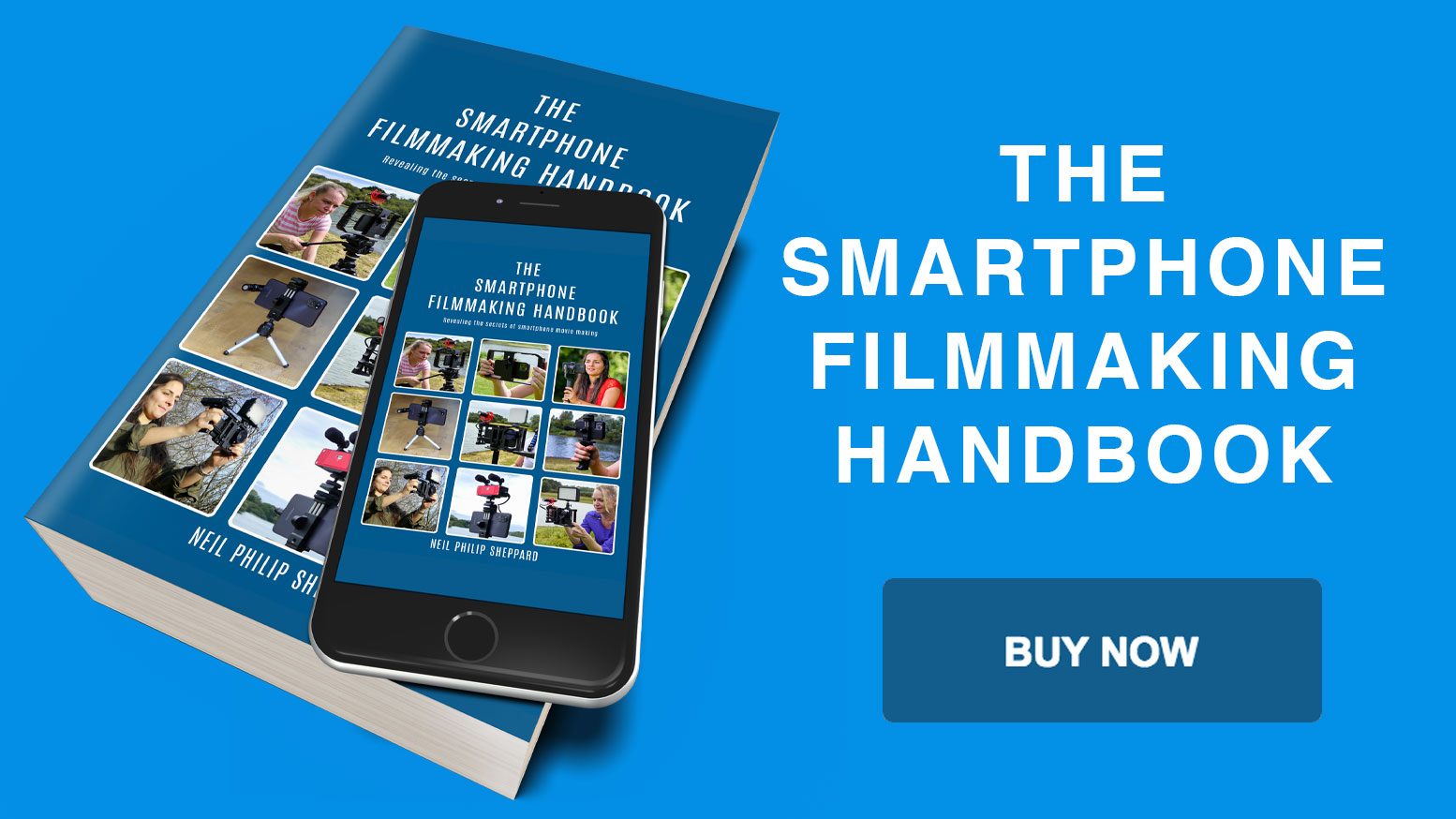 This content uses referral links. Read my ethics policy for more info.
In the past, cheap wireless microphones were not worth the investment. They would often have inference problems or use restricted wireless channels. Luckily this has started to change and there are now some quality wireless microphones available that are affordable to those with lower budgets.
Rode Wireless Go Radio Microphone
If you need a low budget wireless microphone for your Smartphone movies you cannot go far wrong with the Rode Wireless Go Radio Microphone. The Rode Wireless Go includes a transmitter and receiver, which both measure just 44mm x 45.3mm x 18.5mm in size and weigh a mere 31 grams. The transmitter has an omni-directional condenser microphone that is right inside the unit. You can use this as a lapel microphone or you can add your own TRS lapel microphone, which can plug into the transmitter's 3.3mm microphone socket.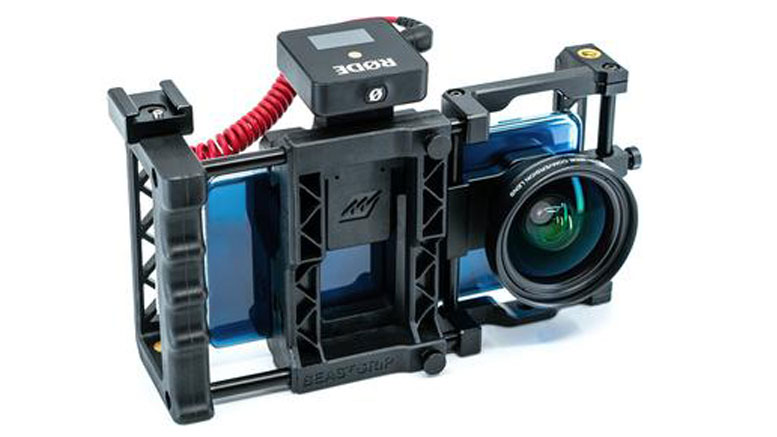 The receiver has a range of up to 70 metres but be aware that you must keep a line of sight with the transmitter or you may get reception problems. The receiver has a clip mount and you can also attach it to a cold shoe mount above your Smartphone. You can set the TRS output socket to lower the audio signal by -0db, -6db or -12db if you need to bring down the audio gain into your Smartphone. However, to get the receiver to work with your Smartphone you will need to use a TRS to TRRS adaptor like the Rode SC7.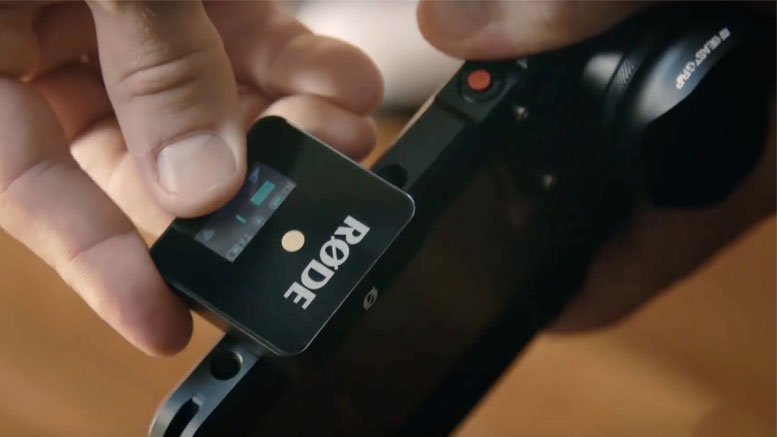 Both transmitter and receiver have built in batteries that you can charge with the included USB-C cable. On full charge they should give you up to 7 hours continuous use.
Price: $199.00 £145.00 €180.00

Saramonic Blink 500 B3 Dual-Channel Wireless Microphone System with Lavalier
The Saramonic Blink 500 B3 is compact lightweight wireless microphone system for iPhone or iPad that will give you quality broadcast audio for your Smartphone videos. The transmitter is similar to the Rode Wireless Go. It is a small and compact microphone that you can clip to your subject's clothing for interviews or mobile reporting. If you don't like to use the built-in microphone on the transmitter, you can plug in the provided SR-M1 Lavalier microphone instead. This can be less intrusive than the transmitter microphone and not as noticeable on clothing. You simply hide the transmitter in another location on your subject's body.
The Blink 500 RXDi receiver plugs into your iPhone's Lightning port. It is light weight and takes up little space when connected to your iPhone. In fact, you can use it with a Smartphone gimbal without upsetting its balance. This is useful for those who want smooth shots when using their iPhone. The receiver needs no batteries to power it. It gets its power from the iPhone, so you won't have to worry about it running out of power.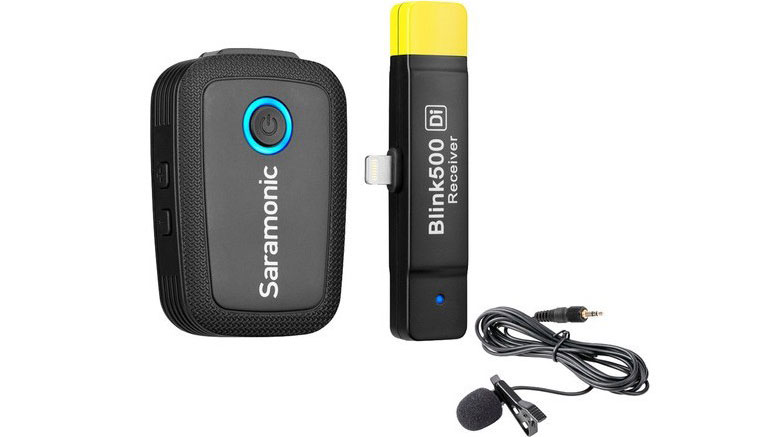 The whole system runs on the 2.4Ghz frequency, which seems to be the popular choice for this type of wireless microphone system. You shouldn't have too many problems using it but you should be aware that this is a line of sight microphone. Don't expect it to work miracles if your subject walks into another room without you.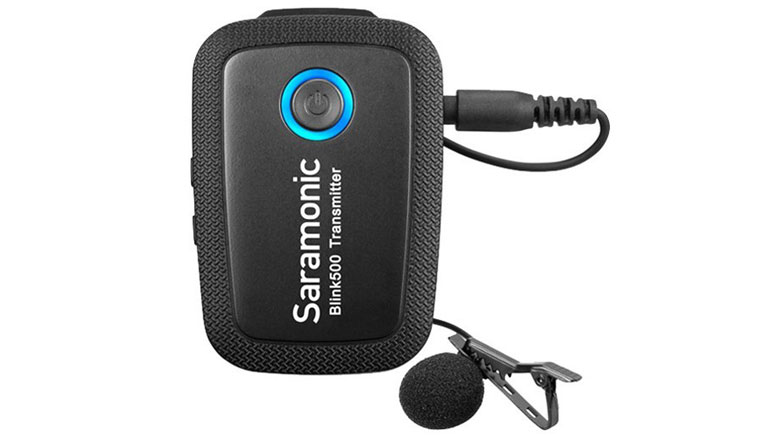 If you need two microphones you can add another Blink 500 transmitter and both microphones will connect to the RXDi receiver. Saramonic sell a double microphone and one receiver pack just for this purpose. Alternatively, you can buy a second transmitter separately.
Price: $219.00 £200.00 €199.00

Saramonic Blink 500 B5 Dual-Channel Wireless Microphone System with Lavalier
The Saramonic Blink 500 B5 is identical with the Blink 500 B3. The difference is that it is a USB-C wireless microphone for use with Android Smartphones. Just like the B3, it is a small and compact microphone that you can clip to your subject's clothing for interviews or mobile reporting. If you don't like to use the built-in microphone on the transmitter, you can plug in the provided SR-M1 Lavalier microphone instead.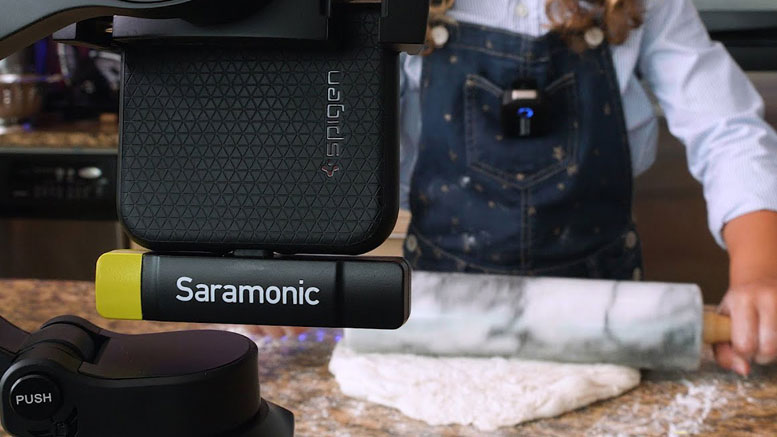 Unlike the B3, the Blink 500 RXDi B5 receiver plugs into the USB-C port of your Android Smartphone. It gets its power from the Android Smartphone it plugs into, so there is no need for batteries. This also means it is lightweight and will not affect any gimbal as it tries to balance your Smartphone.
The Blink 500 B5 uses the 2.4Ghz frequency for transmission, just like the iPhone version. You shouldn't have any trouble with range but just remember to be in line of sight with you subject as you may get reception problems. If you do require a second microphone, you can buy another transmitter to give you double audio input to the receiver.
Price: $219.00 £200.00 €199.00

Comica BoomX-D 2.4 GHz Wireless Microphone
The Comica BoomX-D 2.4 GHz Wireless Microphone is similar to the Rode Wireless Go. It uses the 2,4 GHz wireless bandwidth, which means it will work anywhere in the world. It automatically adjusts to the strongest available frequency to avoid any possible interference. It transmits its audio signal up to 48KHz 16 bit with a latency of under 20ms. So there is little delay from transmitter to receiver. It also has a range of up to 165ft, which should be fine for most filming situations.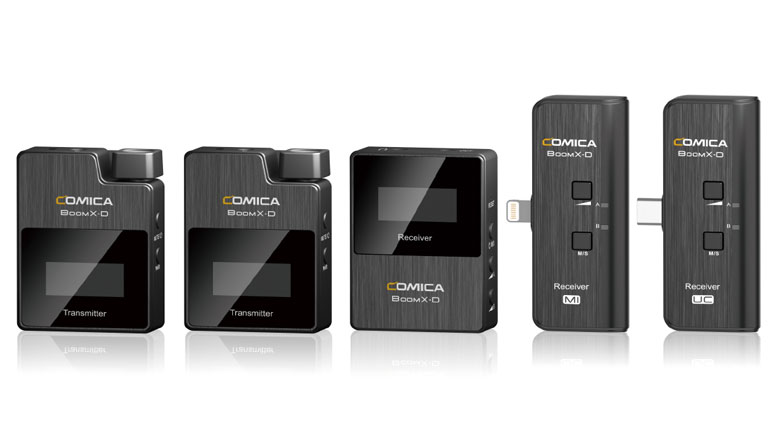 The Comica BoomX-D series comes in three versions. One is a standard belt-pack transmitter and receiver that you can connect to a Smartphone with the supplied 3.5mm TRS to TRSS cable. It also has a headphone socket so you can listen to your audio. The other two versions have receivers with a Lighting connector for iPhone and a USB-C connector for Android Smartphones.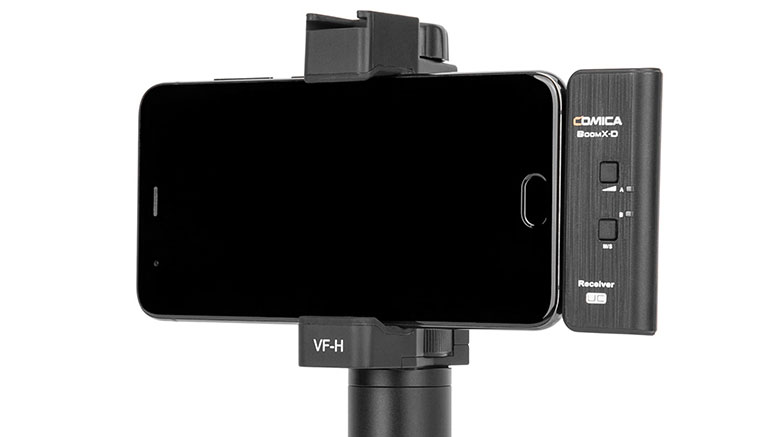 The transmitter has a built in microphone and a 3.5mm input jack that you can connect the supplied lavalier microphone. So if you don't fancy using the built in microphone you can use the clip microphone instead. You can also add a second transmitter so you can have two microphones connected to the transmitter. On the side of the receiver are two buttons that you can adjust both audio levels from each transmitter separately.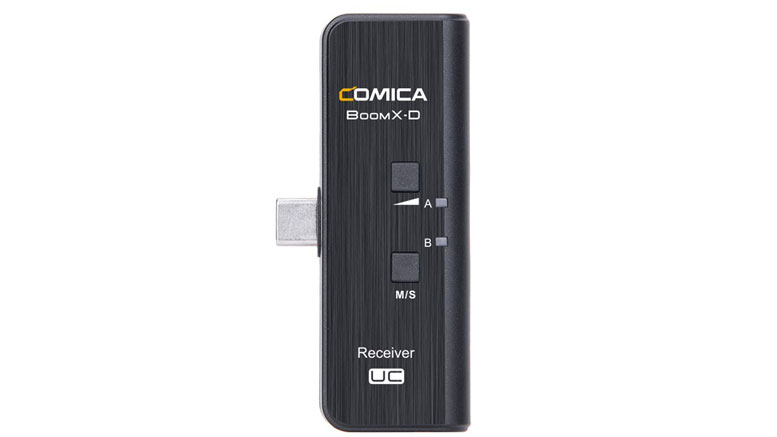 Both transmitter and receiver in the standard pack have a screen where you can see the audio level, battery life and other display functions. The transmitter and receiver get their power from internal 300mAh batteries. These should give you about five hours of use. You can charge them both via the USB-C port with the supplied charging cable.
Price: $249.00 £215.00 €225.00

The Sennheiser XSW-D Lavalier
The Sennheiser XSW-D is a wireless radio microphone solution, which is perfect for Smartphone film production. It comes in various versions that include the TX transmitter and the RX receiver and these can be useful for different video production jobs. The TX 35 and RX 35 come with 3.5mm sockets, which are compatible with Sennheiser's ME 2-11 lavalier microphone. This is perfect for doing interviews. The TX XLR and RX XLR come with 3-pin XLR connections.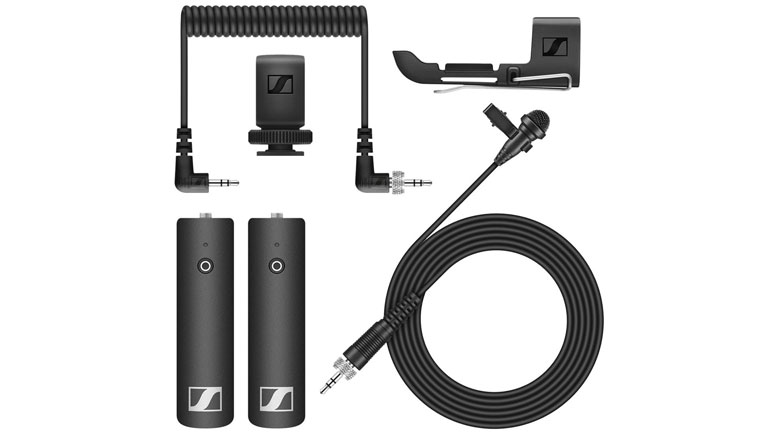 You can use the TX XLR with any XLR microphone that does not need phantom power. You plug this in to the bottom of the XLR microphone to make it wireless. The RX XLR has a 3-pin male XLR, which you can plug into an XLR adaptor that connects to your Smartphone.
The Sennheiser XSW-D works within the 2.4Ghz frequency range which is licence free for worldwide use. So you won't be interfering with any emergency service's radio traffic and getting in trouble. It has a range of 250 feet but you must make sure you have a line-of-sight with the receiver. You may have signal problems is any objects get in the way.
Both the transmitter and the receiver weigh only 50-63 grams and measure between 86-130mm in length depending on the model. So they are compact enough not to get in your way. They are ideal for Smartphone filmmaking and can clip on a belt or mount on a cold shoe with few problems.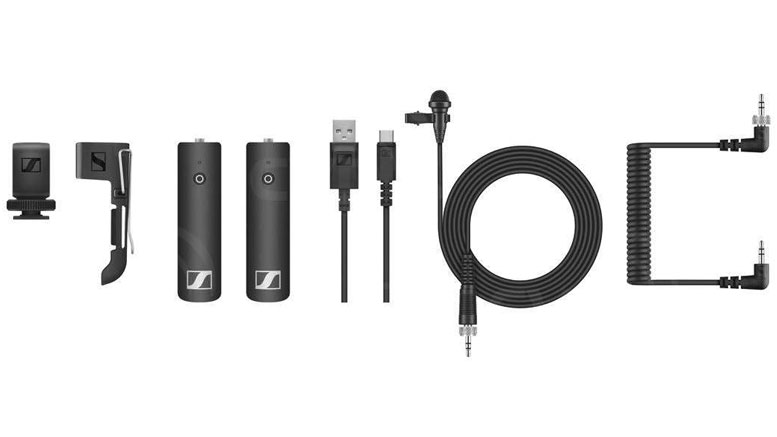 Built into the transmitter and receiver is a 850 mAh battery. You can charge this in about three hours and it will give you up to five hours continuous use. To charge the battery you plug in the provided USB-C cable to a USB power supply and you are good to go. You can link multiple transmitters to a single receiver but only one transmitter can be in use at one time. This is useful if you need to do a fast switch over between a lavalier microphone and a hand-held microphone. Setting up the transmitter and receiver is also easy. You use a single switch for all functions to power the transmitter and receiver on and to mute and pair the devices. How long you hold down the button will determine the function. A series of multi-coloured LED lights will show you which setting you are in.
Price: $299.00 £288.00 €270.00

Rode Wireless Filmmaker Kit
The Rode Wireless Filmmaker kit is a wireless audio solution aimed at budget strapped filmmakers who would like to add a wireless microphone to their Smartphone. When you buy the kit you get a transmitter, a receiver and a lapel microphone. You also get various other accessories like a windshield to take care of any annoying wind noise when filming outside. The transmitter and the receiver are made of a tough plastic and should put up with any bumps you may face. They are both also lightweight enough not to be too much of a load on a stabiliser or tripod.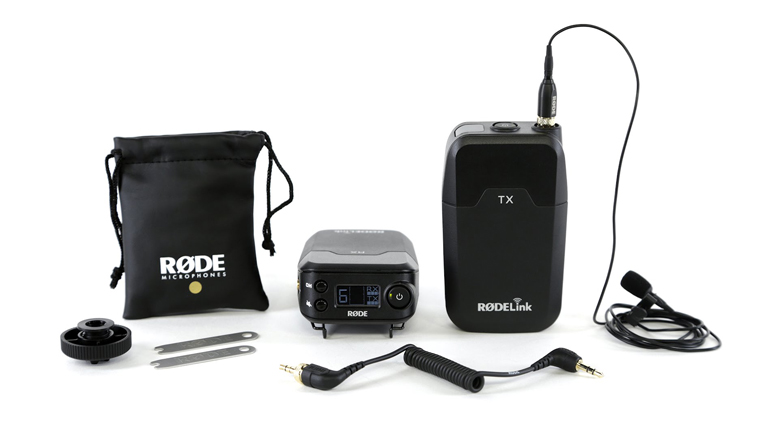 The transmitter and receiver get their power from two AA batteries but can also get power from a built-in Micro USB socket connected to an external power supply. Above the battery compartment is a control to adjust the gain. You can set this to 0db, +10db or +20db. The +20db is useful to reduce noise and hiss if your Smartphone does not have the greatest preamps.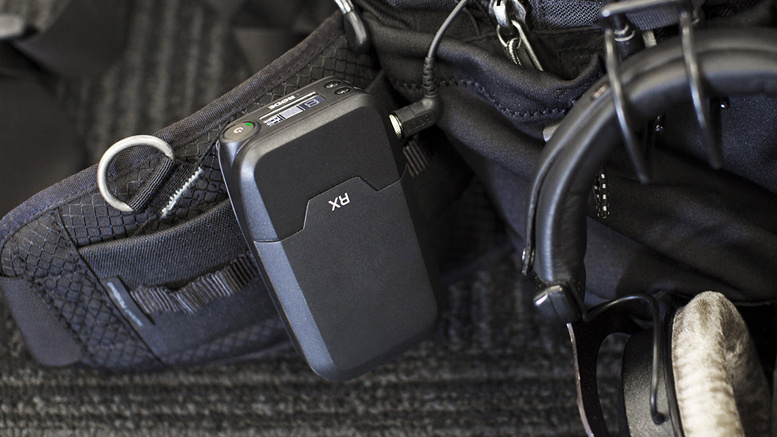 The transmitter has a simple on and off button that you hold down for two seconds before it switches on or off. This delay means you cannot switch it off by accident. By pressing the on or off button, a red light will appear on the transmitter. You will then see a green light when it connects to the receiver. Next to this is a display that tells you the channel in use. The receiver has only three buttons. There is an on and off button on the right side, a button on the left side for the audio channel and a button to mute the audio.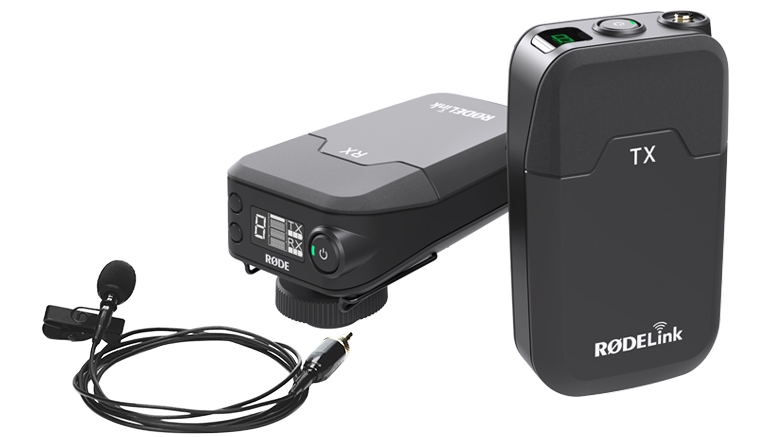 In the middle of the receiver is a display to show the audio data. When you turn on the receiver it will load for a couple of seconds and search for a signal. That signal will be on display in the middle of the screen. If the receiver and transmitter are both on and connected you will see the audio levels of the microphone instead of the 'search signal' message. The channel will display on the left side of the screen. When you use the whole kit the channel is usually default to 1 but if you press the channel button it will go to 8. If you press it again it will return to 1. In the end it doesn't matter for most users because both will automatically connect once they are turned on. The right of the screen has a battery symbol. This has three bars and shows how much power it has. On the side is a 3.5mm input for the cable that delivers the audio from the receiver to the Smartphone.
Please note that you will need to buy an adaptor to connect the Rode Filmmaker to a Smartphone. This can be a TRRS adaptor for a 3.5mm socket, 3.5mm to lightning adaptor for iPhone or a 3.5mm to Type C adaptor for newer Android Smartphones. The Rode Smart Filmmaking kit has an overall range of about eighty-five feet. This should be enough for most users but this distance may come down if walls or other such obstacles get it the way.
Price: $329.00 £243.00 €299.00

What are the best lightning port iPhone microphones?
What are the best USB-C microphones for Smartphone filmmaking?
What are the best gimbals for Smartphone filmmaking?
Best Wireless Lavalier Microphones