What are the best budget wireless microphones for Smartphones?
Using a Smartphone for filmmaking means you are far more mobile than a conventional film crew. However when it comes to recording your sound you can limit your mobility with wired microphones. These connect to your Smartphone by cables that can constrain your interview subjects as well as restrict your movements.
The solution to this problem is to use a wireless microphone that works with a transmitter and a receiver. You would think there would be many different wireless microphones available but in truth only a few are any good. Until recently you only had two choices: The Sennheiser EW 112-P G3 wireless microphone or the Sony UWP-D11 wireless microphone. Both are excellent wireless microphones and professionals use them on many films and television productions. Unfortunately they are both rather expensive with a price of over $600.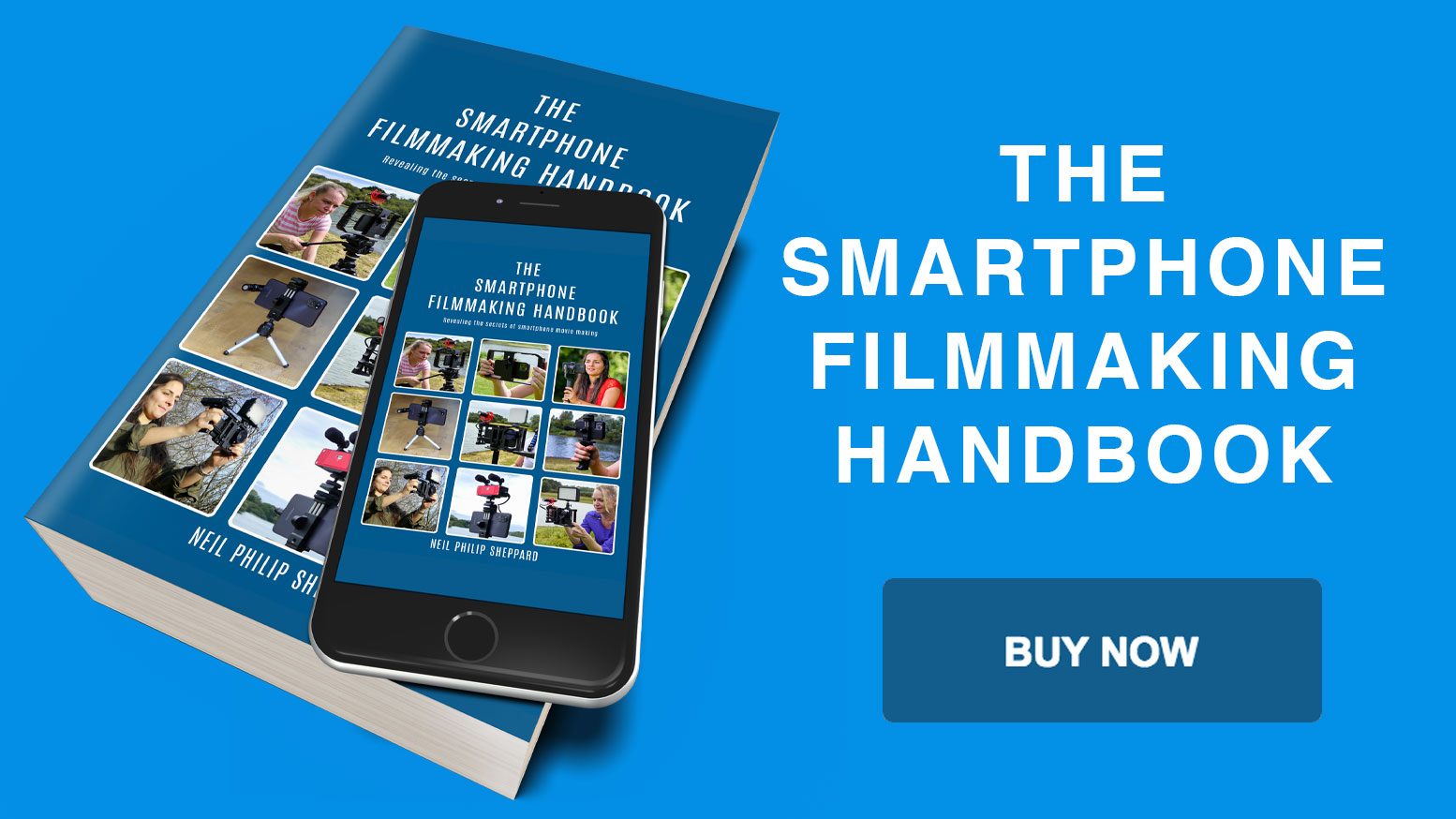 This content uses referral links. Read my ethics policy for more info.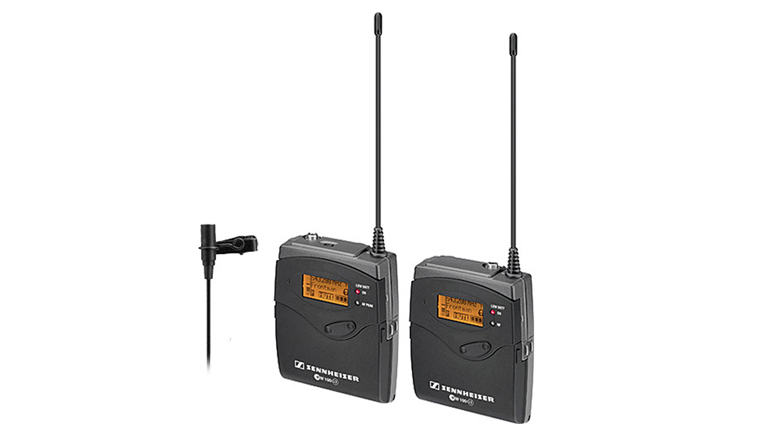 You will also need to add an adaptor like a Rode SC4 to convert the TRS plug to a TRRS plug. Alternatively you may need a lightning' or Type C 3.5mm adaptor so they can work with your Smartphone. Also, to get these wireless microphones to work successfully you will need to use a -25 db anttenuator cable to match the impedance of the Smartphone.  So if you cannot afford the Sennheiser or the Sony what other choices do you have? In the past cheap wireless microphones were not worth the investment. They would often have inference problems or use restricted wireless channels. Luckily this has now started to change and there are now a few quality wireless microphones available that are affordable to those with lower budgets.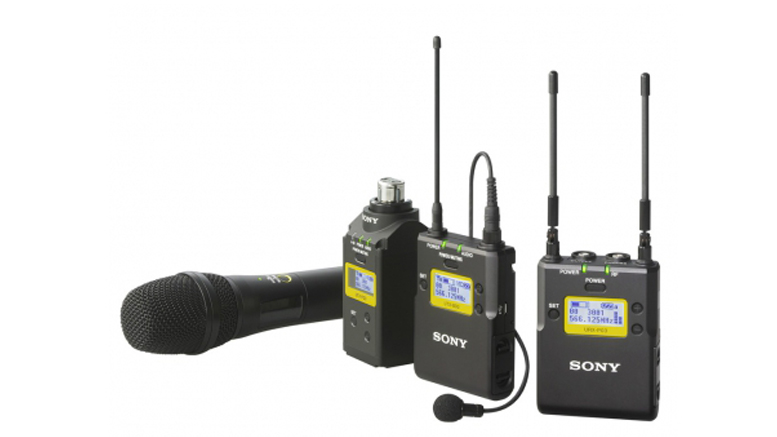 Rode Wireless Go Radio Mic
If you need a low budget wireless microphone for your Smartphone movies you cannot go far wrong with the Rode Wireless Go Radio Microphone. The Rode Wireless Go includes a transmitter and a receiver which both measure just 44mm x 45.3mm x 18.5mm in size and weigh a mere 31g.
The transmitter has an omni-directional condenser microphone that is right inside the unit. You can use this as a lapel microphone or you can add your own TRS lapel microphone, which you can plug into the transmitter's 3.5mm microphone socket.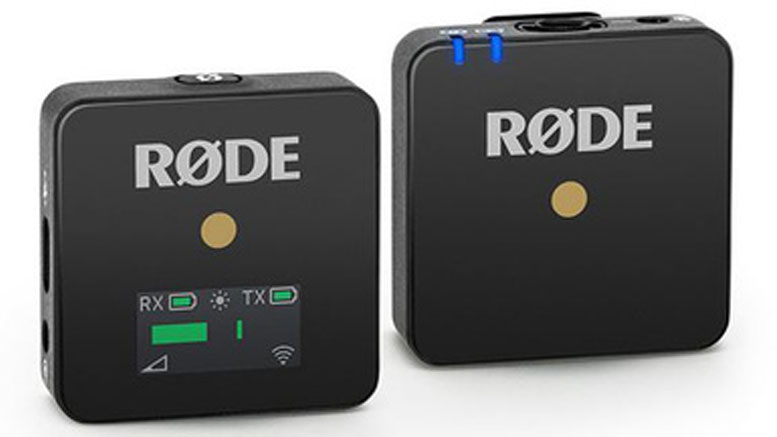 The receiver has a range of up to 70 metres but be aware that you must keep a line of sight with the transmitter or you may get reception problems. The receiver has a clip mount and you can also attach it to cold shoe mount above your Smartphone. You can set the TRS output socket to lower the audio signal by -0dB, -6dB or -12dB if you need to bring down the audio gain into your Smartphone.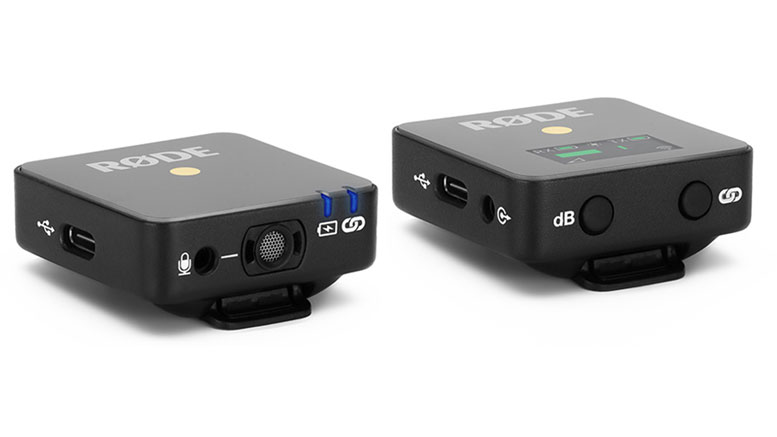 However, to get the receiver to work with your Smartphone you will need to use a TRS to TRRS adaptor like the Rode SC7. Both transmitter and receiver have built in batteries that you charge with the included USB-C cable. On full charge they should give you up to 7 hours continuous use.

Samson Stage XPD1 Presentation
Samson is releasing some great wireless microphones for Smartphone and the Stage XPD1 Presentation is no exception. It includes the Samson LM5 lavalier microphone, a belt pack transmitter and a USB receiver. Lavalier microphones are the workhorses of audio production and you will see them in use everywhere, especially in news and documentary interviews. They are small and compact and attach to the subject's clothing to give you good quality audio.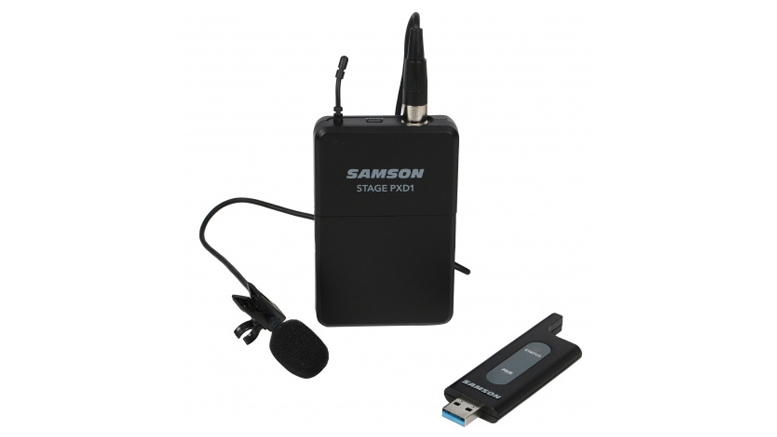 With Samson's XPD1 your subject is no longer tethered to your Smartphone and they can wonder around freely without the difficulties of dangling cables. You simple plug in the Lavalier LM5 microphone to the transmitter and then hide that in the subject's rear pocket or attach it to their belt.
The transmitter then pairs with the small USB receiver that is no bigger than a USB key drive. To connect this to your Smartphone you will need to buy a lightning to USB adaptor' that will allow you to connect it to your iPhone. The USB receiver will also work with a Type C adaptor if you need to attach it to a newer Android Smartphone.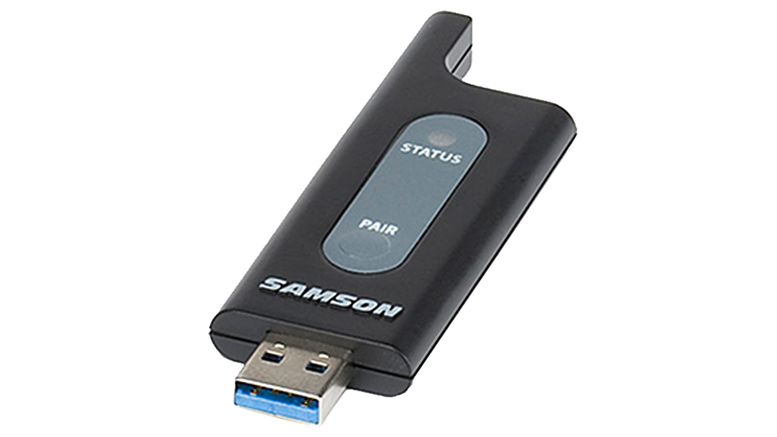 Once you have set up all that your subject should be able to walk around freely with a wireless range of about one hundred feet. Although this range may be less if you have obstructions in the way or walls in the surrounding environment.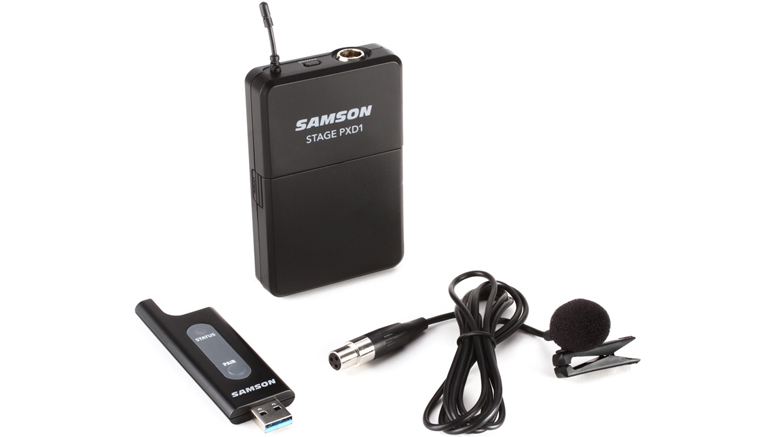 The transmitter gets its power from two AA batteries while the USB adaptor gets its power from the Smartphone. So be aware that this could reduce the battery time of your Smartphone. Inside the battery compartment of the transmitter there is a small gain dial where you can adjust the sensitivity of the attached microphone. On the transmitter there is also a power button so you can switch it off if you need to save power between takes. On the USB receiver you will find a button that you use to pair it with the transmitter. There is also an LED status light to let you know when the USB receiver connects to the transmitter. You simply hold down the button on the receiver and the LED light will start to flash. When the light stays on it has connected with the transmitter.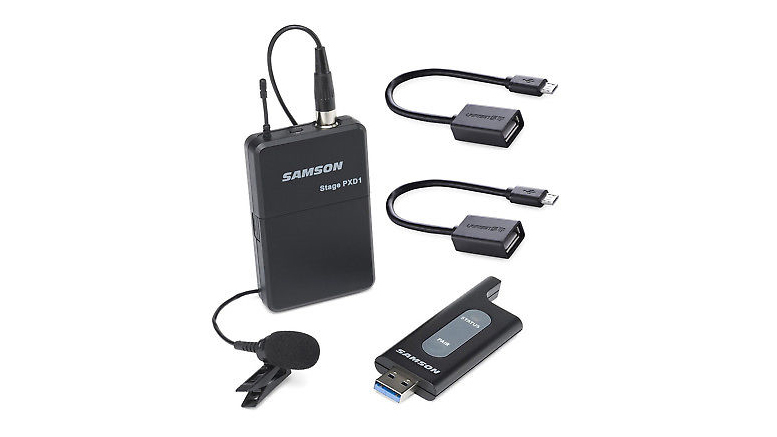 At a price of below a $100 the Samson XPD1 is excellent value for money and the sound quality is great for a wireless microphone at this price. Once you get the right USB adaptor for your Smartphone there is nothing to stop you going mobile with your audio.

Samson Stage X1U
The Samson Stage X1U is a hand-held microphone that wirelessly connects to a USB receiver to give you true mobility with a hand-held microphone. Hand-held microphones have many uses in video production. You may have seen one in use by a location news presenter or one in use for street style interviews. They have a limited sensitivity compared with a shotgun microphone but are great if you are close to your subject. The reduced sensitivity is also helpful in bad weather and lessens wind sounds that can affect other microphones.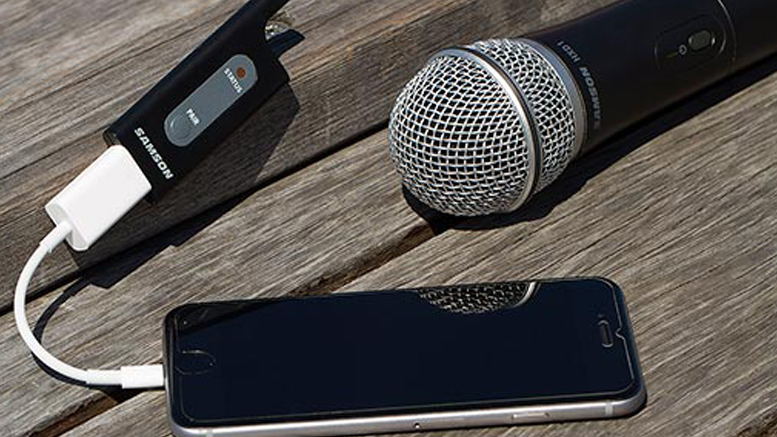 The Samson Stage X1U has a range of about one hundred feet but this will reduce if you are transmitting though walls or other obstacles. So be aware of your surroundings when using it. The hand-held microphone gets its power from two AA batteries and this will give you about 8 hours of use. Also on the microphone you will find a mute button if you need to turn it off and a gain control to adjust audio levels.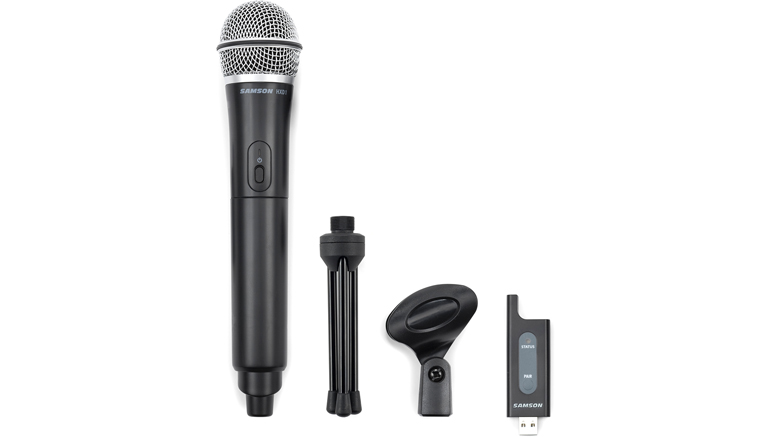 The Samson Stage X1U also comes with a desk microphone stand if you wish to use it for voice over work. The build quality of the X1U is good but don't expect the steel construction of a Samson Stage X1U. However the microphone does have a solid construction and should put up with any bumps you may accidentally give it. To connect the X1U to the USB wireless receiver you press down the button on the USB receiver and when the light stops flashing it will connect with the microphone.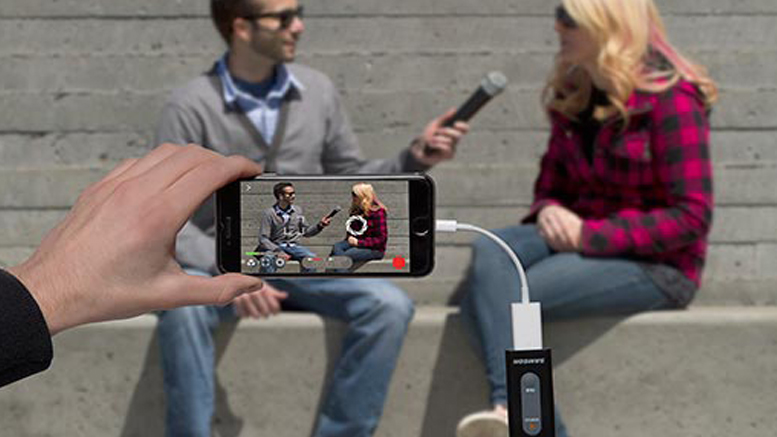 To connect the USB receiver to your Smartphone you will need a lightning to USB adaptor for an iPhone or a Type C to USB adaptor for newer Samson Stage X1U'. Please check the compatibility of your Smartphone before you buy though as not all models will work with it. Audio quality is good but don't expect it to compete with a Rode Reporter or Sennheiser MD 46 microphone. That said it will be fine for most audio jobs and will give you a good sound recording. It will also give you the advantage of being fully mobile with your Smartphone for sound recording. With a price of under a $100 you can't go far wrong with this microphone.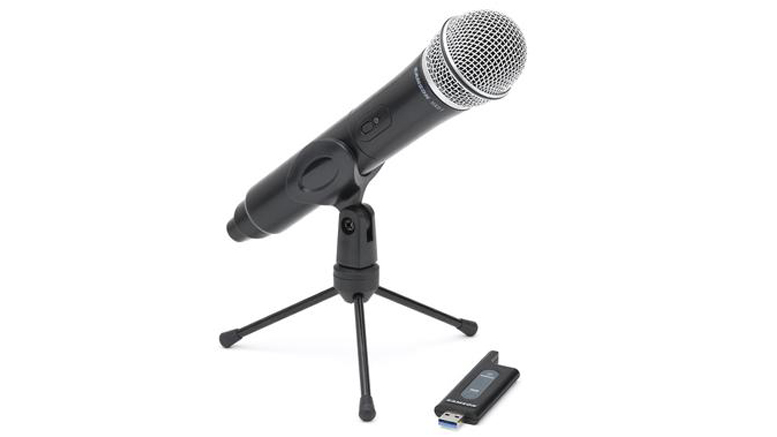 Samson Go Mic Mobile
The Samson Go Mic Mobile allows you to connect two wireless microphones to your Smartphone. You can record these two microphones separately or mix them as one on the receiver. The receiver is about the size of a playing card and clamps to the back of your Smartphone when you are filming. It comes with various connecting cables that include a lightning cable for iPhone and Micro USB B, Type C adaptors for Android Smartphones.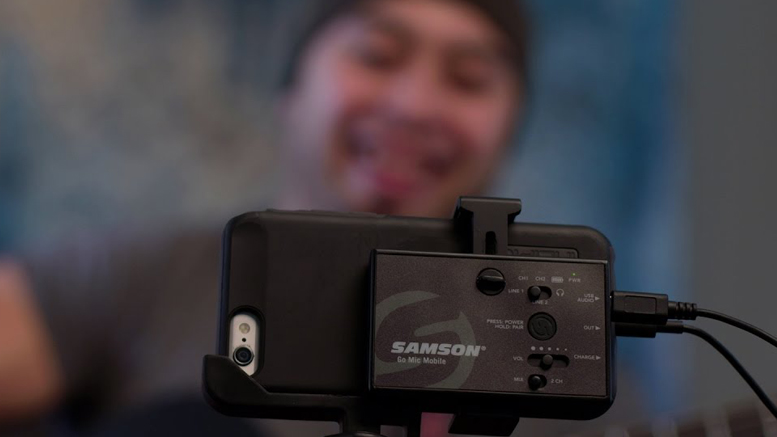 The receiver has a rechargeable lithium battery that should give you thirteen hours of use. This should be more than enough for most jobs. The range is good too with a line-of-sight range of about one hundred feet. This may be less if you have walls in the way though.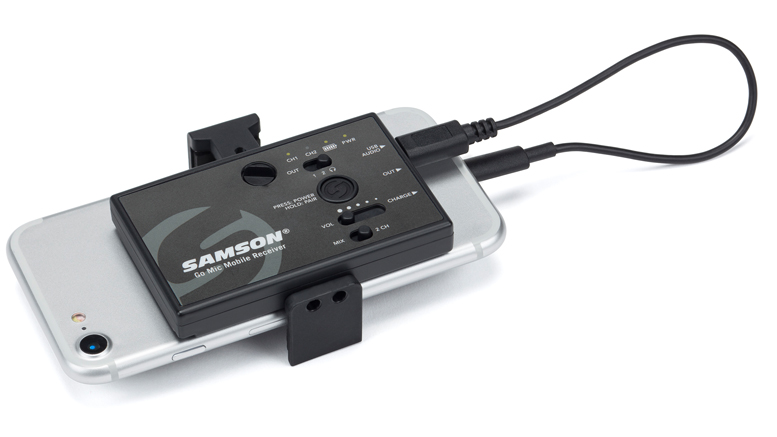 You can pair theGo Mic Mobile with the supplied Samson Q8 dynamic hand-held microphone or the Samson LM8 omni-directional lavalier microphone with belt pack transmitter. To pair these microphones with the Go Mic Mobile you hold down a button on the receiver and it will search out the wireless microphones that are in range and connect with them on an available frequency.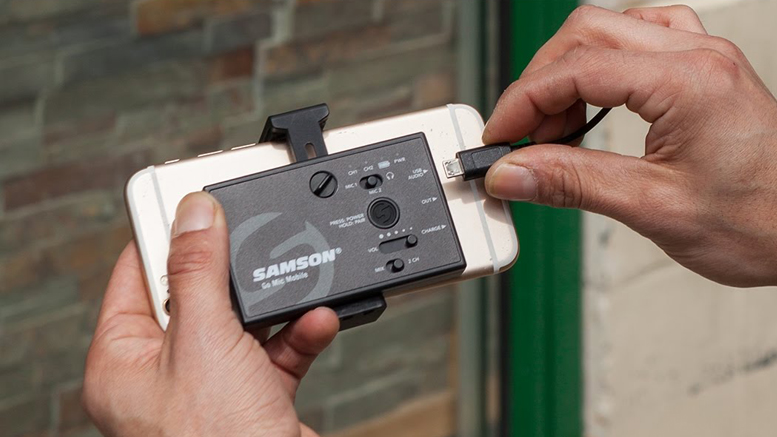 The mix of microphones means you could have two hand-held microphones transmitting to the Go Mic Mobile or have an interviewer wearing a lavalier while the interviewees use a hand-held microphone.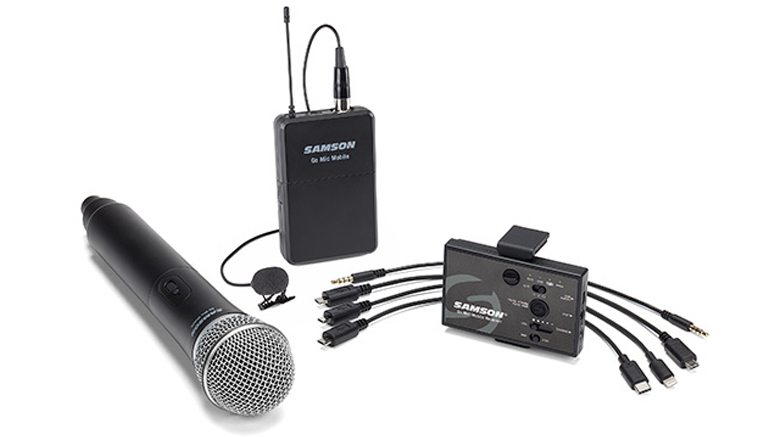 If you need to have two subjects with wireless microphones this is a good solution for your Smartphone. You will find it has endless possibilities for Smartphone film production as well as uses for going live on Facebook or other social websites.

Rode Wireless Filmmaker Kit
The Rode Wireless Filmmaker kit is a wireless audio solution aimed at budget strapped filmmakers who would like to add a wireless microphone to their Smartphone. When you buy the kit you get a transmitter, a receiver and a lapel microphone. Plus various other accessories like a windshield and a dead cat to take care of annoying wind noise. The transmitter and the receiver are made of a tough plastic and should put up with any bumps you may face. The transmitter and receiver are also lightweight enough not to be too much of a load on a rig or tripod.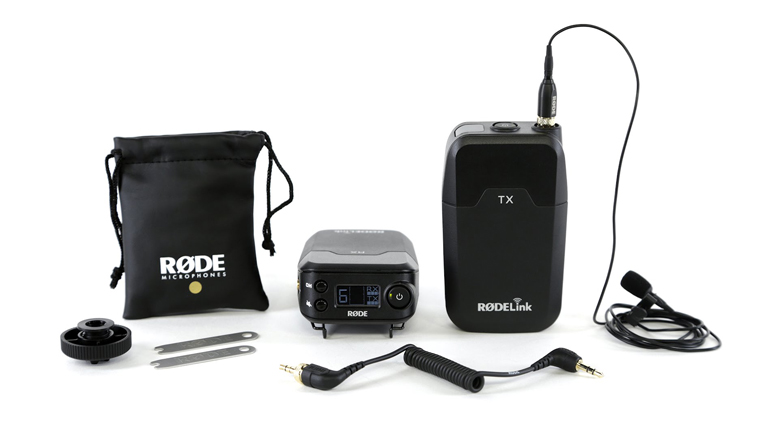 The transmitter and receiver get power from two AA batteries but can also get power from the Micro USB socket. Above the battery compartment you can control the gain. You can set this to 0db, +10db or +20db. The +20db is useful to reduce noise and hiss if your Smartphone does not have the greatest preamps. The transmitter has a simple on-off button that you hold down for one to two seconds before it switches on or off. This means it won't switch it off by accident. By pressing the on or off button a red light will turn on, on the transmitter. You will then see a green light when everything connects and a red light when the audio mutes. Next to this is a display that tells you the channel in use. The receiver has only three buttons. There is an on and off button on the right side of the front, a button on the left side for the audio channel and a button to mute the audio. In the middle of the receiver is a display to show the audio data.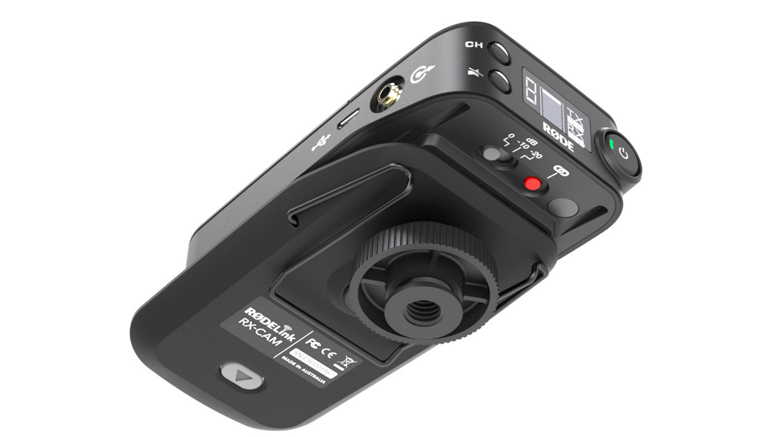 When you turn on the receiver it will load for a couple of seconds and search for a signal. That signal will be on display in the middle of the screen. If the receiver and transmitter are both on and connected you will see the audio levels instead of the 'search signal' message. The channel will display on the left side of the screen. When you use the whole kit the channel is usually default to 1 but if you press the channel button it will go to 8. If you press it again it will return to 1. In the end it doesn't matter for most users because both will automatically connect once they are on.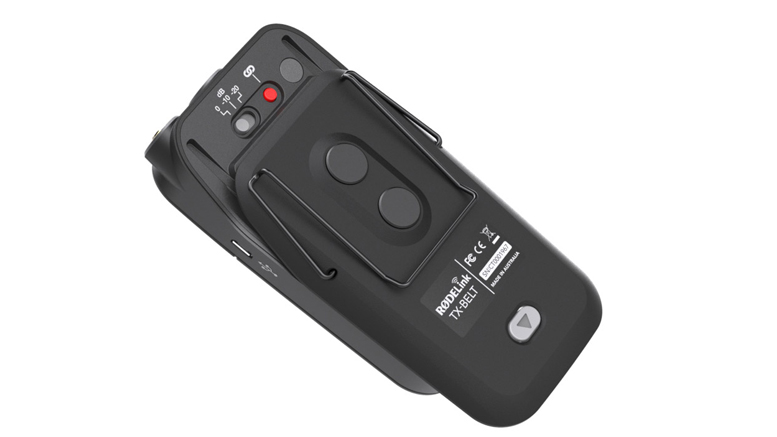 The right of the screen has a battery symbol. This has three bars and shows how much power it has. On the side of is a 3.5mm input for the cable that delivers the audio from the receiver to the Smartphone. Please note that you will need to buy an adaptor to connect the Rode Filmmaker to a Smartphone. This can be a TRRS adaptor for a 3.5mm socket, 3.5mm to lightning adaptor for iPhone or a 3.5mm to Type C adaptor for the newer Android Smartphones.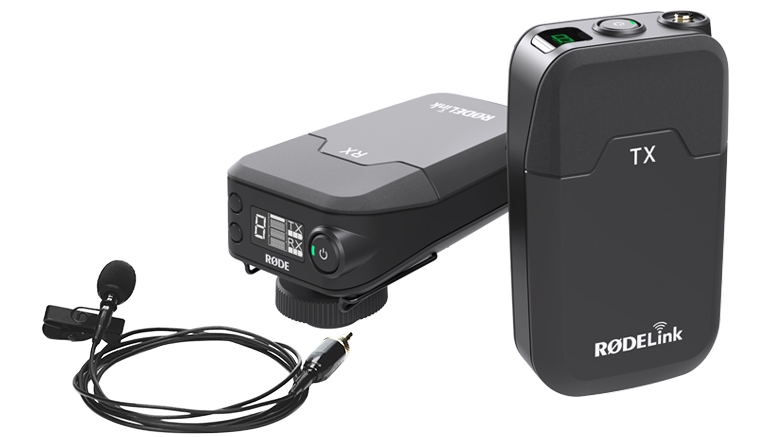 The Rode Wireless Filmmaking kit has an overall range of about eighty-five feet. This should be enough for most users but this distance may come down if walls or other such obstacles get it the way. The sound quality is good with little hiss and noise although your Smartphone may result in different sound quality due to its preamps.

Other Popular posts like this:
11 Best Smartphone Microphones of 2018
Best External Android Microphones For Video & Podcasting 2018