What are the best gimbals for Smartphone filmmaking?
Do you need a Smartphone gimbal? You may be able to film high-quality video on your Smartphone but if the viewer ends up feeling sick watching it you may have a problem. Shaky video can be very distracting to the viewer. You can reduce the shake if your Smartphone has image stabilisation, but it is best to prevent this shake rather than correct it.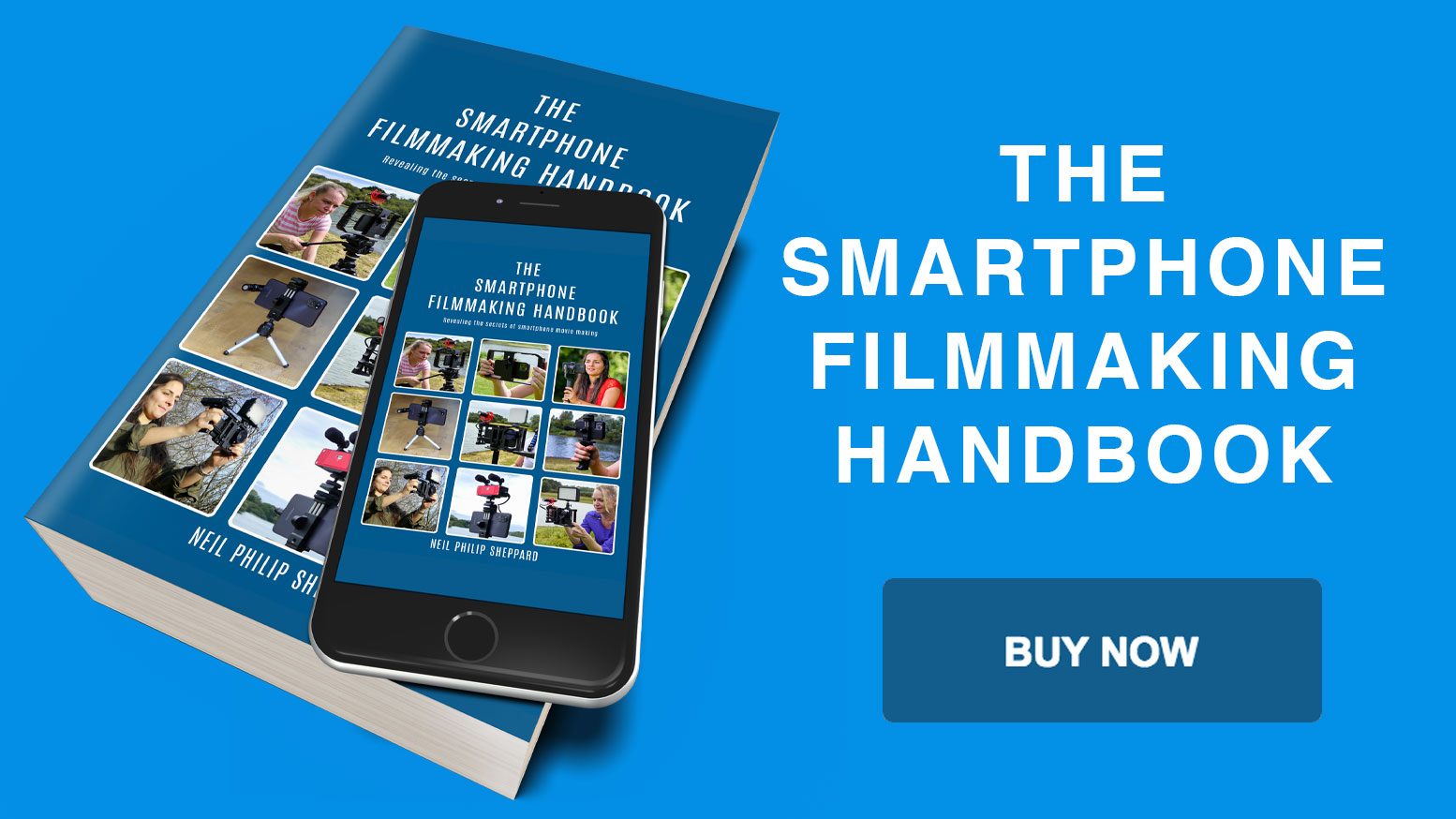 One of the best solutions to this is to use a hand-held gimbal. This will help to remove most of that dreaded shake. A Smartphone gimbal will make your videos look smooth, fluid and give them a professional look by removing the shaky movement. It is the best solution if you plan to be on the move while filming. Gimbals can do this with the help of 3-axis brushless motors and special software to counterbalance the shake. There are many gimbals available to buy and some are better than others.
This content uses referral links. Read my ethics policy for more info.
DJI Osmo Mobile 3
The DJI Osmo Mobile 3 is the newest Smartphone gimbal for mobile that follows DJI's other successful Smartphone gimbals, the DJI Mobile 1 and 2. It is a Smartphone gimbal that helps you to record smoother and more professional looking videos. It also helps in making it easier to capture shots like time-lapse and panoramas.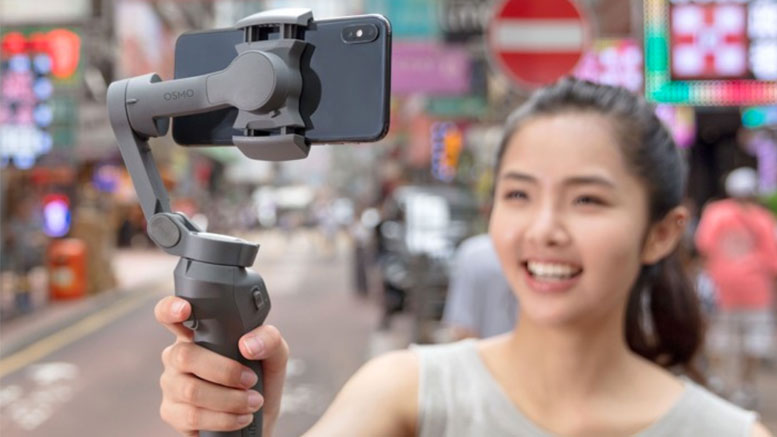 The Osmo Mobile 3's has big improvements in its hardware. It now combines the best features of its predecessors but now has a new re-engineered body. Some of the biggest complaints about the Osmo Mobile 2 were its bulkiness and that is was hard to store and carry. The Osmo Mobile 3 now has a folding arm which means it takes up far less room when it is not in use. The new standby mode, that's activated by pressing the M button three times, allows the gimbal to fold up without being fully turned off. This means you can go from compact mode to filming in a few seconds.
The new Mobile 3 has a new clamp to hold your favourite Smartphone. It no longer has a horizontal grip but a new vertical mount. This means it can now hold various makes of Smartphone. It also features new anchors for counterweights so you can counterbalance any lenses you may wish to add to your Smartphone.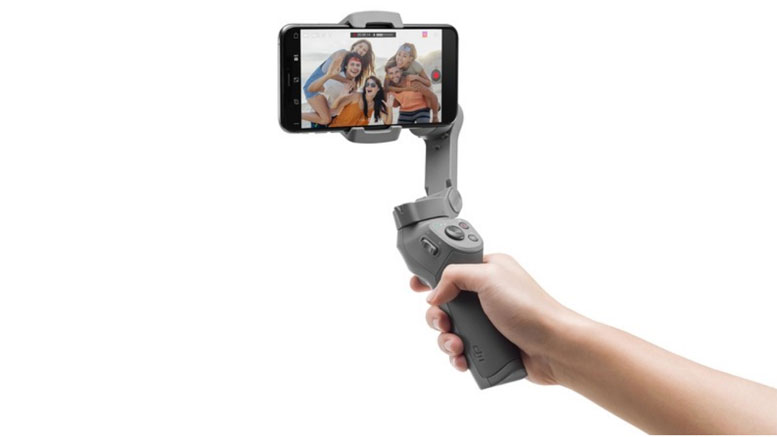 DJI have put back the trigger grip on the handle that was originally on the Osmo Mobile 1. This means you have instant access to controls right at your fingertips. You can also now switch from portrait to landscape mode by simply double tapping a button. You no longer have to make this adjustment by a dial on the back of the gimbal that was present on the Osmo Mobile 2.
Other improvements include a USB-C port to recharge the gimbal's internal battery and you should get up to 15 hours of use from a fully charged battery. You can also charge your Smartphone from the Osmo Mobile 3 if your Smartphone runs low on power. The new DJI Osmo Mobile 3 also doesn't block the lightning port or phone jack found on older Smartphones as the first two gimbals do. Which means you can plug in a microphone.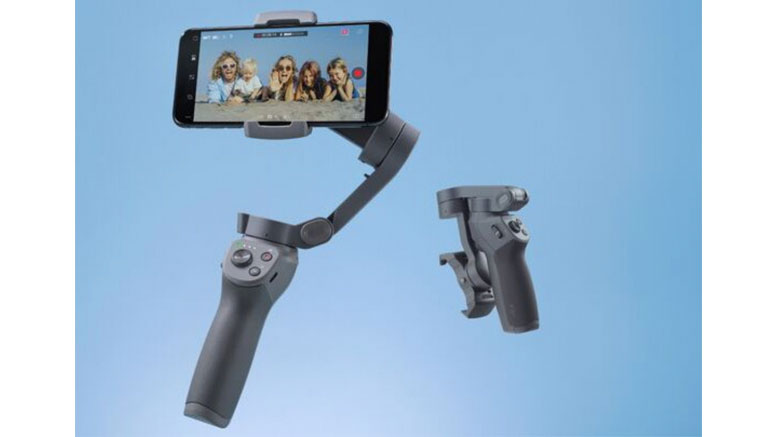 The price is good too with the Osmo Mobile 3 costing less than the Osmo Mobile 2. There is also a slightly more expensive package that adds a mini tripod that you can screw into the ¼ inch socket on the handle of the Osmo Mobile 3. This package also includes a padded case for the gimbal.
Price: $139.00 £119.00 €125.00

Zhiyun Smooth Q2
The Zhiyun Smooth Q2 is a compact gimbal that will have no trouble taking the bumps out of your video to give you smooth shots. To lock your Smartphone into the Zhiyun Smooth Q2 you simply slide it into the clamp and then latch it in place. It doesn't need to balance your Smartphone. All you have to do is power it on and the gimbal will then find the right level for your Smartphone. You can then adjust it with the small joystick to correct the balance but this is usually not needed.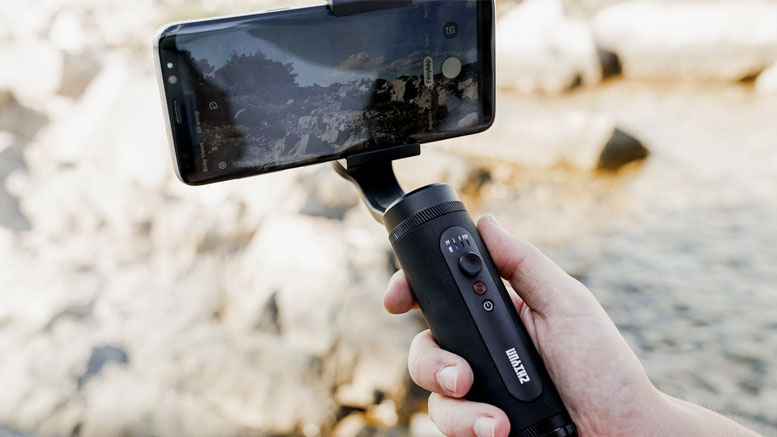 If you want to film a time-lapse or panorama you can mount the Smooth-Q2 on a tripod and then pair it with the ZY Play app. This will give you a little bit more control. You can also pair the Smooth-Q2 to your Smartphone's camera app via Bluetooth if you don't fancy filming with the ZY Play app. The compact size of the gimbal is a real benefit for those of you who travel around.
The handle measures 12cm and the entire length of the gimbal is only 20cm. This makes it one of the smallest Smartphone gimbals and you will have little trouble storing it in your kit bag. It can hold up to 260 grams, which should be plenty for most Smartphones. It also means you can add a microphone or lens with little trouble.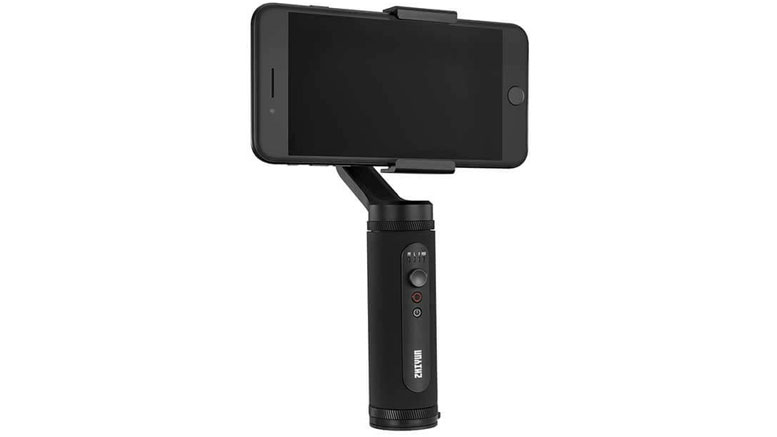 The Zhiyun Smooth-Q2 is incredibly light. It weighs just 430 grams. It does not fold down like the Osmo Mobile 3 but it is not much bigger. When it is in use it is 8cm shorter than the Osmo Moblile 3. It doesn't compromise on build quality either. It is made of tough aluminium, unlike most gimbals which are made of plastic.
The rubber grip will fit easily in one hand and it is here you will find the power button, record button and a small joystick to control the gimbal. Inside the handle there is a 4500mAh battery which you can remove by unscrewing the cap on the bottom of the handle. The handle also supports a USC-C socket so you can charge up the battery as needed. A micro-USB port on the gimbal arm will allow you to charge your Smartphone or power a microphone. A ¼ inch thread on the bottom of the handle will allow you to mount it on any standard tripod.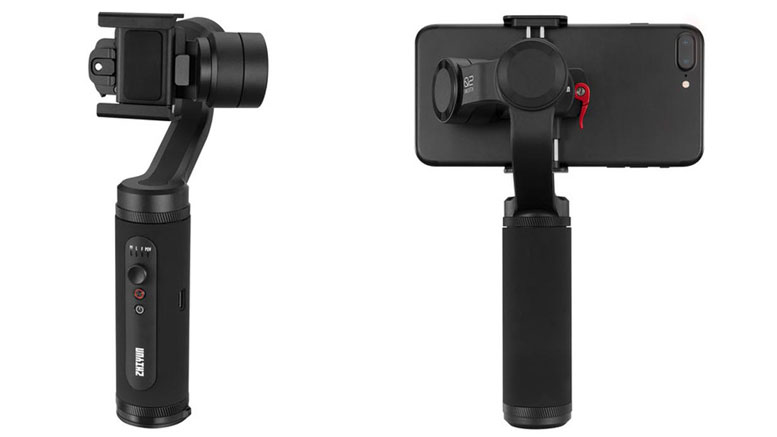 There are five basic shooting modes on the Zhiyun Smooth-Q2. Pan Follow which will pan left or right when you twist the handle in that direction. Lock mode will point your Smartphone in the same direction no matter which way you move the handle. Full Follow is like Pan Follow but will also allow you to tilt the Smartphone up and down. POV is like Full Follow but will allow your Smartphone to also roll as well as tilt up and down and pan left and right. Finally, there is Vortex which allows you to rotate your Smartphone in a circular motion using the joystick.
Price: $139.00 £114.00 €125.00

Freefly Movi Cinema Robot
The Freefly Movi Cinema Robot is not as cheap as the Osmo Mobile 3 or Zhiyun Smooth-Q2 but it is a professional Smartphone gimbal made with the serious filmmaker in mind. It copies many of its design features from the industry standard Movi Pro. So you won't be lacking much with the Movi Cinema Robot. It is made of a solid durable plastic with rubber gripping on the bottom to give it a firm and stable platform for pans and time lapse shots.
Unlike other gimbals it has a U-shaped design which you can grip with one or two hands for extra stabilisation. This also makes it comfortable to hold. It weighs 1.5 lbs plus the weight of your Smartphone. So it is doubtful you will get arm ache using it. You can find the record and mode-changing buttons on the front of the main handle. You can easily trigger these with your forefinger without losing your grip.
To balance the Freefly Movi Cinema Robot you squeeze the clamp, centre your Smartphone and then adjust it until it stays level. Doing this on a flat surface is best to help the Movi make the right calculations to balance your Smartphone. The Movi gets its power from a USB-C port. You use this to charge the battery which should give you up to eight hours of use.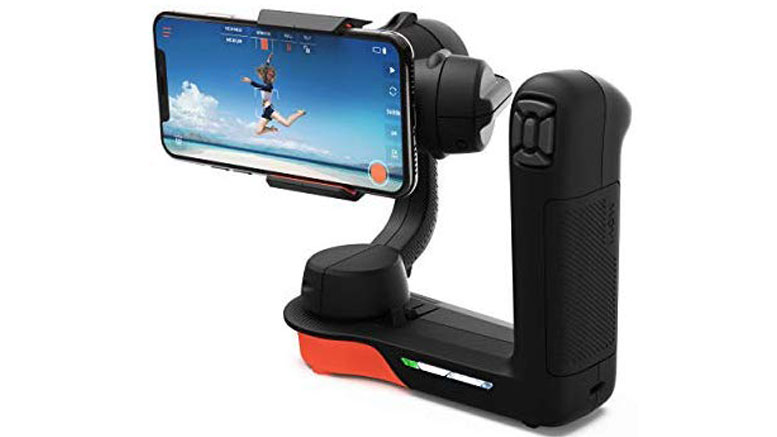 You can get greater control with the Movi by installing the free app that supports the gimbal on to your Smartphone. You do not need it to use the gimbal but you may miss out on some of its advanced features without it. The cryptically named Majestic mode will give you basic control of the gimbal and will have you performing smooth shots with little trouble. Just be aware that you should still make an effort to walk as smooth and steady as you can to achieve the best results.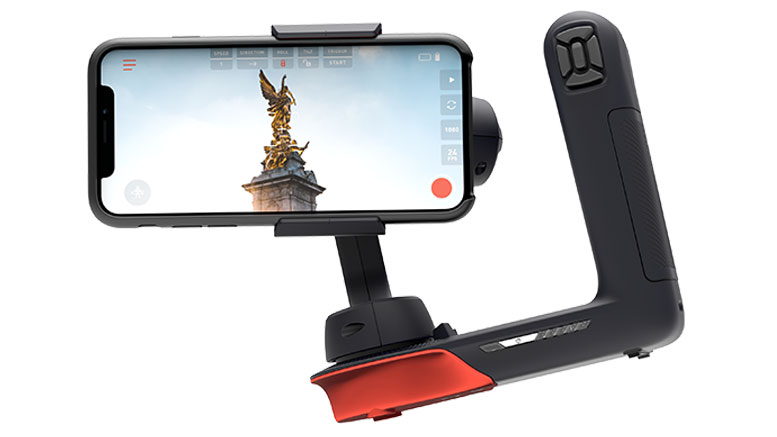 To use some of the advanced camera moves you need to enter Ninja Mode. This offers functions like time lapse that you can shoot with the camera set on a static frame or on a path between two points. Movilapses will perform time lapse shots while you are on the move and Barrel mode will perform rolling shots where your image turns upside down. Echo mode will give you a simple pan while Orbit mode will lock onto a subject and allow you to circle around it.
Price: $299.00 £244.00 €272.00

Zhiyun Smooth 4
The Zhiyun Smooth 4 is a 3-axis gimbal that should have no problem smoothing out your shaky video shots. The build quality is solid and made of a tough plastic which feels rugged but is not too heavy. It has an integrated panel that means you don't have to keep touching your Smartphone's screen to change the settings. You can also use special hot-keys to control the gimbal as well as your Smartphone. The Zhiyun Smooth 4 comes with a handle wheel that allows you to zoom in or out, which is great if you need to take a close-up shot. The FN switch on the handle will also give you precise focus of your image.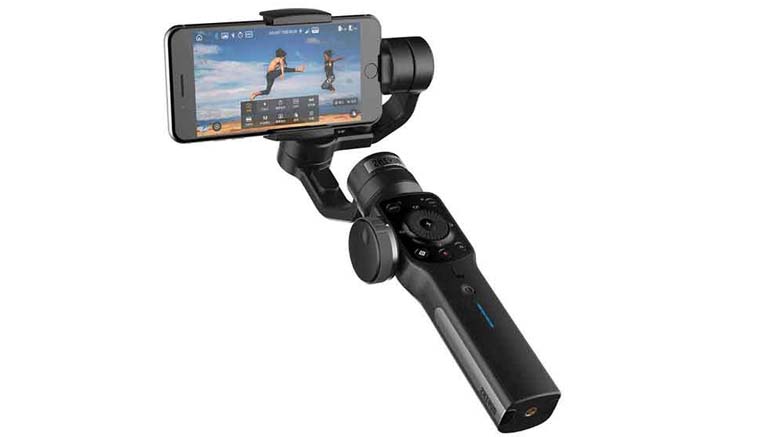 If you want to track an object, the Smooth 4 will lock on to any object on screen. This means that when you move it will follow that object with full stabilisation. The gimbal also features a locking mechanism to keep the arm from swaying. When fully charged the Zhiyun Smooth 4 will run continuously for 12 hours. You can charge your Smartphone by connecting it to the Smooth 4 using a USB cable.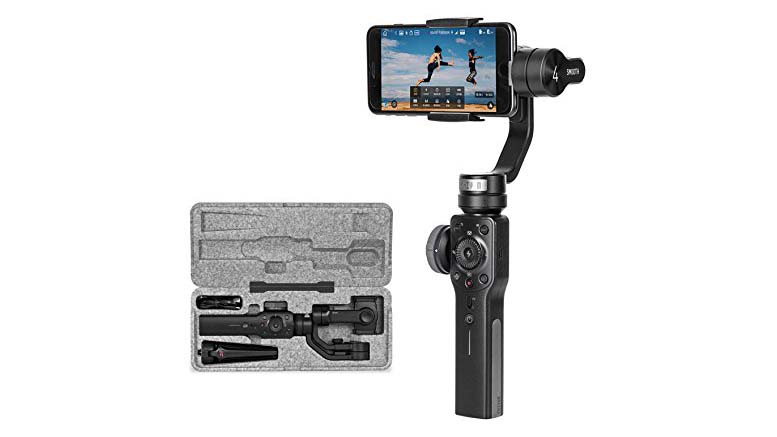 You can also charge the Smooth 4 itself with a USB-C cable connected to a mains power supply or a portable power source. The Smooth 4 is fully compatible with any accessories you choose to add to your Smartphone. So if you do decide to add a light or a lens the Smooth 4 will keep its balance.
You can achieve many advanced shooting techniques with the Smooth 4 and it includes such features as Time Lapse, Motion Lapse and Moving Time Lapse. There is also a Freestyle Time Lapse, which lets you adjust the shooting range, angle and focus. With these settings you can capture some unique shots. You can also capture the movements of objects, which can include crowds and even moving silhouettes.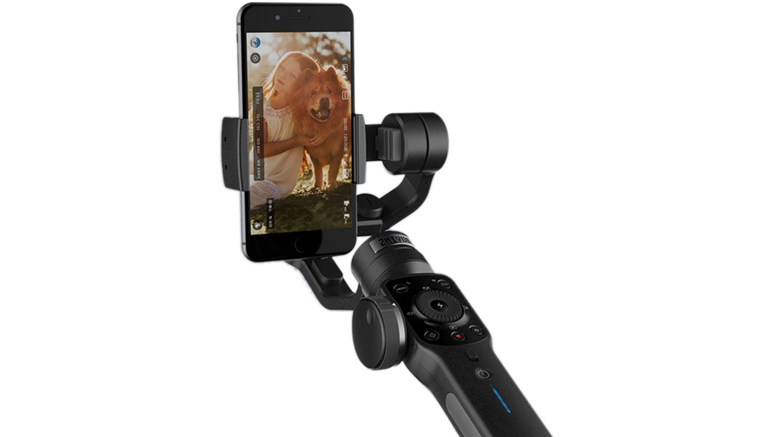 You can mount the gimbal to a dolly or tripod with the ¼ inch screw mount found at the bottom of the handle. The Smooth 4 has a built in dedicated switch for Pan Follow and Lock Mode. In Pan Follow Mode the gimbal will restrict itself to vertical movements and will only move left and right. In Lock Mode you can move the gimbal wherever you like but your Smartphone will stay in a locked position.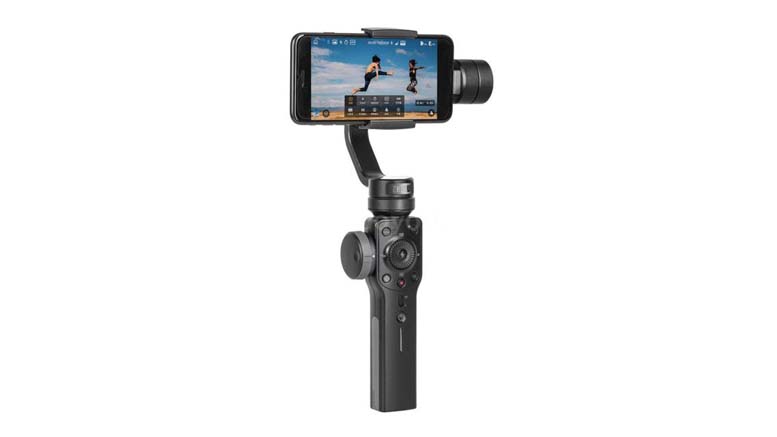 There is a trigger on the Smooth 4's handle that will activate two other modes. Once you hold down the bottom of the trigger it will allow you to do smooth up, down, left and right movements. If you hold down the top of the trigger it will allow you to do the same movements but a lot faster. You can also control all the Smooth 4's settings with the available app.
Price: $119.00 £105.00 €117.00

Other Popular posts like this:
Top 10 Best 3 Axis Gimbal for smartphone & GoPro
5 Best iPhone Gimbal Stabilizers