What are the best gimbals for Smartphone movie making?
A large proportion of the video content uploaded to the internet every year is shot on Smartphones. More and more often, professional content creators are choosing to shoot with Smartphones as an easy, reliable way to record footage. Smartphones are small, lightweight and you have them on you all the time which is what makes them perfect for it. However, due to their size they can be prone to camera shake. Not to worry, as there are lots of Smartphone gimbals available to help with the problem and give you lovely smooth shots.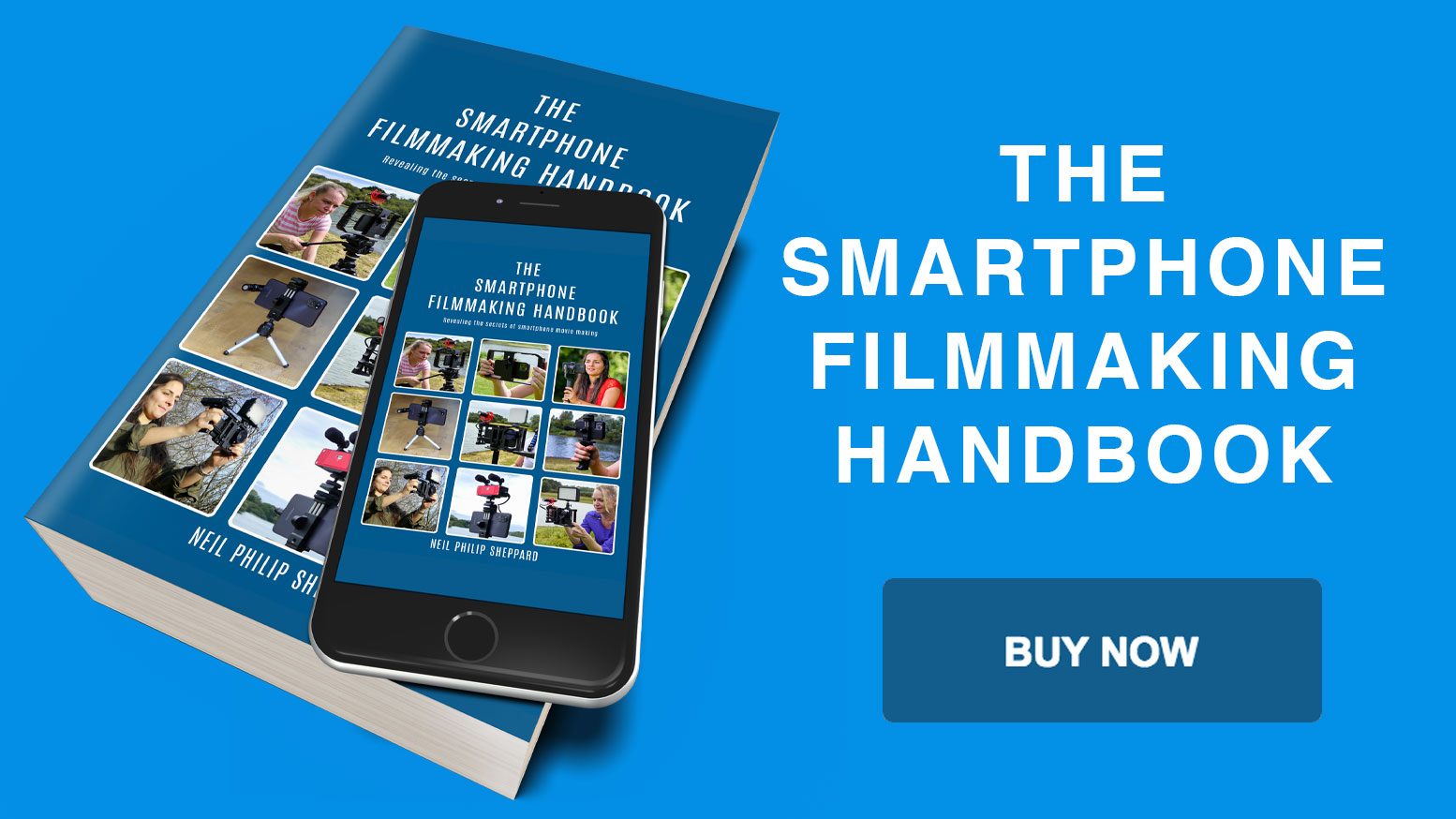 DJI OM 6
The DJI Osmo Mobile 6 is all about convenience; it is small and light, and the new locking mechanism prevents the arm from flapping around when being transported. Compared to its predecessor the OM5, the handle is more ergonomic and comfortable to hold and the placement of all the controls makes it quite easy to shoot with one hand.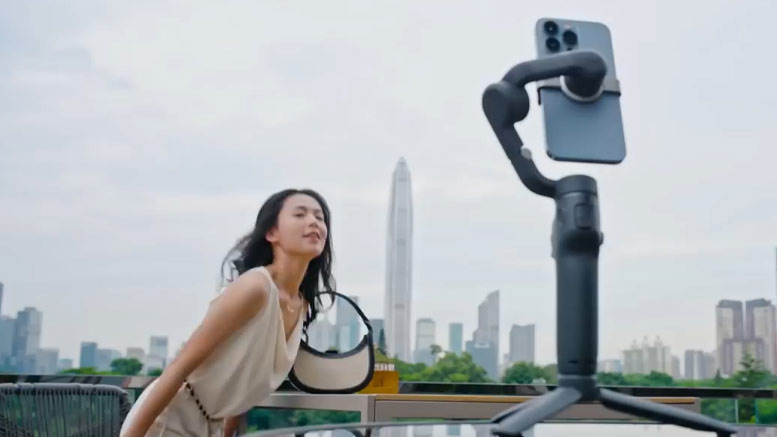 In comparison to the previous generation, the Mobile 6's deeper grey colour gives it a somewhat more polished appearance. The new controls also have a different look. The small slider on the OM 5 has been replaced by a new wheel on the left side that may be used to regulate manual focus or zoom. The joystick is also substantially larger and has sticky knurled edges for better control.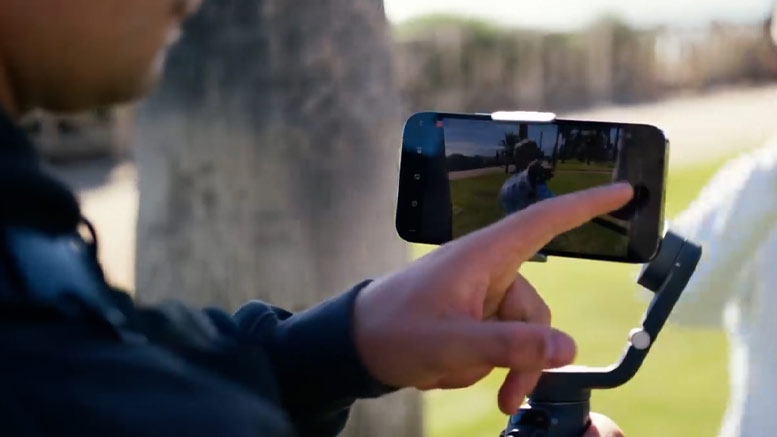 The status screen, which is located above the controls, is another improvement. It has a collection of LED-illuminated symbols, which are far more useful than on the previous model. Here you can check your battery level, recording count, and photography mode. It's especially helpful if you wish to shoot with an alternative app to DJI Mimo, such as Filmic Pro.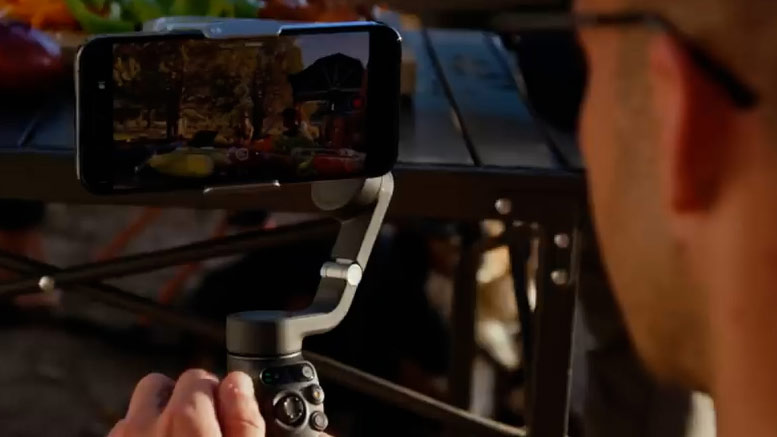 The DJI OM 6 only takes only a few seconds to set up; you simply unfold the device's single hinge and quickly twist the arm to free it. When you do, the gimbal instantly turns on, and the same great magnetic mounting method we saw on the previous generation can be used to attach your Smartphone. It can quickly go from being stored to shooting.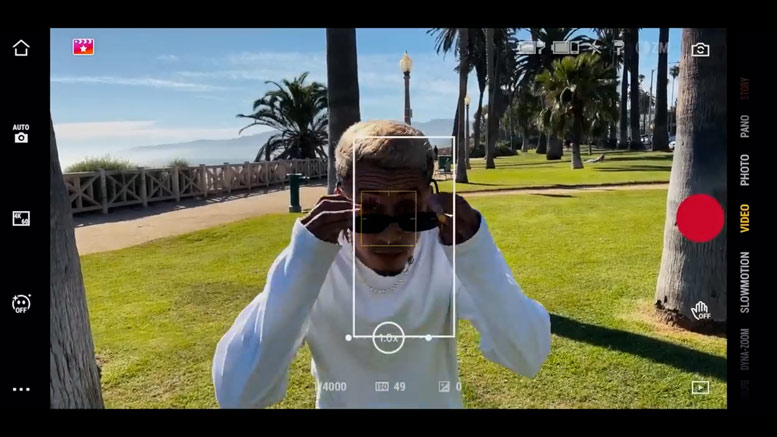 With a function DJI calls Quick Launch, the set-up experience may be made even simpler for iPhone users. A notice will appear letting you open the DJI Mimo app immediately when your iPhone affixes to the magnetic mount. The Osmo Mobile 6 has the same pull-out selfie stick as the previous version. Although, some may consider it to be a gimmick, but it greatly improves obtaining specific perspectives, particularly low-to-the-ground tracking shots.
Price: $159.00 £132.00 €152.00

Zhiyun Smooth X2
Like the first Smooth X, the Zhiyun Smooth X2 is a compact folding gimbal that fits conveniently in your pocket when not in use. It is a 2-axis gimbal, which is made to be as compact and light as possible. It has a built-in selfie stick, just like its predecessor, so you can record yourself while having lots of room in the frame to incorporate the scenery behind you. This makes it ideal for travel-related vlogs.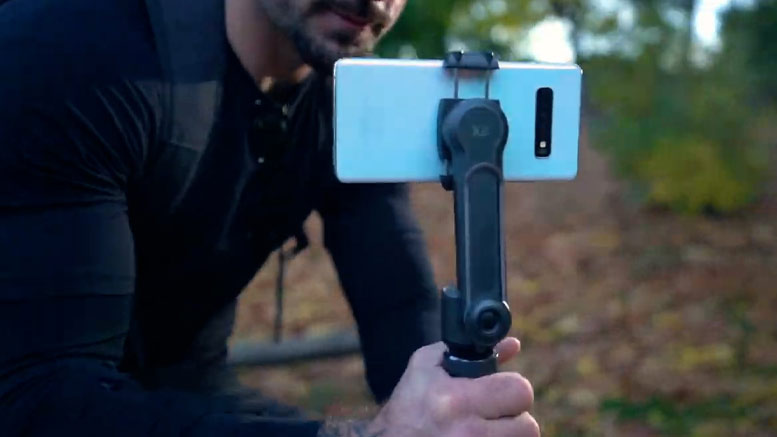 The gimbal is available in two colours, with either a choice between black or pink. The basic design of the gimbal appears to be fairly identical from the original. However, it has brand-new magnetic connection places where magnetic fill lights can be fastened.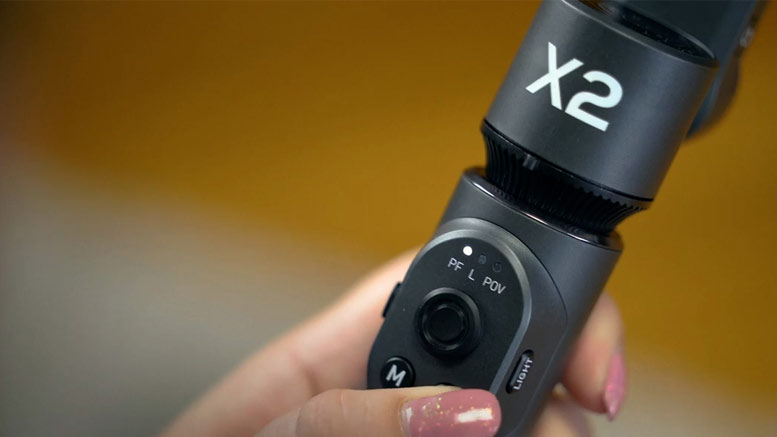 The Smooth X2 can now lock, which is an improvement over the Smooth X, and can transform into a little fixed tripod or essentially a monopod with feet if you have the selfie stick extended.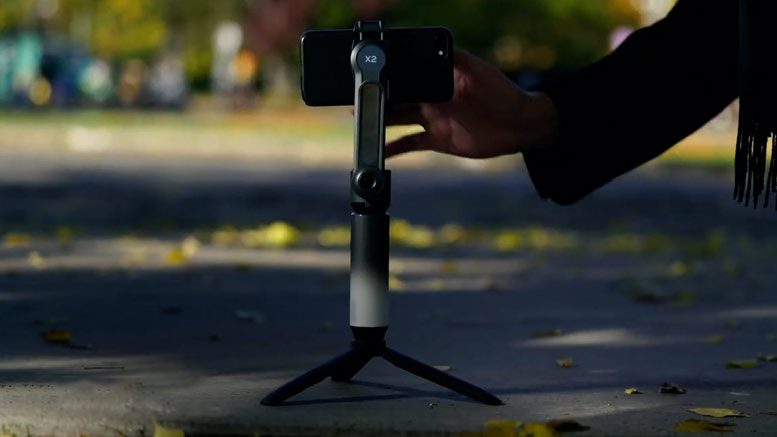 The Zhiyun Smooth X2 can be purchased separately or as part of a combo package that includes a compact tripod, a carrying case, and a magnetic fill light.
Price: $60.00 £50.00 €57.00

Zhiyun Smooth 5
The Zhiyun Smooth 5 is a 3-axis gimbal that should have no problem smoothing out your shaky video shots. The build quality is solid and made of a tough plastic, which feels rugged but is not too heavy. It has an integrated panel that means you don't have to keep touching your Smartphone's screen to change the settings. You can also use special hot-keys to control the gimbal as well as your Smartphone.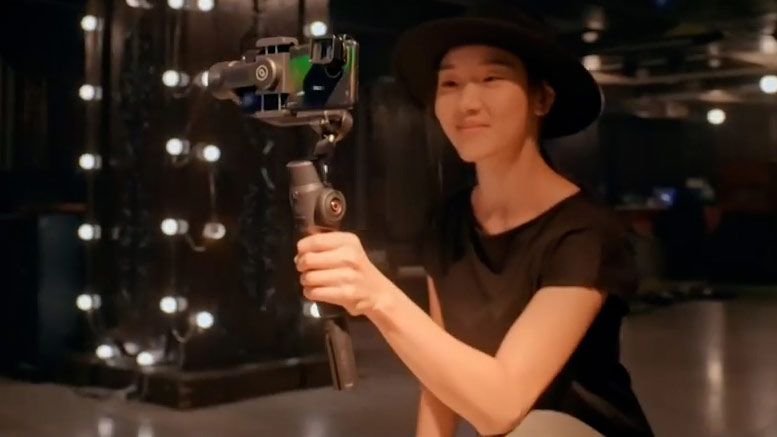 The Zhiyun Smooth 5 comes with a handle wheel that allows you to zoom in or out, which is great if you need to take a close-up shot. The FN switch on the handle will also give you precise focus of your image.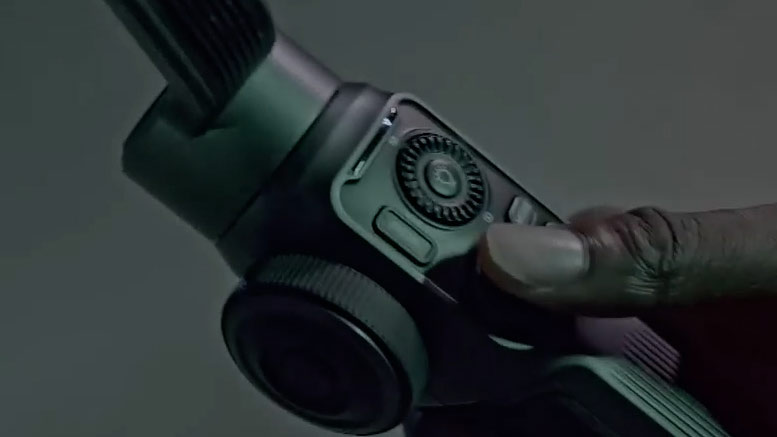 If you want to track an object, the Smooth 5 will lock on to any object on screen. This means that when you move it will follow that object with full stabilisation. The gimbal also features a locking mechanism to keep the arm from swaying. When fully charged the Zhiyun Smooth 5 will run continuously for 12 hours. You can charge your Smartphone by connecting it to the Smooth 5 using a USB cable.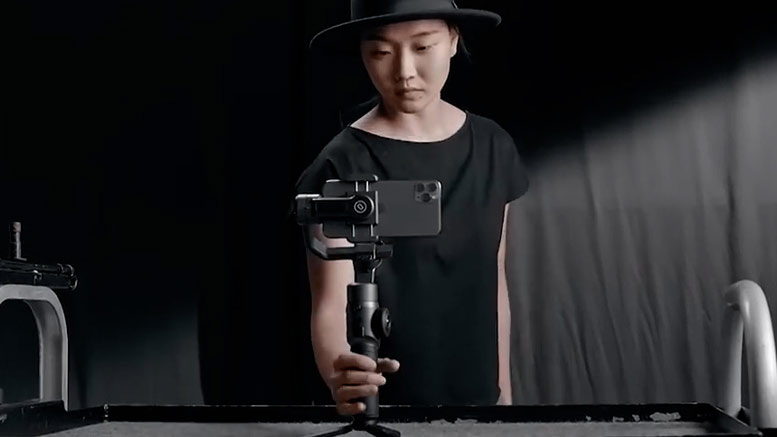 You can also charge the Smooth 5 itself with a USB-C cable connected to a mains power supply or a portable power source. The Smooth 5 is fully compatible with any accessories you choose to add to your Smartphone. So, if you do decide to add a light or a lens the Smooth 5 will keep its balance.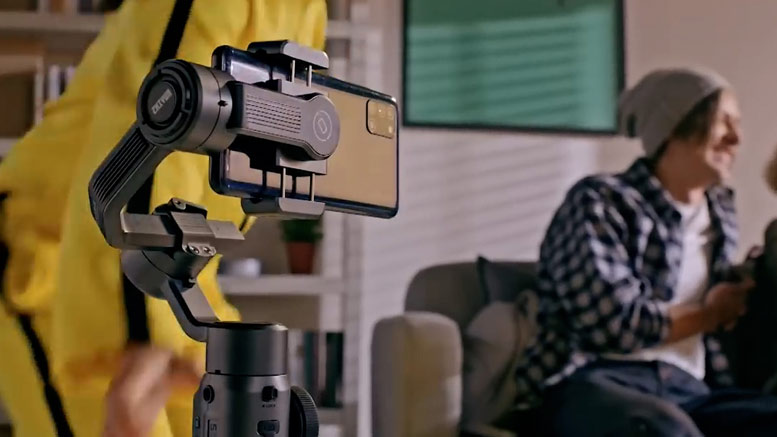 You can achieve many advanced shooting techniques with the Smooth 5 and it includes such features as Time Lapse, Motion Lapse and Moving Time Lapse. There is also a Freestyle Time Lapse, which lets you adjust the shooting range, angle and focus. With these settings you can capture some unique shots. You can also capture the movements of objects, which can include crowds and even moving silhouettes.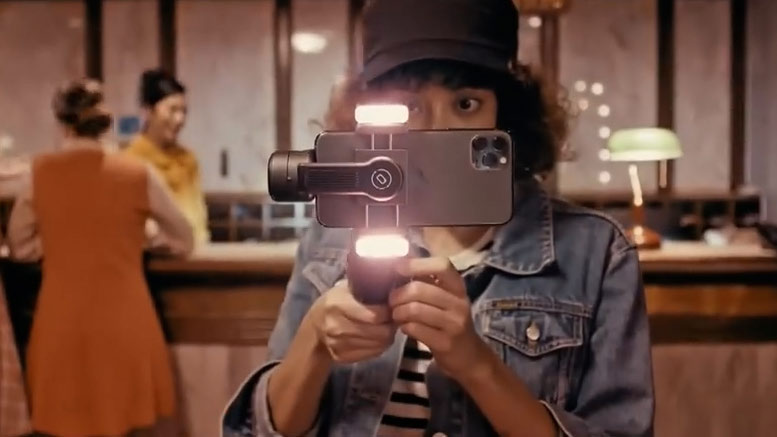 You can mount the gimbal to a dolly or tripod with the ¼ inch screw mount found at the bottom of the handle. The Smooth 5 has a built-in dedicated switch for Pan Follow and Lock Mode. In Pan Follow Mode the gimbal will restrict itself to vertical movements and will only move left and right. In Lock Mode you can move the gimbal wherever you like but your Smartphone will stay in a locked position.
There is a trigger on the Smooth 5's handle that will activate two other modes. Once you hold down the bottom of the trigger it will allow you to do smooth up, down, left and right movements. If you hold down the top of the trigger it will allow you to do the same movements but a lot faster. You can also control all the Smooth 5's settings with the available app.
Price: $170.00 £140.00 €163.00

FeiyuTech Vimble 3
The Vimble 3 is another great Smartphone gimbal to improve your movie making. Like other gimbals, your smartphone can pan, tilt, and roll smoothly by using a variety of modes. The companion app allows you to carry out a variety of additional functions like starting to record your actions when you make a particular gesture. The 3-axis gimbal also lets you record fluid smartphone camera movements including tilts, rolls, and pans.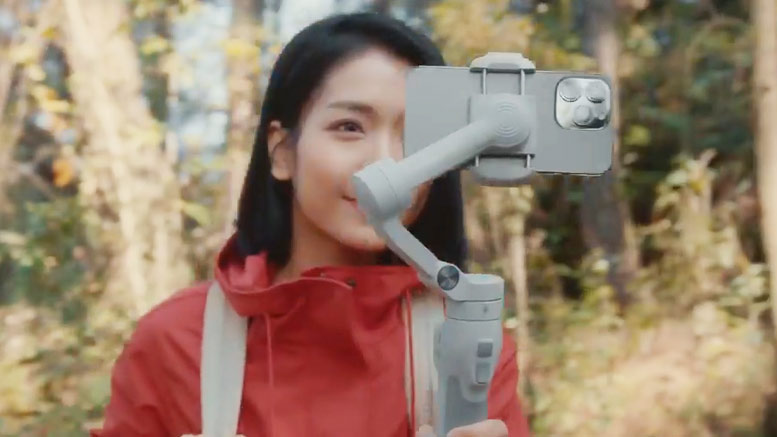 When shooting at wide-angle, the Vimble 3 produces fluid gliding camera movements. Also, because the Vimble 3's telescopic pole can be extended by 198mm, you are no longer constrained by the length of your arm when taking selfies. As a result, you can capture more of yourself and your surroundings.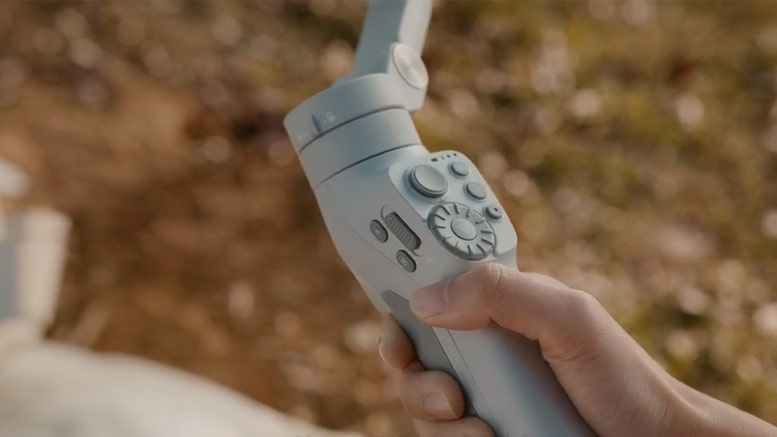 The Vimble has five different shooting modes that you may switch between. When using Pan Follow, the gimbal pans in response to the operator's hand motions but does not tilt. More naturally, Pan Tilt Follow has the gimbal pan left or right and tilt up or down in response to your hand movement. The gimbal's three axes in the FPV mode will pan, tilt, and roll in response to your movements. In the Lock setting, the Smartphone always points in the same general direction. You may also operate the gimbal with your hands free thanks to an attachable tiny tripod. This is useful, for instance, if you want to capture a panning time-lapse.
The Feiyu ON app can be used to increase the capabilities of the Vimble 3. This makes it possible for the Smartphone mounted on the gimbal to pull off some incredible stunts, like panning and tilting to follow your every step while you walk and talk. You may also draw on the Smartphone's screen to select a subject. The gimbal will try its best to keep the selected topic in shot as it, or the gimbal's operator, moves about.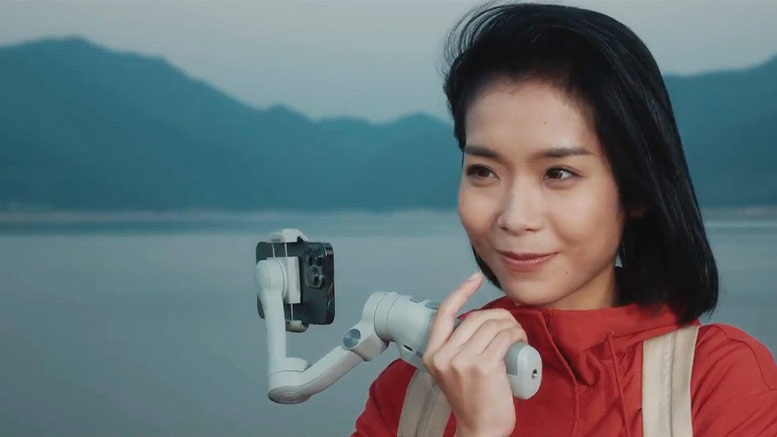 The Vimble 3's foldable arm makes it easier to transport the device in the included storage bag. The provided tiny tripod legs can be attached using the thread at its base for hand-free use. This thread is particularly useful if you want to make movie-style craning shots and need to attach the gimbal to a taller tripod or a microphone boom arm.
Price: $120.00 £100.00 €115.00

Hohem iSteady X2
The iSteady X2 is a portable gimbal from the Chinese company Hohem. At only $70 it is one of the cheapest gimbals on the market for Smartphone filmmakers. There are two colour versions of this gimbal, so you have a choice between a black one or the cool white version. It is also portable, and unlike most Smartphone gimbals it folds down to just 179mm x 79mm x 39mm, so it will easily tuck into your pocket when you are on the move.  It doesn't weigh much either and has a total weight of just 259g, so you are unlikely to get arm ache using this gimbal.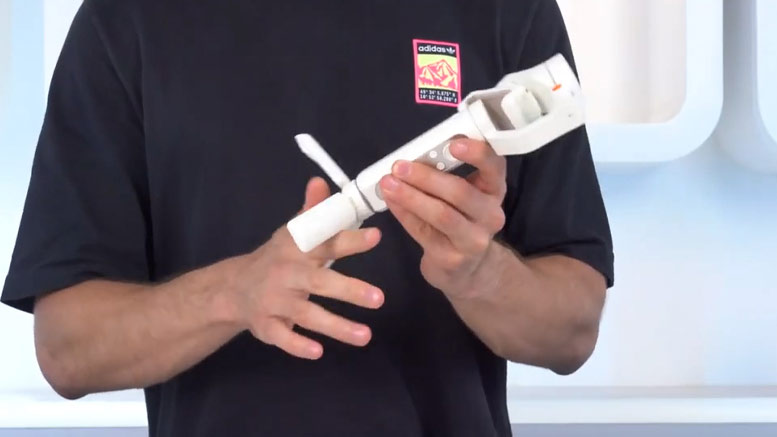 Tough hard plastic surrounds the gimbal and this helps to keep the weight down but it doesn't sacrifice its build quality.  This also helps to give the iSteady X2 plenty of grip when you are holding it in your hand. The iSteady X2 comes with a screw in tripod, so if you don't feel like holding it in your hand you can use this to place it on a desk or table for stable tracking shots or time lapses.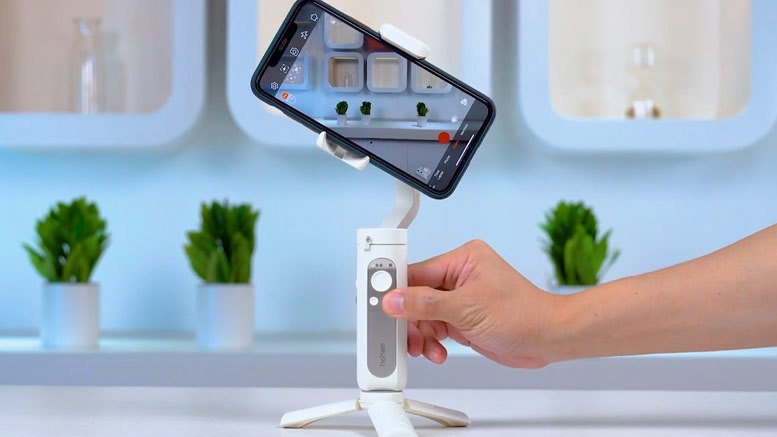 To set up the iSteady X2 you pull up the main arm from the handle, tighten a lock by the Smartphone clamp, attach your Smartphone and unlock the arm from the handle of the gimbal.  This lock also helps to balance your Smartphone when you are setting up the iSteady X2 and you can keep it in the locked position until you are ready to start filming. The clamp will fit most Smartphones up to a width of 90mm, so it will have no problem holding an iPhone 14 Pro.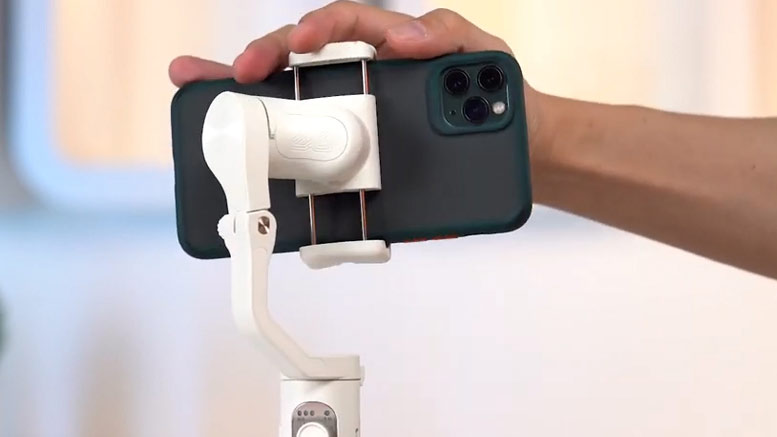 The iSteady X2 can support a maximum weight of 280g, which is impressive as this is more weight than the gimbal weighs. The arm of the gimbal is off-centre and this gives it the advantage of not getting in the way of some wide-angle lenses. So if you are using the super wide lens on your iPhone 14 Pro, you won't find the iSteady X2's arm coming into view and ruining your shot. On full charge the iSteady X2 will give you about 10 hours of use before you need to recharge it. This should be more than enough for the average day's shooting with your Smartphone. Once the battery is flat, it will take about 2 hours to recharge.
To get access to all the functions the iSteady X2 has to offer you will need to download the gimbal's app from Hohem. This is available for both iOS and Android and will give you more control over the gimbal than the buttons on the handle. In the app you can choose to take photos, create time lapses and of course shoot video.  There are some limitations with the app.  Frame rates are set to 30 frames or 60 frames a second. You cannot shoot in 24 frames or 25 frames if you want to shoot in Pal.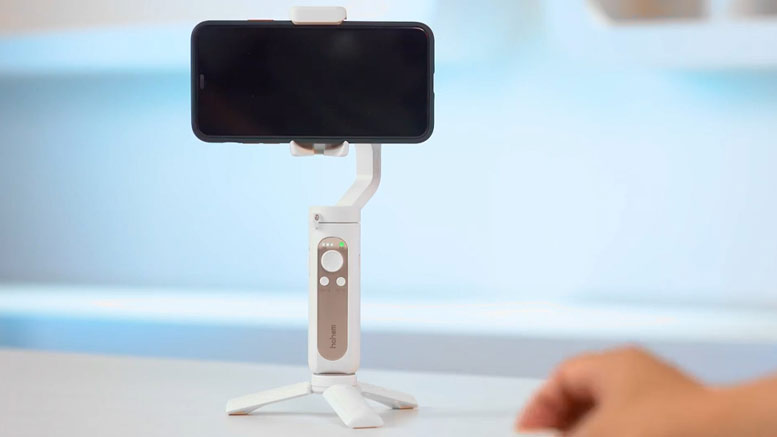 It has a maximum resolution of 4K but you cannot change the bit rate if you want to film higher quality videos. The app defaults to your Smartphone's main lens, so if you want to use different lenses, like those found on the iPhone 12 Pro, you best stick with the default iOS camera app.  However, it does give you control over your Smartphone's ISO and shutter speed. You can also zoom and set focus. The app does have face tracking and this does a good job of following your subject, but can sometimes get a little confused if there is more than one subject.
The iSteady X2 will perform at various angles with the handle below or above your Smartphone. On the handle you can also tilt, pan and roll your Smartphone with the large button on the handle. Above this is the on and off button and this will also change the position your Smartphone from landscape to portrait.
This is useful if you need to change the position of your Smartphone in a hurry for portrait shots. The button next to this will switch between your front and rear-facing camera on your Smartphone. So you can switch to selfie mode in an instant.  It will also take a photo with one touch or start a video recording with two touches. On the side of the handle is a switch that will change the focus or the zoom controls from the app.
Price: $72.00 £60.00 €69.00

Hohem iSteady Mobile Plus
The Hohem iSteady Mobile Plus can pivot up to 320 degrees on the second and third axes and can pan 600 degrees horizontally. The ability to pan, tilt, and roll in a variety of ways can be appreciated by both photographers and filmmakers and is made possible by combining the range of all three axes.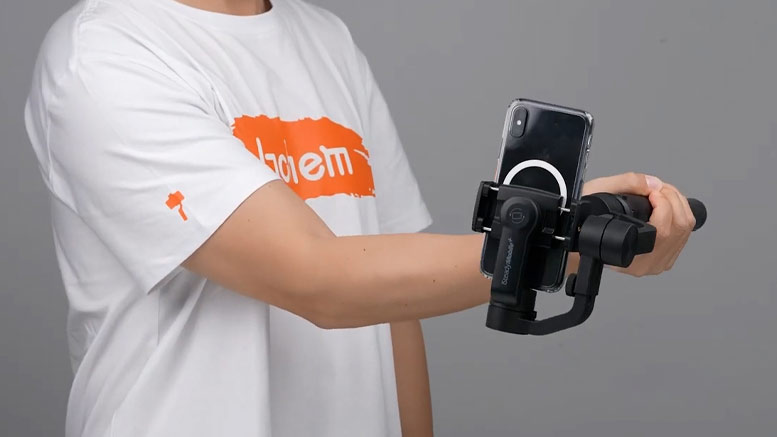 Additionally, this model has a tonne of adjustable features that let you completely customise your video shots. The mechanical motion of the gimbal may be customised and adjusted in a number of ways, including zoom speed, panning speed, and even joystick action reversal. With the excellent case that holds the cord, tripod, and gimbal that the Hohem iSteady Mobile Plus comes with, you can be sure that your investment will be safeguarded from accidents and the elements while travelling.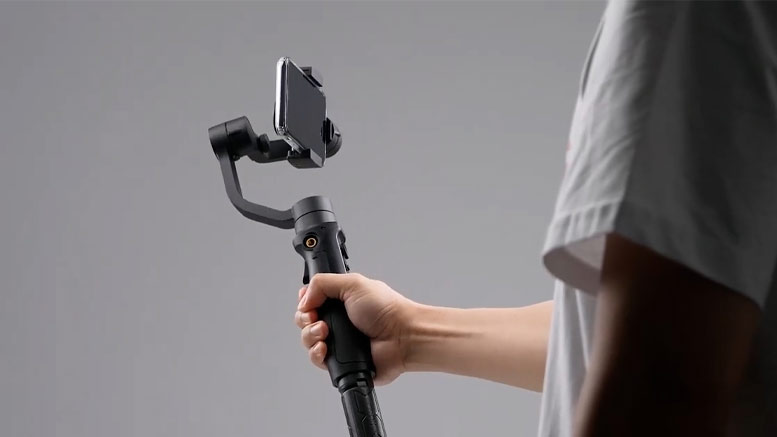 The Hohem iSteady Mobile Plus lags behind some of its rivals in a few different areas. You have to rebalance your phone while moving between portrait and landscape mode, which is not ideal. Additionally, it does not include the best tripod.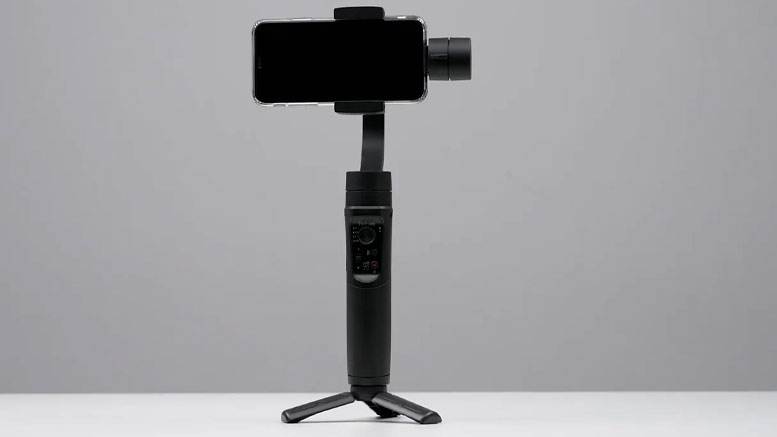 Because the feet are constructed of supple rubber, the entire gimbal can swing slightly in the wind. This can completely sabotage a fantastic panoramic or time-lapse, albeit there is a cheap fix in the form of an aftermarket tripod that is firmer. Despite these drawbacks, the Hohem iSteady Mobile Plus is a great option if you're looking for a Smartphone gimbal with incredible mechanical capabilities and offers unique options that go above and beyond what much of the competition has considered.
Price: $80.00 £66.00 €76.00

Other Popular posts like this:
LumaFusion editing app is now available for Android Smartphones
What are the best wireless microphones for Smartphones?
Smartphone filmmaking digital video basics you need to know!